The Best Artificial Garlands For Holiday Decorations In 2022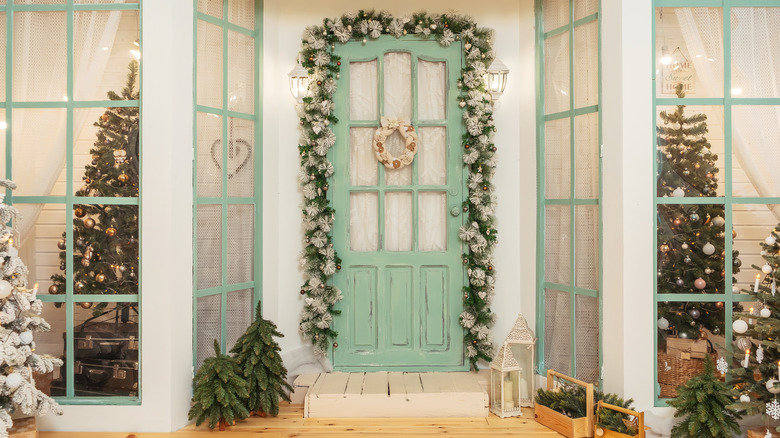 Yashkin Ilya/Shutterstock
Just like Christmas trees, there is much debate about whether real or faux garland is ideal for holiday decorating. While real ones provide a fresh scent and truly authentic look, artificial versions come with a number of benefits, per R&A Landscaping. For instance, if you choose a pre-lit version, you won't have to worry about purchasing lights. Further, they make less of a needle mess, and sometimes they can look more full than the real deal. Faux versions will also last much longer, for at least a few seasons. And, if you're placing your garland outside, it will be better at withstanding the weight of snow. 
Because of these many benefits, you may be searching the market for the best artificial garlands of the year. If so, you're in luck, as we've gathered 16 of the best options — all with above a four-star rating and arranged from the cheapest to the most expensive. Additionally, you'll also find some unique pieces (hint: faux garland doesn't have to look like pine).
1. Plain pine
Starting with the cheapest option, Target sells an unlit, 50-foot pine garland from their Wondershop for $15 online. This product has 4.8 stars out of over 200 ratings and can be used either inside or outside the home.
2. Pre-lit pine
Target also sells an 18-foot pre-lit pine garland from Wondershop for $20 online. This decoration has 50 small clear or multicolored lights and can be used for indoor or outdoor use. With almost 80 reviews, the clear light version received a 4.4-star rating.
3. Pine cones and berries
Bed Bath & Beyond sells a set of two 6-foot garlands, adorned with pine cones and red berries, for $20 from H for Happy. These indoor or outdoor strands come with a one year warranty and, out of almost 90 reviews, have garnered 4.3 stars.
4. LED lights
Normally $24.98 but now on sale for $22.48, this GE indoor or outdoor 18-foot garland at Lowe's has warm white LED lights. Out of 55 reviews, it has a 4.5 star rating.
5. Frost-bitten strands
If you're searching for an amazing deal, Walmart currently sells the Melliful 9-foot pre-lit garland with red berries and pine cones for $29.58, originally $59.62. To be used either outside or inside, this strand received a perfect five-star rating with just over 100 reviews. 
6. Fully-frosted strands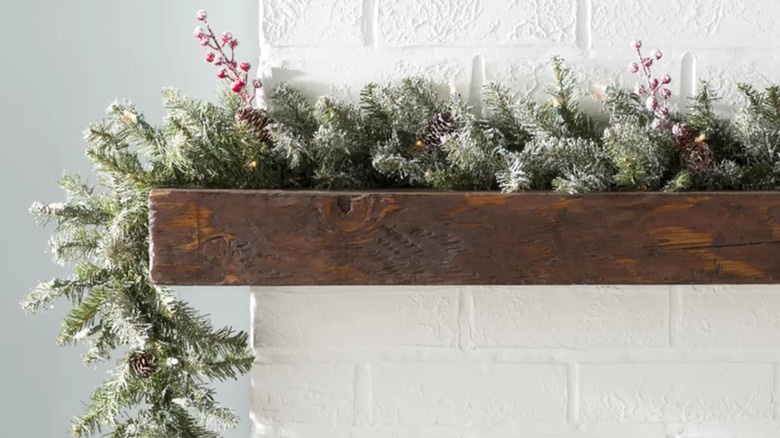 Birch Lane
For Black Friday, Birch Lane has been marking down their Christmas decorations, including this Dunhill fir 9-foot lighted garland. Typically $47, this piece is now only $37 and can be used inside or outside. It also has a 4.5-star rating with over 1,000 reviews.
7. Warm LED lights
At Home Depot, you can purchase this Home Accents Holiday 9-foot pre-lit garland with 60 LED lights for $39.98. This can be displayed either inside or outside under a covering. With over 150 reviews, this decoration has 4.5 stars.
8. Waterproof LED lights
Originally $44.99, this Cosmonic 9-foot garland with 50 waterproof LED lights now retails for $39.99 at Walmart. It's battery operated, can be used either inside or outside, and has 4.9 stars with over 100 reviews.
9. Golden accents
For a unique look, you could choose this 6-foot lighted garland with ornaments, pinecones, and golden accents from Birch Lane. While it's typically $69, for Black Friday the price has been reduced to $46. It can either be used inside or outside underneath a covering; and with over 400 reviews, it has 4.7 stars.
10. Just pinecones
Wayfair currently sells a Steelside 9-foot lighted garland with pinecones for $46.99, usually $51.99. Out of almost 1,500 reviews, this battery-operated Christmas decoration has a 4.6-star rating. It can be used indoors or outside, if under a covered area. 
11. Festive bows
Home Accents Holiday at Home Depot offers a pre-lit garland that's sold for $49.98 for 9 feet and $99 for 12 feet. With warm LED lights, pinecones, red berries, and cute bows, this piece can be used both inside and outside under a covered area; it has 4.6 stars with almost 250 reviews.
12. Poinsettias and eucalyptus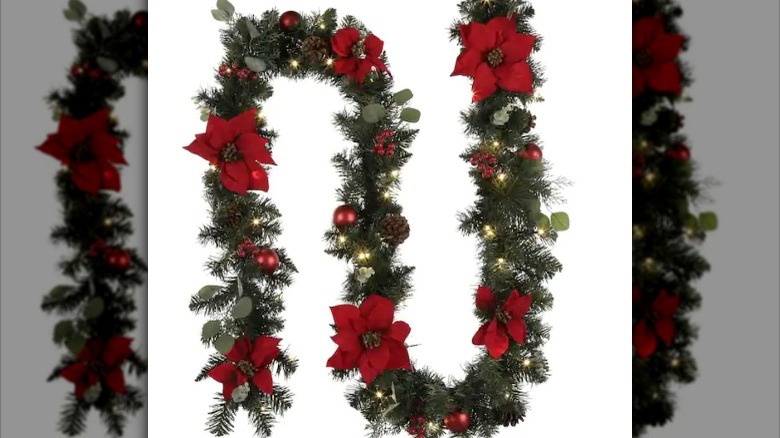 Home Depot
Also sold at Home Depot, this Home Accents Holiday pre-lit berry bliss garland with 50 warm LED lights, red berries, pinecones, ornaments, eucalyptus leaves, and poinsettias retails for $49.98. Good for indoor or outdoor covered use, this piece received 4.7 stars with over 80 reviews.
13. Red ribbons
Target's Best Choice Products 9-foot garland is battery operated and good only for indoor use. This piece, adorned with red berries, pinecones, and red ribbon, retails for $54.99 online and has 4.2 stars with over 70 reviews.
14. Bright hydrangeas
Typically sold for $96, this decoration now retails for $78 at Birch Lane; It's a 9-foot battery-operated garland that has 50 warm white LED lights, silver and red berries, pinecones, red hydrangeas, and a mechanical timer. To be used indoors or in a covered outdoor area, this piece has 4.7 stars and over 600 reviews.
15. Realistic cypress
If you're looking for something other than pine, Crate & Barrel sells a realistic 6-foot cypress garland for $99.95. This popular item sells out fast, so you may want to purchase it quickly. Further, it can only be used indoors. With over 60 reviews, this decoration has 4.5 stars.
16. White berries