This Is Where Over 60% Of People Store Their Clothes At Home - House Digest Survey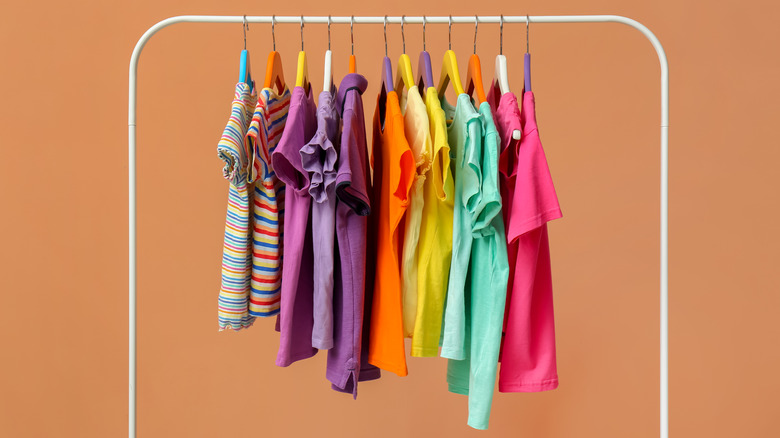 New Africa/Shutterstock
When it comes to keeping your clothes stored away at home, there are multiple methods you could adopt. For example, you might be the type of person who has way too many articles of clothing tucked away in various storage vessels in the home. Otherwise, you are the no-nonsense type who has the proper clothes for the right occasions that are color-coded and seasonally categorized in a spotless walk-in closet. Or you're a busy individual who tosses their laundry into a heap on the floor or a nearby piece of furniture. Either way, everyone has a different way of storing clothing that works out of pure necessity or just the way they planned.
To make your life tidier, some organizational life coaches, such as Marie Kondo, suggest that you meticulously sort through all of your clothing and only keep those items that truly bring you joy to rid yourself of needless clutter. This can help to keep your things more organized and also ward off the stress of trying to find what you need when you need it. At the end of the day, you still need a proper location to store the clothes that you have on hand. At House Digest, we wanted to know your ideal place to keep your attire. So in an exclusive survey, we asked 612 people, "Where do you store your clothes?" Here are the results.
Here is where the majority of people store their clothing, according to our survey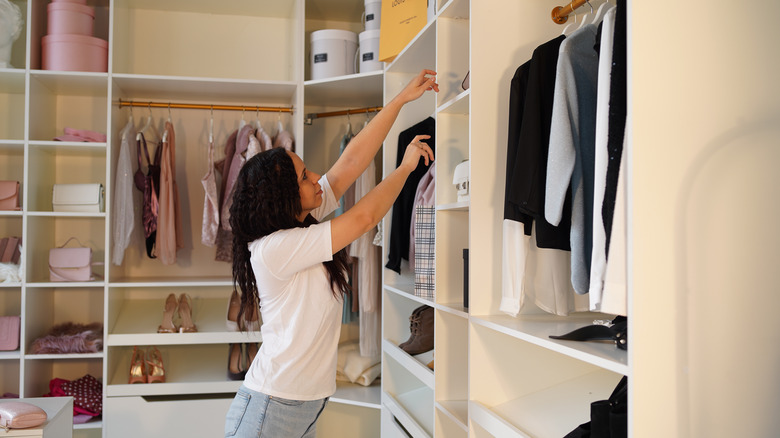 Anton Dios/Shutterstock
Sometimes the most obvious choice is the best option when looking for places to store clothing. In our exclusive survey, of the 612 people who participated, 378 folks — or 61.76% of the overall vote — chose to keep their attire in a closet. A good closet can provide the ideal spot to not only hang your clothing but also have shelves and floor space to store other folded garments. However, you must take a few steps to achieve a perfectly organized closet. First, ensure all your items are laundered so as not to tuck away dirty attire. Then sort and rid yourself of unnecessary clothes, give them a dedicated spot in the closet, and utilize storage bins if needed.
The second most popular place to tuck away your clothing that 141 people preferred — or 23.04% of those surveyed — was a dresser. A dresser is a perfect assortment of shelves that can keep your clothes stored until you are ready for them. Depending on the decor of your room, you may opt for a more vintage vibe and pick up a classic piece from your local antique market. Otherwise, if you're a modern person, select a sleek dresser from the boutique of your choice. Either way, look for items with enough drawer space to keep your garments neatly arranged.
Other popular places folks choose to store their attire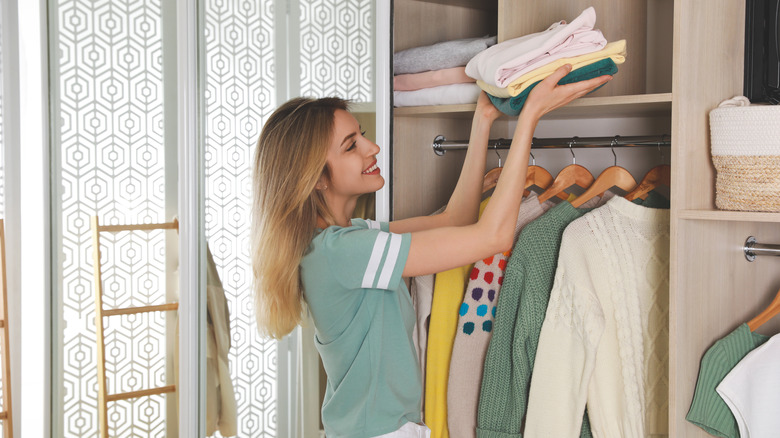 New Africa/Shutterstock
Luckily there are many other home storage ideas to tuck away all that extra attire. Especially for those who don't have a huge closet to stow their items or have a kid's room that would benefit significantly from more options to hide clothing. 59 people, which make up 9.64% of our total survey, said they use a wardrobe to store their clothing at home. Unlike a dresser that only contains drawers where you can pop your items, a wardrobe — or armoire, as they are often called — has both drawers and the bonus of a clothing rack, all wrapped up in one gorgeous piece of furniture. Complete with doors that open and close easily, you can simply shut them once you gather your clothing to hide the contents from view.
Another place folks choose to store their clothing items is a trunk, which 23 people — or 3.76% of those who voted — selected as their go-to method. Trunks provide an ideal spot to put away items you don't use regularly and afford a fantastic vintage vibe to any room. Finally, as a simple solution to your organizing needs, 11 people — about 1.8% of those surveyed — used a rack to keep their items in their proper place. Racks can be affordable and convenient, especially if you live in a smaller space with no closets.