Home Depot Or Lowe's: Which Has Better Deals On Space Heaters?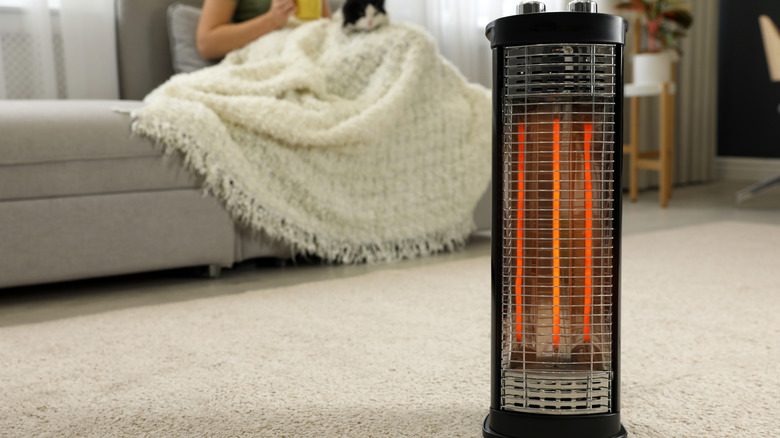 New Africa/Shutterstock
As winter approaches and the weather gets colder, many people are probably turning on their heaters for the first time in a while. Even with the newest and highest-efficiency electric furnaces, though, you may still have spots in your house that aren't warm enough for your liking. Those with older furnaces and homes especially will likely find they need a little extra heat.
The U.S. Energy Information Administration reports that 37% of households across the country regularly utilize extra heating, usually in the form of space heaters. Space heaters are a great way to channel some direct heat into one specific area of your home without cranking up your furnace and overheating the rest of the house. They're also great in a pinch if your heater goes out. Space heaters are incredibly easy to find at home improvement stores like Home Depot or Lowe's, but which one offers the better deals?
Home Depot space heaters
While it may seem simple enough to run out to the store and buy a space heater, you'll quickly find that there are a variety of options to choose from. The most popular is a ceramic heater, which features electric coils that heat a ceramic plate These heaters either radiate heat or blow it out with a fan, explains Home Air Guides. The second most popular is a fan heater, which heats metal coils and distributes the hot air with a fan.
Beginning with ceramic heaters, Home Depot's best deal is the Lasko tower heater, which costs $60. The heater oscillates, allowing more even distribution of warm air. It also has a remote as well as manual buttons on the heater, and a limited three-year warranty. As a bonus, it has built-in safety features to prevent it from overheating, and a handle for moving it without burning your hands. It has a 4.6-star rating with 86% of customers recommending the product.
As for fan heaters, Home Depot's best deal is from Vornado. The compact fan heater can warm up an entire room and costs $75. It has three settings, and a host of safety features, including an automatic tip-over switch, cool exterior, and handle. It also comes with a five-year warranty. The fan heater has a 3.9-star rating with 60% of customers recommending the space heater.
Lowe's space heaters
Lowe's best deal on a ceramic space heater is from DeLonghi, and costs $70. While it is slightly pricier, it does have several desirable features. For example, it has an automatic shut-off if it starts to overheat or gets tipped over, a timer, and is energy efficient — all features that Consumer Reports identify as ideal qualities for a space heater to have. It has a 4.5-star rating with 89% of customers recommending the space heater, but it only has a one-year warranty.
Lowe's also sells the same Vornado fan heater as Home Depot. While it starts at a slightly lower price of $70, it can cost as much as $170 depending on the color and style. A cheaper option at Lowe's is the Utilitech fan heater, which costs $27. It's quite simple in design, with dial knobs instead of a display screen, and no remote control option. It does have all the necessary safety features, and a one-year warranty, though. It has a 3.8-star rating with 60% of customers recommending it.
When comparing the space heaters sold at Home Depot and Lowe's, Home Depot narrowly takes the lead for ceramic heaters. It's cheaper and better reviewed than Lowe's ceramic heater option, and has a better warranty. As for fan heaters, Lowe's has a better deal for a quick and cheap heater, but Home Depot's option is better in the long run.