20 Garage Makeover Ideas That Will Inspire You To Get Organized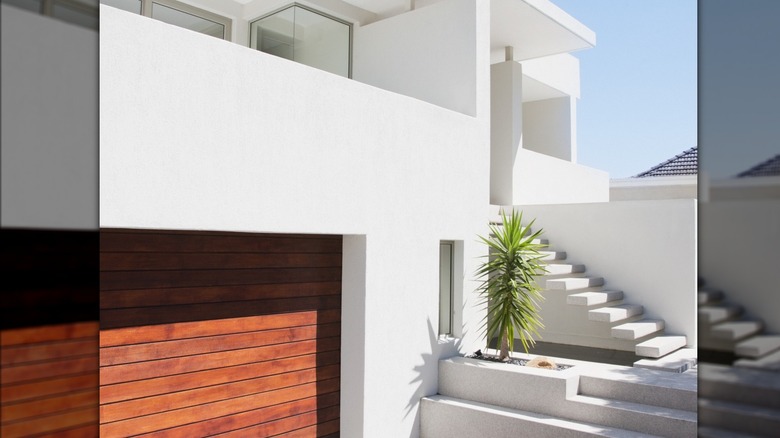 Martin Barraud/Getty Images
The garage is often where our spare furniture, clutter, and memories get hidden away. We toss things into the garage seasonally — or permanently — to get them out of sight for house guests or our own sanity. While the garage certainly serves well as a place to forget about family heirlooms we don't have space for or for half-finished (albeit well-intended) house projects, it has the potential for so much more. 
It can feel daunting to get the garage organized and to make it an extension of your functional living spaces, but it is definitely doable. A simple makeover of a shelf, a section, or the entire garage area can be inspiring and motivate you to organize beyond what lives downstairs. No matter if you work with a professional organizer or tackle it on your own, as Garage Living states, you'll be amazed at how quickly you can turn a cluttered space into something organized and useable. 
1. Garage floor coating
Garage floors are typically unfinished concrete. However, when you think about how much time you spend in the garage for various reasons, a finished garage floor with coating just makes sense. According to Garage Living, it's also safer, more attractive, and will motivate you to keep your garage clean and organized. 
2. Get a window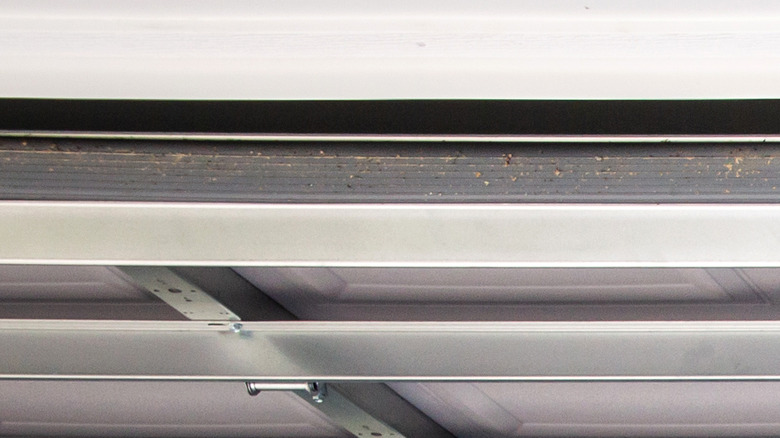 Ucpage/Getty Images
3. Make a collector's case
Make your garage meaningful by placing something in it that you care about. Various collector's shelves and cases can be purchased or built to hold figurines or anything other collection you hold dear. You can also include shelving to show off your display and make it the start of a man cave. 
4. Paint the walls
Paint motivates. Just as a fresh coat of paint can breathe new life into any room of your home, the same rings true about garages. Before doing so, however, it's important to clean your walls and consult with someone to determine the correct type of paint depending on your current situation.
5. Try some new lighting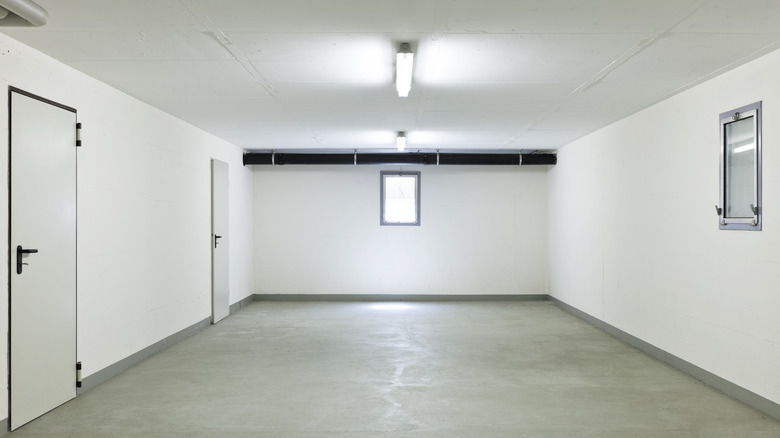 Piovesempre/Getty Images
Proper lighting makes a garage safer to walk around in and also illuminates trouble spots. With new, brighter lighting you'll be more inspired to make sure things are tidy. Consider also investing in motion sensor lights. 
6. Make room for cars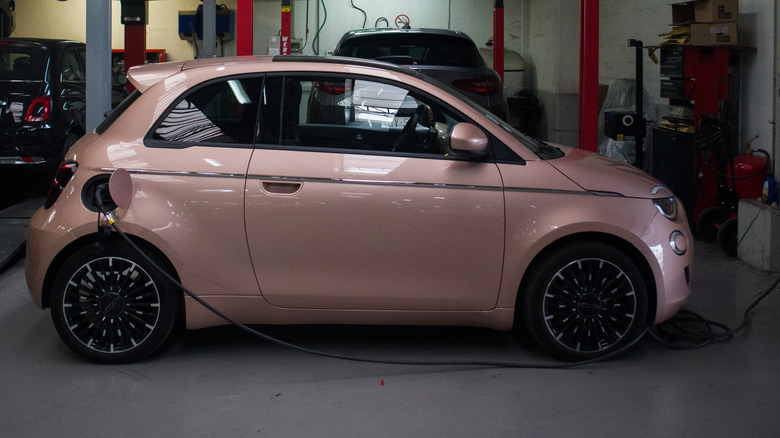 Bloomberg/Getty Images
With electric vehicles growing in popularity, and nosy neighbors always existing, there are plenty of reasons to start parking your car(s) in the garage again. This will reduce instances of theft, protect your car paint from weather damage, and — you guessed it — keep your garage space clean and organized. 
7. Install tracks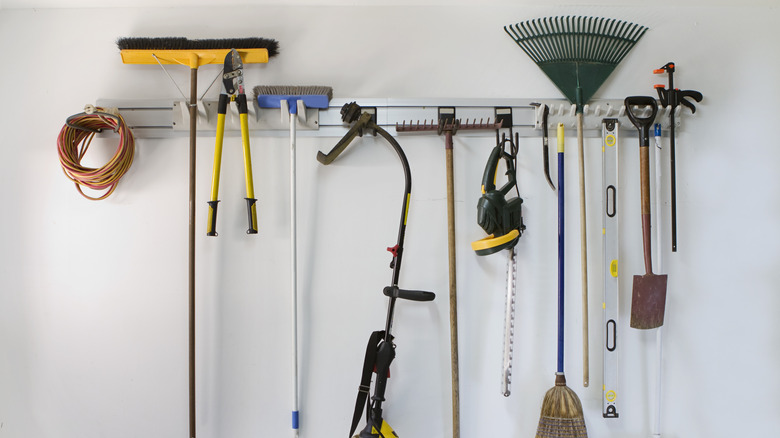 Jodiejohnson/Getty Images
A track storage system is perfect for oddly shaped items. There are many track systems available, and once you install the initial railings, there are multiple attachments you can purchase to hang virtually anything on the wall. Up and out of the way!
8. Create a workstation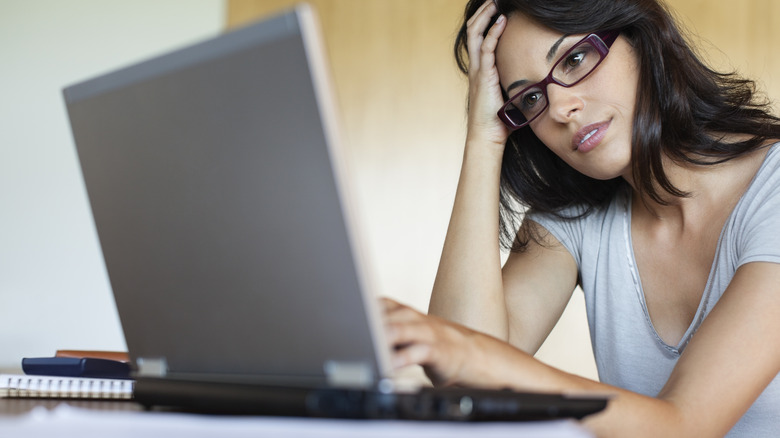 Sam Edwards/Getty Images
Since the pandemic, so many of us have joined the work-from-home gang, and transforming a portion of your garage into an office can give you a great space to focus and be productive. The trick is to keep things minimalistic with a basic layout and nice paint colors. 
9. Put in a bar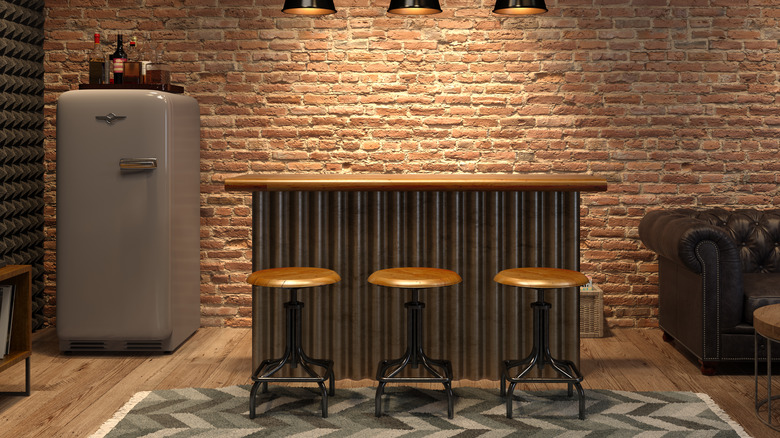 Hemul75/Getty Images
We love Next Luxury's Cool Cantina Workshop as an idea of how to transform a garage space into a lively private bar area while still retaining its daytime functionality. If you don't want to go that fancy, invest in some bar stools and a small bar top with your favorite spirits stored in an adjoining fridge. 
10. Install cabinetry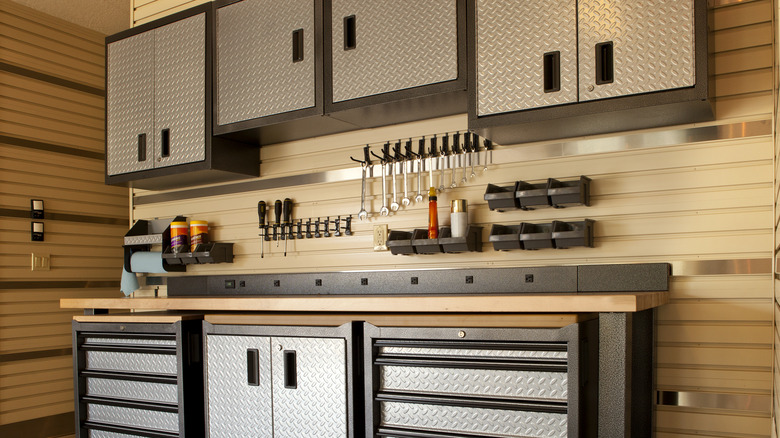 Aneese/Getty Images
Installing cabinetry in your garage will free up a ton of space and keep things better organized without having everything out on display. Garage cabinets can be done on a budget by finding some old kitchen cabinetry that can then be painted and transformed visually however you'd like. 
11. Consider a game room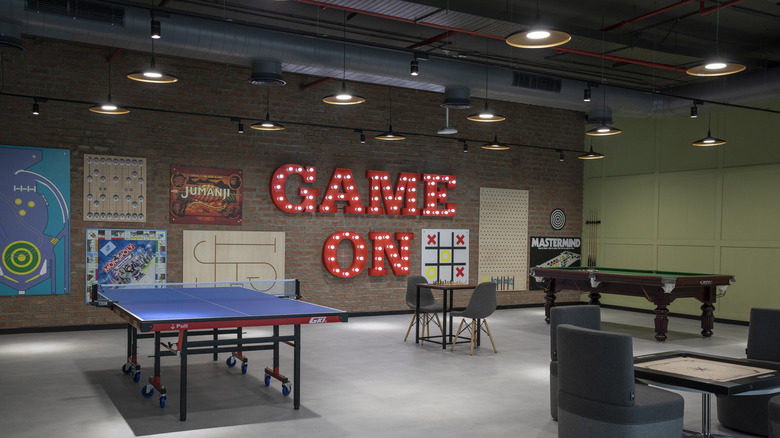 Bloomberg/Getty Images
If you love to host parties or play games, consider indulging in an extreme garage makeover that will result in an epic game room. There are so many games that will do well with the space afforded by a garage, be it an air hockey table, putting green, or vintage video games. 
12. Rent it out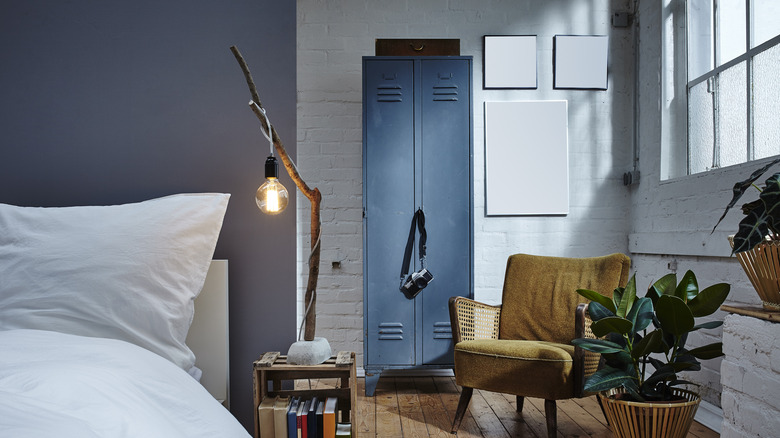 Bernd Schwabedissen/Getty Images
With many portions of the nation experiencing a housing crisis, it can be a lucrative move to convert your garage into a bedroom that can then be rented out for some extra income. But be prepared for the initial investment — according to House Logic, a conversion can cost between $20,000 and $50,000. 
13. Make a pet food station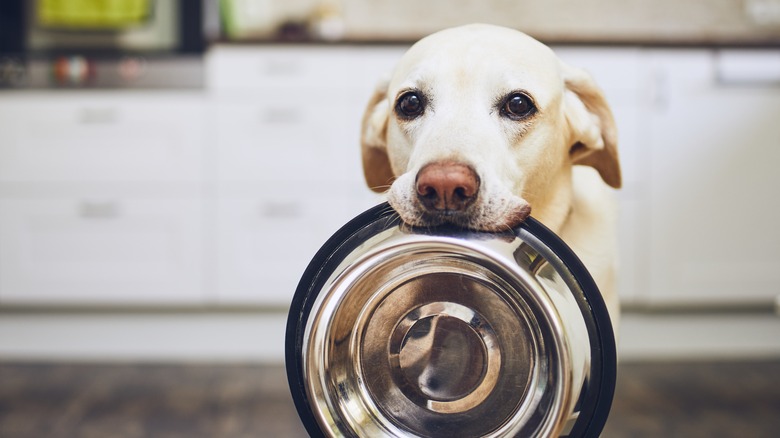 Chalabala/Getty Images
Having your pet's food in the house can attract rodents, but storing it in the garage gives your pet a safe place to eat without risking the health of your family. A simple pet food station can be DIYed and easily stored and used in a portion of your garage. 
14. Insulate the walls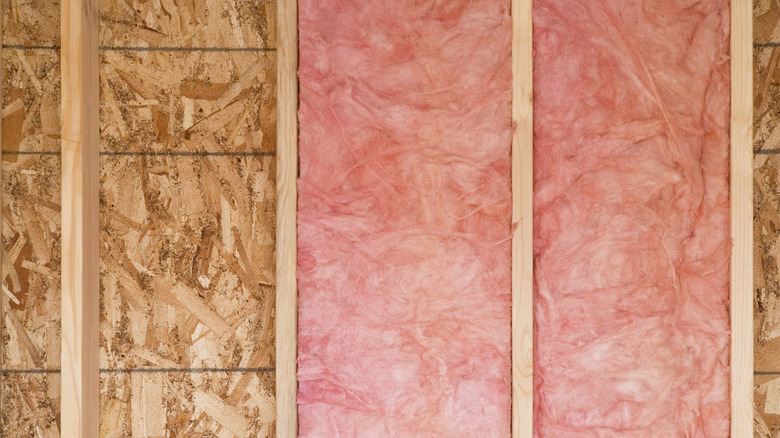 Dpproductions/Getty Images
Insulating your garage walls will help regulate temperature, reduce your energy bill, and allow you to spend more time in your garage during the winter and summer. If you are skilled enough to DIY your wall insulation, Dumpsters.com recommends using fiberglass insulation. It is affordable and the simplest to use. 
15. Swap out your garage door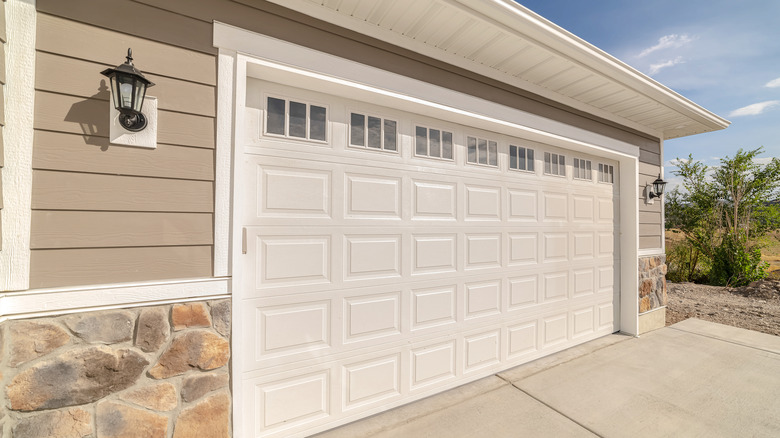 Jason Finn/Getty Images
Getting a new garage door can make a world of difference. Perhaps you will have an electric garage door opener for the first time ever, or maybe you're just updating your look. Just make sure you stick to a style that complements your home. It will freshen up both the exterior and interior of your garage. 
16. Divide into zones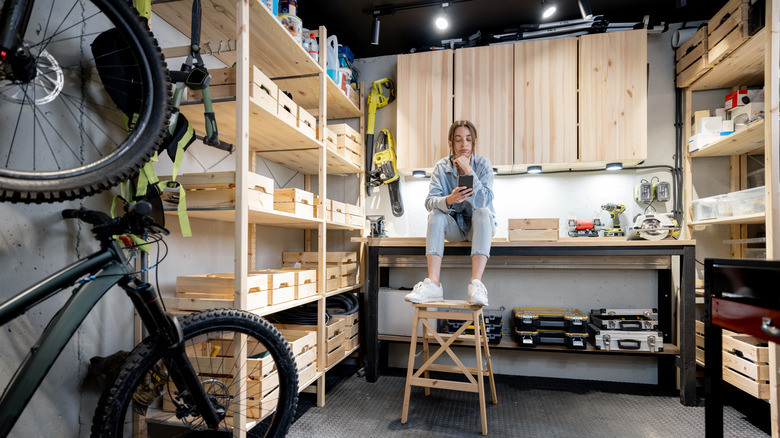 Rosshelen/Getty Images
Organizing your garage into zones can help you divide and conquer clutter once and for all. Organized Mom recommends no more than five to six zones, with each one containing designated categories. Zone ideas include sports equipment, holiday decorations, yard tools, power tools, and camping gear. 
17. Teen hide out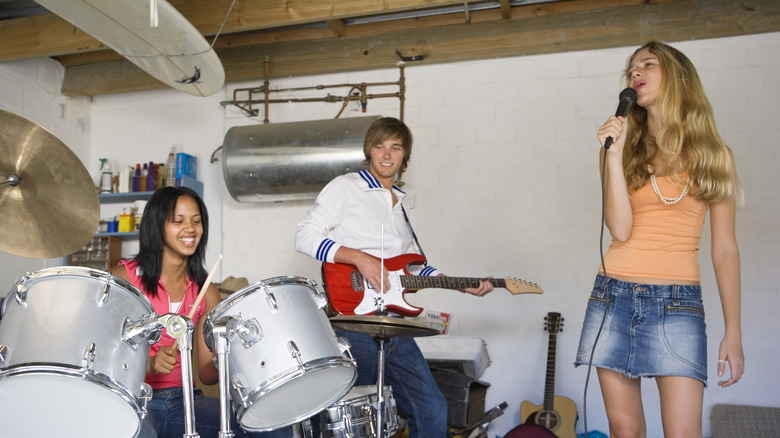 Polka Dot Images/Getty Images
We all knew someone in high school that was in a garage band. Why not turn your garage into a space for your teen and their friends to make music, play games, or hang out? Just remember to invest in soundproofing if you choose this option. From wall panels to soundproofing curtains, let the teens have fun without driving you crazy. 
18. Maximize your storage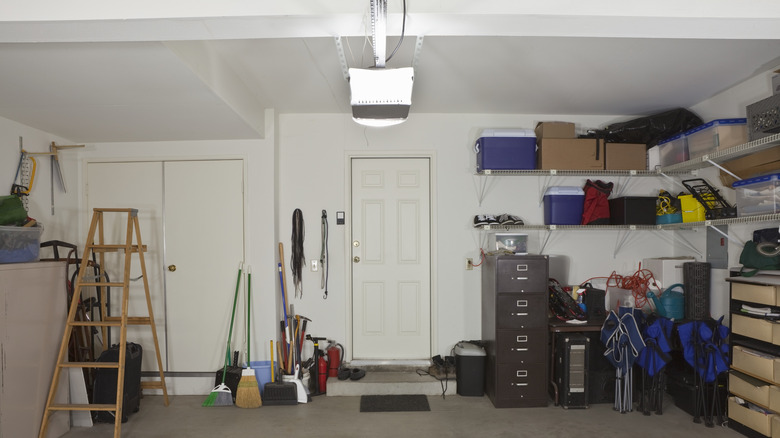 Trekandshoot/Getty Images
Optimize your garage's appearance and functionality by investing in storage containers. Old Amazon boxes and 30-year-old file cabinets just don't fly when it comes to a clean and organized space. Opaque bins with labels are ideal, and make sure to keep the ones you will most frequently need in the front. 
19. Extend the party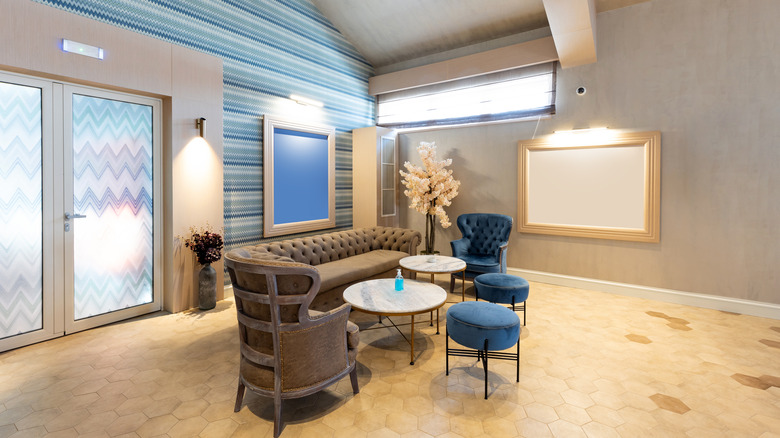 Edvard Nalbantjan/Shutterstock
If you love to host the holidays but have a family larger than your house, extend the party out into the garage. And it doesn't have to be weird. Try bringing in a couch and comfy chairs to go along with the dinner table and anything else you need. 
20. Have regular yard sales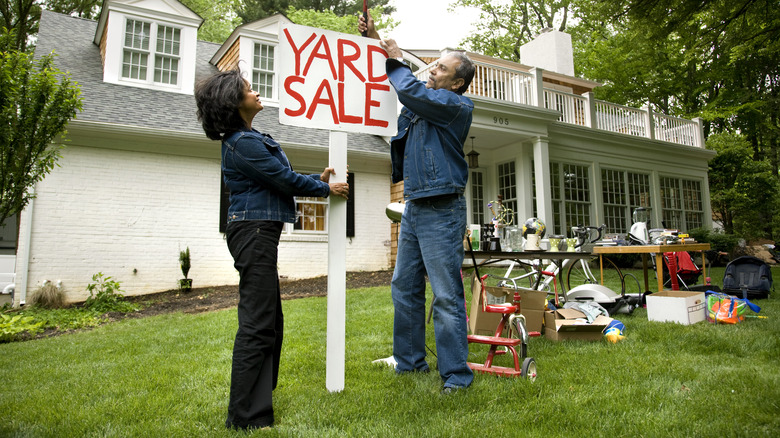 David Sacks/Getty Images
It's really remarkable how many items we accumulate during a typical year. This is why you should consider having a garage sale at least annually to keep your garage under control. A sale will be a success when prices are clearly marked and items are bundled for great deals.