11 Clever Vinyl Record Storage Solutions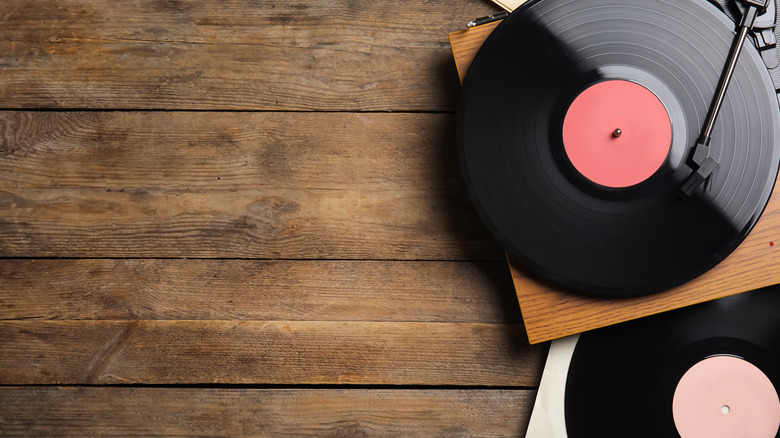 New Africa/Shutterstock
Correction 12/14/2022: A previous version of this story listed storage options that are not optimal for vinyl records. These have been removed.
Vinyl albums can be endlessly fun, both for their collectible nature and their nostalgic-driven sound. Once hearkening to the history of musical formats past, vinyl is having another revival, with many recording artists like Taylor Swift and Billie Eilish choosing to issue special editions in this unique format. With record players readily available from many retailers and vintage vinyl everywhere, you might be looking for cool ways to house your growing collection. 
With their sizeable 12-inch by 12-inch sleeved dimensions, record storage can often present a greater challenge than smaller, sleeker media of the past, like cassette tapes and CDs. Their size, however, also makes them a wonderful vehicle for cover art, with the exterior of many album covers far surpassing what is possible on smaller surfaces and digital devices. According to The Los Angeles Times, even the vinyl discs themselves are steadily becoming works of art. Whether you want to hide them away or place them front and center in your décor, there are some versatile modes of storing your vinyl that work for any style of interior. 
1. Modern record cabinet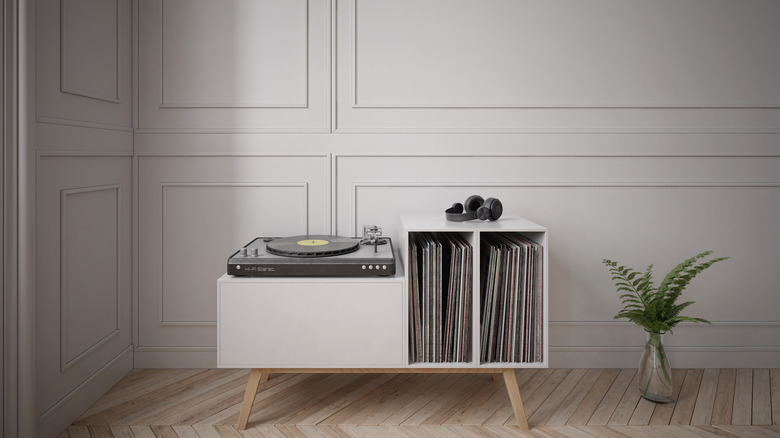 Jovy86/Getty Images
This sleek contemporary record cabinet lends a sense of modernity to a vintage medium, allowing space for a turntable and visible record storage underneath. Its neutral color and clean design make it natural for any kind of décor. 
2. Wood crates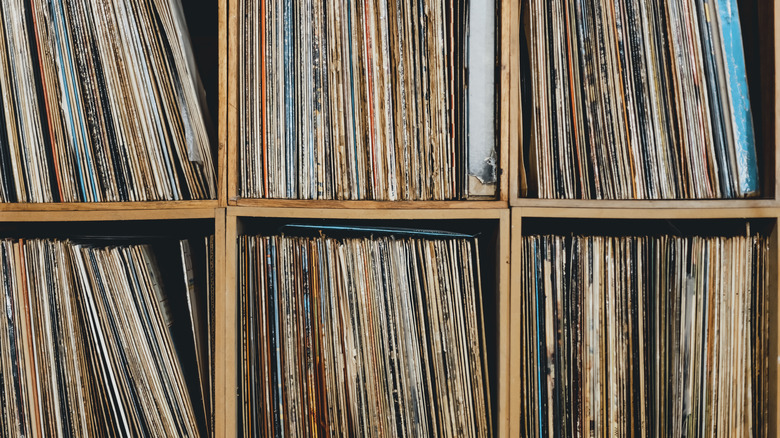 Simon Mayer/Shutterstock
Long the preferred record storage for both DJs and 1970s boho décor, wooden crates are a perfect option for flexible and moveable storage for albums. You can buy new ones at most container and home décor retailers or hunt for vintage fruit and wine crates that are often the exact dimensions for album storage. 
3. Bookshelves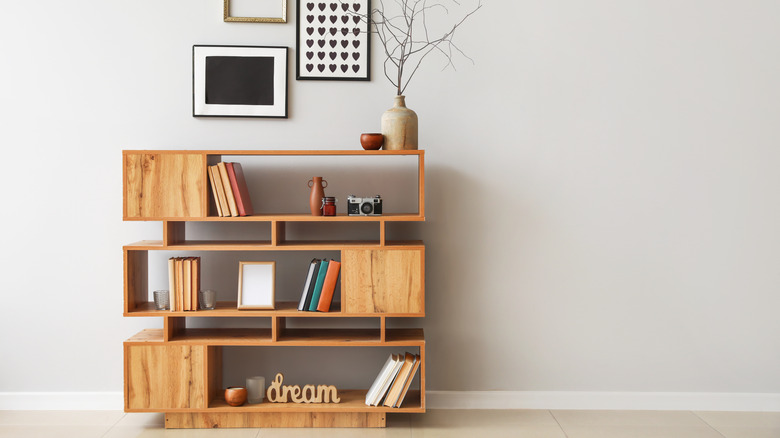 Pixel-Shot/Shutterstock
Deep bookshelves, like this fun, sculptural mid-century reproduction, are a natural solution for storing records, particularly if your space is smaller and you need multi-use storage for music and books. Look for bookshelves with generous width on the shelves.
4. Closed storage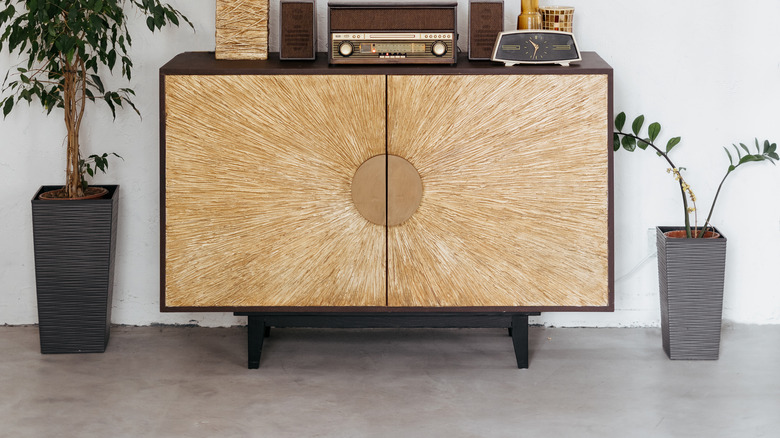 brizmaker/Shutterstock
If you are looking to place your album collection out of sight, there are a number of options for doored cabinets, particularly low-slung cabinets designed for album storage, credenzas, and console cabinets that will fit a lot of albums easily.
5. Baskets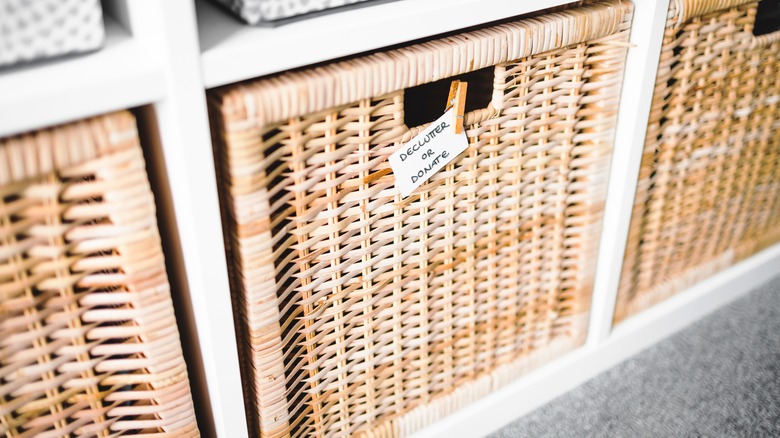 faithie/Shutterstock
If you are looking to stash your albums more out of sight, consider some square baskets. They can be stacked or placed on a shelf or cubed unit to keep records tucked away and dust-free.
6. Vintage buffet or sideboard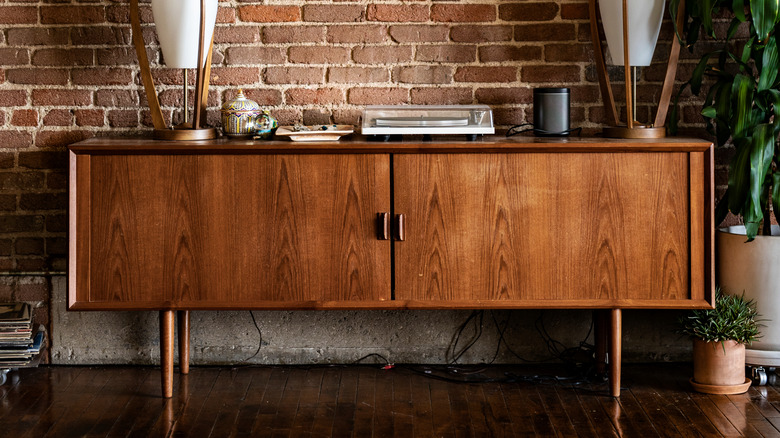 Rawpixel.com/Shutterstock
Mid-century dining sets often boasted gorgeous sideboards and buffets to round out everyday tables and chairs. Because many dining rooms are smaller or non-existent in modern décor, these pieces can be excellently re-purposed as stylish record storage since they often boast deep interiors designed to house serving dishes.
7. Antique steamer trunk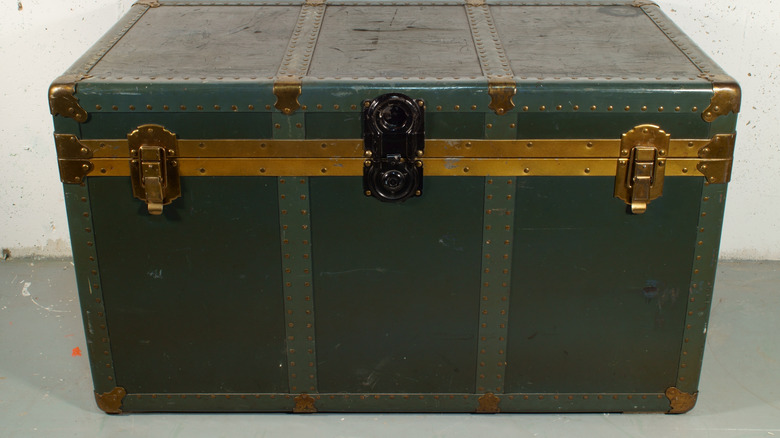 EdmontonMartin/Shutterstock
A beautiful option for eclectic and boho interiors, an old-world steamer trunk offers a way to store your vinyl in a way that is both stylish and easily transported if you move often. 
8. Magazine rack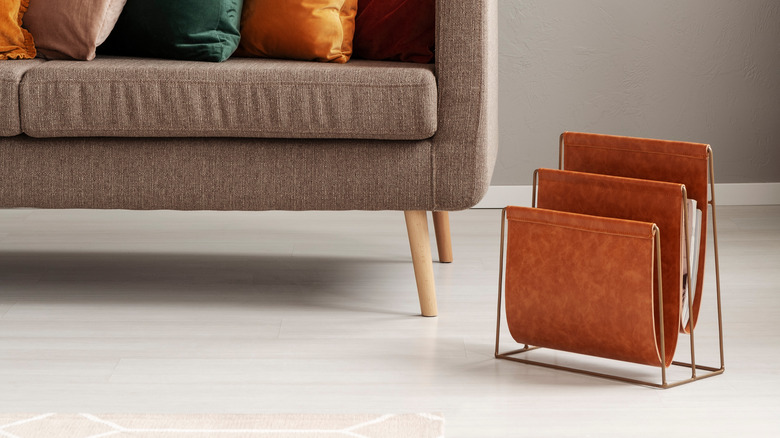 Ground Picture/Shutterstock
While the golden age of print may have passed and magazines are a harder sell these days, you can still find several stylish and attractive magazine racks in places like thrift and antique stores. These racks, which come in everything from metal to wicker to leather, are the correct size for storing and displaying your vinyl collection. 
9. Built-in shelves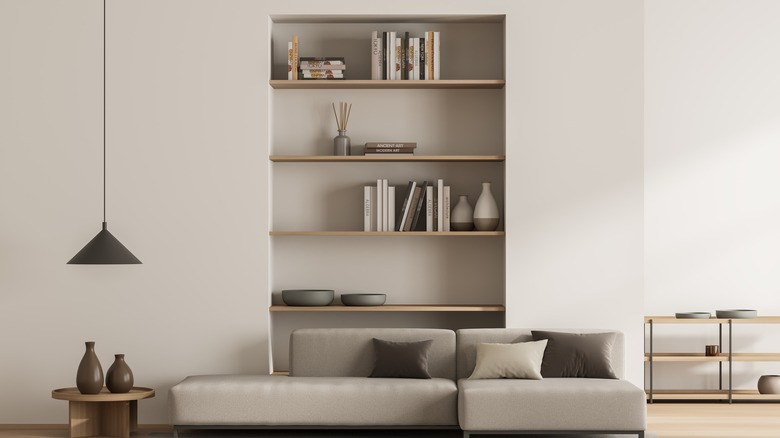 ImageFlow/Shutterstock
While not all built-in shelves are wide or tall enough to accommodate the dimensions of vinyl, there is nothing stopping you from creating a small nook from existing spaces. Here, a small recess makes a perfect place for generous wooden shelves. Also, consider unused closets and nooks as the ideal place for some shelves.
10. Cube shelves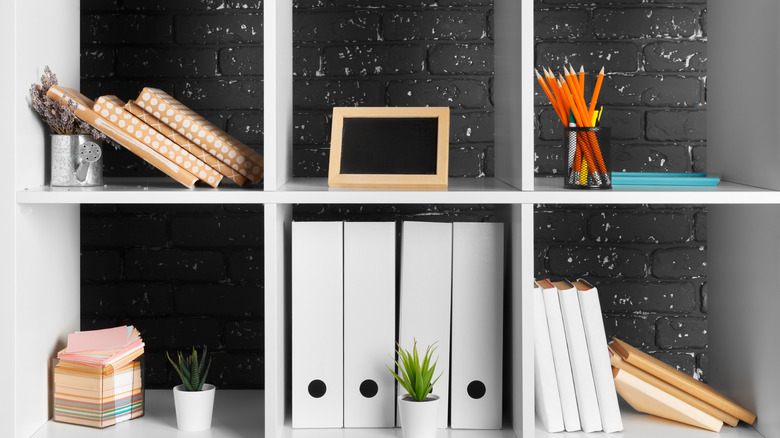 FabrikaSimf/Shutterstock
Cube shelving units can house all sorts of things but are especially perfect for housing vinyl albums, many boasting the same 12-inch by 12-inch dimensions that make them a natural fit. They are also easy to assemble and sturdy to hold a lot of weight for large collections.
11. Rolling carts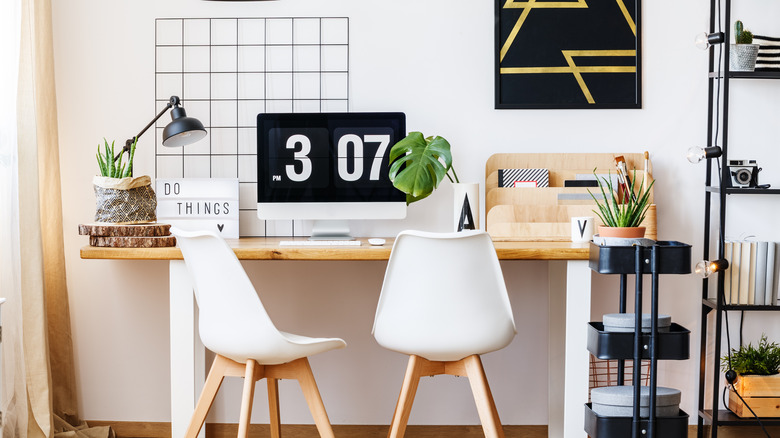 Ground Picture/Shutterstock
Utility carts are a great place to house albums, particularly if you like something that can be moved from room to room. These metal carts (here holding office supplies) sold by retailers like Ikea are compact and sturdy, with trays deep enough to hold a stash of records, making it easy to flip through your collection.