HGTV Star Breegan Jane On Why You Should Consider Hiring An Interior Designer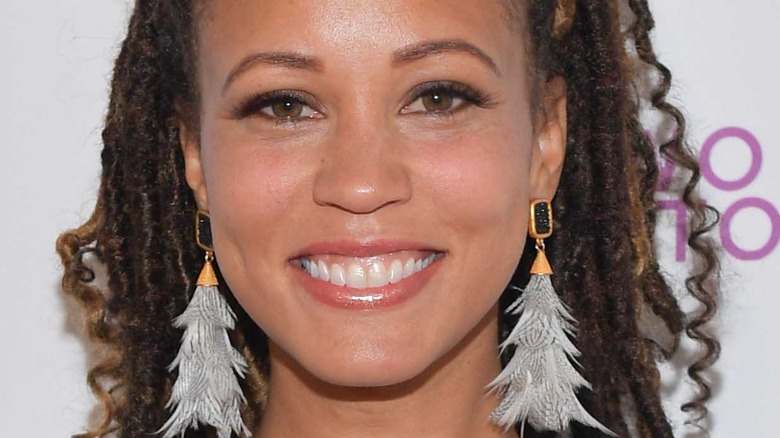 Matt Winkelmeyer/Getty Images
Interior designer and HGTV host Breegan Jane understands the power of learning as you go. "It's so cliché to say, but practice really does make perfect," she told Architectural Digest. "The more I do it, the more confident I get with each venture, and the last project becomes the inspiration for the next," she explained. And that's precisely why it makes sense to consider hiring an interior designer: They have the benefit of experience.
In effect, you're reaping the advantage of lessons bestowed by their previous clients and design challenges, and to that end, the daring choices that equate to a personal and unique space. Jane frequently includes something unconventional in her designs: hidden doors, a claw-foot bathtub inside a modern wetroom, an acrylic and gold canopy bed. On her Instagram account, she teases some "unprecedented elements" for her own beach house project.
Of course, there are more practical grounds for bringing on a decorating professional. "The best designers will be able to identify the potential of a space or its inherent pain points immediately, and then provide creative solutions," said interior designer Linda Coin in Elle Decor. While Jane cheers on a do-it-yourself attitude, she believes in the value of consulting a professional. "As a designer, my goal is not only to give you a beautiful home you love; it's to do that in the most cost-effective way possible," she said on her eponymously titled site. Here, Breegan Jane shares a few additional reasons you might want to hire an interior designer.
Making design happen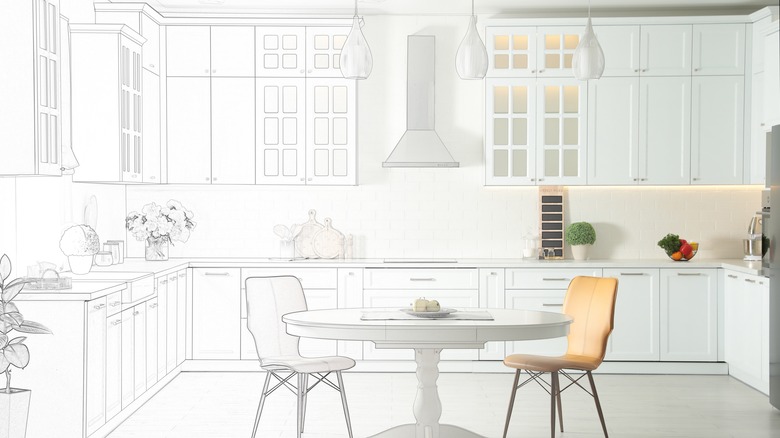 New Africa/Shutterstock
Interior designers have an inner circle of merchants, craftspeople, and trade professionals that they've developed and nurtured throughout their careers. "We've spent years building long-standing relationships with vendors, and we know who will do the best job on your home project," Breegan Jane said in her design blog. Further, interior designers are an excellent filter; their livelihood relies on their being exacting and detail-oriented. This means they're an invaluable contact, hiring consultant, and liaison for the slew of contractors necessarily involved in a project.
Jane asserts poor work and mismanaged scheduling cost time, and time is money; in that vein, your time is important, too. Bruce Irving, a renovation consultant, suggests vetting contractors and architects with three reference checks for each. "[V]isit your candidates' job sites to find out if you like what you see in terms of cleanliness and vibe," Irving said in Architectural Digest. An interior designer may offer an alternative fast-track through such a demanding process. 
Additionally, an interior designer can be "a stronger bridge between you and your architect or contractor early on and can head off design misses in your overall plan," according to Michelle Cortizo of Cortizo Interiors (via My Move). Having someone on your team who reads blueprints, effectively communicates, and prioritizes where spending should be allocated, for example, is imperative.
Access to the best
Interior designers aren't only connected with people, they're connected with products. According to Breegan Jane, a favorite aspect of her job is the sneak peek and exclusive access interior designers are afforded to product collections, showrooms, and industry markets. "The good thing is that we can work as liaisons for both the manufacturer and clients! Manufacturers get a more secure transaction, and clients get revered and exclusive décor not available to the public. Everyone wins!" Jane explained in her blog. This first access means your designer has knowledge of up-and-coming trends and products before the general public does, which then gets passed on to you, the client. 
However, glamorous though it seems, the first-look concept isn't the only benefit to this arrangement. Awkward spaces or extremely sized rooms can require customized or hard-to-find items. "Sometimes atypical layouts are opportunities to get creative with your styling," Jane shared on her Instagram. Interior designers are allowed a much larger pool of products to choose from than a typical consumer enjoys; therefore, they're better equipped to locate unusual and less-available pieces. Additionally, they're used to working with manufacturers to design and craft custom furniture and décor. This could include a 15-foot-long sectional, draperies, built-in cabinets, artwork, or a rug that coordinates perfectly with all of it. "Designers are truly only limited by their imaginations," Linda Coin said in Elle Decor.