How To Choose The Right Size Rug For Your Space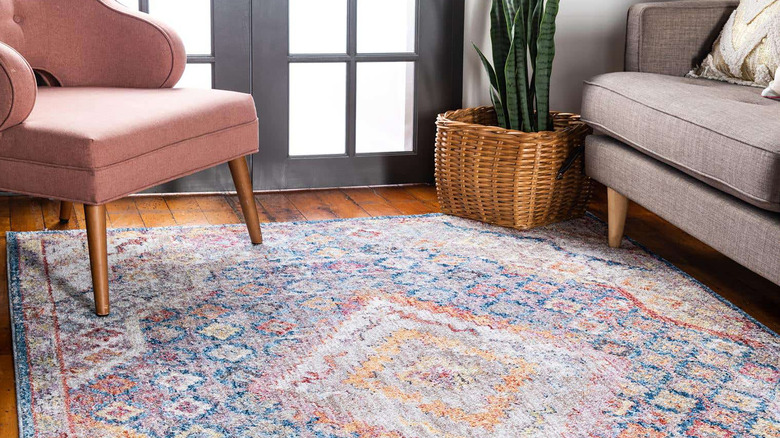 DesignStock09/Shutterstock
Have you ever walked into a living room and something just seemed off? All the right elements were there: stylish sofa, attractive color scheme, perfect accents. If that space had a rug, it might have felt off because the proportions were wrong. A rug that's too big looks more like wall-to-wall carpeting, hiding the attractive contrast between its design and the solid surface of the floor. But then a rug that's too small gives the disturbing feeling of having a washcloth when what you need is a bath towel.
Rugs are an attractive addition to any space. They bring interest and softness to rooms with hard floors, and, as you've likely noticed, Home Depot confirms there is a rug in almost any shape and size with the right color and pattern to bring your room together. Whether you live in a large home or a cozy studio apartment, the right rug might be the finishing touch to your space, so long as it's properly proportioned.
Living room options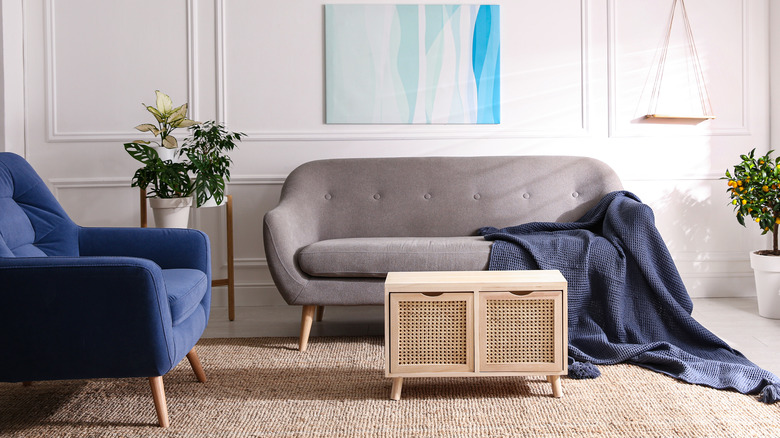 New Africa/Shutterstock
There are a few options when sizing your living room rug. You could pick a large size that will allow you to have all of the legs of your furniture on the rug or a smaller size which will only stretch under the front legs. The first option is best in open-concept living room arrangements where none of the furniture is touching a wall, according to House Tipster. Situating just the front legs of each piece on the rug works in smaller spaces that have at least one key piece of furniture, like the sofa, against the wall.
Regardless of the option that works best for your space, the rugs should extend at least 12 to 18 inches past the edge of your seating area, says House Tipster. For example, if you have a chair with an end table on one end of your furniture arrangement, the rug should be big enough to extend at least a foot beyond the edge of the end table.
A less popular, but still viable, option is selecting a rug that is slightly larger than your coffee table. This choice makes small apartments or cozy living spaces feel larger by switching up the proportions. It's also the most economical.
Bedroom designs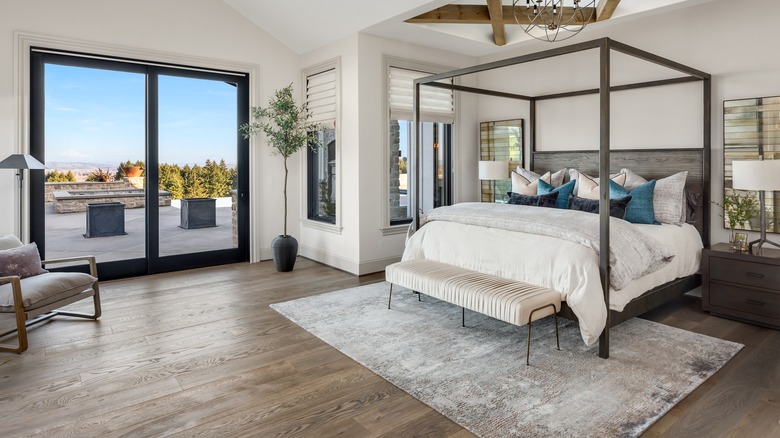 Breadmaker/Shutterstock
Measuring for a bedroom design is a little different because you need more space on the sides. In a bedroom, if you were to put all furniture legs on the rug, you'd need one that is big enough for the entire bed and end tables to fit, as well as an extra 2 feet on both sides. To ensure you get a rug big enough for this layout, measure the width and length of your bed and end tables, then add 4 feet to the width and at least 2 feet to the length to get the right proportion.
A second option in the bedroom is to place the rug under only ⅔ of the bed so just the lower part of the bed covers it (as seen above). From there you'll need to ensure an additional 2 feet of clearance on each side, including the foot of the bed. Lifestyle blogger Julie Blanner states an 8x10-foot rug works well for a queen bed, and a 9x12-foot rug is the minimum for a king bed. If you have a large room, you can select a slightly larger rug, depending on your preference.