The Best Place To Live In Washington State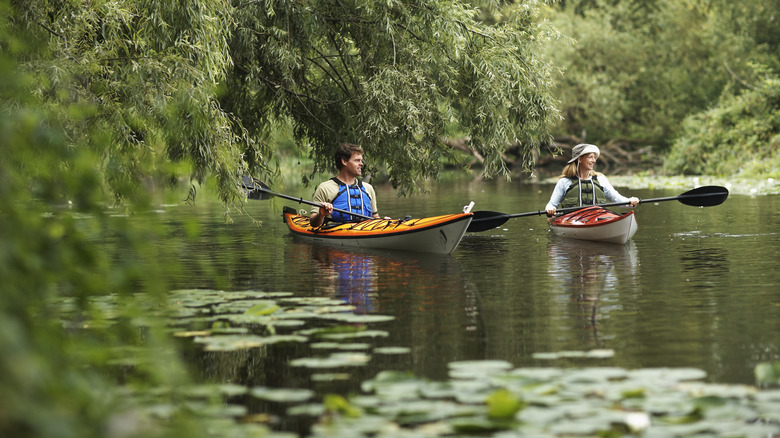 Thomas Northcut/Getty Images
Whether you already live in Washington State or you're thinking about moving from across the country, there's much to enjoy here. The Pacific Northwest is known for many things, including being the home to numerous tech companies and some of the most diverse ecosystems in the country. Washington, according to Livability, is also one of the top-ranking states for its environmentally friendly initiatives, such as mass transit solutions and being bike-friendly. The state also offers some financial benefits, like having no state income tax, which is sure to be a plus for those moving from out of state.
Washington State's higher education opportunities, thriving and diverse economy, and numerous outdoor activities like hiking Mount Rainier or sea kayaking make it a solid place to live. The question is, which region and city in the state will you choose to live in? There is one area of the state that truly ranks well for several big reasons. If you're thinking about finding the best place to buy a home in Washington State, consider this area.
Bainbridge Island offers an exceptional quality of life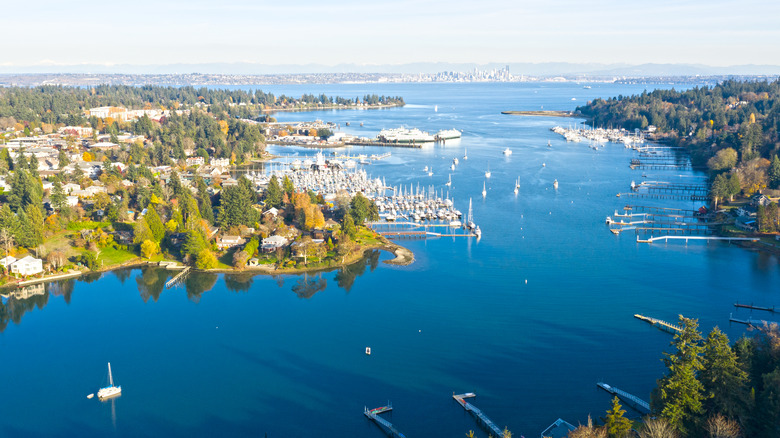 Seastock/Getty Images
For those who are looking for privacy and natural beauty, it's hard to beat Bainbridge Island, a smaller city that's connected to Seattle by a ferry. It's close enough to the big city to make it a good location for commuters working at large companies like Amazon or Apple, but it's tucked into such a naturally beautiful area that you'll feel as though it's much more remote.
Bainbridge Island spans about 27 square miles, and according to the City of Bainbridge Island, it's home to about 23,380 people with 53 miles of shoreline. The Bainbridge Island Metro Park & Recreation District offers numerous parks and cultural events throughout the year. The waterfront park and city dock provide direct access for getting out into the water with a sailboat or yacht. There are area museums and art galleries, along with several small artisan shops and restaurants. The city maintains its small-town feel with the proximity of the big city many want.
Finding just the right home
Bpperry/Getty Images
One of the reasons to purchase a home on Bainbridge Island is because of the diversity it offers. As noted by Jennifer Pells, the city has a wide range of home styles to select from. That means it's possible to find a home that's located on the water with a beach right outside or to find a small, far more private property tucked into a wooded area of the island. Some properties are larger, including the amenities to meet the needs of owning a horse stable. On the other hand, in the downtown areas of the city, you'll also find luxury condos and a few penthouse-style properties.
Bainbridge Island is a more affluent community in Washington State with home values that averaged $992,000 in October 2022. While that's down from the year before, it's higher than many other areas of the country and the state, according to Redfin. The cost of living is higher, but that may be worthwhile for many. Buying a home here may cost a bit more, but considering the many pros the city offers, it's well worth the investment.