10 Ways To Pair Your Plants With Your Home's Décor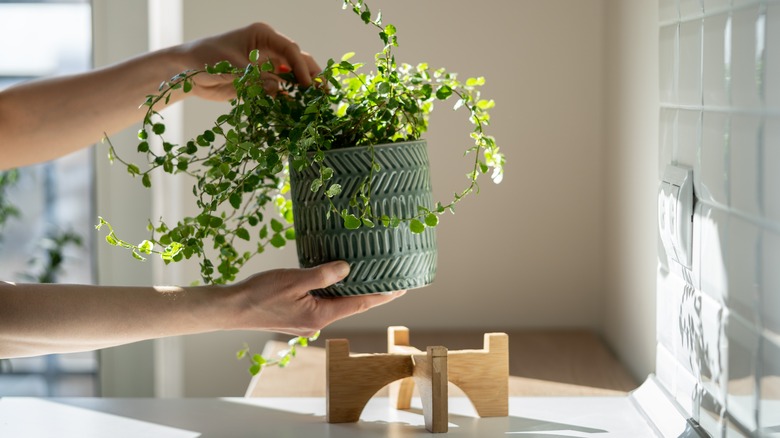 DimaBerlin/Shutterstock
Decorating with house plants is one of the easiest ways to add a touch of living greenery to your décor. And if you're already thinking you can't grow anything based on past mishaps, you just haven't met the right plant. Yes, there is indeed a plant for every type of décor and every type of indoor gardener.
If you've already mastered the art of keeping houseplants alive, there's always a new idea on the horizon for beautifully incorporating them into your decorating scheme. If you need a little more practice to be proficient in that area, there are lots of low-maintenance plants to explore, as noted by My Tasteful Space. With a few interesting planters holding equally beautiful plants, you can bring life to almost any room in your home. Take a look at some ideas to help you get started with your next plant and décor project. 
1. Create a bohemian bedroom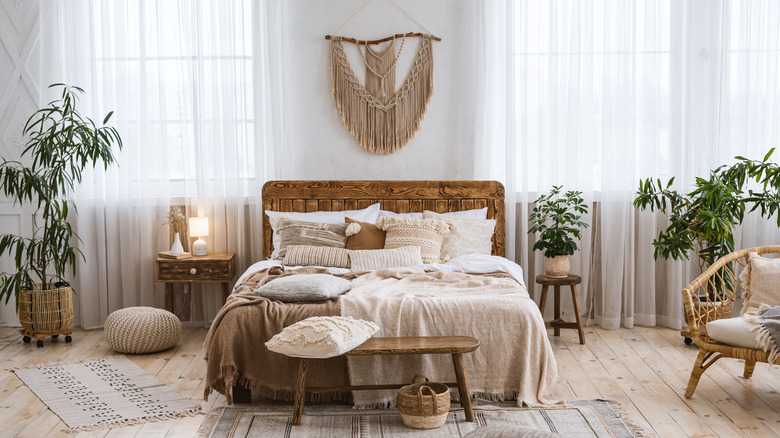 Prostock-studio/Shutterstock
Textures, layers, and rich earthy tones are all foundations of bohemian decorating. Another big part of completing the look is adding houseplants in every iteration imaginable. When bringing this look into a bedroom, think about putting larger plants on stands with wheels to make them more portable. This is useful when you're cleaning and moving plants around to find the right spot for them to live their best life. 
2. Don't forget the plant stands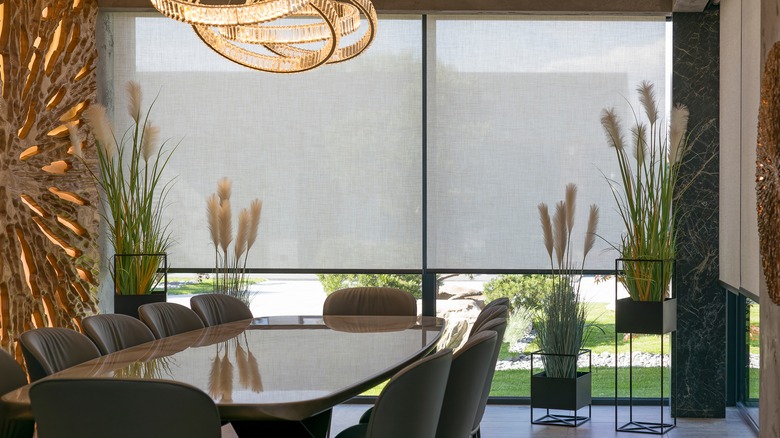 Astibuk/Shutterstock
Decorative plant stands provide a cohesive way to bring plants into a room. They come in so many different shapes, sizes, and styles now that propping up a plant is easier and more stylish than ever. Whether you choose traditional fern stands or a passel of modern versions like those shown here, plants look great in stands with varying heights.   
3. Bring some greenery into a modern bathroom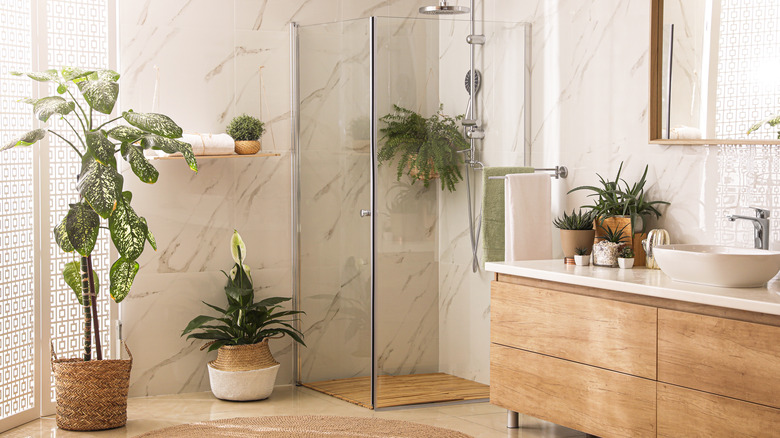 New Africa/Shutterstock
While you might decide that a flowing fern in the shower stall is a bit over the top, plants feel right at home anywhere in the bathroom. Many thrive in the humidity created by daily showering and relaxing hot soaks in the tub. Plus, what could be cooler than surrounding a garden tub with an actual garden of potted plants?
4. Create the perfect laundry room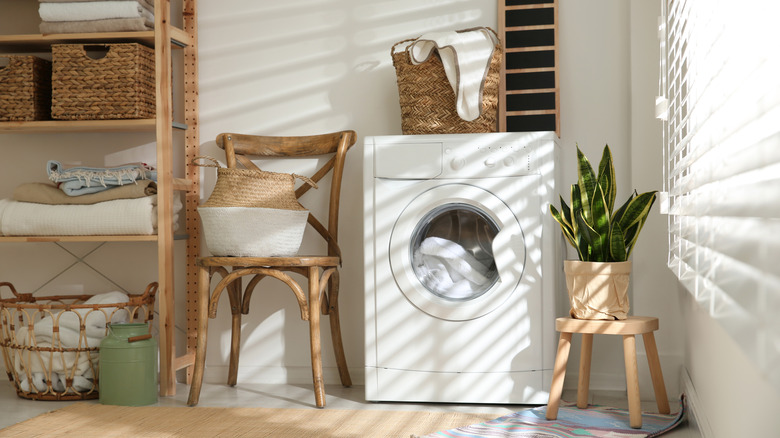 New Africa/Shutterstock
For decades laundry rooms were relegated to garages or tacked onto homes as utilitarian afterthoughts. Today home decorators are making them inviting spaces for storage and tackling household chores. While a laundry room might not be the first place you think of to decorate with plants, they can add a welcome pop of color and life just the same. 
5. Hang a plant almost anywhere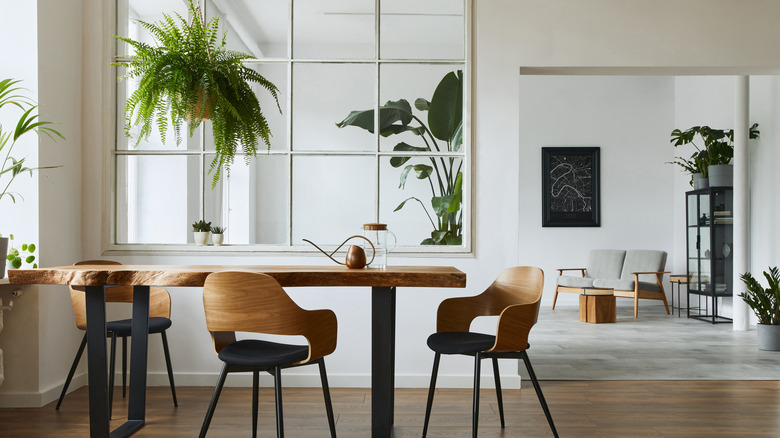 Followtheflow/Shutterstock
If running short on surfaces to hold other plants, think about finding the perfect place to hang one. Hanging plants isn't a new idea in decorating, but it can still bring more greenery into a room in a great space-saving way. This can also be a good project for beginners wanting some practice with power drills, as detailed by Home Depot. 
6. Vary planter colors, shapes, and sizes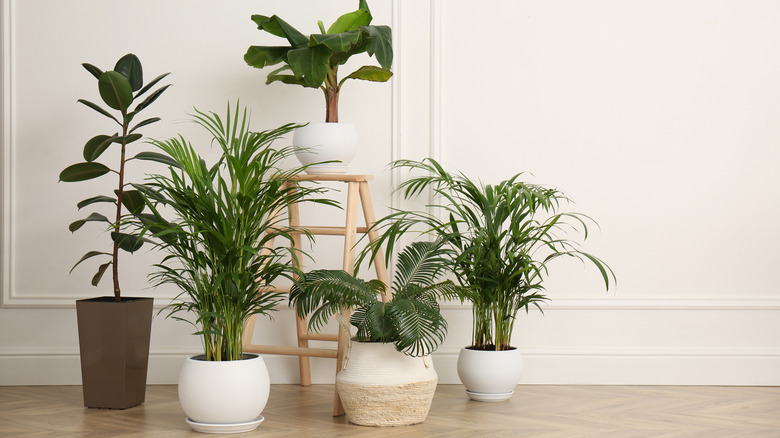 New Africa/Shutterstock
Planters offer an additional way to define the look of a room. Exploring complimentary colors in contrasting shapes adds even more interest to a collection of greenery. Choosing a pot or two with some texture or using a large basket to conceal a less-than-attractive pot can also make a room look stylish. 
7. Choose varying plant sizes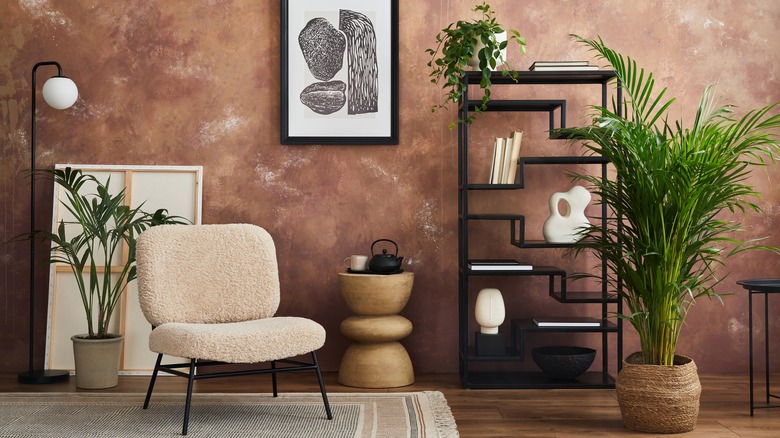 Followtheflow/Shutterstock
Placing plants in a room can bring together a look while imparting a welcome touch of color. Use floor space to tuck plants between furniture to add texture and height. Fiddle-leaf figs and avocado trees are popular choices for this, and smaller pots of trailing ivy are perfect for perching on shelving units. 
8. Embrace the ease of succulents
BCFC/Shutterstock
If you're guilty of neglecting plants, succulents might be the perfect way to bring a live plant into your domain. They do need watering occasionally, but for the most part, it's a set-and-forget relationship since many can thrive on low light. Aloe vera and jade plants are two to consider. Succulents also blend in with a variety of modern decorating styles.  
9. Look for low-maintenance plant options
Aquarius Studio/Shutterstock
Plants are an intrinsically beautiful way to add life to a space. When you find low- maintenance options, that's even better. One popular choice is the snake plant, also known as mother-in-law's tongue or ribbon plant. These long-leafed plants are suitable in low light, thrive in pots, and don't mind being neglected for a couple of weeks while you're on vacation. Bromeliads, peace lilies, and Chinese evergreens offer more options in this vein. 
10. Add a container garden to a kitchen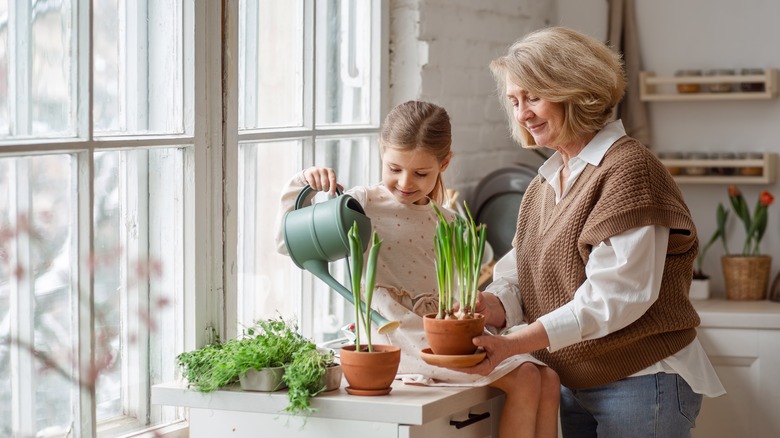 Marina Tynik/Shutterstock
Sunny kitchen windows are a great place to do some edible container gardening that also serves as a decorative accent. Herbs might be the first thing to come to mind, and they're a welcome addition to most kitchens. But other edible plants like green onions and shallots can make lovely accents when planted in terracotta pots. As a bonus, kids can help grow sustenance for their families while learning about plants and gardening.