The Storage And Organization Trends You'll Be Seeing Everywhere In 2023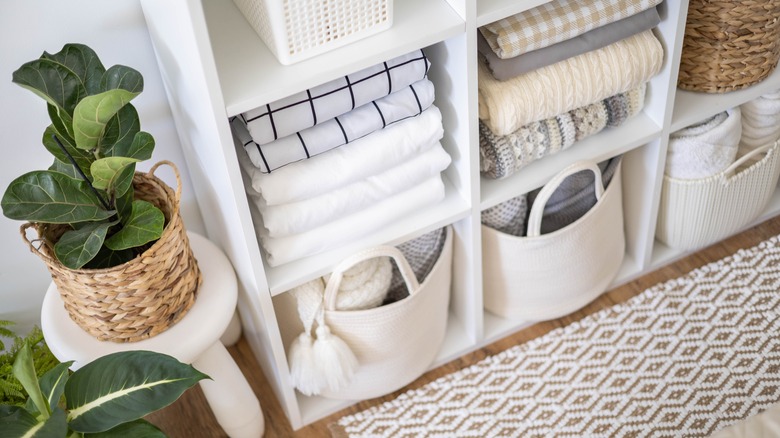 Kostikova Natalia/Shutterstock
When you think about the current trends, what comes to mind? Perhaps your first thought relates to the beauty, fashion, or interior design worlds, as those are the most popular. However, just about everything in life cycles through trends. For instance, baking habits are always changing, demonstrated by the way bread-making can suddenly grow in popularity. Other interesting examples of things that go through trends include party decorations, parenting styles, and even the amount people use social media, per PureWow. 
Further, organizational and storage habits also go through a trend cycle. For instance, perhaps you've heard that color-coding items is the best way to keep them organized. However, while this was popular in the past, many are now leaning towards neutrals or more functional systems, per Food 52.
Overall, we have recently seen an increased interest in sustainable products, minimalist designs, and warm neutrals, and these themes will carry into the next year. With this in mind, below are 10 storage and organization trends you're sure to see in 2023.
1. Ditching plastic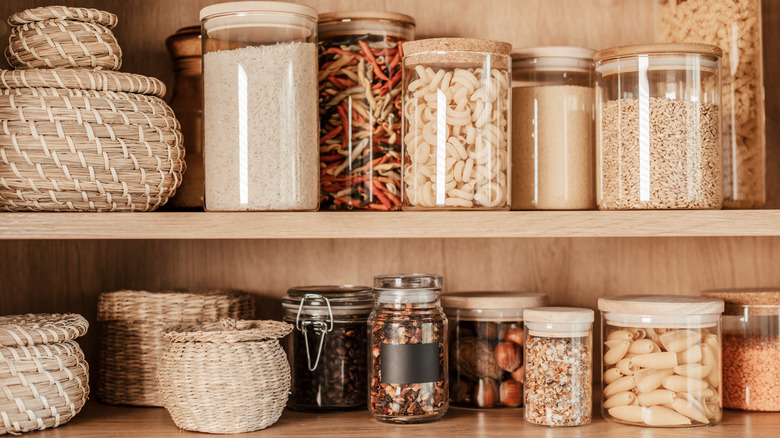 Netrun78/Shutterstock
Each year, homeowners have been striving to become more and more sustainable. To this end, many have replaced their plastic containers and jars with ones made out of glass or metal.
2. Choosing natural elements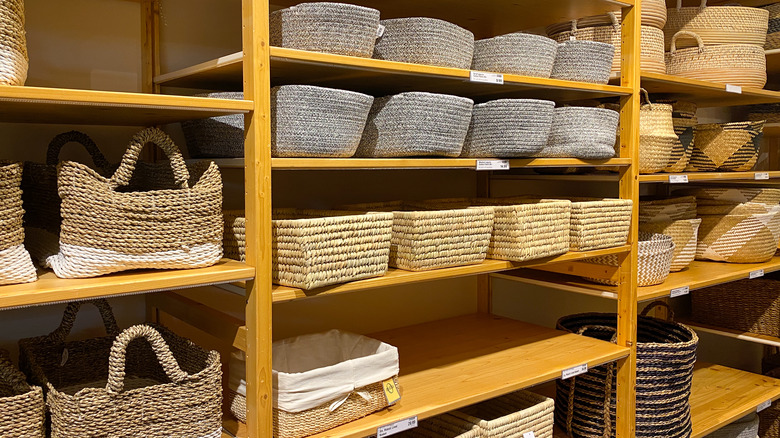 Joni Hanebutt/Shutterstock
Similarly, both for sustainability and aesthetic reasons, expect to see lots of rattan, jute, and woven baskets in 2023.
3. Deciding on cabinets over shelving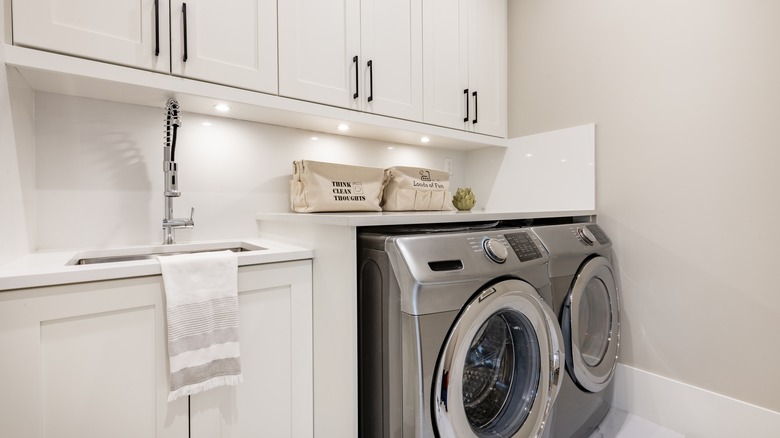 Sheila Say/Shutterstock
While open shelving has been popular in years past, many are returning to closed cabinets in kitchens and laundry rooms, as they provide a more minimalist and clean look.
4. Utilizing matching containers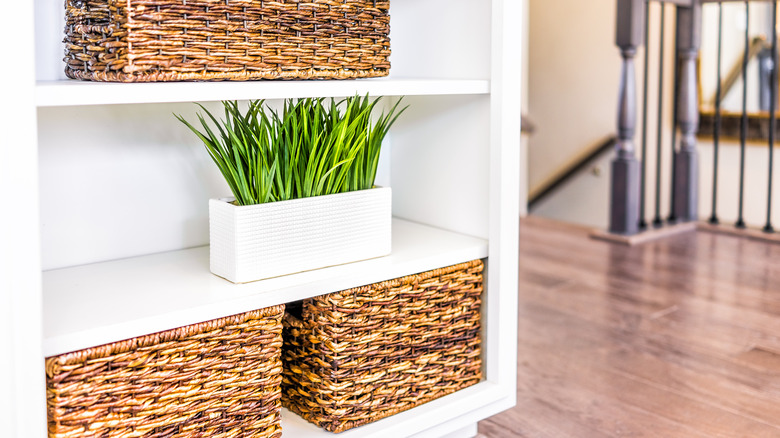 Krblokhin/Getty Images
Instead of creating an eclectic vibe that uses many different storage containers in the same space, homeowners have started using matching bins. Further, many are also choosing to use warm neutral tones like brown and tan.
5. Focusing on the home office
New Africa/Shutterstock
Since 2020, the home office has become an important part of many people's lives, especially for those who still work remotely, and keeping this space organized will be at the top of most people's priorities this next year. 
6. Making use of vertical space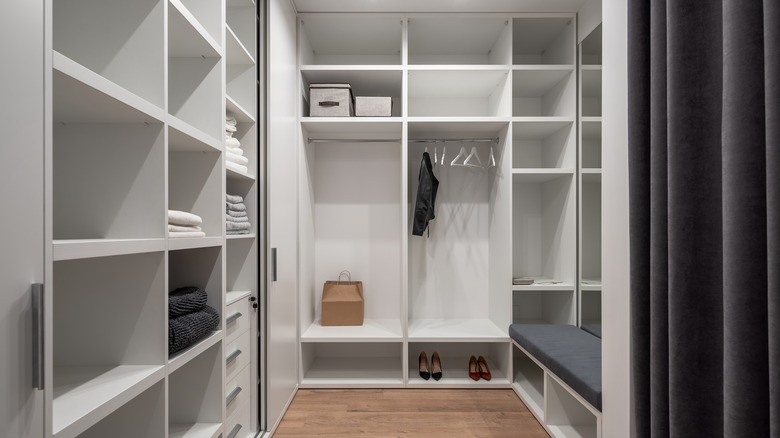 bezikus/Shutterstock
In the past, most cabinets and shelving only extended up to 1 or 2 feet below the ceiling. However, in 2023, more people will decide upon storage solutions that reach new heights.
7. Adding aesthetic touches to closets
While closets have typically only been used for storage purposes, some have begun adding aesthetic touches. For instance, a popular choice is adding wallpaper behind hanging clothes or shelving.
8. Fixating on the laundry room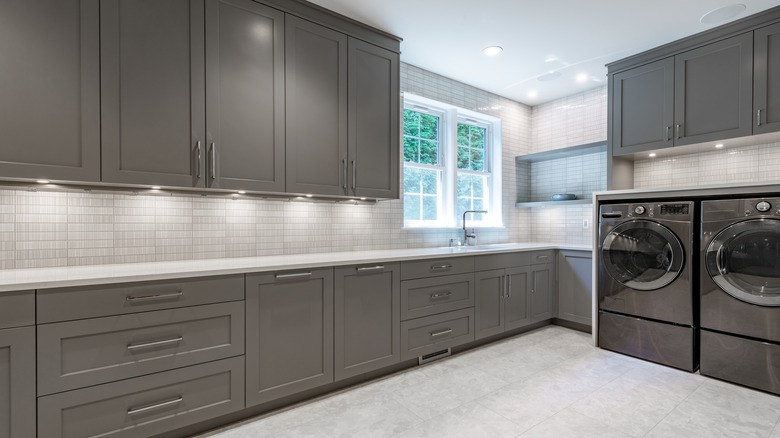 Sheila Say/Shutterstock
Just like with the home office, having an organized laundry room is very important for many homeowners. This next year will see an increase in larger spaces with more storage and less clutter.
9. Installing custom closets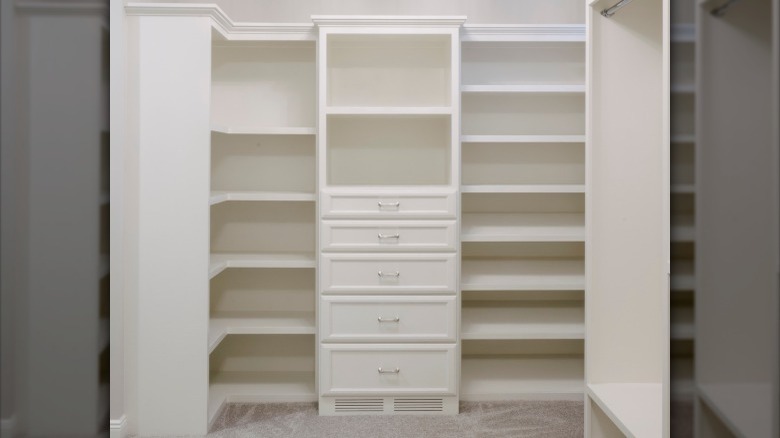 David Berlekamp/Shutterstock
While sometimes pricey, many have installed custom built-ins in their bedroom closets, as these setups provide the perfect amount of storage space for each individual person.
10. Forgetting the labels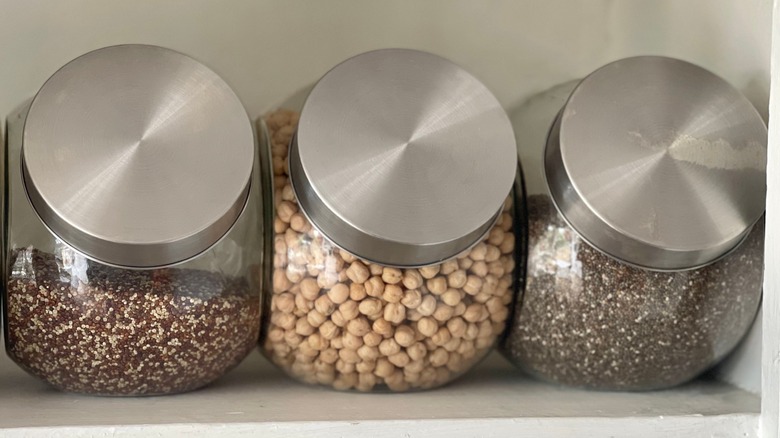 Hannie Lemay/Shutterstock
Almost every professional organizer will tell you that labels are extremely important. However, in 2023, some may choose to keep them off of certain containers, as this allows more flexibility with what's stored inside.