10 Ways To Incorporate Southern Casual Style Into Your Home Décor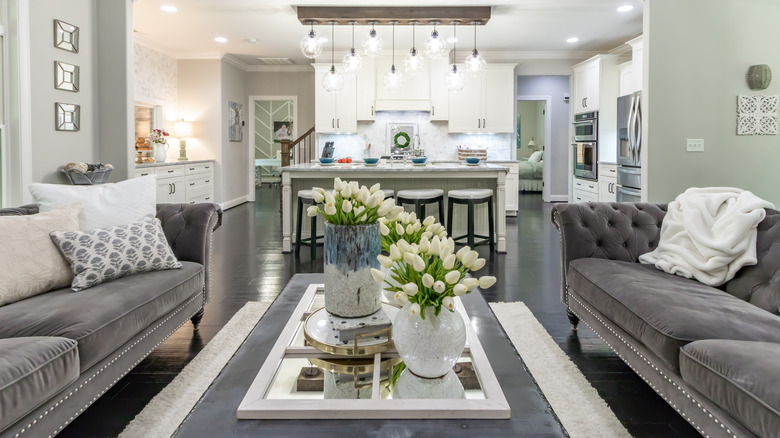 David Henderson85/Shutterstock
Want to showcase some Southern charm within your home? With a warm welcome, there are many approaches to interior decorating with a casual vibe from the South that may boast traditional yet modish furniture, including the right balance of colors, textiles, and plant life. True Southern hospitality may have been initiated among southerners as an invitation for various visitors, including friends, neighbors, and strangers (per Study the South). Places to display a comfortable yet stylish setting might be within the front porch, living and dining areas, bathroom, bedroom, patio, or other entertaining and everyday spaces.
So, how can you incorporate a casual Southern style? With a welcoming atmosphere, you might establish a sense of comfort through visual aesthetics like a fresh vase of flowers, cozy furniture, and interesting vintage and modern accessories. Depending on your taste, use wood, wicker, or clean-lined cushioned chairs and couches to create a cozy layout. Additionally, informal walls may often appear clean and bright with neutral tones like white or cream and pale blue, green, or yellow hues. Materials within your curtains, pillows, and tablecloths might consist of cotton, linen, or silk. Like a tall glass of iced tea, there are so many ways to create a cool and casual home reminiscent of the South. Read on to discover some various style methods that your home can emanate.
1. Bring the inside out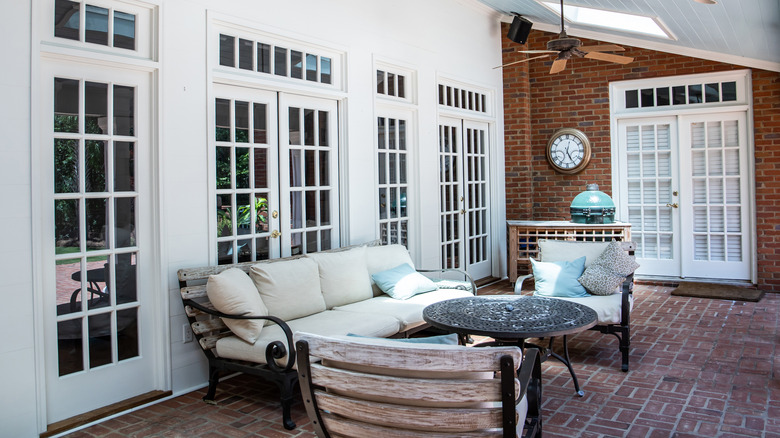 Ursula Page/Shutterstock
To extend the interior comforts of home to the outside, position sizeable couches and chairs with fluffy cushions and pillows in a desirable layout to attract you and your guests to sit and relax a while. This image features a spacious lanai with elegantly white French doors that contrast against the red brick wall and flooring amidst an inviting furniture trio all set around a cast iron table. The vintage-style clock on the wall gives an old-world feel, while the light blue egg grill and pillows add some tranquil color.
2. An inviting front porch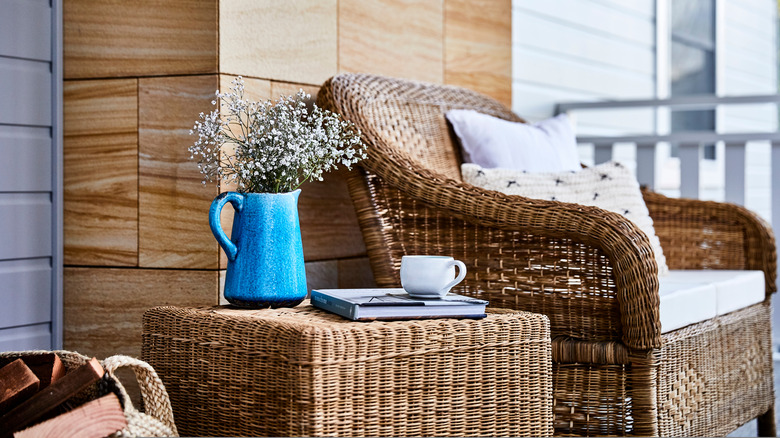 PhotoMavenStock/Shutterstock
A Southern staple, the front porch of your home is the first thing people see upon arrival. Make a heart-warming impression by decorating with various flowers and plants and a comfortable place to sit. This might include cushioned chairs, a couch, bench, swing, or a quaint table for serving drinks or resting a book on. Here pictured is a brown wicker chair with a matching ottoman on a front porch with modern wood siding. The ocean blue pitcher is filled with baby's breath as a lovely contrast against the neutral colors throughout the space.
3. A colorful front door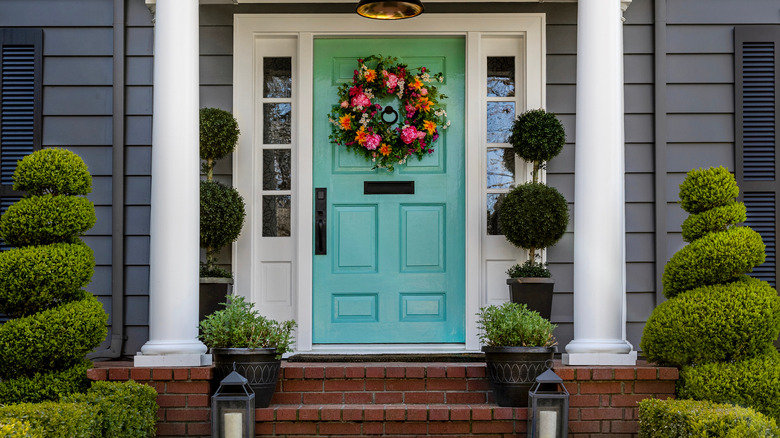 David Papazian/Shutterstock
Curb appeal is essential in the South. While the front porch or steps should extend a welcome, so should the front door. Vibrantly colored doors create a point of interest while presenting a certain vibe, depending on the hue. Blue is a classic, serene shade that bodes well with a gray or white house, but green, red, purple, peach or yellow also work. If your home is painted a vibrant color, a black or white door will contrast equally well. Enhance the door's appearance with white trim, as seen above, and incorporate complementing plants.
4. Delicate curtains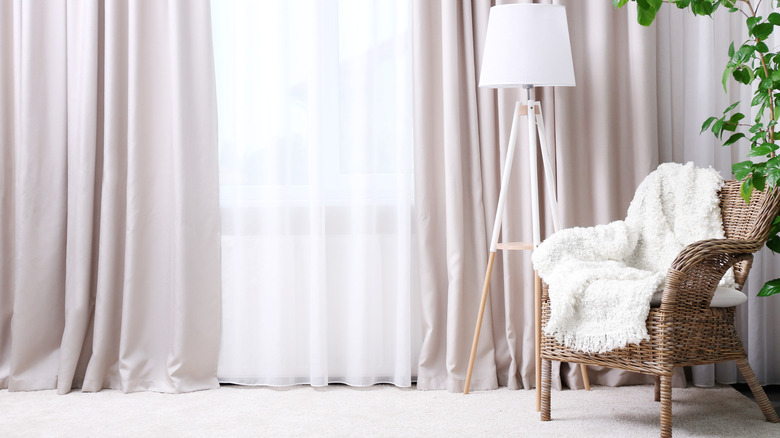 Africa Studio/Shutterstock
Light and airy, twilled or patterned, soft, delicate curtains made from cotton, linen, or silk can embody the casual yet classic Southern flair. Many options are available, from neutral white, gray, and taupe to blue and green shades, including toile and arabesque patterns. A neutral shade or drape will bring balance if other vibrant colors are present within the room. Here pictured is a set of long gray curtains that complement the white elements along with the brownish wicker chair and green plant.
5. Decorate with fresh plant life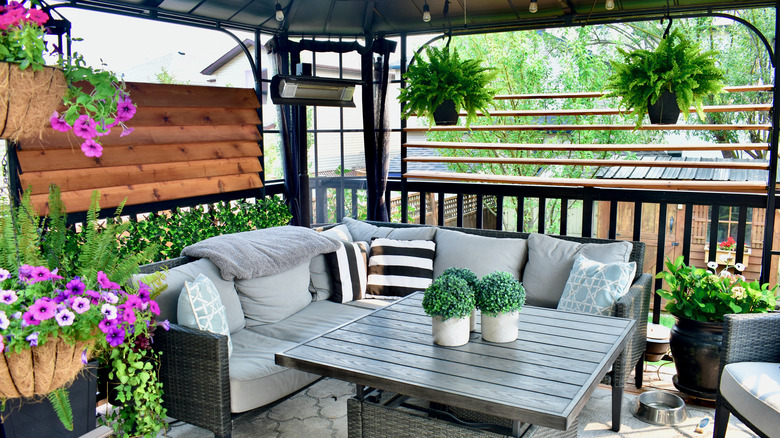 Kristin Mitchell/Getty Images
Inside or out, create conversation and tranquility with real flowers and plants in a variety of places. From pots to planters, nothing should be fake for authentic Southern air. The more greenery, the better, so don't shy away from decorating with palms, small trees, fiddle-leaf figs, or other green plants you desire. Here pictured is an invigorating covered patio with hanging ferns, purple basket-hung petunias, and potted green dwarf shrubs amidst a cozy L-shaped couch with an ample supply of pillows.
6. Combine modern and traditional elements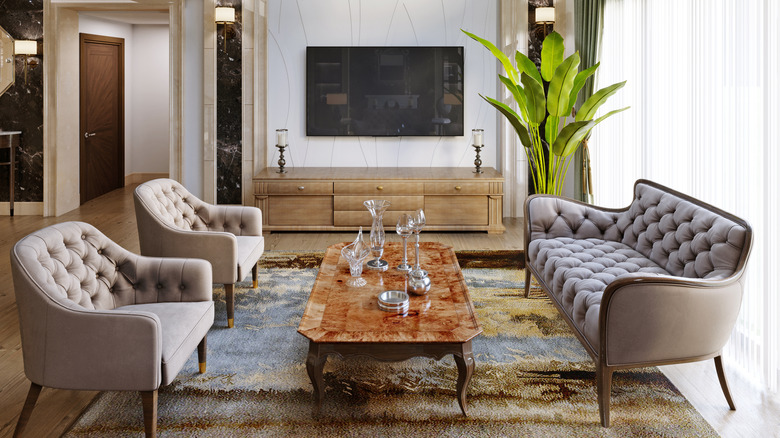 Peter_visual/Getty Images
Don't be afraid to blend your vintage pieces with contemporary ones within a space. Showcase family heirlooms through vases, clocks, glassware, artwork, rugs, or furniture while mixing in modern elements, including light fixtures and various materials like marble, stone, and wood structures. This living room features eye-catching 18th-century-style tufted furniture with a vintage-looking coffee table, rug, and candlesticks all set against modern marble-like black and white walls with mounted television and a large travelers palm plant.
7. Bold color choices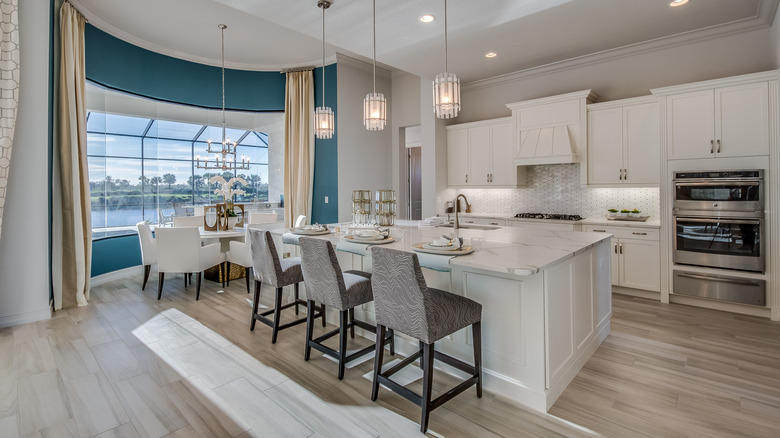 Pc Photography/Getty Images
Whether it's a bedroom, living room, or kitchen, make the room stand out with a vibrant, fulgurant color. This modern, traditional kitchen is dressed up and down in neutral tones with fresh, white cabinetry and grayish wood flooring and walls. The breakfast nook area is inviting as the walls of the arched bay window are splashed with a bold teal blue color, which appears classy against the upholstered armchairs, chandelier, and kitchen island pendant lighting. For a Southern flare, you might consider other jewel tones like blue sapphire, ruby red, or emerald green.
8. A cozy, attractive foyer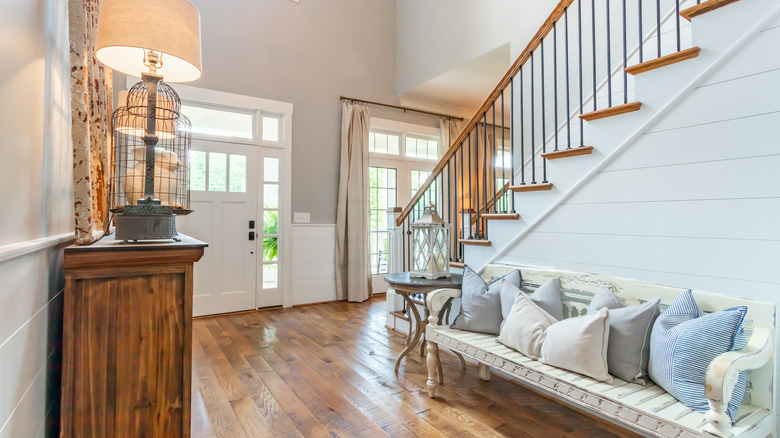 David Henderson85/Shutterstock
The entrance or foyer of a home is a particular section to say hello. Whatever the size, make it functional for you and your guests with a console table to set things down, hooks to hang essentials on, unique lamps and lanterns for layers of light, and a cozy seating area, as seen pictured above. Here, a white vintage-style bench is decorated with plump blue and gray pillows for a southern coastal vibe. Also, consider the aesthetics by incorporating or restoring hardwood floors, beams, and railings in orange, tan, or chocolate brown shades.
9. Green cabinetry and décor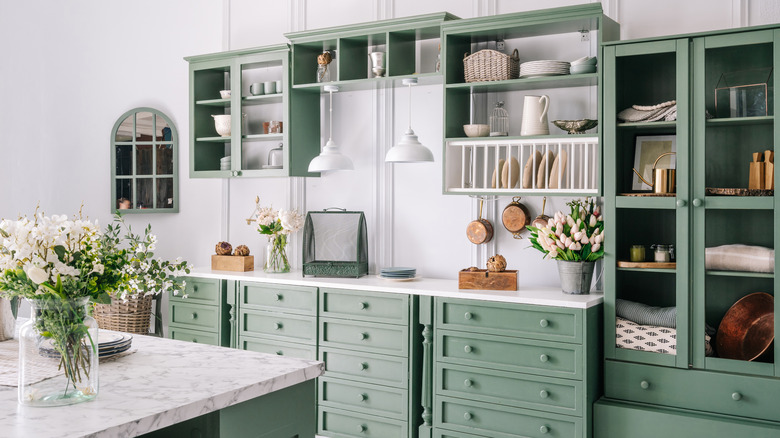 brizmaker/Shutterstock
With a house from the South, you can't go wrong leading it with green. From a light green wood table and chairs to a rich, earthy shade on the wall, green offers a sense of liveliness while providing a good balance with other fresh or neutral colors. Reminiscent of soft South Carolina moss, the hospitable color appears above throughout the kitchen cabinetry as it juxtaposes the white and brown elements, including the marble countertop and fresh pink tulips.
10. A table in waiting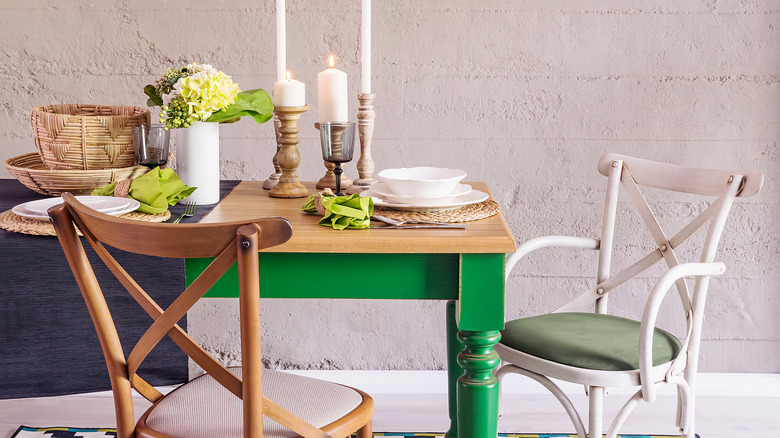 Ds design studio/Shutterstock
Whether it's brunch, lunch, or teatime, a table or tray ready for serving is always a good idea. Depending on the theme or location of your serving station, set it up with fresh flowers, candles, glasses/cups, dishes, or silverware. Mix casual chairs with a wooden table and dynamic color scheme as pictured above, as this will draw attention to the room as a space always ready to entertain. This informal setting is appealing, with white dishes and tan woven baskets to complement the serene green colors.