Single-Bowl Or Double-Bowl Sinks: Which Is Better For Your Kitchen?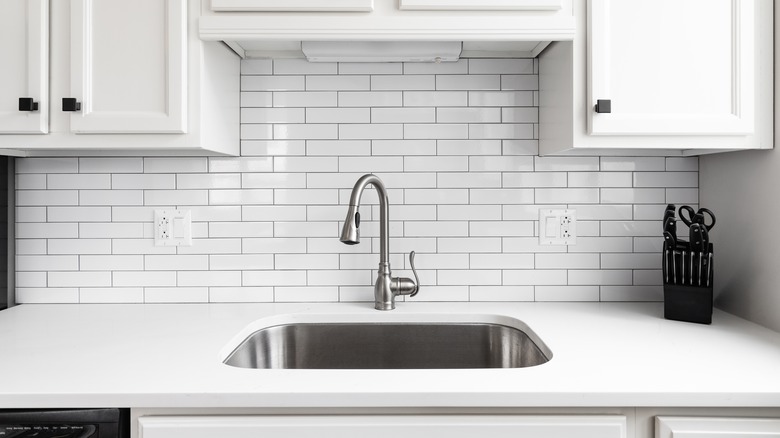 Hendrickson Photography/Shutterstock
Whether you're planning to remodel or design your own kitchen from scratch, you'll face several important decisions. Of course, there are the obvious ones — backsplashes, countertops, cabinet finishes — but functional details like appliances require much thought. The sink may be one of the less glamorous areas of the kitchen, but choosing the correct type for your layout and space can save you valuable time and energy and also from unsightly piles of unwashed dishes.
According to a survey by Bird's Eye published in Cision, the average American spends 25 minutes daily doing dishes. Add that up across the year, and that's almost six full days standing at the sink. If you're spending all that time, you might as well make sure your setup works for you. Keep reading to learn the pros and cons of each option — single-bowl or double-bowl sink — and find out which is most compatible with your kitchen before you make your final decision.
Why get a single-bowl sink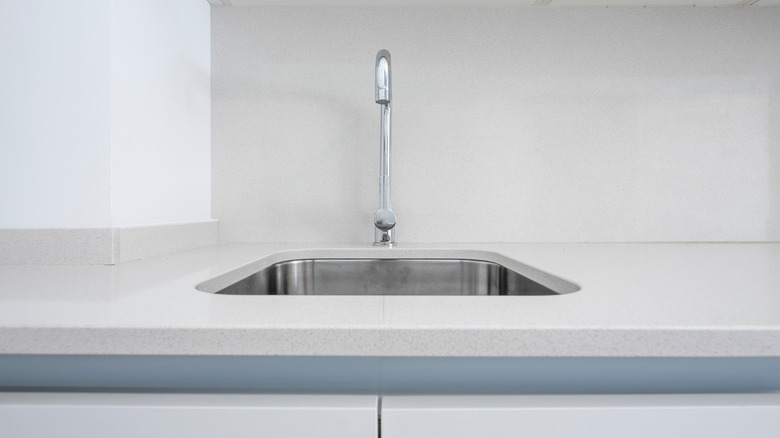 Toyakisphoto/Shutterstock
A single-bowl sink is the simple, classic option, but that doesn't mean it's obsolete. According to a study by NKBA published in Residential Products Online, the average size of a kitchen in a single-story home is only about 150 square feet. So if you're lacking counter space or working with a smaller blueprint, a single-bowl sink will typically be smaller than a double-bowl option, so it frees up room for additional prep and storage.
If you're looking at larger, basin-style options, there are some benefits there, too. Washing larger dishes like cookie sheets and frying pans can be difficult if your sink has a divider, so a single bowl will allow you to fully submerge dishes and scrub without the annoying splashes and drips on the counter. As long as you're not the type to allow dishes to pile up, a single-bowl sink is a great option that can save you some valuable counter space.
The advantages of a double-bowl sink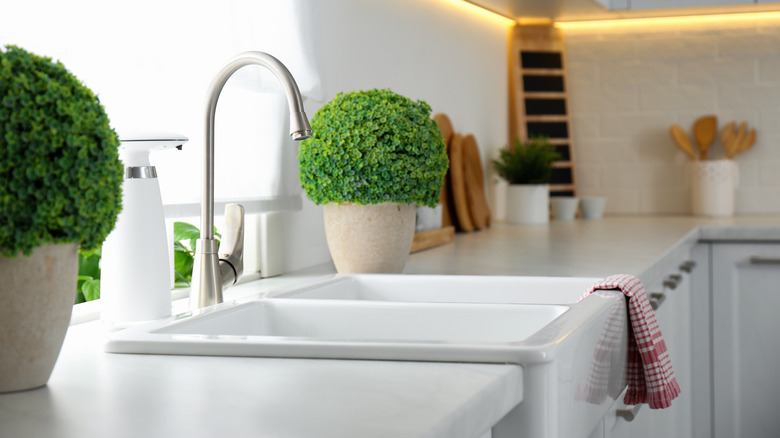 New Africa/Shutterstock
Double-bowl sinks were built for busy lifestyles. If you prefer to leave your dirty dishes in the sink and then tackle them all at once, choosing something with a double bowl can be helpful. That way, you have the ability to stack dirty dishes on one side while still maintaining a functional area to fill pots, wash produce, or grab a glass of water. The sacrifice here is space — the average size for a double-bowl sink is about 33 inches (via Finest Bathroom).
There's also the added benefit of useful garbage disposal. Silverware and small caps or lids can easily fall down the garbage disposal in a single-bowl sink, leaving you with damaged blades and nicked spoons. However, if you can separate your dishes and any leftover food or bits of produce, this is a much easier issue to avoid. Overall, when it comes to choosing the perfect sink, there's no one-size-fits-all answer. It all depends on your kitchen and how you intend to use it.