Winter-Themed Wall Art That Will Get You Ready For A Cold-Snap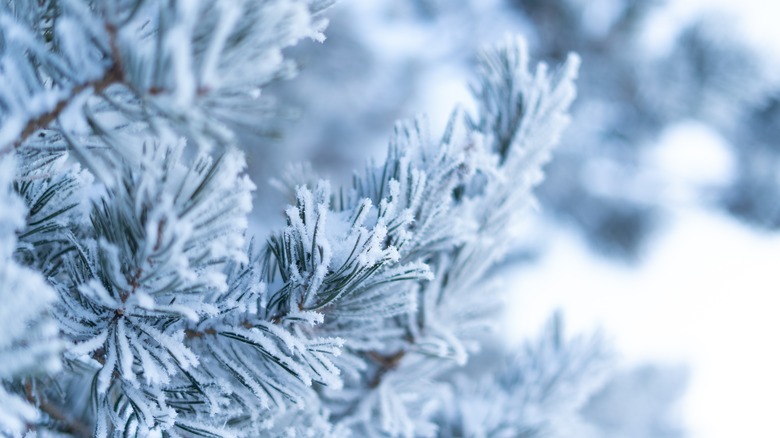 Kate Isaeva/Shutterstock
Winter is here, and that can mean a wide range of things to different people. For instance, if you happen to live in a part of the world that experiences cold weather, you'll definitely want to prepare your home for the frigid season. You might also want to put away any art featuring scenes of the beach and warmer sunny tones to get out pieces that will start getting you excited for wintery weather.
Frankly, when chilly breezes begin to blow into your neighborhood and bring fluffy snowflakes along with them, some people may experience a drop in their energy, and their mood starts to suffer. However, you can try your best to focus on the positive aspects of the season. Those who consider winter to be their favorite tend to appreciate the opportunity to snuggle up and stay as cozy as possible during the cold time of year, according to Verywell Mind. On top of that, it's the ideal chance to spend time at home, where you can surround yourself with décor that reminds you of how stunning and special winter can be.
Whether you wait all year for the colder months to roll around or want something to boost your mood as the days get darker outside, check out the following winter-themed wall art that will get you ready for a cold snap.
1. Winter Path
One of the most beautiful aspects of winter is undeniably snow. That's especially true when it first falls and covers everything with a pristine white layer that makes the world look like a wonderland. Winter Path captures that moment in a photograph of a snowy forest path. Available at Pottery Barn, it costs between $349 to $599.
2. Ice Skates
When the temperature drops and the rivers and ponds freeze, it's time to go skating. A fun winter activity that many people enjoy with their friends and family, you can remind yourself of those fond memories with this piece that's simply called Ice Skates. Also found at Pottery Barn, the framed piece costs between $349 and $599.
3. Snowy Farms
You don't have to live in the country to appreciate Snowy Farms. Whether your home has a rustic vibe or a contemporary style, you'll surely enjoy this minimalistic painting of buildings covered in and surrounded by snow. This time costing $349 to $899, you may find one that fits both your wall and budget.
4. True North
Head over to West Elm for True North. Available for between $130 and $156, you can choose between three sizes and four kinds of frames. Each one adds a unique hint to the photo of a snowy mountain top lined with a black base and set against a sky that's almost as white as the slopes.
5. Vintage Winter Ski
Whether you love snowy sports or simply appreciate art with a retro look, you might absolutely adore Vintage Winter Ski. A piece that you can purchase for $299, the print of a seasonal scene inspired by winter fun comes in a maple wood frame that complements the art but doesn't overwhelm it.
6. Winter's Breath
When it's cold enough to snow but isn't chilly enough to freeze the river, you might say it's a hint of winter or call it a glimpse of Winter's Breath. That's also the perfect title for a piece of art that features that special experience. Find it at West Elm for $94 to $104.
7. Winter Fields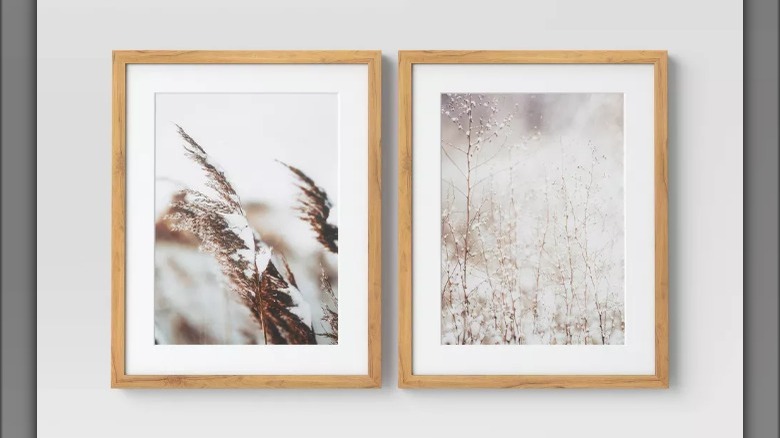 Target
Anyone who lives on a farm — or has simply driven past one on occasion — will surely know how gorgeous fields can look when covered in a soft layer of snow. That can be seen and displayed in your home with Winter Fields, a set of two pieces you can grab at Target for $60.
8. Scandi Ski Slope
Thanks to the bright scenes and the vibrant colors, Scandi Ski Slope by Teresa Marie Magdalene is a set of three pieces that's adorable in an artistic kind of way. Available in frames that are either black or white and matted or not to suit your room, they're regularly $212 for the trio.
9. Winter Pines
Add a piece of art to your home that offers a snowy scene with a soft touch and a serene vibe. Winter Pines — which Macy's sells for $73 — has been created with watercolor, giving it a misty appearance, as if snow has just fallen or as if a fog is starting to settle.
10. Silver Ice
Whether you consider it to be abstract or impressionist in nature, Martin Edwards' Silver Ice will surely be the focal point of any room. Created with eye-catching metallic paint, the triptych will add texture that almost creates a sense of movement and cool wintery shades to your space. Found at Macy's, it can be purchased for $575.
11. Colors of Winter
A piece created by Zandraart, Colors of Winter either captures a snowy sunrise or sunset — perhaps you can decide based on whether you're a morning person or a night owl. While the price of the print ranges from $9 to $38.50, it can be slightly different if you want it framed or created with a different material.
12. Snow — NYC — East Village
You may find yourself daydreaming about the sound of snow crunching beneath your feet as flakes fall gently from above and cars drive slowly by if you hang Snow — New York City — East Village on a wall in your home. The work of artist Vivienne Gucwa, this wintery piece will cost you between $7.50 and $32.50. 
13. Chasing the Light
Jessa Gilbert is the artist behind Chasing the Light, which you can own for between $14.50 and $62.50. Based in British Columbia and inspired by what she sees while traveling to new and exciting places, Gilbert created a wintery scene of mountains that might be the kind of cool, chic, and captivating artwork to suit your home.
14. Winter Village
Ulla Thynell's piece, Winter Village, is a sweetly serene painting of a tiny town found beside a stretch of still and reflective water surrounded by snowy trees. It's also nestled against mountains and sits under the whimsical Northern Lights. You can bring this calming wintery scene into your home for between $10 and $43.50.
15. Teatime
With a look that might remind you of a fairytale created with folk inspiration and look in mind, Teatime is a piece by Anna Speshilova. Available as a print for between $8 and $29.50, this artwork will enhance a home that boasts a charming country style, a boho-inspired abode, or any kind of space with a cozy aesthetic.