15 Easy Tips For Choosing The Perfect Artwork For Your Home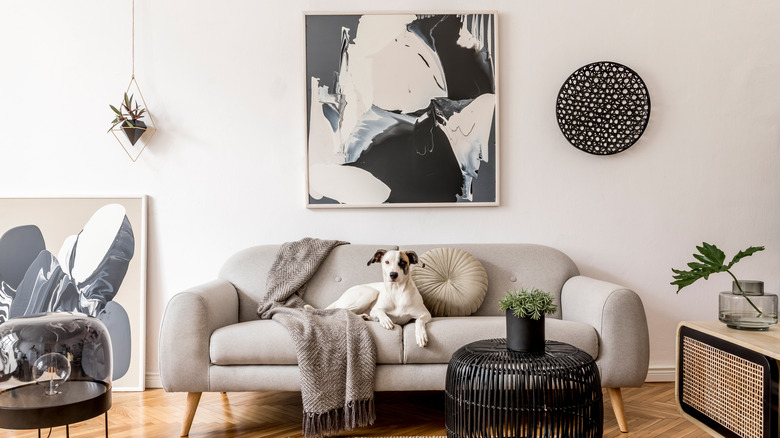 Shutterstock
If you've spent a lot of time and effort putting together each room in your home, then you'll want to put just as much thought into choosing artwork. As designer Tara Bernerd told Architectural Digest, "For me, art to a room is like punctuation to a sentence; it is that all-important ingredient and without it, a space lacks the layers and attitude that a significant piece can bring."
However, when it comes to picking out certain pieces, there are some issues that you might think are obvious (but may be more important and intricate than you assumed), while there are others that you might not have even considered. But don't let that scare you away from creative décor. In fact, if you know what you're doing, picking out art can be exciting and fun! Read on to find 15 easy tips for choosing the perfect artwork for your home.
1. Consider your budget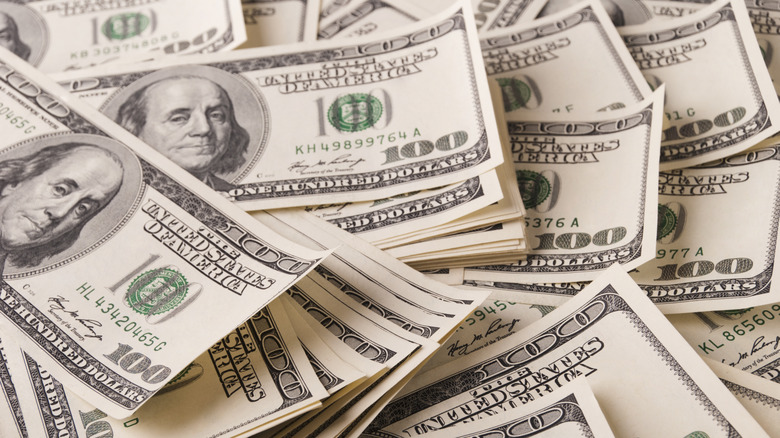 Shutterstock
The first thing you'll want to consider when buying art is your budget. If you have significant funds, then you can peruse galleries or go straight to an artist whose work you love to see what they have for sale. FYI: an original can be a wise financial investment, per Investopedia.
If you're looking for an inexpensive refresh, then you can still find amazing art that's affordable. Just visit an art fair or take a peek at websites like Society6, which allows artists to sell their designs for a fraction of the price. You can find creative people from all over the world who are selling their art in various forms such as prints, pillows, rugs, and more. Simply search for the kind of art you're looking for, select the maximum amount you're willing to spend, and voilà! Enjoy scrolling through countless exciting options.
2. Think about personal taste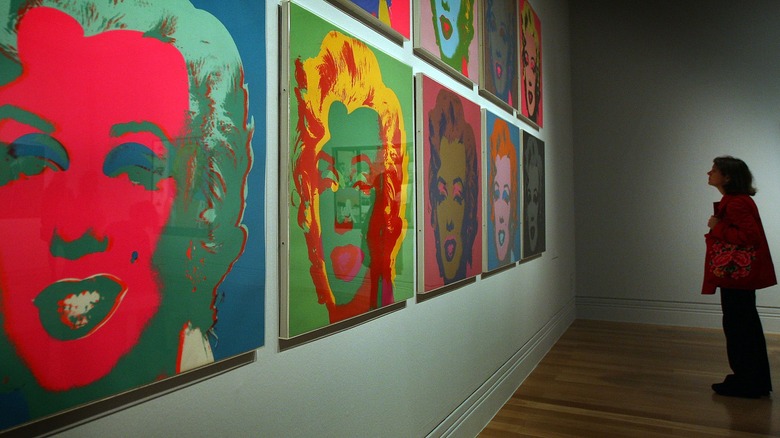 Peter Macdiarmid/Getty Images
It can be easy to feel overwhelmed when it comes to the many different styles of art. That's why it can be helpful to narrow down what you personally like and, in some cases, don't like. Look over the sections broken down by Google Arts & Culture and simply see which styles you're attracted to. Do you gravitate more towards modern art or are you into renaissance art? Does art deco pique your interest or perhaps you lean more towards pop art?
This is the time to really rely on your gut feeling. "Perhaps most importantly, a home should represent its owner, so one shouldn't be too driven by trends," designer Tara Bernerd explained to Architectural Digest. "Something that you are truly attracted to is something that will ultimately stand the test of time."
3. Work with the existing or potential style of the room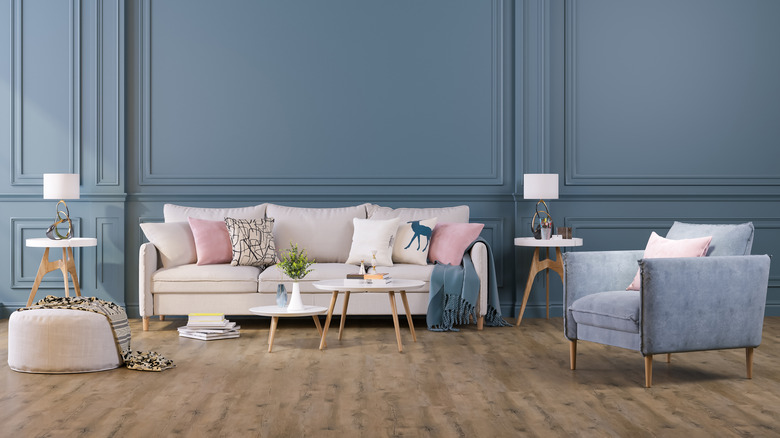 Shutterstock
When it comes to choosing art, you'll want to think about if it will suit the style of your home. If you're happy with how a particular room already looks, then you should consider how an art piece will enhance your existing design. On the other hand, perhaps you're looking to change up some now-dated décor. In that case, you'll want to think about how the artwork will help create the new look that you're trying to achieve.
However, you could always go yet another way. "Art doesn't have to match your room," according to Tara Bernerd. The designer explained to Architectural Digest that instead, "you can be eclectic." She continued, "Traditional rooms can take modern art, and modern rooms can take older-style paintings." In fact, Bernerd asserted that "often it is better to mix it up."
4. Take walls and furniture into account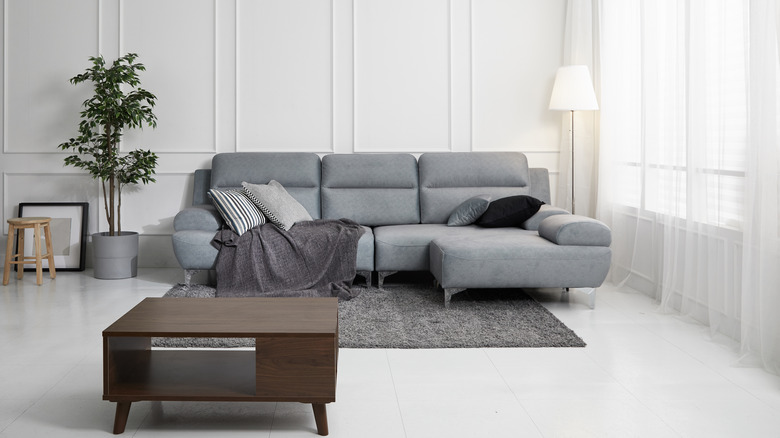 Shutterstock
You'll also want to specifically consider aspects of your walls and furniture when choosing artwork. When it comes to walls, have you opted for wallpaper or paint? If you have wallpaper with a textured or busy pattern, then go with artwork that's toned down. Or, per Houzz, you could use a bold frame to draw attention to the piece. You'll also want the artwork and wallpaper to match or offer an interesting contrast. If you've gone with paint, you can opt for artwork that's more intricate because it won't have to compete with a design on the wall.
As for furniture, the same ideas apply. If you have bold, bright, and textured furniture, then simple artwork might be best. However, if your couch, coffee table, and carpet don't offer much of a punch, then you can add a kick to your room with impactful art.
5. Enhance or rearrange existing artwork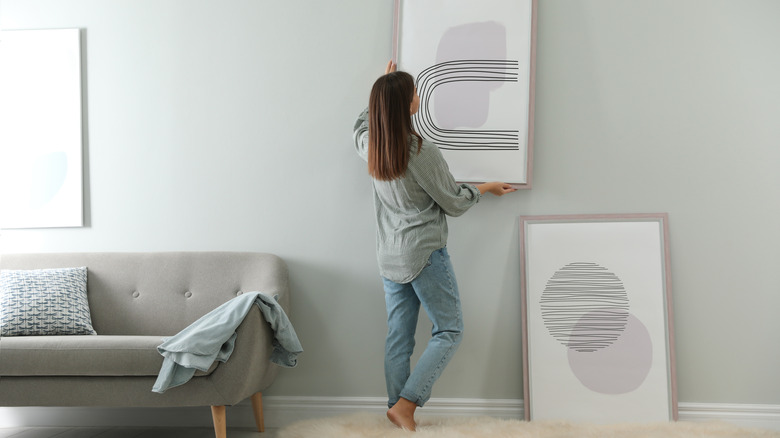 Shutterstock
In the same ways that you've thought about the style you have or want to achieve, and any existing furniture or décor, you'll need to decide if you want your new art to match, complement (as Ballard Designs suggests), or contrast with art that you might already have when it comes to colors, size, and possible subject matter.
Beyond that, be sure to remember that you don't have to keep the art that you might have where it currently is. If you find something that could work better in a spot, try rearranging things to suit your growing art collection. In fact, Better Homes & Gardens points out that if you get the knack of hanging art how and where you should — along with knowing how many pieces to put up together — then you can achieve an expert-level look.
6. Arrange ideal lighting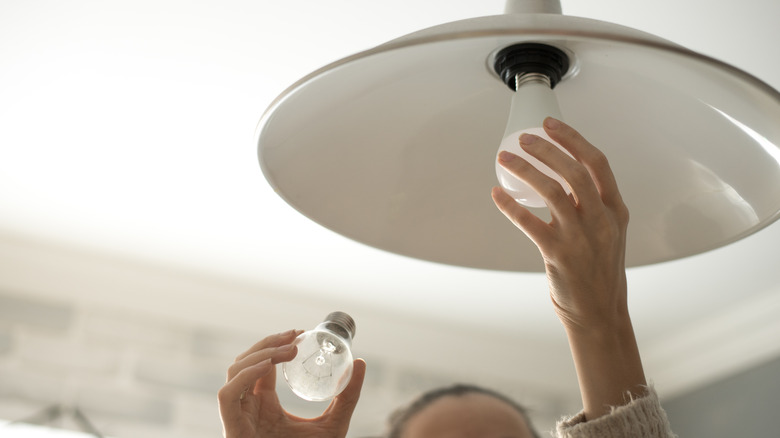 Shutterstock
The lighting around art can completely change how it's perceived which is why you'll want to think about what lighting exists in areas where you want certain pieces to go. Granted, you can always set up specific lighting to properly display your art. LEDs, halogens, and incandescent lights are among the best options, according to Park West Gallery.
It's also not necessary "to light the whole space. Start at ceiling level with something that lights key furniture arrangements, mantelpieces, or credenzas," lighting consultant Harry Triggs told Christie's. From there, "com[e] down to wall level," where you should "use something like picture lights to lower the apparent height of the ceiling, create a cozy ambiance, and bring out the colors in any artworks." Then, "add table lights and floor lamps around the room's focus areas to draw people to them."
7. Go beyond paintings and photographs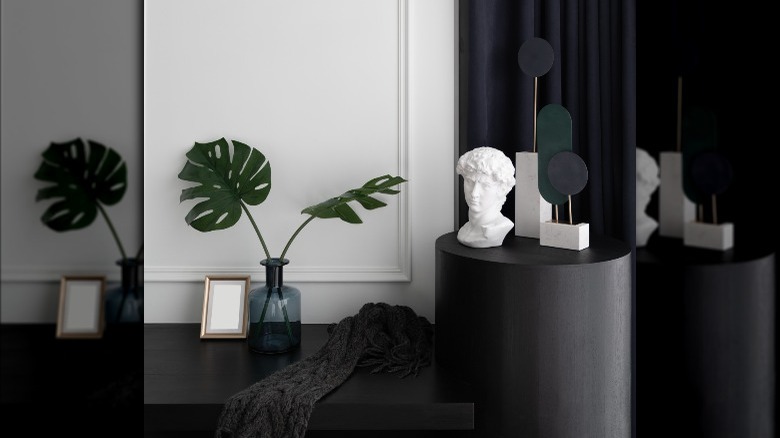 Shutterstock
When you think of art, you might immediately imagine a pretty painting or lovely photograph. While there's seemingly no end to the kinds of pictures that you can enjoy, there are plenty of other kinds of art that might suit your home. For instance, a fabric tapestry might work on a large wall, while a sculpture may work best in a certain corner of a room. Macramé can be both an interesting wall hanging as well as somewhere to display an equally eye-catching plant. You could also consider striking metal prints, stunning figurines, and handcrafted pottery.
Murals are also a great choice. However, art advisor Georgia Powell pointed out a potential issue while talking to ArtNet, saying, "I have a few murals painted on the walls, which I won't be able to take with me if I ever leave!"
8. Be aware of the size of your space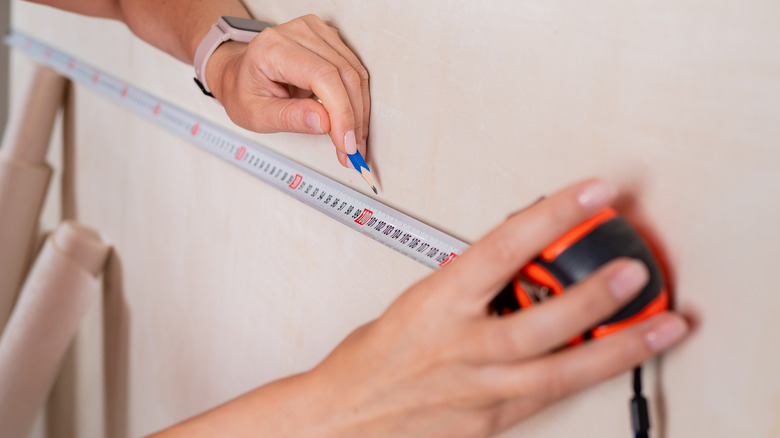 Shutterstock
There are rules when it comes to how big a piece of art should be for certain spaces, according to Canvas Pop. First, when hanging artwork on your wall, ignore space that's covered by furniture, windows, details, or décor, and instead focus on the empty space. Of that, an artwork should ideally cover just over 1/2 to 3/4 of what you can see. Secondly, any piece of art should span around 2/3 to 3/4 of any furniture it's placed above. SF Gate also has a few measuring tips while Franklin Arts offers an online wall art size calculator that you can take advantage of.
The same basic rules and guidelines apply to choosing the right sculpture, large figurine, or other kind of stand-alone piece: It needs to be slightly smaller than the available area and shouldn't overwhelm nearby furniture.
9. Consider displaying multiple pieces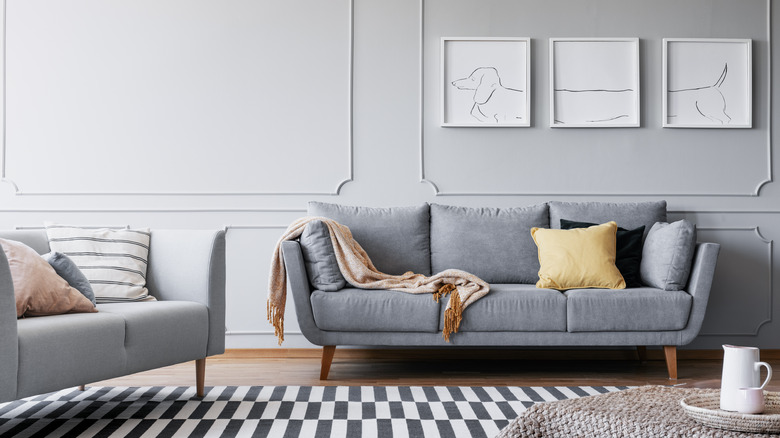 Shutterstock
If you have a large space, then you might want to think about picking up multiple pieces of art. Buying separate pieces can still result in a cohesive look if you stick to a style, subject, color pallet, or artist.
To make things even easier, consider investing in a duo of pieces that were created as a pair. You could even opt for a triptych. The Tate explains that a triptych is a single piece that spans three panels. They can either be attached or simply presented alongside each other. Fun fact: Four-paneled diptychs also exist, but tend to be something that you see on a religious altar as opposed to in a home. If you find the idea of a triptych appealing, then check out Etsy or Artfinder, which both offer specific sections for triptych pieces in every size and style that you could imagine.
10. Do you want statement-making art?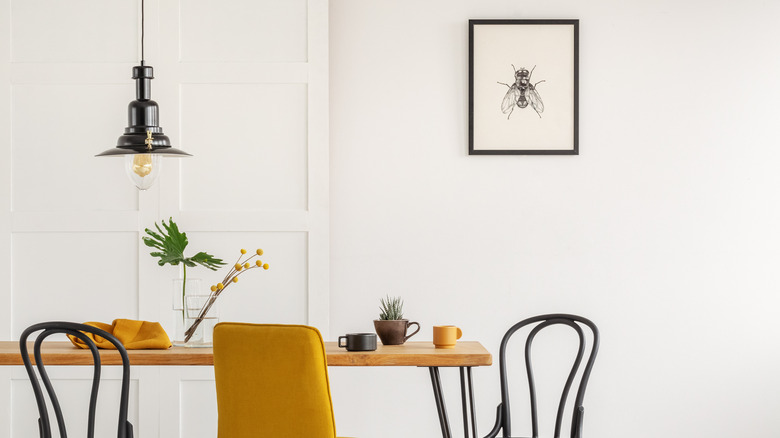 Shutterstock
If you're interested in artwork that stands out, then pick something with bold colors — like red, cyan, or magenta, per Adioma — and eye-popping patterns or impossible-to-ignore subject matter. Perhaps it's a noticeable nude picture in the bathroom or a jarringly realistic photo of a fly in the kitchen.
Beyond that, you could go with art that makes a statement. Think along the lines of the politically and culturally conscious art from Banksy. The Academy of Art University also points to other politically motivated creators, like Faith Ringgold and Barbara Kruger, as well as the late Frida Kahlo and Jean-Michel Basquiat.
Deciding on art that makes a strong statement can be a great way to make sure that your home truly represents who you really are, but you'll also want to be sure it's something that you fully understand and stand behind.
11. Themes can highlight a mood or create a vibe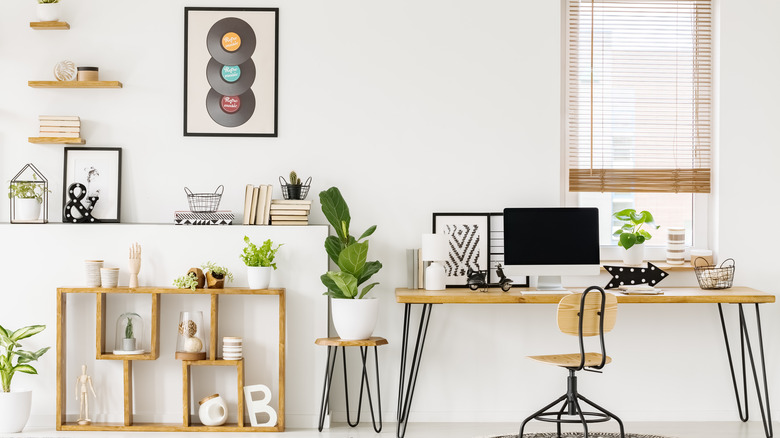 Shutterstock
Specific themes in art can also help to lend to a room's particular feel. As the Merritt Gallery notes, art by its very nature is emotional, and has a significant impact on the mood of a space. For instance, in your bedroom, you might want paintings of calming sunsets to help you relax, whereas in the kitchen, you could go for appetite-stimulating photos of food.
You might also want something welcoming in your entryway (or the opposite if you're not into having guests come over) and fun in your family room. If you have a home office, think about art that reflects what you do (perhaps images of books, pens, numbers, or records), inspires action (perhaps motivational text), or facilitates your sense of focus (maybe featuring pics of an ultimate goal or a hero in your industry).
12. Consider the durability of your artwork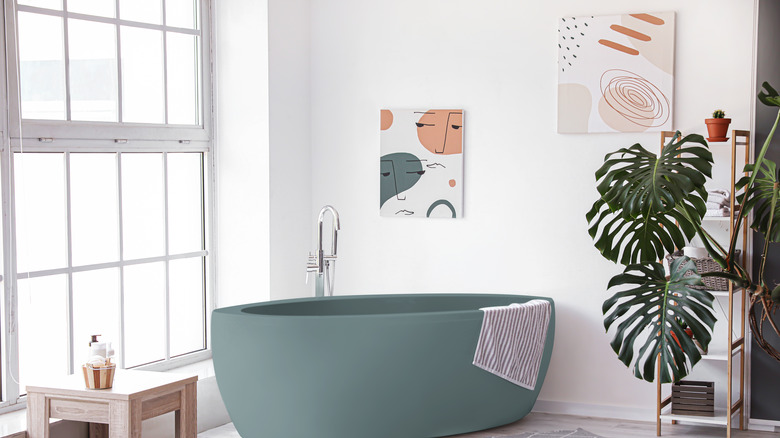 Shutterstock
Nothing lasts forever, including art. Photographs can fade, sculptures can become tarnished, while anything in the kitchen could end up with splatters of food on them. Art in the bathroom can succumb to specks of toothpaste and steam from the shower. So when you're picking out art for your home, be sure to think about how long you want each piece to last, how durable it is, and if it can stand up to the spot where you'd like to display them.
If you're still worried about your art potentially getting wrecked, then you might want to have it insured. "Some people think that their homeowners insurance will cover [fine art]," Victoria Edwards of Wasserman & Associates Insurance Agency, LLC, told Artwork Archive. However, "if you don't have a separate policy, and think it's covered under your homeowners insurance, you need to check the exclusions."
13. Consider the care artwork needs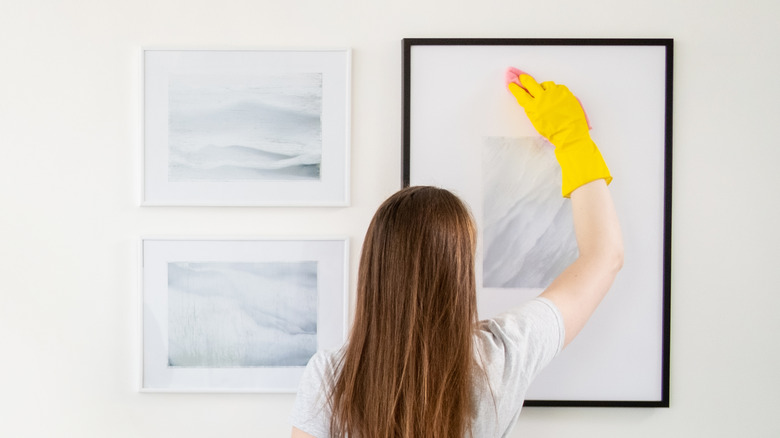 Shutterstock
If your art becomes tarnished, dirty, or damaged, then you'll want to address each issue. Depending on the medium, you may also want to touch up pieces on a regular basis in order to keep them in tip-top condition. BUT ... don't try to clean art without looking into how to properly do so, and if the art is in particularly bad shape, valuable, or hard to clean (such as a painting), then it might be best to have a professional take care of things. 
Laura Goodman, the owner of Paper Care Studio, talked to Artwork Archive about how someone in the field gains the expertise you can count on, saying, "All of the programs for conservators in [the U.S.] have strict prerequisites." She also noted that "one is to apprentice for 400 to 4,000 hours with a conservator or in a conservation studio."
14. Commission a piece of art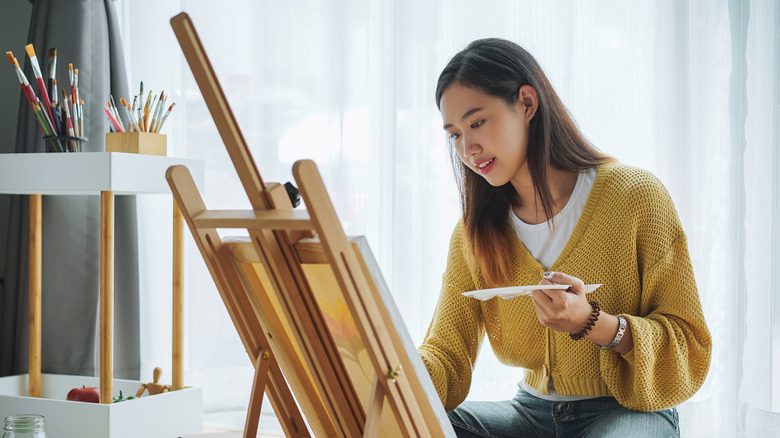 Shutterstock
Have you ever considered commissioning an artist to make a piece for you? Take a look around galleries and art festivals or even Instagram and online art spaces to find an artist whose work piques your interest. If they have a website, then see if they have any information about commissioning a piece from them. If they don't have those details anywhere to be found, then you could still reach out to them to see if they're interested.
Let the artist know what you're looking for and in return, Art Acacia notes that you'll want to know their fees, payment details, shipping info, schedule, and any other essential info such as copyright ownership. If everything works out, then you could end up with a one-of-a-kind piece of art for your home that's truly special.
15. Get some help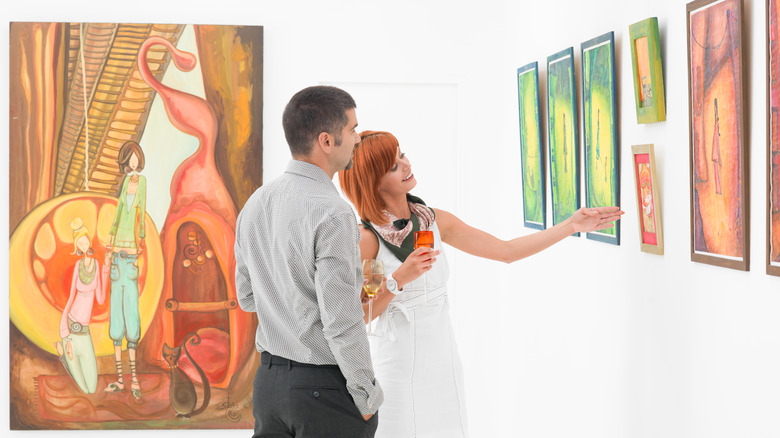 Shutterstock
If you've tried to put all of these tips into action and are still unsure of what artwork to choose for your home, then it might be time to bring in some help. Do you have an artistic friend who might be willing to give you a few suggestions? Or, if you'd rather rely on a professional, then you could hire an interior designer.
On top of that, there are art advisors who can use their expert industry knowledge to steer you in the right direction. Art advisor Georgia Powell started her own collection with just $70, according to ArtNet. While some pros are used to dealing with clients who have a larger budget than that, it just goes to show that you that someone who knows what they're doing when it comes to art can help you out in all kinds of valuable ways.