The One Spot In Your Bathroom You Never Thought To Use For Storage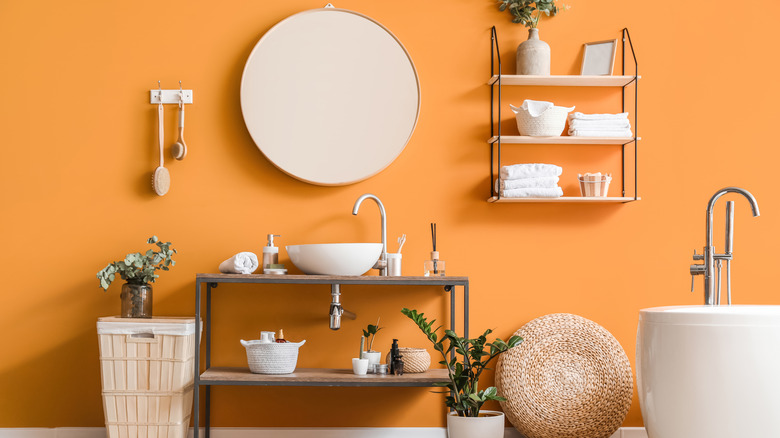 Pixel-Shot/Shutterstock
Which room in the house poses the most significant challenge when it comes to organization and storage? You might guess the kitchen with all its utensils, pots, pans, and so forth. Or maybe it's the family room, perpetually cluttered with board games and children's toys. While these areas require cabinets or shelving, they at least have more space to play with when looking for storage solutions.
On the other hand, the average bathroom has its own organizational issues given its limited square footage. Plus, you have to be strategic about the placement of certain items that you may not want to be so close to the toilet, tub, or sink (per Home BNC). While some homes have a large linen closet in the bathroom that can minimize clutter, not all homeowners are so lucky.
It's time to get creative and start looking around your bathroom for storage space that you may not have considered before.
A surprising storage space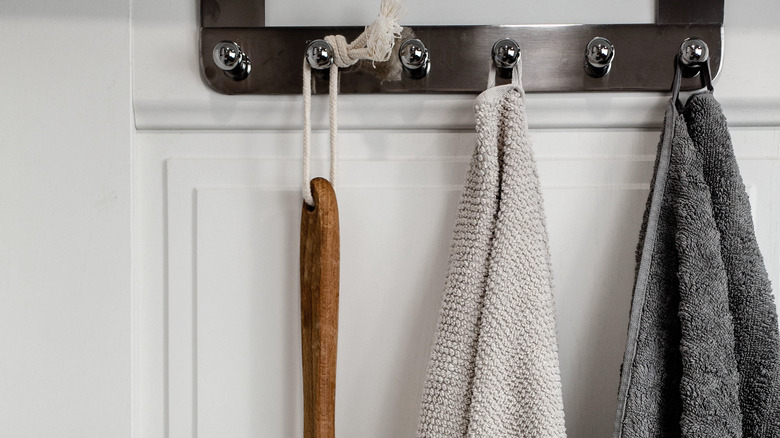 Ivchenko Evgeniya/Shutterstock
Take a look around your bathroom's doorway, as recommended by Driven by Decor. Although you'll only have a small amount of space to work with, you can still find some storage solutions that declutter your bathroom and enhance the aesthetic.
One idea is a compact cabinet that fits behind the door. You can pull this off by installing a built-in cabinet to the wall or affixing a cabinet onto the door itself. You can use it to store washcloths, hand towels, toiletries, or small styling tools. 
If you don't have enough room for a cabinet of this sort, you can install towel racks or use hooks to hang caddies for stowing away small items. You can also place a shelf over the door if there's enough space. Even a tiny floating shelf can hold a few towels or small containers. If you want to maximize that space, you can also place wicker or cloth bins on the shelves.
Use vertical space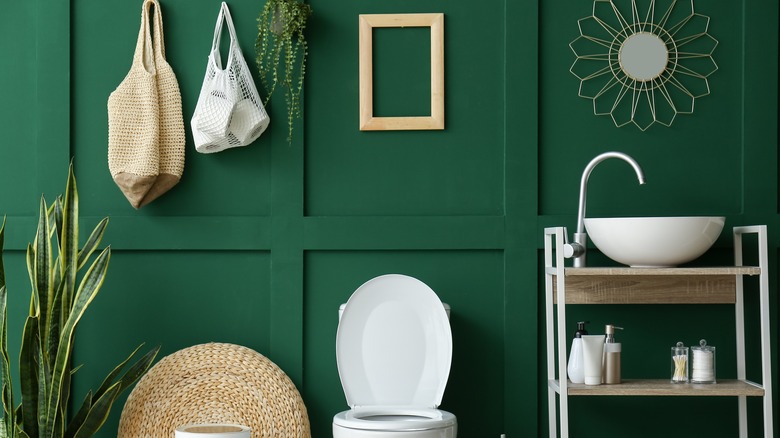 Pixel-Shot/Shutterstock
Just like the space behind or above the doorway can work well for placing small storage units, you can also look around your bathroom for more areas where you can add a caddy or install shelving. After all, a well-organized bathroom is a necessity, especially on those busy weekday mornings when you're trying to get out the door in a hurry.
For instance, you might find some wasted space right above your toilet. You can install two or three floating shelves or even a small cabinet to secure your toiletries in this area. Depending on the amount of space between the lowest shelf and the tank, you can potentially add a towel rack as well.
To avoid clutter on your bathroom countertop or in the shower, consider the vertical space near the door or on the walls for organizing bathing essentials. For instance, a floating shelf can store various shower caddies that keep everyone's toiletries organized and separated. This may be especially helpful for bathrooms that several household members use.