Should Your Coffee Table Be The Same Height As Your Couch?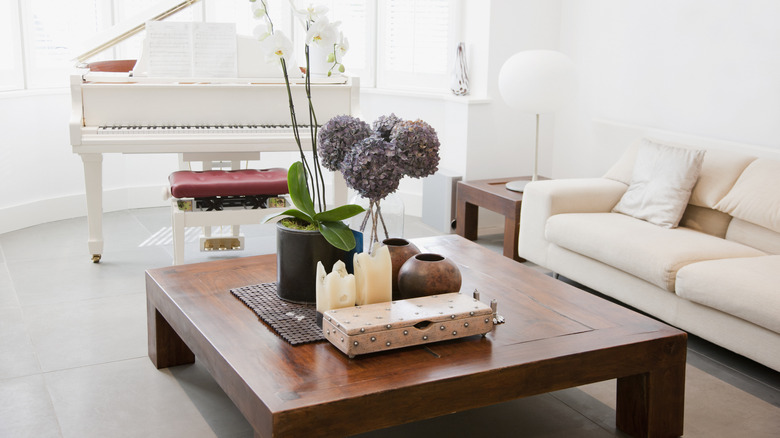 Paul Bradbury/Getty Images
When you're planning changes to your interior and taking stock of what you have in your living room, it might be tempting to forego the coffee table and opt for an open space instead, particularly if you think you don't have enough room to play with. But common sense dictates it's a move you may end up regretting, especially since doing without a coffee table could leave you with fewer temporary storage options than you might realize.
In fact, coffee tables are a critical part of your living room design, particularly since they aren't just decorative but functional pieces of furniture that make life easier. These convenient tables provide an elevated space for you to place objects that you might need if you like hanging out in the living room, including books and magazines and the various remotes required for managing your entertainment setup. Of course, your coffee table is also a great place to park your food and drinks while you're watching a movie or chatting with friends.
The right dimensions for a coffee table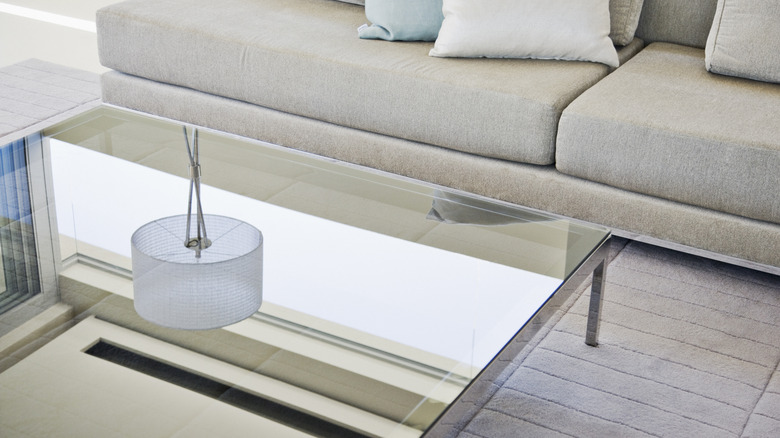 Paul Bradbury/Getty Images
Before you let us talk you into buying a coffee table, there are a few things to take into consideration. For instance, you need to look at its shape, the material used to make it, as well as its dimensions. Generally speaking, the perfect coffee table will be slightly less long than your sofa. However, to figure out the ideal height for your coffee table, you'll need to look at the height of your sofa cushions, and match that, or go an inch or two below it, according to Vaunt Design. Having said that, it's not unusual to find coffee tables that are much lower than your average sofa, as this arrangement is quite common in various cultures.
Robin Rains of Robin Rains Interior Design for the most part agrees with this assessment but adds that the size and ideal placement of a coffee table is also affected by the furniture around it. "Keep approximately 16 inches from the edge of the table to the sofa and at least 28 to 30 inches to the TV cabinet or furniture opposite the sofa," Rains explains (via The Washington Post).
Coffee table alternatives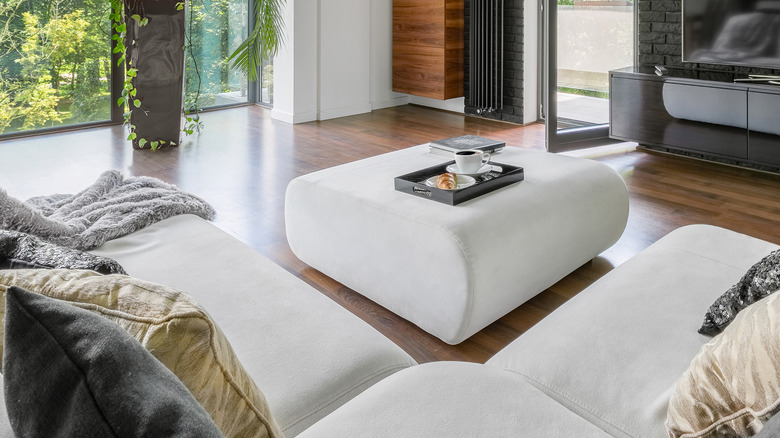 Dariusz Jarzabek/Shutterstock
If your living space doesn't allow for a coffee table — or you're not excited about having one — there are plenty of things you can do to liven up the space. For instance, you can use a pouf or ottoman, which is likely to outperform any coffee table as a comfortable spot to rest your feet. Flat surfaces such as benches or nesting tables can also be considered for your temporary beverage storage needs.
Regardless of what you choose to go with, Heather Hilliard of San Francisco's Heather Hilliard Design says function needs to be an important consideration. "Your choice of size and material will be affected if you plan to use the table to display objects, for extra storage, for food and drinks when entertaining or if you have children who need soft edges to avoid getting hurt," she tells The Washington Post. 
"If there are small children in the home, consider opting for a fabric-covered ottoman with legs for comfort and soft edges — just make sure it is large enough that it does not look like a chair ottoman," Rains details. "A primitive wood table that won't show wear and tear is also a great choice with children in the home," Hilliard says.