The Best Place To Live In Idaho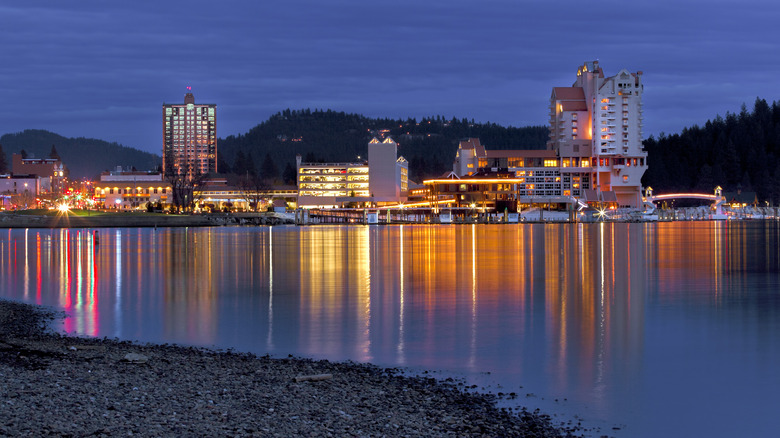 Gregory Johnston/Shutterstock
Coeur d'Alene, known as "The Beautiful City on the Lake," is thought to be the most scenic metropolis in Idaho — one of many reasons it is the best place to live in the Gem State. It is a city where, per Downtown Coeur d'Alene, every byway leads to lush greenery or a beach.
Coeur d'Alene (CDA in local lingo) has undergone a recent growth spurt due to explosive tourism and an influx of California and Washington residents. According to Enjoy Coeur d'Alene, an injection of tech start-ups has also impacted the city; there is an annual drone-, AI-, and robot-oriented "Think Big Festival." CDA has even enacted an ordinance mandating friendliness to robots. Krem2 reported that the city is one of the nation's hottest emerging real estate markets.
Per Coeur d'Alene Tribe, French trappers referred to the original inhabitants as Coeur d'Alene, meaning "Heart of the Awl." The name was a nod to the tribe's sharp-as-a-tack trading prowess, and it came to be associated with the deep blue lake and eventual town. Modern CDA arose from a fort alongside Lake Coeur d'Alene dating from 1878 and commanded by William Tecumseh Sherman. According to the Coeur d'Alene Visitor Bureau, not only has the city of 54,628 blossomed into an Idaho jewel, it is the hub of the entire non-coastal Northwest region. The indigenous tribe still has nearly 2,200 members. It runs a casino and hotel and operates the Benewah Medical Center, recognized as a paradigm for Native American medical services.
Recreation paradise amid natural splendor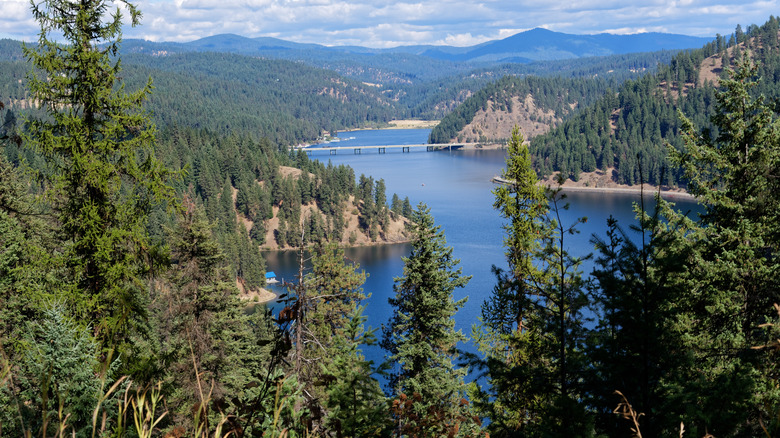 Tristan Brynildsen/Shutterstock
You can never run out of things to do in Coeur d'Alene. As reported in USA Today Travel Tips, there are more than 55 lakes in the CDA vicinity, and Lake Coeur d'Alene is the biggest attraction of them all. All manner of aquatic activity is available on the glacier-built lake, including seaplane rides, salmon fishing, parasailing, boating, and paddle boarding. If that is not enough, there is also the nearby Idaho Panhandle National Forest, the Tubbs Hill Waterfront Preserve, and the 24-mile North Idaho Centennial Trail girding the lake. There are three snow ski resorts at your beck and call as well.
Silverwood Theme Park, the Northwest's largest, is nearby. A ride on a carousel built in 1922 is another local fun activity. CDA also produces one of the country's largest holiday light shows, with more than 1.5 million lights, a fireworks show, and cruises on the lake. The Coeur d'Alene Resort features a movable golf green and a floating boardwalk, among other attractions. The city even has a bordello museum.
Coeur d'Alene is great for canines too. KXLY identified it as a past winner of Dog Fancy magazine's award for the most dog-friendly city. According to Coeur d'Alene Adventures, the downtown area has 125 retail stores and restaurants. You might even rub elbows there with full- or part-time residents, including George Clooney, Demi Moore, Tom Hanks, Matthew McConaughey, or Wayne Gretzky.
Schools, crime, and cost of living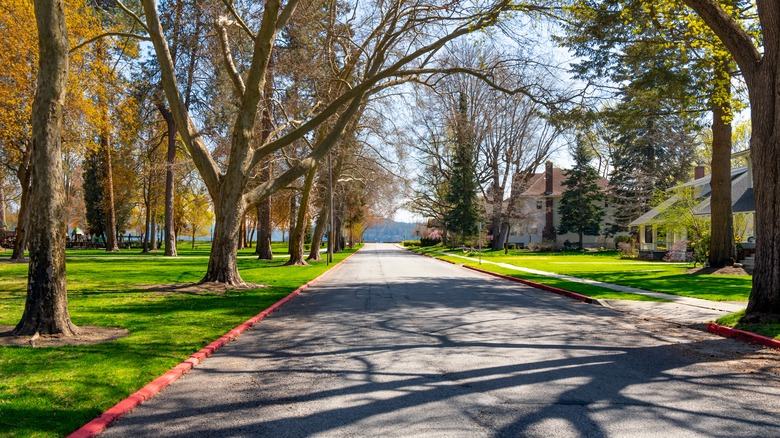 Kirk Fisher/Shutterstock
CDA's public schools scored a respectable B+ overall from Niche, with mainly As and Bs across the categories. The top grades were for administration, clubs, and activities. Teachers and college prep were in the B range compared to the rest of Idaho. Reflective of the state as a whole, however, the city's schools scored only a C+ for diversity. Idaho has 115 school districts, and Coeur d'Alene was No. 13 for best teachers; 16 for athletes, and was deemed 19th best district. The city boasts three colleges: a branch of the University of Idaho, North Idaho College, and Lewis-Clark State College.
Coeur d'Alene has a moderate crime rate: 4 violent incidents per 1,000 residents, according to Neighborhood Scout. There is a 1 in 261 chance of being victimized, but no murders were recorded in the year analyzed. According to the U.S. Bureau of Labor Statistics, the CDA unemployment rate is an impressive 2.3%. One of the few negative aspects of the unique city, though, is the hefty price tag that comes with living there. The state itself is costly, and Coeur d'Alene is no exception. Best Places puts its cost of living at 114.1 and Idaho's at 105.5 against a national average of 100. Transportation, utilities, and miscellaneous expenses are relatively low, but groceries and healthcare are slightly more expensive than average. CDA's median cost of homes is the big nut: It is $476,800, a significant jump from Idaho's steep level of approximately $400,000.