How To Clean Your Favorite Glass Christmas Ornaments
Parkhomenko Yuliia/Shutterstock
While Christmas ornaments can be made out of just about any material, many of the most popular types are comprised of glass. For instance, glass balls, sometimes called baubles, are a common choice that showcases a traditional appearance for any tree, per OrnamentShop.com. These pieces also come in a number of different shapes, including icicles, teardrops, and ovals.
While these trinkets are rather fragile, some may still prefer to decorate with them, especially if they've been passed down through generations or feature a unique, vintage look. Additionally, those who don't have pets or young children most likely won't have to worry about them breaking. If your delicates are looking a bit dull or dirty, you'll need to learn how to properly clean and maintain them. Below, you will discover how to polish various types of glass ornaments, as well as the best way to store them after the holiday season.
Cleaning tips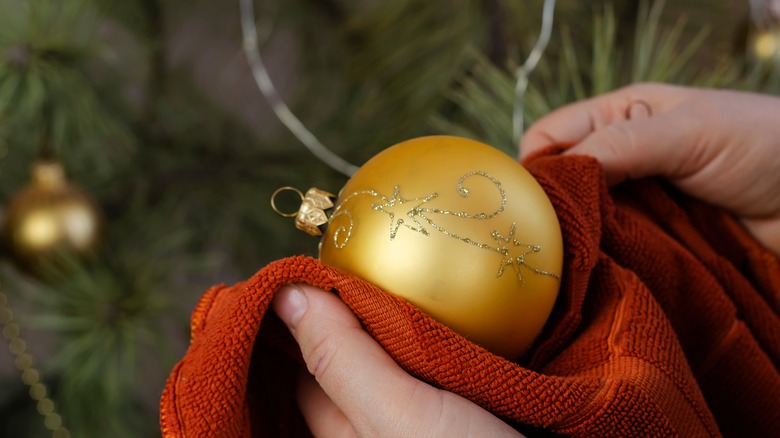 Dmitriev Mikhail/Shutterstock
According to WORX Tools, before you begin cleaning any ornaments, start by identifying two important factors: first, if they're damaged, and second, what types you own. In particular, look closely at the surfaces for any tiny cracks, which can sometimes give the piece a cloudy appearance. If you notice this, take it to get professionally cleaned. Merry Maids also suggests searching for small imperfections underneath a magnifying glass or a bright light and avoiding any damaged areas when cleaning.
The type of ornament you own will determine how it should be polished. If it's a modern glass ornament, you should be able to use glass cleaner on a soft cloth, and small stains could be removed with paste wax. However, StorageMart warns that using too much cleaner could cause the paint to rub off, so only spray a small amount into a towel. Meantime, those made out of crystal can be cleaned with jewelry polish, while hand-painted, vintage, glitter-covered, and heirloom pieces should only be lightly dusted. Further, never use wet products on these items, and always wear gloves to avoid damaging them.
Storage tips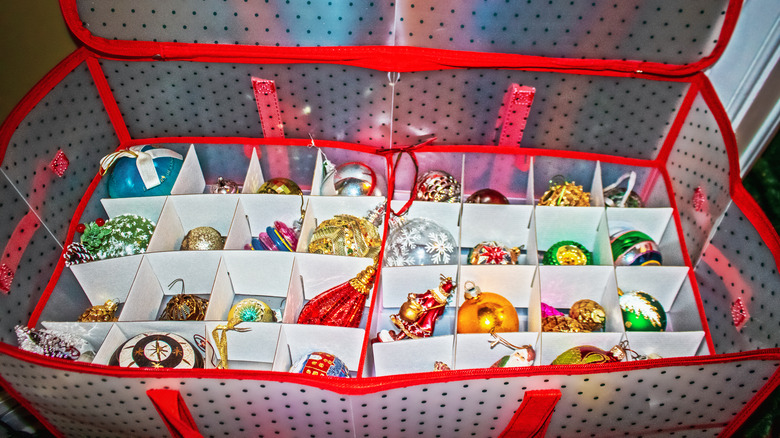 Vineyard Perspective/Shutterstock
According to Merry Maids, the best way to prolong the life of fragile ornaments is by storing them correctly, as this will keep the baubles from needing regular cleaning. Additionally, to prevent any stains from worsening, Schmidt Christmas Market recommends washing the ornaments before storing them for the next Christmas season. Meanwhile, StorageMart says the best storage containers are those specifically manufactured to house ornaments, especially if they have dividers that keep each piece in its own space.
However, if this isn't an option, the next best container is a metal or a wooden box, as neither of these materials traps in moisture, per WORX Tools. Further, before placing each piece inside the bin, wrap it in tissue paper or another soft material to ensure it doesn't scratch or crack. Finally, when choosing the right place to store your ornaments, make sure it's dry and cool, and avoid the basement or the attic.