The High/Low Project Host Sabrina Soto's Design Tip Will Help You When Shopping For A Reno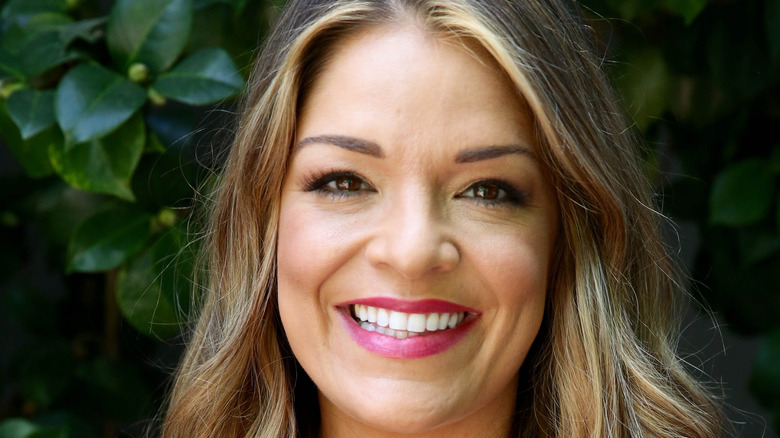 Robin L Marshall/Getty Images
Although renowned interior designer Sabrina Soto professes a passion for color and boisterous design in general, she has a practical side, too. According to HGTV, Soto is a licensed real estate agent and a rare LEED-accredited interior designer, roles that require her to follow strict guidelines and consider client needs while maintaining equilibrium with creativity. It's a process she applies to her personal spaces as well.
In fact, Soto told Woman's Day, "Especially coming from a Latin background, I love bright colors — orange, rich blues, tangerines, Kelly green. The key is balance: My art, furniture, and accessories are really vivid, but my walls are neutral. If you have very bright walls, then you want to keep all the furniture neutral — glass, Lucite, light wood, or white."
Because Soto can't resist bold hues and patterns, which can quickly feel overpowering, she has to be extremely intentional. "I always start with color," she explained in Chairish. "Color plays an important role, as it sets the overall mood of any given space. I normally like to pick three colors and usually stick to them. This provides me with a loose guideline when I decorate and helps me decide what I should and should not put in the room."
Yet, beyond a visceral choice, like paint or upholstery color, renovations are replete with more logical elements, such as floor plans, furniture size, and function. For these, Soto offers a helpful tip.
Design in balance
In each episode of "The High Low Project," Soto aims to give featured homeowners their ideal space while recognizing any budget constraints. The spin? Soto isn't aware of the target budget until after she pitches her initial design. Yet, she must implement it as faithfully as possible. Essentially, this is what many of us must do for our home spaces; we begin with an inspirational image, either real or imagined, that we attempt to fill in with the colors, materials, and objects that best imitate that original idea — but which is also affordable.
Indeed, the process can be overwhelming. "Choosing furniture should be fun, but sometimes, let's be real — it can get stressful," Soto said in Chairish. To that end, the HGTV host believes it's beneficial to shop for the largest furniture pieces first. "You'll get a real sense of how much accessorizing you really need so the space doesn't look cluttered," she explained.
Once strong foundational pieces are in place, such as a sofa or dining table, refreshing the room or amping up the aesthetic becomes easier. "Don't overwhelm yourself by redesigning your entire space. Swapping out small accents here and there might be exactly what you need," Soto shared on her blog. "Don't forget to take a look at the things you already own, too!"