27 Creative Storage Ideas For A Clutter-Free Entryway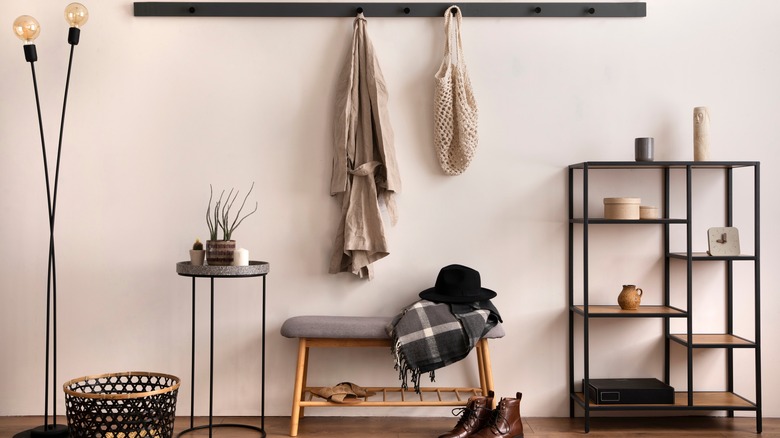 Followtheflow/Shutterstock
When designing a home's entryway, many choose to include one or multiple of the following pieces of furniture: a wall or freestanding coat rack, a shoe rack, a storage bench, and/or a console table.
However, while these common choices are useful for some, they may not work in your specific space. Maybe this is because you need to store more than just shoes, coats, and keys. For instance, The Container Store suggests also keeping your hats, gloves, sunscreen, bug spray, sunglasses, kid's items, and pet leashes in this area, and the above furniture pieces may not be large enough to accommodate all these items. Additionally, perhaps an open shoe rack or coat hanger doesn't provide you with the highly organized look you're going for. Further, some may want to create a unique design that doesn't look like the norm. 
If any of these scenarios are the case for you, below are 27 ways to create more storage and reduce clutter near your front door.
1. Place shoes inside baskets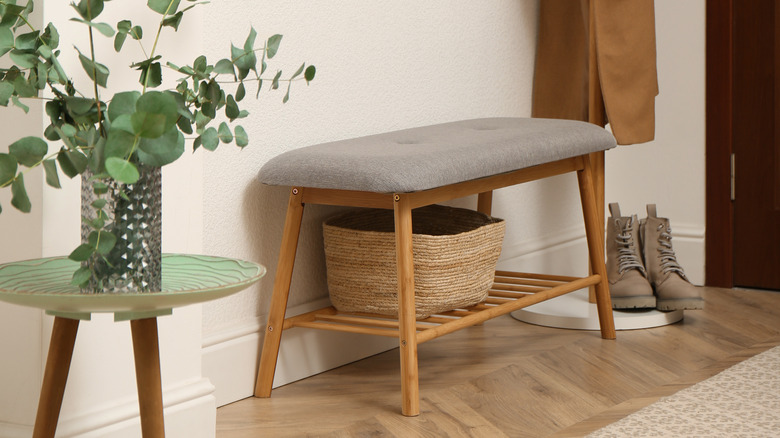 New Africa/Shutterstock
The above storage bench has a bottom rack that's typically used for shoes. However, some may not want their shoes to be left out in the open, as this can create a disorganized look. If so, they could place them inside a basket and store it on the bench. 
2. Conceal shoes inside a cabinet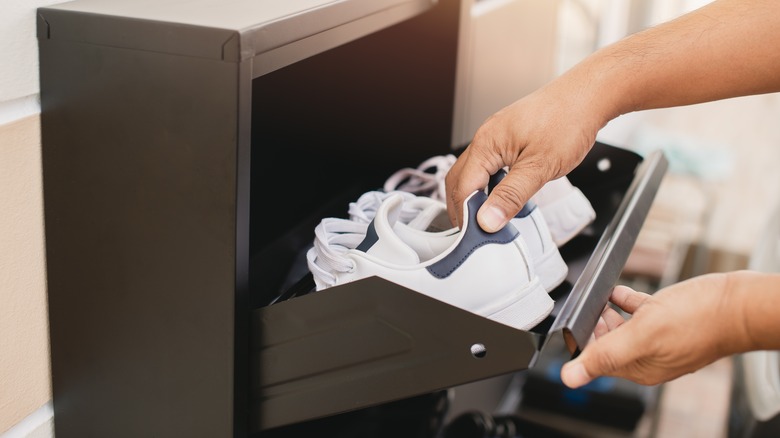 iced.espresso/Shutterstock
Another storage solution is a shoe cabinet. These furniture pieces allow you to stow away your shoes so that they are no longer visible. 
3. Store keys inside a bowl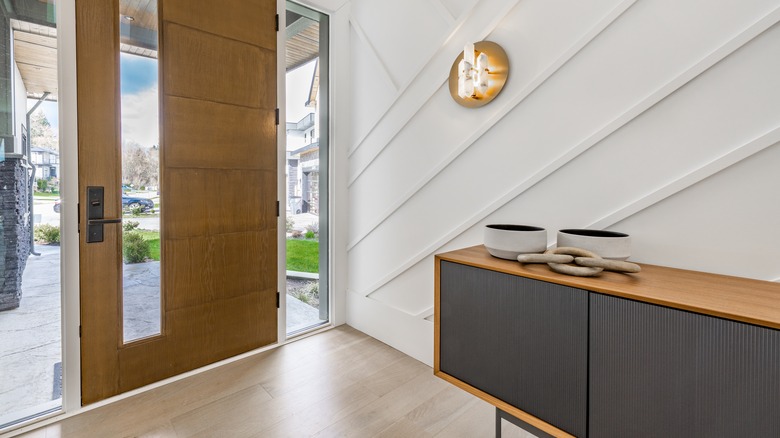 Sheila Say/Shutterstock
If you need an easy and accessible place to store your keys, consider positioning a decorative bowl on your entryway console table. 
4. Use a small hanger for keys
New Africa/Shutterstock
On the other hand, you could also save surface area by hanging your keys on a wall hanger. 
5. Choose a coat rack with a shelf
New Africa/Shutterstock
While normal wall coat racks are beneficial, those with shelves will provide you with more storage space for smaller items like hats. 
6. Utilize a table with shelves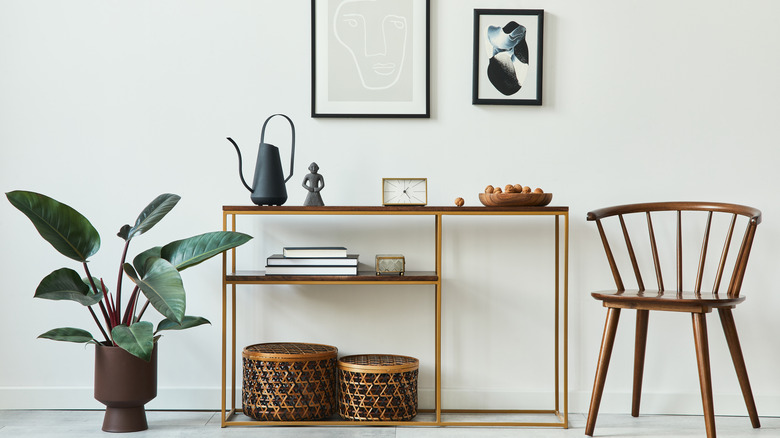 Followtheflow/Shutterstock
Further, when choosing a console table, models with shelves should be at the top of your list, as these will provide you with more storage space. 
7. Suspend a chalkboard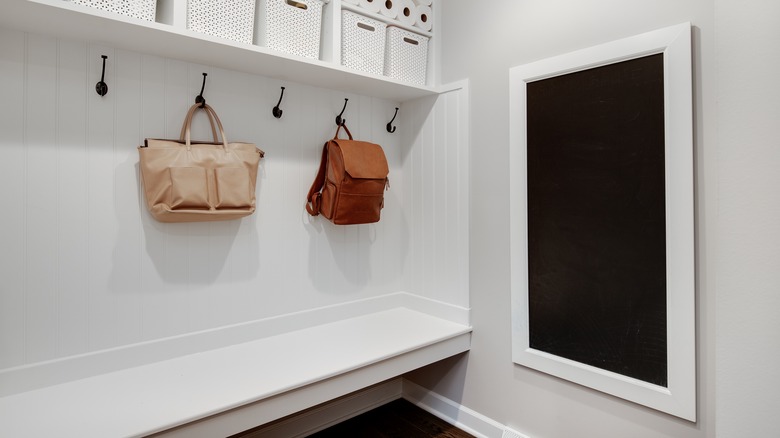 Hendrickson Photography/Shutterstock
If you're constantly forgetting about appointments, or if your entryway is littered with sticky note reminders, hang a chalkboard on an empty wall and keep plenty of chalk nearby.
8. Display a large calendar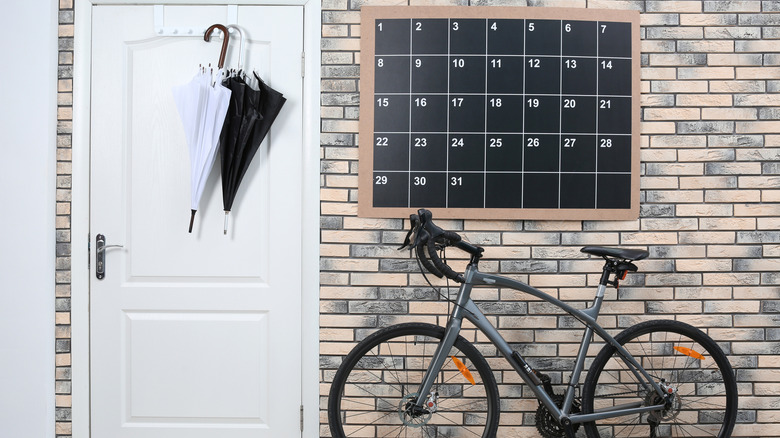 New Africa/Shutterstock
Similarly, you could hang a calendar on a blank wall. While some families keep a calendar on their refrigerator, the entryway may be a better place, as you'll see it every time you leave and enter your home. 
9. Employ a pegboard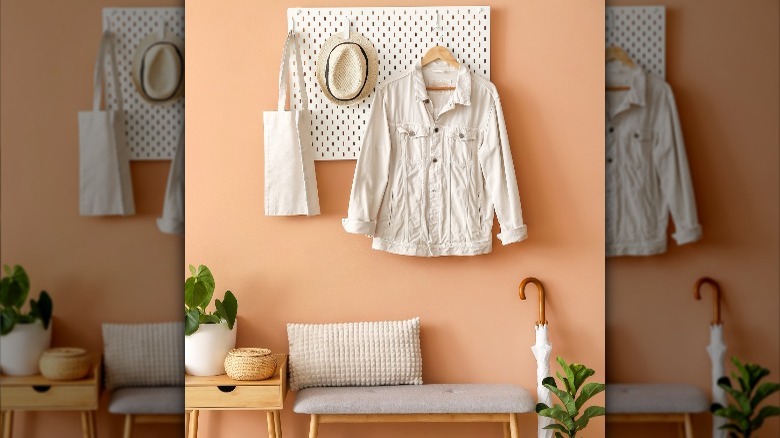 Pixel-Shot/Shutterstock
Pegboards can be used for a number of things all around the home. In the entryway, they could hold small shelves for tiny items or be used as a coat rack. 
10. Save space with a skinny console table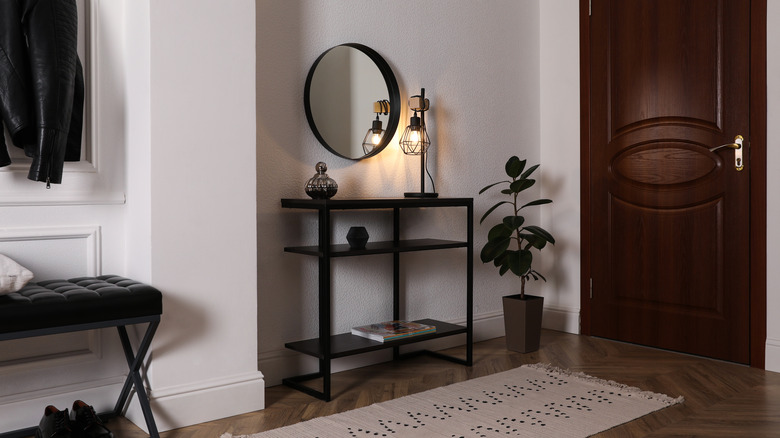 New Africa/Shutterstock
If you have a small entryway, choose a skinny console table, which will give your space a less cluttered and more open appearance. 
11. Get a corner console table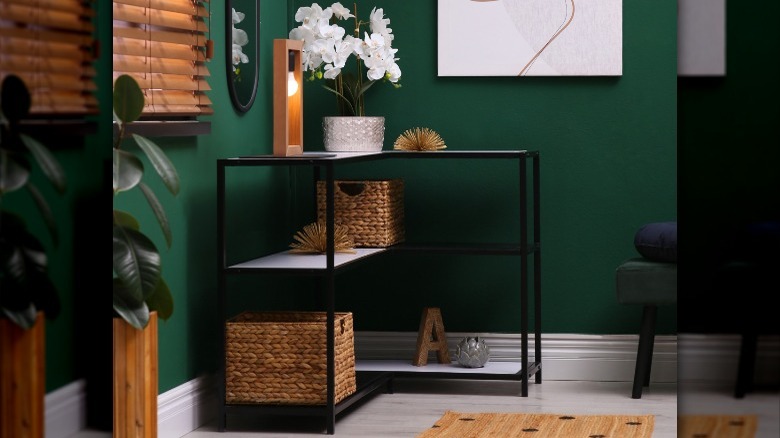 New Africa/Shutterstock
Or, maybe you only have a small corner near your front door. If so, choose a corner console table with a shelf. 
12. Keep everything off the floor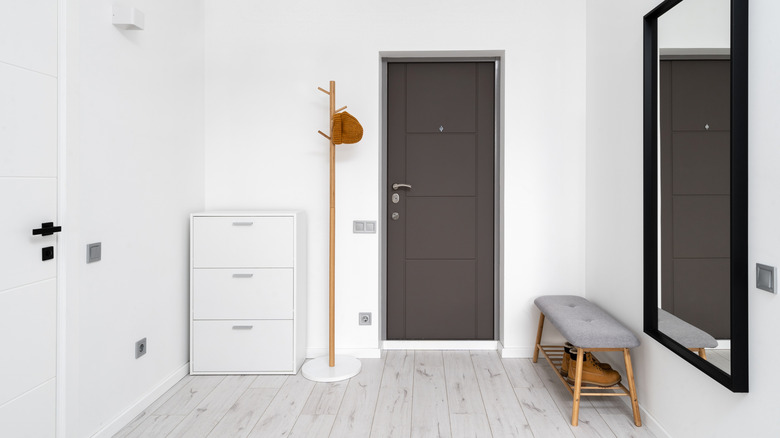 brizmaker/Shutterstock
When choosing the right furniture for your space, make sure it can accommodate all your items, so that nothing stays on the floor. For instance, if you don't have enough space for all your shoes in your storage bench, you may need to also add a shoe cabinet. 
13. Maintain mostly clear surfaces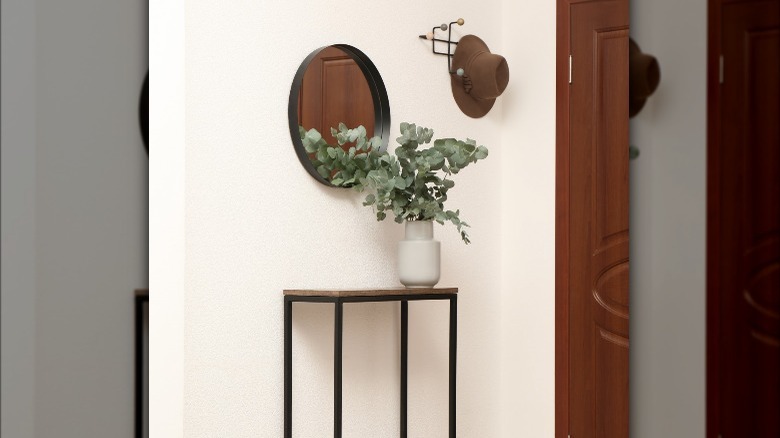 New Africa/Shutterstock
Similarly, if you find that items quickly pile up on your console table, you'll need to add some additional storage solutions, as surfaces should be kept as clean as possible. 
14. Designate a place for mail
Some find that their entryways always appear cluttered because they're littered with piles of mail. If that's the case for you, designate a place to put your mail, such as in a hanging holder.
15. Hide mail inside closed storage
If you'd rather hide your mail behind a closed door, create a mail system inside a cabinet, such as the one above. 
16. Hang a storage basket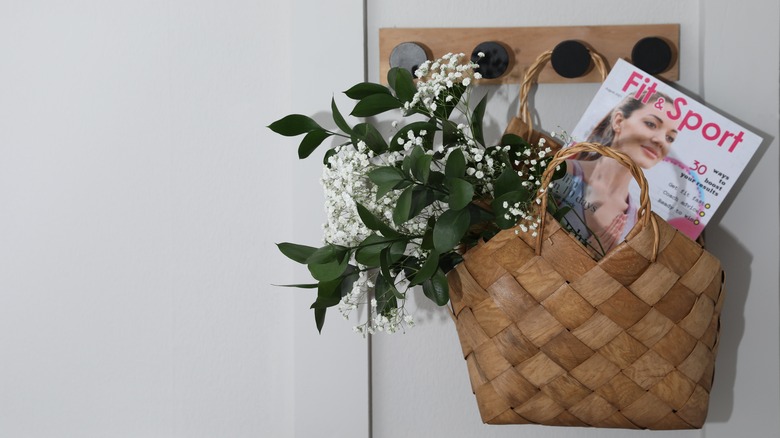 New Africa/Shutterstock
A storage basket is another way you could keep all your mail off of your surfaces. It could be hung directly on the wall or on a wall coat rack. 
17. Contain items inside a dresser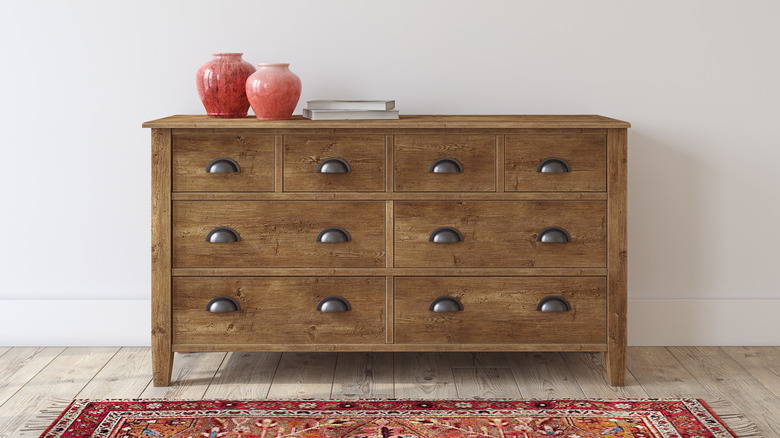 Poligonchik/Getty Images
Those who don't have a place to store bulky items like extra blankets or large outerwear may benefit from replacing their console table with a full dresser.
18. Stow things inside an accent cabinet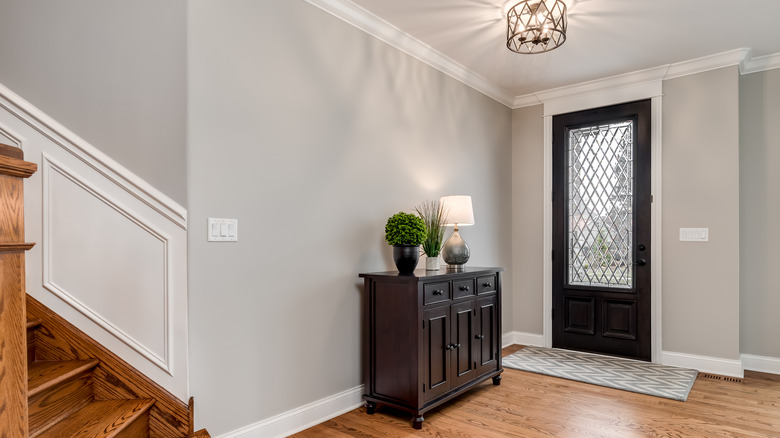 Hendrickson Photography/Shutterstock
An accent cabinet is another great piece to use in the entryway. This will provide a less busy appearance than a console table would, as everything is stored inside closed drawers and cabinets. 
19. Create a place for umbrellas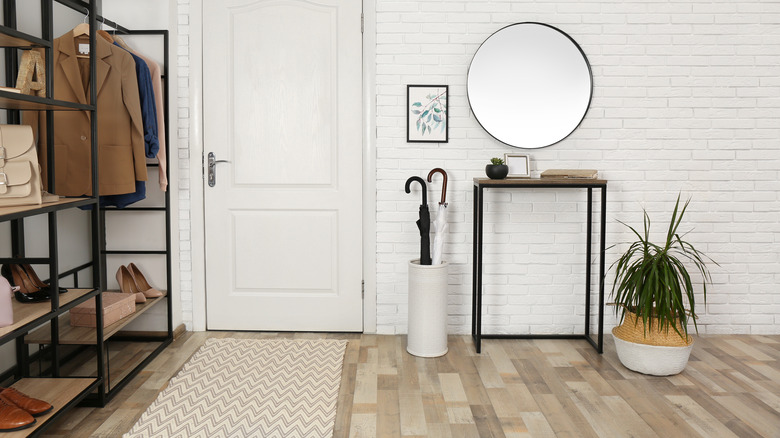 New Africa/Shutterstock
Those who often misplace their umbrellas should designate a space for them. The above container would keep the floors from getting wet, as the umbrellas could dry while stored inside their holder.  
20. Install an over-the-door hanger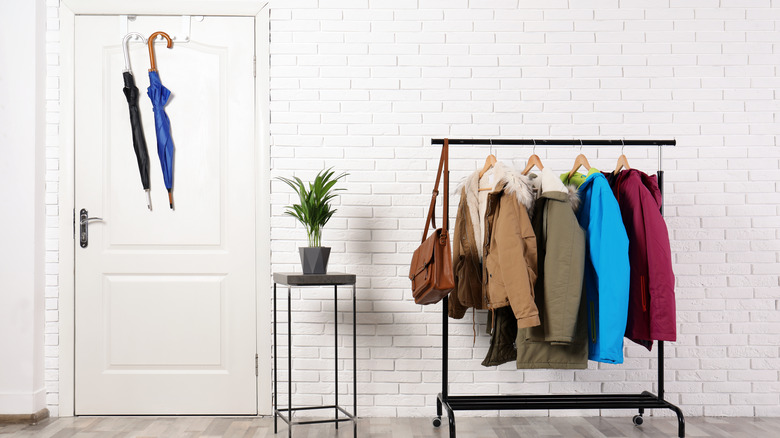 New Africa/Shutterstock
If you don't have extra floor space, hang your umbrellas or bulky coats on an over-the-door hanger. 
21. Store small items on floating shelves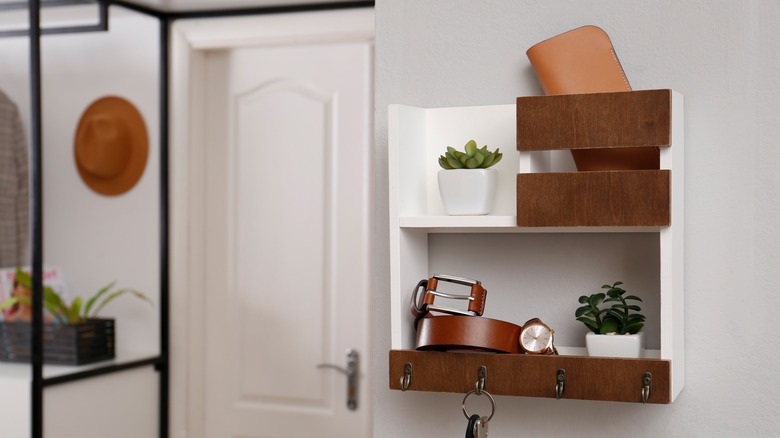 New Africa/Shutterstock
Because small items like wallets, watches, belts, and sunglasses are easily lost, create a space for them by hanging floating shelves. 
22. Arrange matching baskets inside cubbies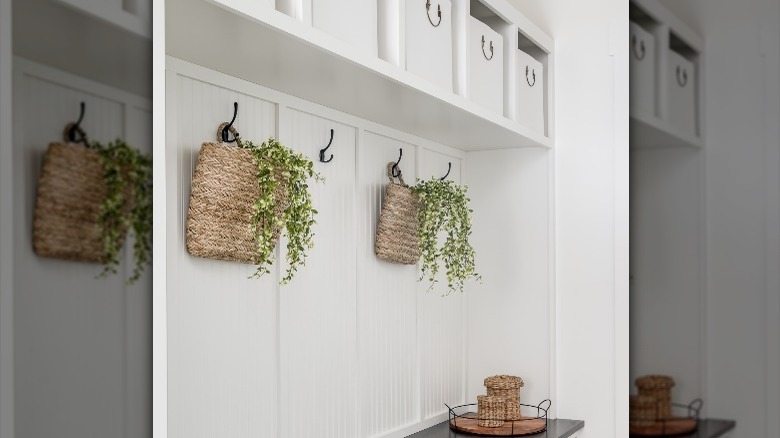 Fio Creative/Shutterstock
If you're using storage bins, create a minimalist and orderly look by using all the same types in the same color. 
23. Label bins for easy access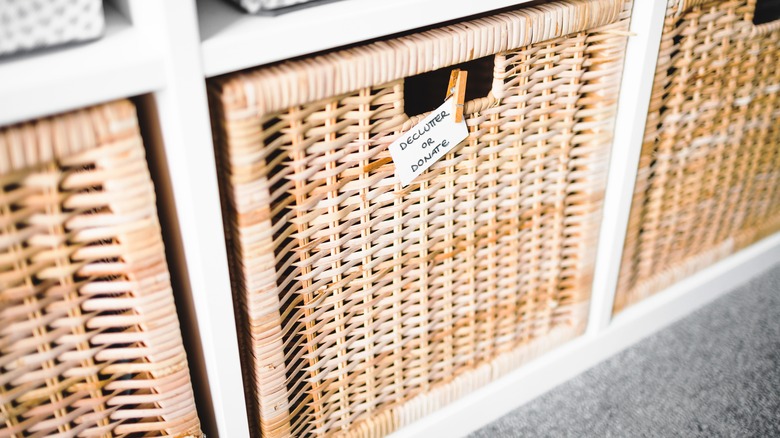 faithie/Shutterstock
Additionally, to make everything easily accessible, label each of the bins. For instance, you could have one for outerwear, one for mail, and one for office supplies. 
24. Create a space for backpacks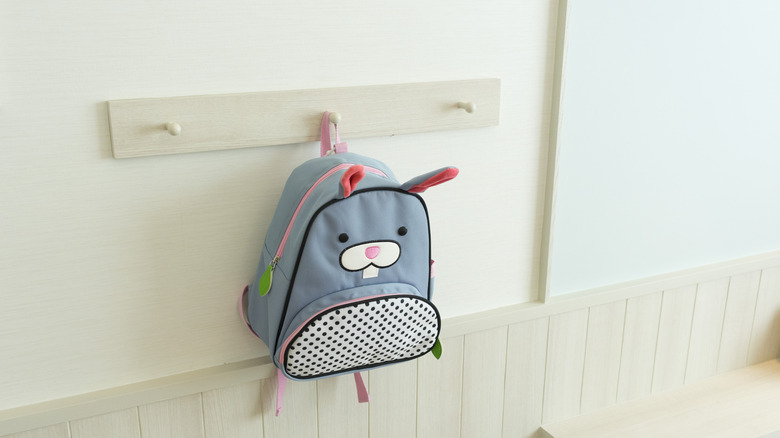 Ben-bryant/Getty Images
Those with young children could install lower hooks for their kids to hang their backpacks or coats on.
25. Take advantage of vertical space
Hendrickson Photography/Shutterstock
If you have a cramped entryway, you may benefit from installing a floating shelf or a cabinet high above a bench. 
26. Set a mirror on top of a storage cabinet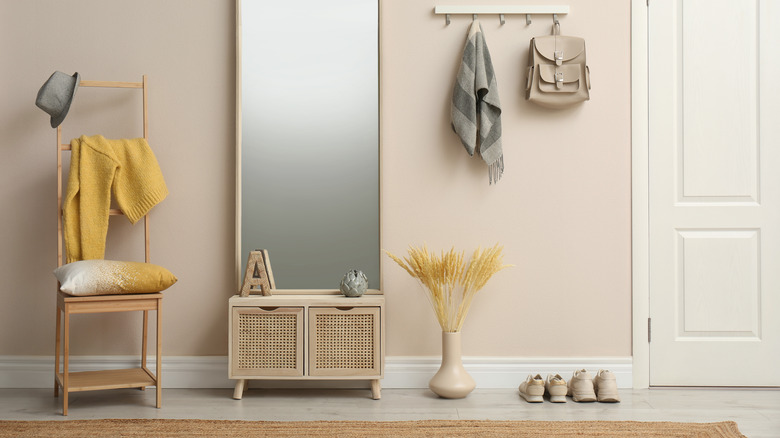 New Africa/Shutterstock
Including a mirror in your entryway will allow you to see how you look before exiting your home. To maximize the usefulness of a full-length mirror, place it on top of a short cabinet. 
27. Position storage behind the door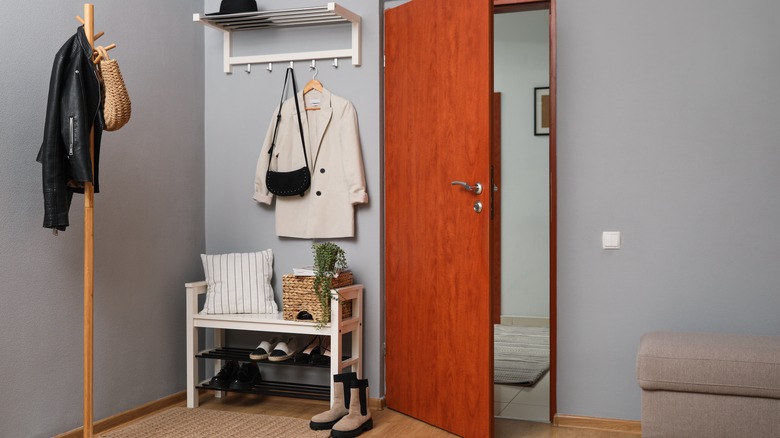 New Africa/Shutterstock
To keep your guests from seeing your messy shoe or coat rack right when they enter your home, hide it behind the door.