This Trick Is The Perfect Way To Maximize Storage In Your Tiny Kitchen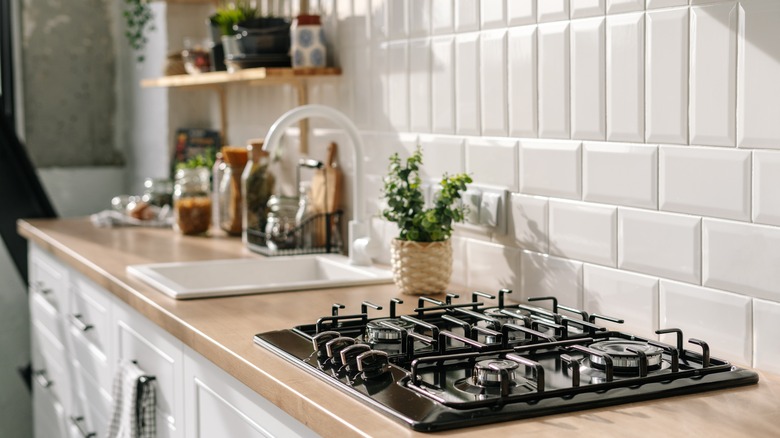 brizmaker/Shutterstock
We may receive a commission on purchases made from links.
Not everyone has the luxury of a large kitchen. According to Statista, the median size of a single-family home has decreased by nearly 200 feet since 2015. Add in the ballooning housing market pushing more and more people to rent instead of buy, along with the rising cost of rent rates across the country, and you're left with quite a few people stuck with cooking space about the size of a shoebox.
If you've ever lived in a cramped kitchen, you know the struggle. No space in the cabinets, so you move the mugs to the counter. No space in the drawers, so you keep your cooking utensils up there, too. Pretty soon, you're left with no usable space and a mess of dishes and pans everywhere. Luckily, this hack can nip that problem in the bud and help you make use of all the space in your kitchen — not just the obvious spots. Keep reading to learn how to avoid the chaos of a disorganized kitchen.
Use wall hooks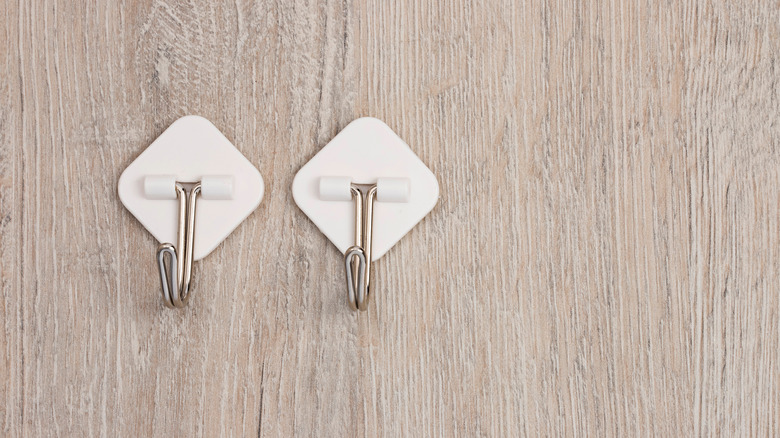 Luis Echeverri Urrea/Shutterstock
Yes, the solution is just that simple. To add some extra usable space to your kitchen, consider sticking wall hooks on the insides of your cabinet doors. Use them to hang large cooking utensils, pot holders, mugs, or really anything else with a handle or hole. They'll still be accessible, just hidden from view so you don't have to worry about all that additional clutter.
Most hooks come in multipacks, like this pack of Command CL091-7NA Clear Medium Hooks, that you can get for less than $10 online or during your next Target or Walmart run. No screws are required, so you won't have to deal with any annoying holes — just peel and stick. Keep in mind that these little hooks do have a weight capacity that varies depending on brand and style, but unless you decide to hang a massive cast iron skillet, they should hold up just fine. If you're planning on moving out, just peel and go. You should be left with a damage-free cabinet door.
How to install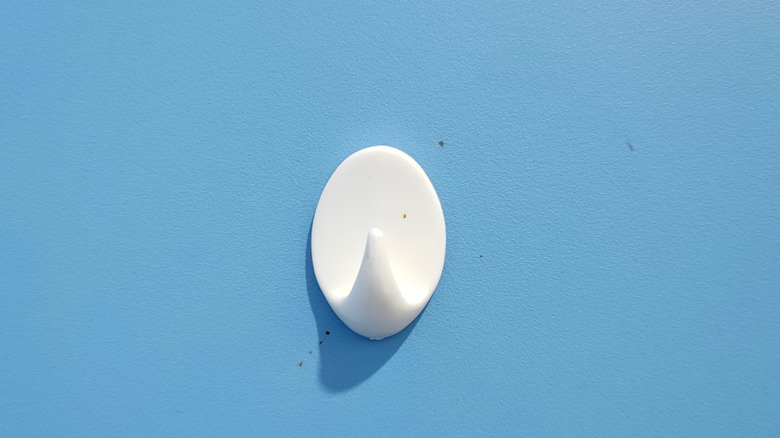 NizamRahman83/Shutterstock
While you're placing the hooks, make sure you test that what you're planning to hang doesn't interfere with anything in the cabinet. This might not work the best if you have shelves in your cabinets that need to sit flush in order for the door to close fully, but you should still be able to hang smaller things like peelers or mugs. It's also important to make sure that the paint on your cabinet won't peel if you try to remove the adhesive. If your cabinet doors have multiple layers of paint thanks to lazy landlords, consider an over-the-door hook like this option from Amazon. You'll still see a bit of the hook from the front of the cabinet, but it'll do the job in a pinch.
Limited room in the kitchen can be incredibly annoying, but by fully utilizing all the space you have available, it can get a bit easier. Next time you're at the store, consider picking up a pack of hooks to help you tackle that messy countertop once and for all.