The Best Products At Target To Help You Organize Your Work Space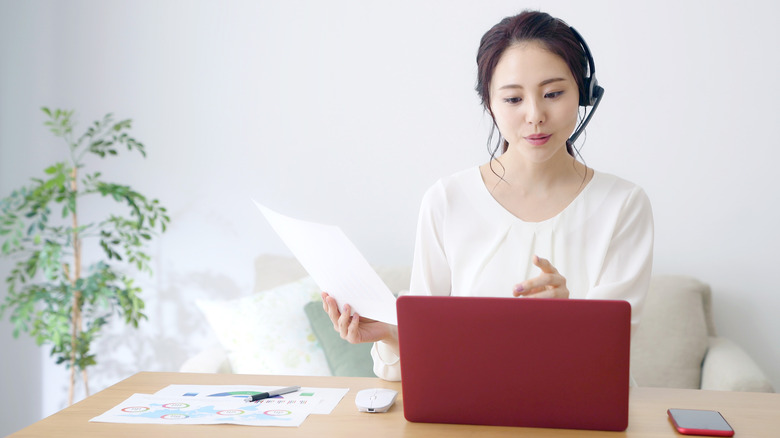 metamorworks/Shutterstock
We may receive a commission on purchases made from links.
Even those who don't work a desk job may benefit from a workspace. Of course, a private work area would be useful if you or someone in your family is in school. Or, maybe you often misplace important documents or have piles of mail lying around your home; if so, a home office could help you keep everything in one place. Finally, those with creative hobbies such as crafting, sewing, or painting could have a designated area to pursue these passions.
No matter what your workspace is used for, it's essential to keep it well organized. According to SmartBrief, the way our external environment looks directly affects how we feel internally. If your desk is messy, you may experience anxiety or feel like your tasks lack meaning. On the other hand, an orderly space could motivate you and cause you to be more productive.
One of the first things you'll need to do when tidying up your office is invest in organizational tools. To that end, below are five of the best products at Target, all under $20 with over a 4.5-star rating and arranged from least to most expensive.
Wooden pencil cup with phone stand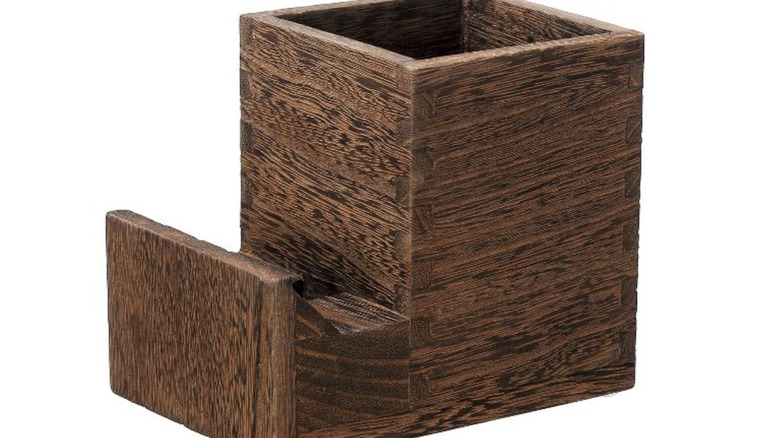 Target
Those who have trouble staying off their phone when they need to be productive may benefit from Target's wooden pencil cup with a phone stand by Threshold, which retails for $9 online. This product has a space for a phone charger to be threaded through so that it isn't left out in the open. According to College Info Geek, while there are plenty of ways to limit your screen time, including turning off notifications, deleting unnecessary apps, and placing the phone in another room, keeping your phone charging in a stand may also help you stay off of it. This is a great solution for those who use their phone for productivity, like keeping track of tasks or timing studies — ensuring it's close by but still out of reach.
Target's wooden pencil cup received 4.6 stars with over 140 ratings. Many said that it had a simple design and was affordable. Further, some used the phone holder for other items like coasters, index cards, or other electronics. However, others complained that it felt lightweight, had a rough exterior and that their phone didn't fit well inside the stand.
Metal magazine holder with label slot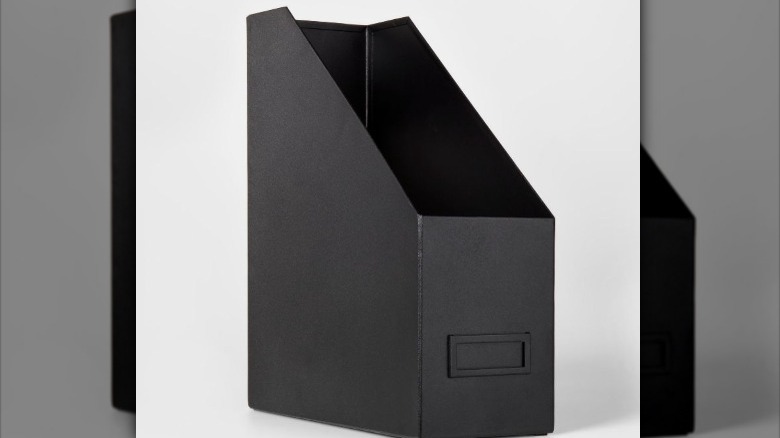 Target
If you have piles of unorganized paperwork lying around your home, you may find magazine file holders beneficial. While some still use these files for magazines, they could also hold important documents, mail, pamphlets, or books. Further, they could easily be stored on a desk, in a deep drawer, or on a closet shelf. And, because you can easily see all the items inside, these pieces keep everything accessible.
Project 62 at Target has a metal magazine file in black, sold for $12.99 online. This piece also comes with a place to insert a label, which could come in handy if using multiple files. With almost 50 reviews, this product received 4.8 stars. Admirers adored its perfect size, sleek appearance, and sturdy build. To demonstrate how many versatile the item is, one review said, "We use them for a few different purposes: organizing our grad school articles and notes [and] holding work documents, craft materials, printer paper reams, [and] small electronics." The only complaints were that it isn't sold with label inserts.
Mesh set of four drawer organizers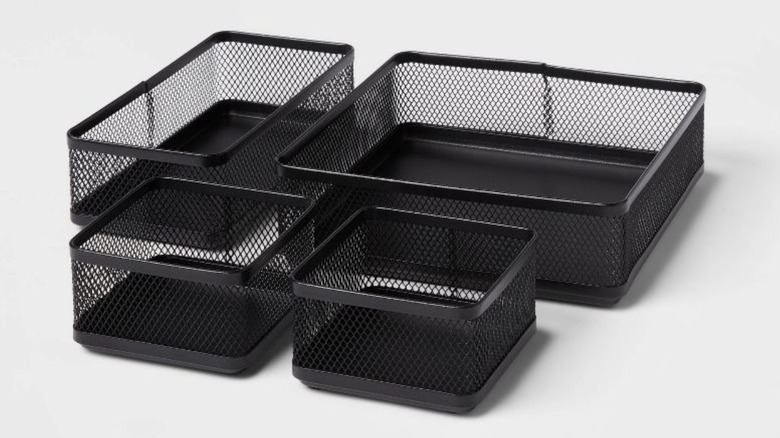 Target
If your desk has drawers, you'd be smart to invest in drawer organizers. According to Terry Elisabeth, these items can be used in any area of the home, including the bathroom and the kitchen, but they may be especially convenient when organizing office supplies. To maximize their usefulness, place a non-slip mat underneath them, label the containers, and stack them inside deep drawers.
Target sells a set of four mesh black drawer organizers by Brightroom for $13 when purchased online. Each of these sections can be separated from one another and laid flat or stacked. With 30 reviews, these organizers received 4.8 stars. Many praised that the items were good quality at a great price. One reviewer wrote, "I like that they're minimalist and have a clean design, but the weave is small enough that things like paper clips won't get through and make a mess." However, one person complained that they were uneven and wobbly. If you want to match your drawer organizers with other desk accessories, check out Target's pencil holder, $7, and desktop organizer, $11.
Glam spinning desktop organizer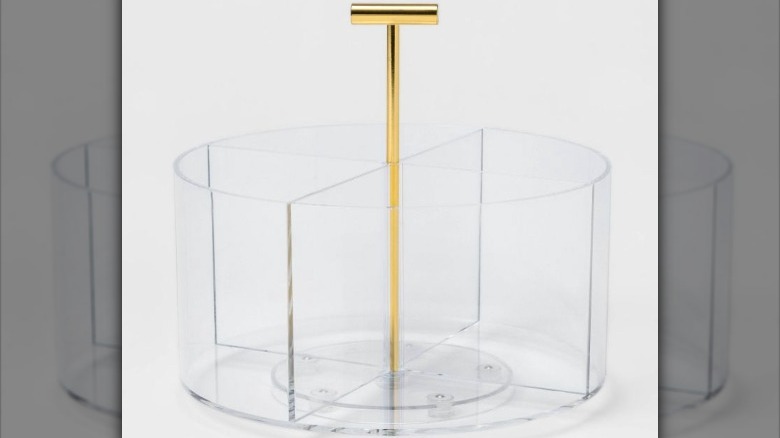 Target
Lovers of glamorous decorations are sure to adore Target's acrylic round desktop organizer from Project 62, complete with a golden handle. This item retails for $15 online and spins like a lazy Susan. Because it's made out of clear acrylic, it's easy to find everything you're looking for, and the four sections are extra spacious. Using a lazy Susan in hard-to-reach areas, such as on a deep shelf or in the corner of a desk will allow all your smaller items to always be easily accessible.
With over 230 reviews, Target's acrylic lazy Susan gained a 4.8-star rating. Many said that it held more than they expected and looked extra cute, while others complained about it having a squeaking noise and a slight wobble. If you love the design of this piece, you should also look into the other items in this collection, including a letter tray, $15; a file box, $18; a letter box, $20; and a paper tray, $25.
Minimalist storage box with lid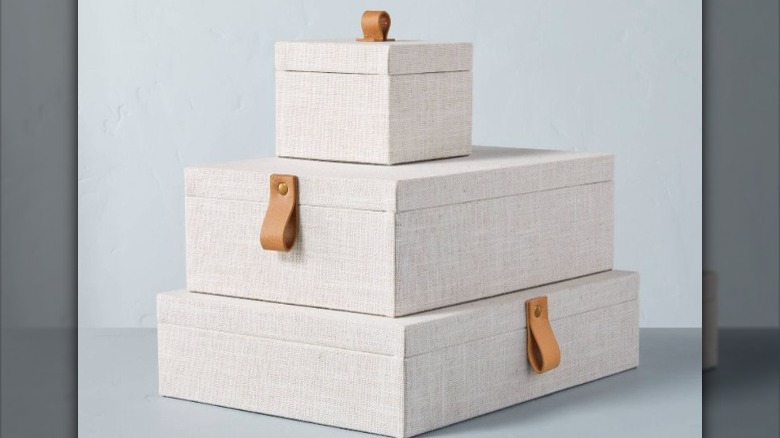 Target
While open baskets can make clean-up easy, boxes with lids create a much more orderly appearance. If you're looking for a closed box with a minimalist design, check out Target's fabric storage box with a faux leather handle, part of their Hearth & Hand with Magnolia collection. This product comes in three sizes: the large is $19.99, the medium is $16.99, and the small is regularly $9.99 when purchased online. With over 40 ratings, this box has 4.8 stars. Those who loved it said it had a clean and decorative look and was of amazing quality. Further, it could be used for a number of things, from storing mail to hiding television remotes.
Storables says that containers with lids may be a better option over open baskets for a number of reasons. First, they can protect items from damage — for instance, you wouldn't have to worry about humidity or accidental spills ruining important documents. Second, they're easy to move around, as items can't escape from the top. Third, they can be stacked on top of one another, and finally, they hide everything inside for a less cluttered appearance.