Target Or IKEA: Which Has The Cheapest Outdoor Rugs?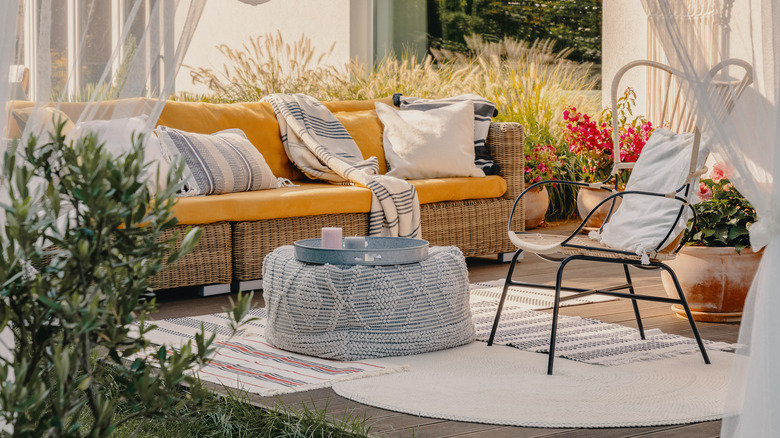 Ground Picture/Shutterstock
In a patio seating or dining arrangement, a rug helps elevate the look of your space, bringing a touch of comfort to your perfect patio. However, rugs made specifically for outside areas also have other benefits (per Consumer Reports). For instance, the right one can help prolong the life of your porch while reducing the possibility of slipping on a damp surface. These rugs are also exceptionally durable since they are made to endure the elements. When you shop for one, look for options that offer a breathable design to reduce the possibility of mold and mildew.
Although a rug may be made for the outdoors, that does not mean you are limited to its intended use. In fact, these products can be excellent choices for indoor areas with a lot of foot traffic or spots prone to frequent messes. Mudrooms, dining rooms, and even a playroom can benefit from the beauty and durability of an outdoor rug. Since both Target and Ikea are known for home goods, we compared two popular outdoor rugs to see who has the best deal.
Deals from Ikea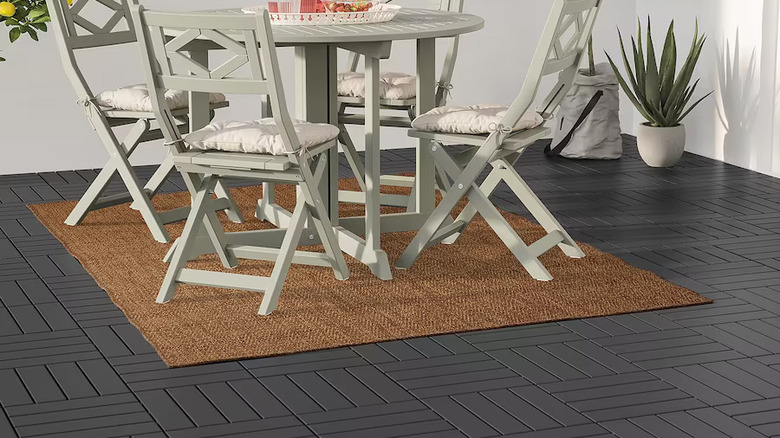 IKEA
The Lydersholm indoor/outdoor rug in medium brown is a popular Ikea offering made of 100% polypropylene. According to Sisal Rugs Direct, this material is so versatile that it is used to create rugs that look natural, including sisal and wool, but is resilient enough to use outdoors. This product also has a nice, rustic quality, making it ideal for a farmhouse-style setting. The natural sisal look would also work well in a BOHO indoor or outdoor space.
For $89.99, the Lydersholm rug presents a somewhat tantalizing deal when compared to other outdoor rugs in its size. This product has just over 10 reviews with an average rating of 4.8 stars. Humorously, the only reason it doesn't have a perfect 5-star average is because someone accidentally reviewed a dresser instead of the product in question. So, everyone who purchased this rug was happy enough to give it a perfect rating, stating that it is comfortable to walk on and a good value for the price. 
Deals from Target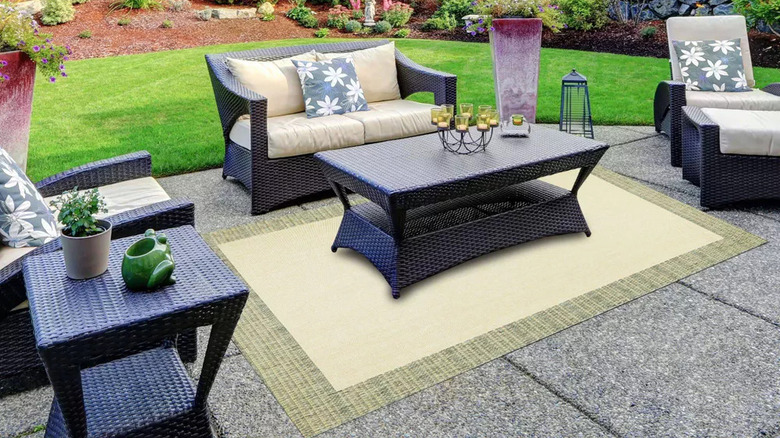 Target
The New York Patio Country Landry Rug is made of 100% polypropylene. However, it has the look of natural fibers while sporting durability that's likely to hold up well to the elements. This product also adheres to the Standard 100 by OKEO-TEX, which means it is free of over 350 chemicals that are considered to be harmful. 
At the price of $45.99 for the 5-foot by 7-foot model, this rug is exceptionally affordable, and it has an attractive green and tan border to add interest to your indoor or outdoor space. Although it only has five reviews, the average rating for this piece is five stars, so buyers are overwhelmingly happy with their purchase. In addition, some commented that the rug is lightweight, easy to clean, and appears to be of high quality.
Considering its price and reviews, both options appear to be a good deal. However, it looks like Target is the clear winner in value.