Designer Vern Yip Wants You To Know That Your Beach House Doesn't Need To Feature These Colors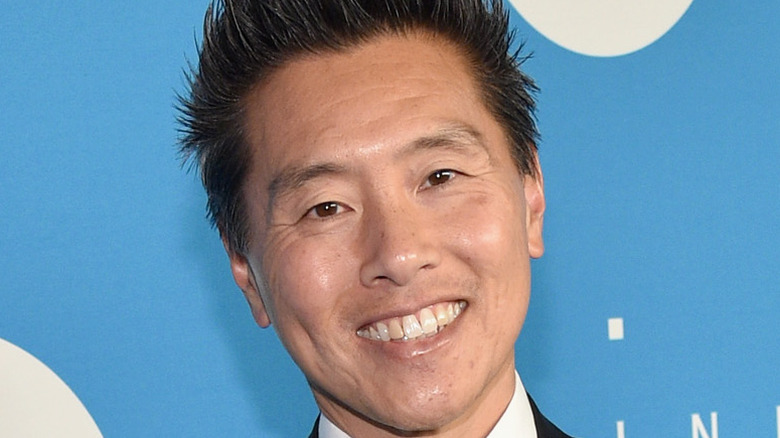 Bryan Bedder/Getty Images
Through the use of natural light, soft tones, and a clean aesthetic, coastal décor easily captures the calm and relaxation of a day spent on the beach. The style is incredibly popular for both those who live seaside and those who don't. Typically, designers emphasize the influence of nature in this type of aesthetic, incorporating such elements through colors and materials throughout the home, according to Thistlewood Farms.
However, many also warn people about not creating themed rooms, which tend to look a little contrived and feel unoriginal, says Tiffany Leigh. Motifs like sea animals, boats, and anchors often fall into this category. But for designer Vern Yip, there's a different element that feels overdone in beach homes and coastal-inspired interiors. Yip shared his tips with 30A about how to create a space that makes you feel instantly relaxed, akin to how a lazy beach day would feel. Specifically, there are certain colors you should avoid incorporating into the design to create a better coastal vibe.
Think beyond blue and white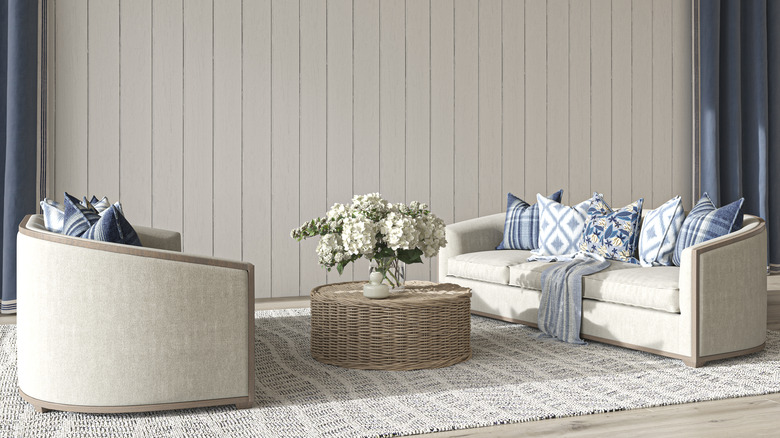 Victoriia Kovalchuk/Getty Images
The colors blue and white, which resemble the ocean and sandy beaches, respectively, are often the go-to for anyone looking to create a coastal-inspired interior. While there's nothing wrong with using these shades, Yip wants people to know they have more options. "I'm on my third home in Rosemary Beach and I've never had a blue and white home," Yip told 30A. "Not because I don't love blue and white, but when I think about what puts a smile on my face — what lifts me up, what I find joyful, and what my family finds joyful — it's something slightly different."
Indeed, there is plenty of inspiration to pull from on the beach to incorporate into a coastal design. For example, consider the green of palm trees, sea glass, or grasses on dunes. Or, the pinks, purples, and oranges from seashells, notes Completely Coastal. You can even get inspired by elements from specific beaches, like the vibrant colors of Miami or the lights from the Santa Monica Pier. References to a specific beach can make a home feel more custom rather than a general coastal feel.
Consider other aspects of coastal living
ben bryant/Shutterstock
Similar to a day spent at the beach, the colors you choose should also make you happy and relaxed. "In my current home, I employed a lot of citrine, which is a really beautiful jewel-toned yellow, a warm gray, and white," Yip told 30A. "I really went for that palette because it makes it feel sunny inside, even when it's not sunny, and I love that. I love bright." To that end, it's always better to choose a color palette you love rather than one that fits the mold of what an interior design should look like.
You may also want to bring in colors inspired by the natural elements on the beach, such as tans, beige, and gray, which are ideal neutrals for coastal-inspired designs. Moreover, use jute, rattan, and woods in these colors to incorporate a natural touch to the interior, suggests Master Class. You can also take inspiration from beaches around the world for more colors. A Mediterranean feel has rusts, terracottas, yellows, and lavenders as the main indoor colors. Using these shades can give your home some interesting depth.