The Ultimate Guide To Coastal Decor
Do you love the sound of waves crashing onshore, the feeling of sand between your toes, and the sun warming your face? If you answered yes to any of these questions, then not only do you love the beach, but coastal theme decor may be the perfect style for you and your home. As designer Caroline Koop said to The Spruce, "Coastal style is all about that feeling of peace and fun that you get from being near the water."
When designing your dream home, try to draw inspiration from this feeling to help you decorate. You can incorporate decorations that will help you create the perfect coastal oasis. Begin your design by including relaxing plant-inspired prints, light colors, striped patterns, and natural elements. These suggestions will help you create a cool, coastal aesthetic at home and decorate your home like a beach house. This ultimate guide to coastal decor features plenty of helpful tips and inspiration for your home.
Choose contemporary colors and unexpected combinations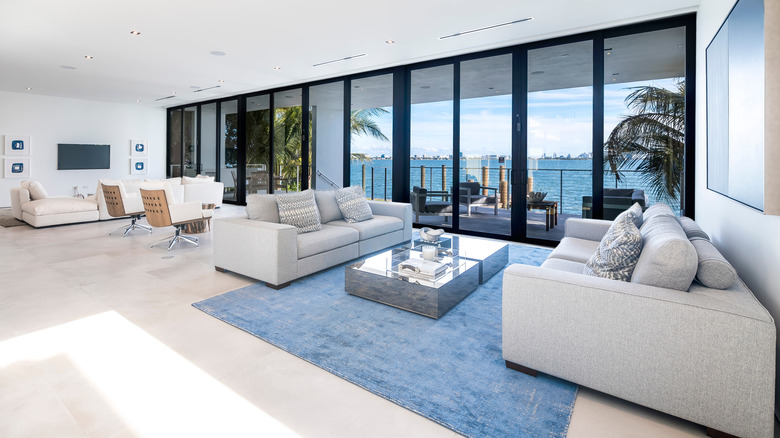 Mdv Edwards/Shutterstock
The classic hues of a coastal home often mimic elements from the ocean. A coastal color palette can consist of blue, white, tan, and a range of taupe paint colors. These colors highlight the water, sand, and sky you find outside in a natural coastal environment. However gorgeous these color combinations are, there is a sea of colors to choose from to produce a coastal-chic vibe in your home.
As per HGTV, beachy color combinations with teal and red, yellow and orange, or mint and pink accents are just as on theme as the expected neutral tones. Consider eclectic blends of the brighter shades for a unique color combination in your living space. You can incorporate color by painting the walls, adding accent furniture, or bringing in decor to incorporate different colors. Imagine sea life underneath the water and draw inspiration from the colorful coral, vibrant kelp forests, exotic marine life, and natural beauty found in the depths below.
Incorporate stripes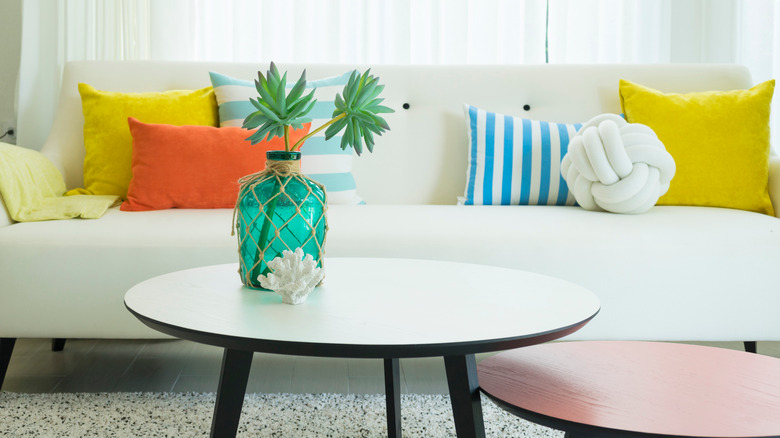 Ben Bryant/Shutterstock
One of the most pivotal patterns in coastal style decor is the simple stripe. This classic element exquisitely complements a coastal design, adding balance and dimension to a space. Using stripes in your home decor will complete a coastal look. According to Architectural Digest, the versatile pattern can be used almost anywhere, from walls to linens and floors. There are no flat surfaces off-limits when decorating with this pattern, but avoid going overboard.
Choosing where you want to incorporate stripes in your space is essential. Using too much of one pattern can be overstimulating and create a chaotic environment. If the design does not exist in the room, there is free range in the location. You can consider chair cushions, pillows, curtains, and carpets as some possibilities for a striped motif. If you are mixing stripe patterns in the same room, attempt to alter the size of the stripes and keep them in a similar color range to create a cohesive style.
Bring the beach home with wood accents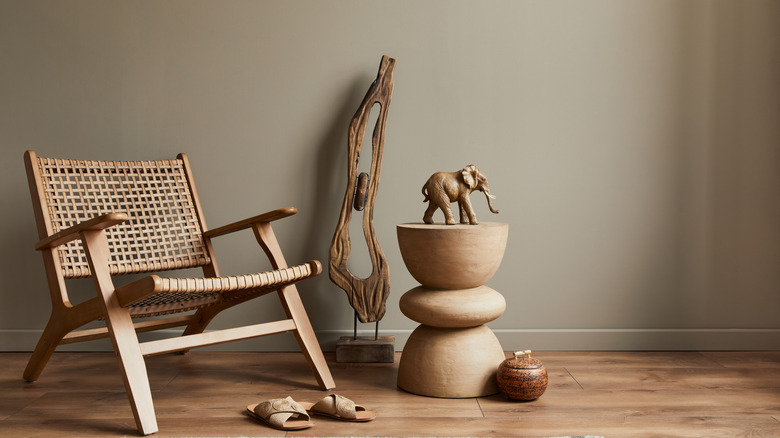 Followtheflow/Shutterstock
One of the most beautiful and versatile materials inherent to coastal design is wood. You can incorporate wood throughout the home, such as the ceiling, furniture, or walls. This material also comes in many shades, making it easy to blend different types and colors. If you seek an authentic ocean look, take a beach walk and collect a few recycled wood pieces from the shore for your space. According to Better Homes & Gardens, decorating with raw wood material is stunningly beautiful, eco-friendly, and chic. The natural wood tone is the perfect texture you want to introduce into your home. Whether you place driftwood on a coffee table or use a branch as wall art, wood will help bring outdoor beach vibes to life in your home.
You can also incorporate wood into your coastal living space around a fireplace mantel or a mirror. A mixture of wood-crafted chairs, sofas, and coffee tables will add character to a living room. You could keep the same material or mix in several with compatible undertones. For a dramatic, eye-catching feature, add wood beams to your ceiling. These earthy elements will give the overall design an authentic coastal feel.
Add woven textures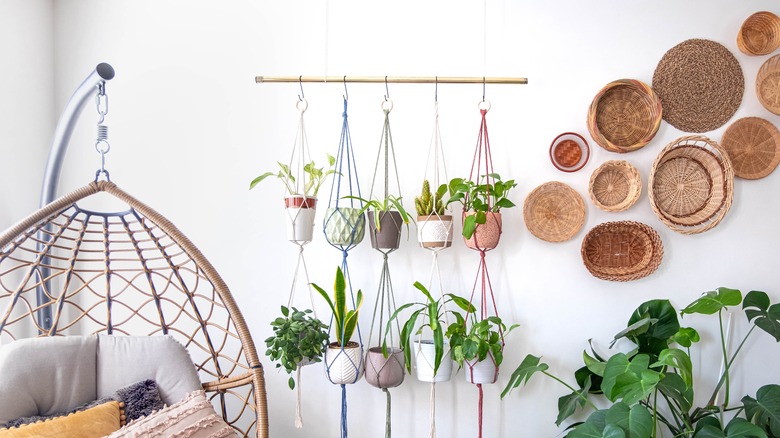 TippyTortue/Shutterstock
Add texture to your space by incorporating woven pieces like baskets and rugs. These decorative items are made of natural materials like hyacinth, jute, or sea moss and liven up an otherwise barren area. As designer Alison Davin said to Architectural Digest, "The more texture you have in a space, the more you feel like you can live in it." The natural appearance of woven baskets, chairs, placemats, rugs, and poufs helps deliver an authentic coastal style to your home. 
When placing these items into the corners and entryways of your home, consider mixing the placements from high to low for a creative look. Give your baskets a modern makeover by arranging a few on the wall or using them to hang air plants. You can also use woven baskets as storage to keep clutter out of sight. While this natural material looks earthy, it also visually elevates your wall space.
Include natural elements at home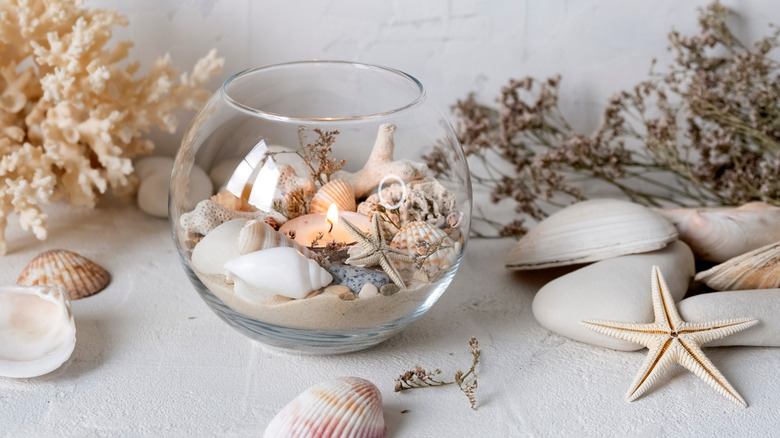 Ellen19/Shutterstock
Take a stroll along the shore to gather some natural inspiration for your coastal decor. A coastal home is not complete without some beautiful organic elements to balance contemporary pieces. Bring the beach home by increasing the natural feeling in your space. Natural touches can include wood furniture, repurposed driftwood, seashells, and once-living sea creatures. Maybe you spot some sand dollars washed up near the waves or collect some seagrass on one of your beach adventures. Just make sure you don't take any animals that are still alive. A combination of these pieces surrounding you and your guests will bring the feeling of the coast right through your doors.
If structural items and trinkets are not what you want for your space, enhance the coastal experience by increasing natural light. According to MyMove, this powerful natural feature invigorates you and your house. Create that comfortable, homey feeling by decorating with naturally sourced decor in your living space.
Use a slipcover over your sofa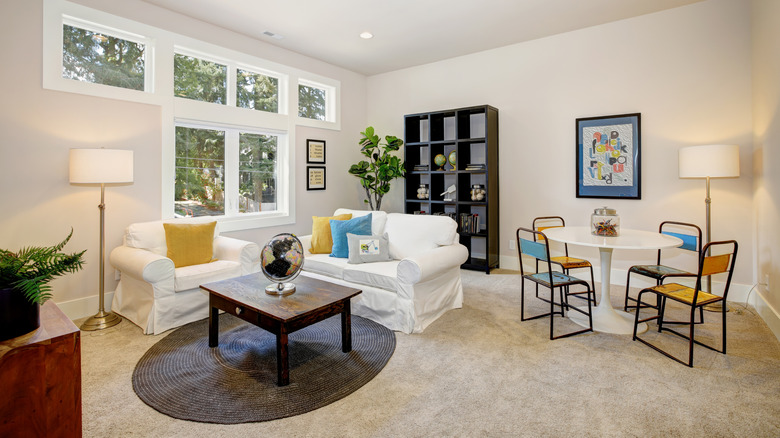 Artazum/Shutterstock
Incorporate light and airy materials into your home decor for true coastal style. One way to introduce lighter features into the home is by choosing fabrics that are light in color and texture. Linen and cotton fabric are favorable, and they will create the vibe you want in your seaside oasis. To lighten the mood without replacing furniture or larger pieces, consider updating your space with some alternative decor choices. For example, if you have darker furnishings such as a brown or dark gray sofa, consider lightening them up instead of tossing them out.
According to Completely Coastal, you can cover your dark sofa with a white or another neutral shade slipcover for an easygoing coastal upgrade. A slipcover on a couch is a perfect option for those wanting a color change but who love the look and feel of their current sofa. Plus, it's one of the trendiest ways to style a white sofa. You can continue adding lighter items throughout the space to highlight the coastal vibe and complement the couch.
Place nautical elements in every room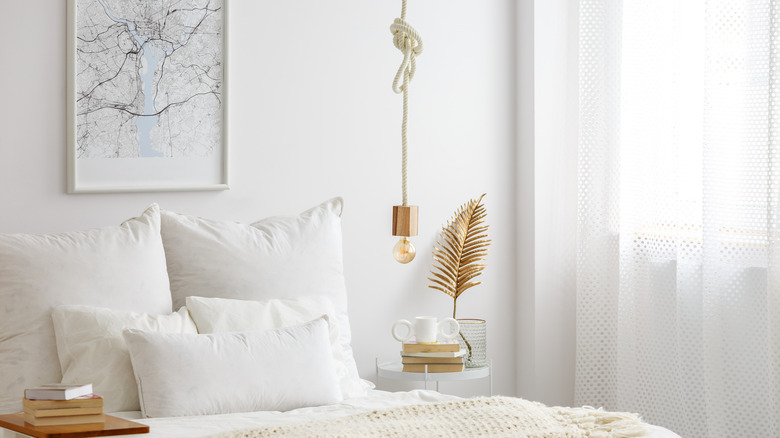 Photographee.eu/Shutterstock
No coastal look is complete without some hint of the sea on the shelves and tables. To continue building on your coastal theme, incorporate nautical elements into all rooms. Aside from the traditional anchors, seashells, and glass bottle boat displays, you can add rope decor to introduce a bit of subtle coastal flair.
Traditional decorative techniques such as corralling rope in a bowl and draping it off the sides or layering it on a shelf are timeless looks. If you are more adventurous, opt for unique ways to incorporate this decoration into your house. According to Bob Villa, you can use rope as a staircase railing or as a part of the suspension system holding a bunk bed or porch swing in place. You can decorate a dining table with rope napkin rings or add rope to drawer cabinet knobs. Use this simple material throughout your home to create a unique and stylish coastal vibe.
Decorate with light window treatments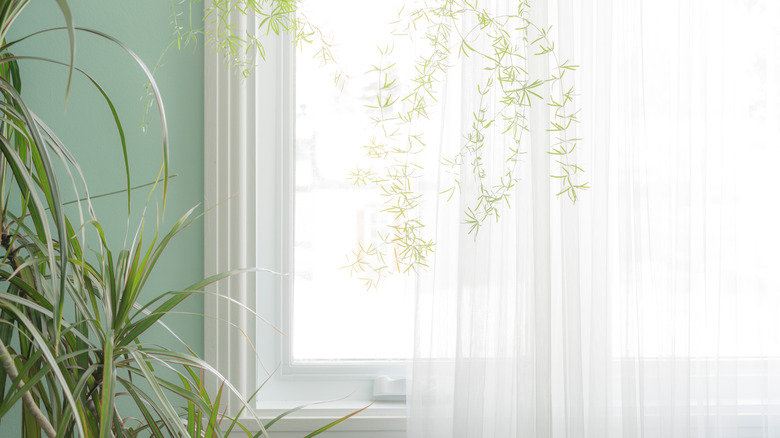 RenineR/Shutterstock
Natural light is an essential element of coastal decor. Maximizing the amount of light in your living space will help capture the breezy and airy spirit of the ocean throughout the house. The best way to maximize natural light in your own home is to allow it to cascade into the rooms as much as it can. Instead of covering up the windows in your house with dark curtains to block the light out, opt for a sheer panel or light curtains to dress up the windows. Lighter window treatments are preferable in common areas where you and your guests will spend casual time together and enjoy the daylight.
According to HGTV, darker color curtains make rooms warmer than lighter shades since they absorb more heat. Therefore, lightweight and light tones are a staple in coastal homes. A white or cream-colored window panel is perfect for a coastal style. It will help create the relaxing atmosphere you seek, no matter how far you are from the coastline.
Incorporate abstract art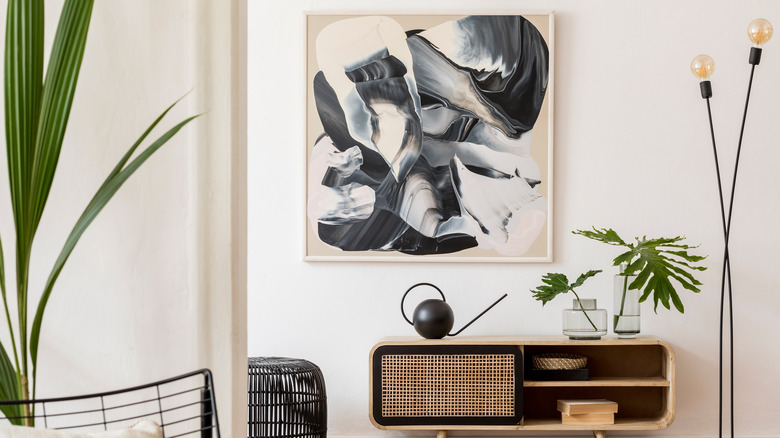 Followtheflow/Shutterstock
Are you struggling to cover up blank wall space in your home? If so, you can try finding coastal-themed art to fill in the empty areas and add visual interest to your walls. You can achieve a modern look by adding abstract art that reminds you of waves crashing on the coast. Search for that perfect piece with the right mix of light blue, teal, white, and brown tones to bring the visual landscape of the beach indoors.
If what you seek is not within reach, make your own. According to Homedit, you can make your own masterpiece using acrylic paint on popular canvas options such as traditional canvas, cotton, or linen. You complement your coastal theme by creating your personalized masterpiece right at home. No artistic skills are required since abstract art is so interpretative. Once you're finished painting, display the art where you see fit to help create an ocean theme in your home.
Layer rugs for a lovely look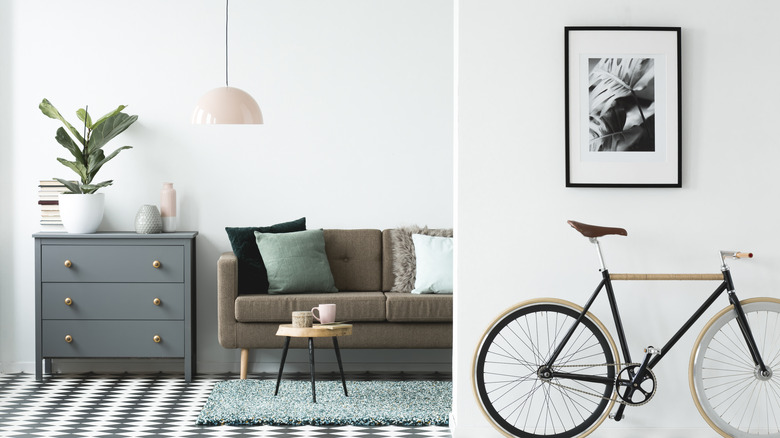 Photographee.eu/Shutterstock
To elevate a room's visual depth, consider adding not one but two rugs to your living space. Per Country Living, a person can use multiple textile layers in their home for an ultra-luxe appearance, even in a coastal-themed environment. The two rugs you choose should be of different sizes, as the goal is to allow both rugs to make a statement. Select rugs where the colors and patterns of both layers will appear simultaneously.
One good decorating tip is to shop for a large rug with a pattern that carries to the edges. The top layer will cover the middle sections. Pair the pieces in complementary colors and tones to create a flattering look. The two area rugs should also blend effortlessly with the existing color palette. Take this opportunity to highlight the accent colors in the space and add patterns commonly found in coastal decor, such as stripes.
Create a shiplap accent wall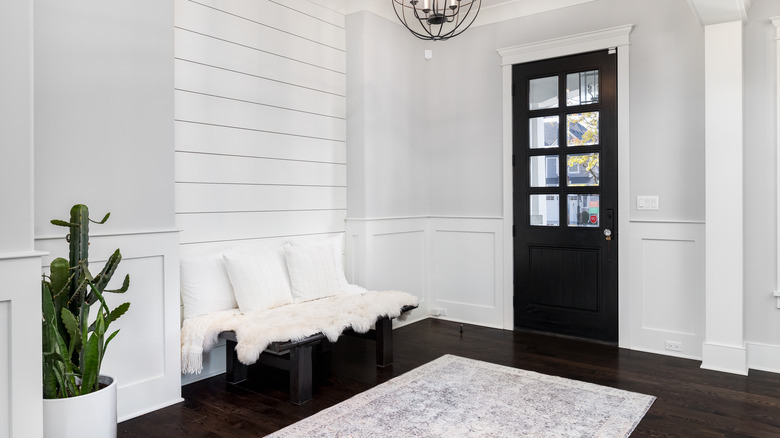 Hendrickson Photography/Shutterstock
Elevate your home's coastal appeal by using shiplap as a decorative wall feature. This wood plank material is perfect for creating a bold coastal look. According to Apartment Therapy, shiplap is typically used for building barns, ships, and other rustic projects. While you may want to go all out and layer the walls in the room with this siding, it's best to limit the shiplap to an accent feature in the space. Decorating with this material on just one wall in a room will help create a focal point rather than overwhelm the environment.
Shiplap is anything but boring. The material can be installed vertically, horizontally, or diagonally on the walls (via Decoist). You can add this element to any room in your house, including the living room, bedroom, kitchen, and even the laundry room. You can keep the shiplap its traditional white color or paint it to reflect your coastal character.
Decorate with thoughtful sea life motifs
While coastal decor is about generating the feeling of the ocean, it still requires tangible objects to create the environment and look authentic. There is no need for someone to go overboard with ocean decor and display layers of seashells or sand dollars on every surface. This decorating technique will make your home look busy and distracting. Incorporate sea life motifs in subtle ways and limit quantities on shelves and tables scattered around the room.
Per Houzz, you can decorate with a pair of ocean-inspired bookends such as replica corals, painted anchors, or shells. The sea comes alive in the small decorations that you incorporate into your home thoughtfully. It's best to choose pieces that you love, rather than just going with the trends or what's in style. It's easy to get carried away with the current when decorating with coastal accents, so try to craft your home with a beautiful design in mind.
Wallpaper in the right place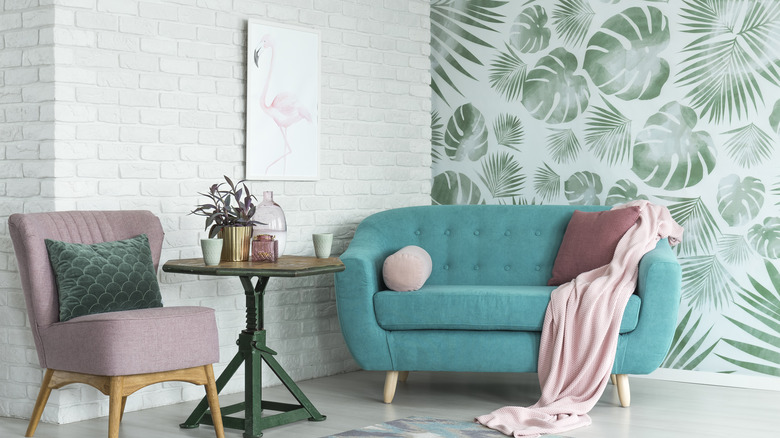 Photographee.eu/Shutterstock
Much like a shiplap wall can make a statement, a wall covered in bold wallpaper can be just as eye-catching. Decorating with a wallpaper accent wall is perfect for a coastal decorative theme. The wall coverings provide a way to introduce color and movement into the space in one step. When adding wallpaper to a room, aim to maintain the calmness often found at the coast. To accomplish this, keep the wallpaper patterns soothing and organic.
Overloading the space with a busy pattern and vibrant colors could complicate the design and disrupt the serenity you want. Imagine wavy lines, simple stripes, palm fronds, or abstract colors for possible wallpaper options. Placement is also essential when factoring in where to put a nautical-inspired wallpaper. According to Park & Oak Interior Design, leaf and fish-inspired patterns work best in smaller spaces such as bedrooms and offices. The neutral hues and traditional patterns pair well with small spaces and complement most color schemes.
Liven up your space with beach blooms and plants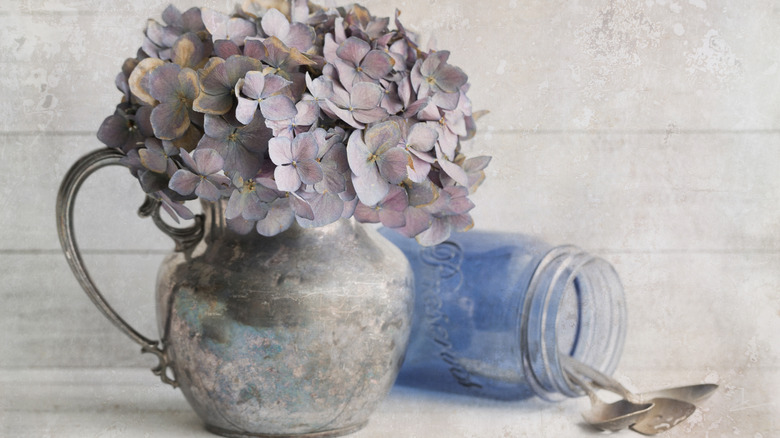 Jan J. Photography/Shutterstock
Style your space with flowers and plants that bring the surf home. According to Flower Magazine, flower arrangements that include orchids, hydrangeas, tulips, pieris, and palms will help the coastal look come to life in your home. The right combination of flowers and plants will enhance the coastal aesthetic since natural elements are an essential characteristic of this style.
Create beautiful flower arrangements with these blooms in your favorite vases and place them on tables and nightstands around your home. You can also add a beautiful palm tree to the dining room. You can decorate with fresh or faux plants and flowers as either will elevate the coastal concept in your space. Mixing both will keep your guests guessing which ones are real or fake. The ultimate guide to coastal decor will get you sailing on the right path to creating your gorgeous beach house retreat.