How To Integrate Smoked Glass Into Your Home Decor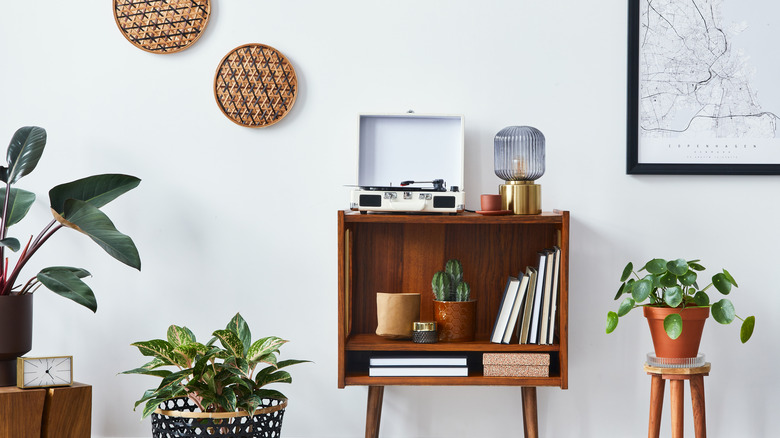 Followtheflow/Shutterstock
The '70s, 80's, and '90s are all making a comeback in some way or another, and everything from clothing trends to home décor can benefit from some of the stylish throwbacks these decades boasted. The '70s might have had a few fashion faux pas, but there was a lot this time period did right, too. Bright and bold furniture, vibrant paint themes, and wicker furnishings are just a few fun elements the era of hippies and disco encompassed, but there is one key décor element that is coming back with a bang.
Smoked glass was a big trend in the '70s, and it has jumped back up to the top of the must-have list for your home's aesthetic. Unlike shag carpeting and pea-green walls, smoked glass is a sensual, provocative addition that is also understated and demure. It can invoke a moody ambiance, but according to DigsDigs, it can still leave a space feeling chic and modern. If you're wondering how to incorporate this desirable trend, check out these tips for using smoked glass in your home décor.
Small additions make big impressions
Integrating smoked glass can be easy and doesn't require a design overhaul. One of the perks of using this material is that it can easily fit into existing color schemes and only adds dimension due to the sultry shades it comes in. Whether you're modern or minimalist, using smoked glass will produce an edgy vibe that can transform a space needing a little wow factor. If you're just looking to include smaller pieces, vases, candle holders, and ornaments are the way to go, bringing a moody aesthetic that isn't overpowering the other items in the room. Place these pieces in a focal spot that will draw in the eye, so they can be seen and taken in.
If your home features a lot of metals, Robin Baron Design recommends combining these with smoked glass to provide balance. Using this material as a lamp covering can create the coveted mid-century modern aesthetic that so many homeowners choose to pursue with minimal effort. In addition, placing smoked glass hanging lights in the kitchen or dining room is a sure way to invoke a sensual, edgy air, which can actually complement every style from farmhouse to industrial and even a more eclectic design.
Smoke show
Smoked glass doesn't just have to be used in small doses. If you love this trend, you can also indulge in larger pieces, like doors, tables, and partitions. One Day Glass even recommends placing smoked glass panels on a staircase to replace railings, which would definitely be an eye-catching swap. Doors made out of this material also look fantastic in a clean-cut, modern setting, but they can fit in nicely with vintage or rustic interiors as well.
Pair smoked glass with stone in a bathroom or living space to produce an interesting juxtaposition of a textured and smooth surface. Replacing closet doors with smoked glass will bring a sophisticated ambiance to the room, or you can find options that have panels paired with other materials like metal or wood. Your options are endless, and this chic '70s trend won't throw off your aesthetic but instead should help enhance it.