The Best Place To Live In Arizona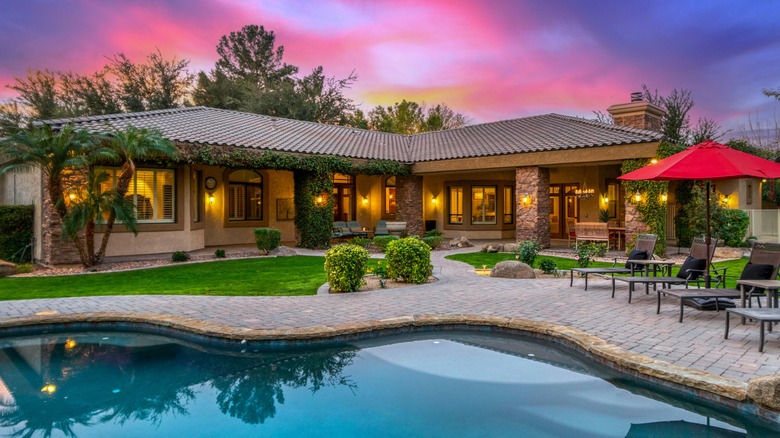 Allison J. Hahn/Shutterstock
Are you considering a move to Arizona from another state? Perhaps you're ready to buy a home, but you are not sure which city or region of the state you want to live in just yet. Arizona has a lot to offer those looking for a fresh start, including warm weather and a moderate cost of living for the region. The state is also known for providing many outdoor amenities, including golf and hiking, and 15 state parks (per Mover Junction). In addition, Arizona has a strong sports culture, a diverse makeup of residents, and a thriving economy.
While Arizona has much to offer, those considering a move here also have to think about which city is best suited for their unique needs. There are quite a few large cities in Arizona to consider, including Mesa and Phoenix for those looking for big-city life, and locations like Gilbert and Scottsdale for people seeking outdoor amenities and more affluent areas. However, one Arizona city stands out as the very best place to live in the state.
Chandler's amenities and benefits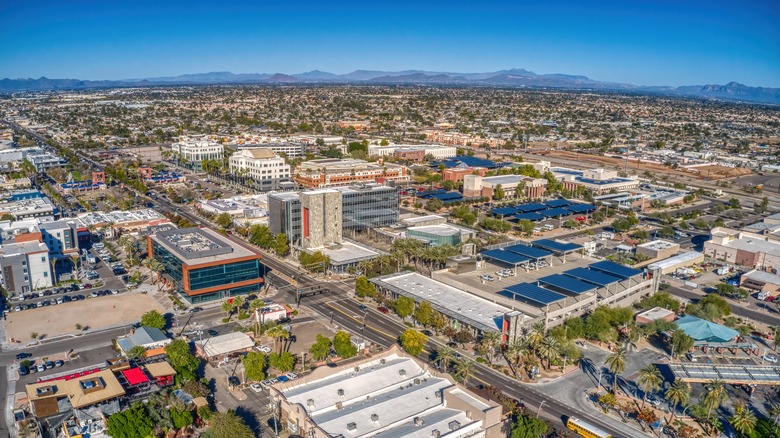 Jacob Boomsma/Shutterstock
Chandler is a unique place to call home for many. As the state's fourth largest city by population, it's recognized for a few specific things, including having a technology and innovation-based economy with a solid workforce to back it up. The area is also known for its fiscally responsible community and exciting startups, according to the City of Chandler, Arizona.
Chandler also offers lots of amenities. The city has numerous pet-friendly parks for walking and hiking (per Visit Chandler) and recreational amenities for youth and adult visitors. There are several aquatic centers to enjoy, too. Regarding arts and culture, Chandler is home to some exceptional locations, including the Vision Gallery and the Chandler Center for the Arts. Programs are available for children, adults, and seniors, so there's always something enriching to do with one's time. However, for those who prefer shopping and nightlife, the city's downtown area is noted for its luxury shopping, fine dining, and various entertainment options. Golf is also easily accessible here and is a popular pastime. Many people come to vacation and fall in love with what the city offers.
Cost of living and quality of life in Chandler, AZ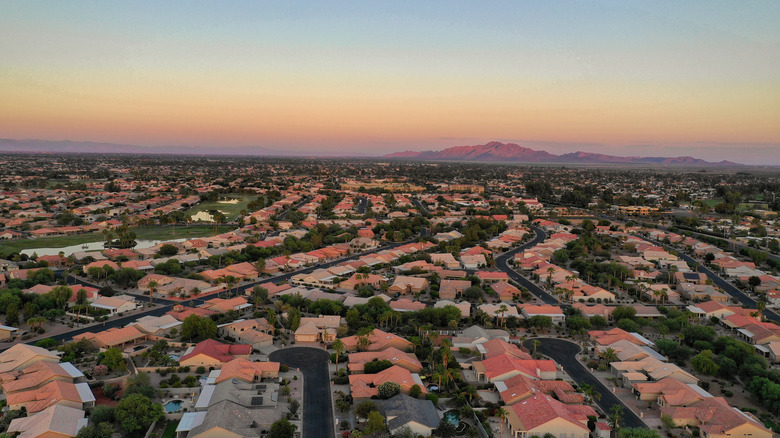 Badger13/Shutterstock
Chandler, Arizona, offers many benefits, but it is not the most affordable place to call home across the country or the state. The cost of living in Chandler is about 15% higher than the national average, according to PayScale. The median home price is $647,059, and the median rent is $1,977. However, while living here may be expensive, many believe the higher quality of living makes up for this.
For example, the city is more affordable than living in Phoenix. However, because it's just a 30-minute drive from downtown Phoenix, it's an ideal place for those who work in the big city and want a more competitively priced area to live within commuting distance, according to Strategistico. It's also more affordable than Scottsdale, which is located nearby and provides residents with access to similar amenities. In addition, Chandler is a growing and thriving place to live, with numerous job opportunities in various sectors and a robust school system to go along with it, making it an excellent place to consider buying a home.