39% Of Readers Have This Window Treatment In Their Bedroom - Exclusive Survey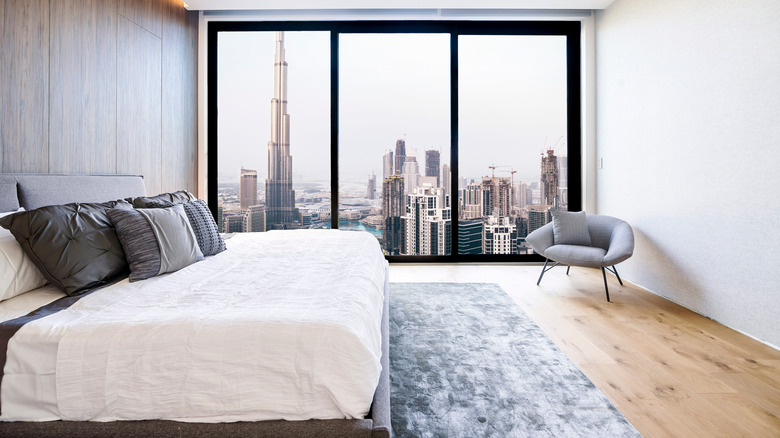 MDV Edwards/Shutterstock
According to Bobby Berk, there are three things you should think about when choosing the right bedroom window coverings: Privacy, light control, and your style. Consider what window treatments you have in your bedroom and why. Maybe you chose thick curtains to block out natural light and bring a pop of color into your relaxing sanctuary. Those living in a rental may have white blinds, as this inexpensive choice is frequently used in apartments. If you love a soft appearance, perhaps you have foldable shades, while those with abnormal window shapes may have spent the money to get custom shutters.
To discover which bedroom window treatment is the most popular, House Digest asked 612 people which type they have. Possible options included blinds, shades, blackout curtains, sheer curtains, drapes, and shutters. One of these options scored the highest, with about 39% of the vote. Below, you'll discover if you're a part of the majority. 
Most desire to control light and save money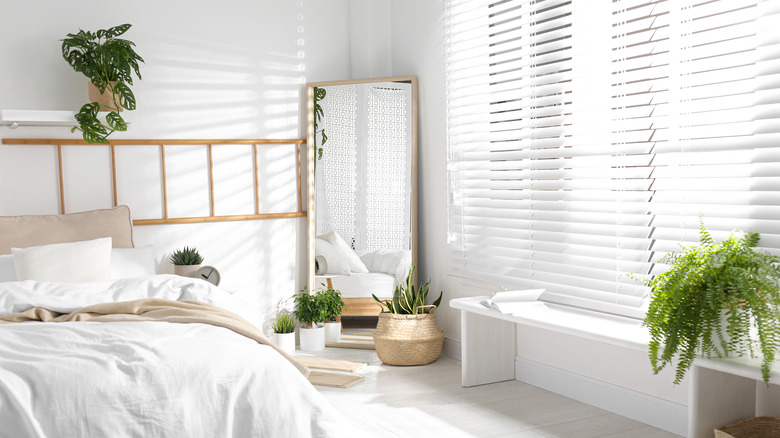 New Africa/Shutterstock
According to our survey, blinds are the most popular bedroom window covering, with 38.56% of the vote (or 236 people). As stated above, this may be the case because simple white blinds are used in most rented spaces. However, Budget Blinds says that others may choose this affordable option because they come in several materials that provide different looks, including wood, aluminum, and vinyl. Another benefit is that blinds are easy to clean, as most can be simply dusted or wiped with a wet cloth.
Blind & Shutters Depot adds that this may be the best choice for those who like to control the amount of light that enters their bedroom. For instance, perhaps you're bothered by street lights at night but want some brightness during the day without compromising privacy. If so, you could close the blinds at night and angle them correctly during the day. However, those that want their room to be completely dark when sleeping may be disappointed with this choice, as small beams of light will show between the slats.
The other window treatment options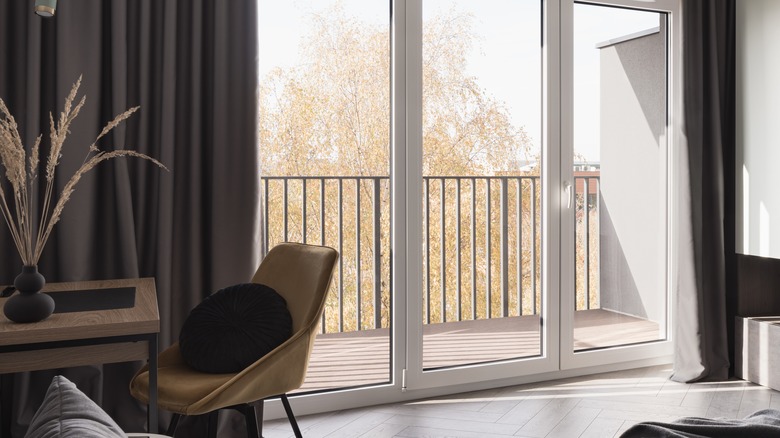 Dariusz Jarzabek/Shutterstock
If you'd rather completely block out natural light, blackout curtains may be a better choice. This option received 173 votes in the survey, or 28.27% of the total. Anchorage Sleep Center says these coverings would especially benefit those who sleep during the day, such as night shift workers, as it tricks your mind into thinking it's dark outside.
The next most popular option was shades, which were chosen by 11.60%, or 71 participants. Bloomin' Blinds says that shades can either be sheer or made out of a darker material; Those that prioritize privacy may enjoy darker types, while those who want some brightness may desire a lighter version. Or, maybe you love the sunlight, in which case you may enjoy sheer curtains, which were chosen by 10.29%, or 63 people.
Similar to blackout curtains, drapes are made of a heavy material but typically have a more traditional look and may be more expensive, per Nicole Draperies. This option gained 7.35% of the vote and was chosen by 45 people. Finally, shutters came in last, with 3.92%, or 24 votes, perhaps because this choice can be quite expensive, especially if custom-made.