The Best Place To Live In Florida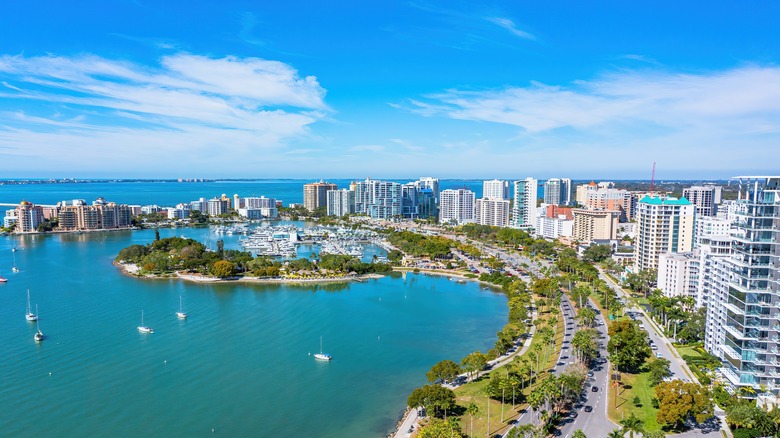 Suncoast Aerials/Shutterstock
Thousands of people flock to Florida every year to vacation and put down roots. For many people, the sunshine, year-round warm temperatures, outdoor activities, and burgeoning food and cultural scenes are just too good to pass up. United Van Lines calculated that Florida was one of the top five inbound states last year. With hundreds of cities throughout the state to choose from, analyzing the quality of life, housing, job market, and other conditions is important for those attempting to determine the best place to live in the Sunshine State.
Located on Florida's central west coast, one city stands out above the rest. With a population of about 55,000 people, it's close to the state's second-largest metropolitan area, not to mention engaging beach towns like Venice. There are also plenty of exciting outdoor activities on the water and inland here, not to mention shopping and dining, fine arts and museums, concerts, bars, and nightlife, all surrounded by vital amenities and plenty of Old Florida charm. Thinking about moving to Florida and decorating your ultimate beach house? Find out what Sarasota has to offer.
Growing Popularity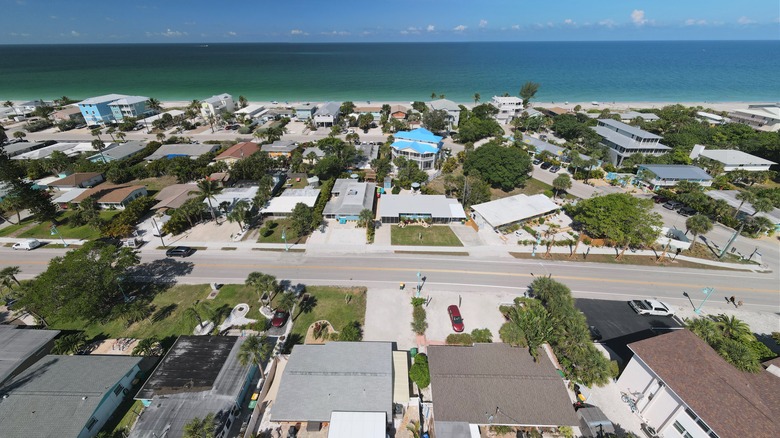 Florida Aerial Pics/Shutterstock
Once considered a retirement community, Sarasota's reputation is changing thanks to an influx of families and young professionals. Per PODS, it has the highest growth rate in Florida, and in fact, the most population growth in the entire country in 2022. PODS also describes some of the reasons for these increases: a thriving business community and job market in which tourism is the number one industry, followed by health care and manufacturing.
In addition, the hospitality segment bolsters the area's economy with over 800 restaurants. There's also retail, from popular national brands such as Trader Joe's and Sur la Table to unique shopping experiences such as St. Armands Circle, a shopping center filled with restaurants, shops, and boutiques in a leafy, park-like setting.
In 2019 the median home sale price in Sarasota hovered at $250,000, but today that price is closer to $489,900, according to Realtor.com. Like any city, house prices fluctuate depending on the neighborhood, and Sarasota has twenty-seven of them. Still, the Realtor Association of Sarasota and Manatee described the real estate market in mid-2021 as red-hot, indicating increased prices every month throughout the previous twelve months, a trend that continues in 2022. But, of course, price is just one consideration, and for anyone considering moving, there are several important factors to consider before buying in Sarasota or anywhere.
Always something happening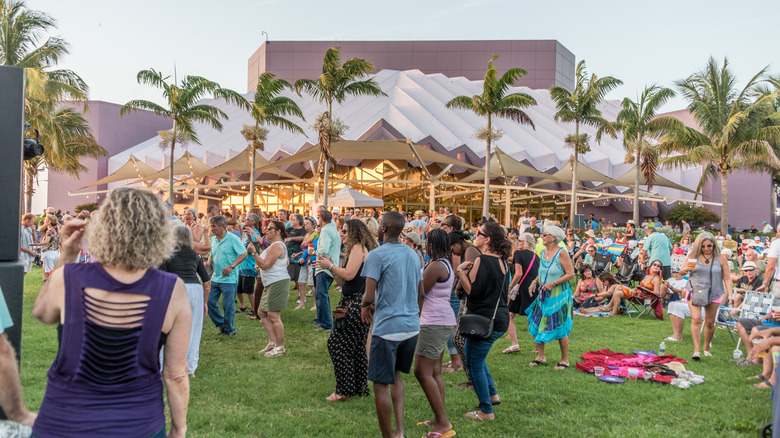 semyon lorberg/Shutterstock
But statistics don't describe the city's spirit, and Sarasota is packed with things to experience. Besides beaches, residents and visitors enjoy sailing, boating, fishing, and kayaking. There's also the Mote Marine Laboratory and Aquarium for ocean lovers, a research organization open to the public. In addition, the city has over fifty parks and facilities for swimming, hiking, birding, tennis, and more, as described by the City of Sarasota. One of the city's founders, a Scotsman named John Hamilton Gillespie, created one of the first golf courses in Florida over 115 years ago. While it no longer exists, there are currently 29 courses in Sarasota, with dozens more in neighboring counties.
The city's history is intertwined with the Ringling Brothers Circus as Sarasota served as the winter home of The Greatest Show on Earth. John Ringling and his wife Mable toured extensively through Europe and amassed a valuable art collection. Today the collection can be seen at The Ringling, which includes a museum on the grounds of the 66-acre Ringling estate, a 36,000-square-foot Italianate mansion, venues, and gardens. Sarasota is also a center for the fine arts with the Sarasota Opera and the Van Wezel Performing Arts Hall that offers Broadway shows, plus other entertainment and concerts. Additionally, there are several other art museums, dance and chorale companies, and the Sarasota Orchestra.