How To Make Your Home More Dog-Friendly, According To An Expert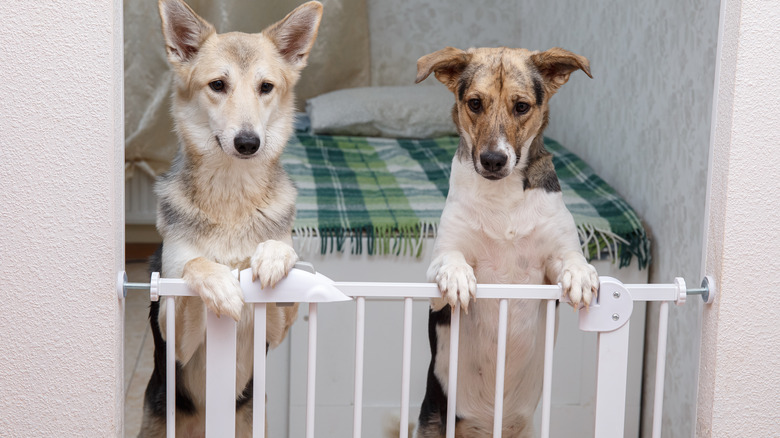 Alex Zotov/Shutterstock
People love their dogs — it's evident in the statistics. According to the American Veterinary Medical Association, 38% of U.S. households own a dog. And there are plenty of reasons why we love their companionship.
Having a dog in your home makes it a more friendly place, but it is important for you and your canine companion that it's a dog-friendly space as well. Ensuring that your living space is a welcome and safe refuge for Fido involves a few fundamental steps and is crucial for owner and pet alike. In an exclusive interview with House Digest, Kimberlee Tolentino, owner and head trainer of Lugaru K9 Training, provides a primer on outfitting your home to keep your dog free from harm, be content, closely supervised, and well-trained. Her tips are equally applicable to a den of dogs or a single creature. Here's how she says you can make your house more dog-friendly.
Create barriers within your space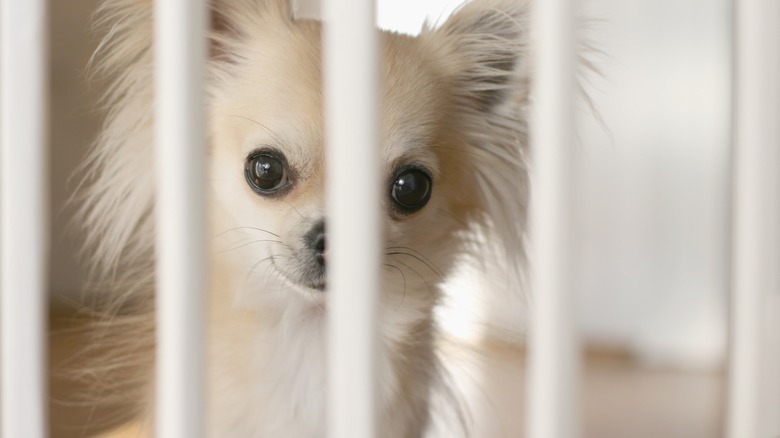 padu_foto/Shutterstock
Your dog's safety should be a priority — as one would strive to child-proof a home, it also makes sense to dog-proof your canine's space. Kimberlee Tolentino suggests using barriers within your space to keep your pet safe. "Barriers are things like baby gates, dog crates, and play pens. These kinds of barriers maintain boundaries for your dog in the home, and keep them safe from potential hazards like dog-unfriendly food, trash contents, and other dangerous objects."
They prevent a dog's unwanted and potentially unsafe access to rooms or stairs, put a stop to possible animal fisticuffs, and also cordon off a special place for your pet pal to call his own. To this end, Tolentino outfits her home with a system of pet-friendly barricades. "In my house there is a screen in front of the fireplace, a tension gate at the top of the stairs, a built-in gate at the top of the porch, and separate crates for each dog in the house." She continues, "These barriers can also be helpful in managing multi-dog households, cleaning messes, and keeping track of curious puppies." A dog-friendly owner must also ensure that the deterrent is sufficiently strong and high and be prepared to replace it to accommodate a growing pet.
Get organized with storage units or a pet supples closet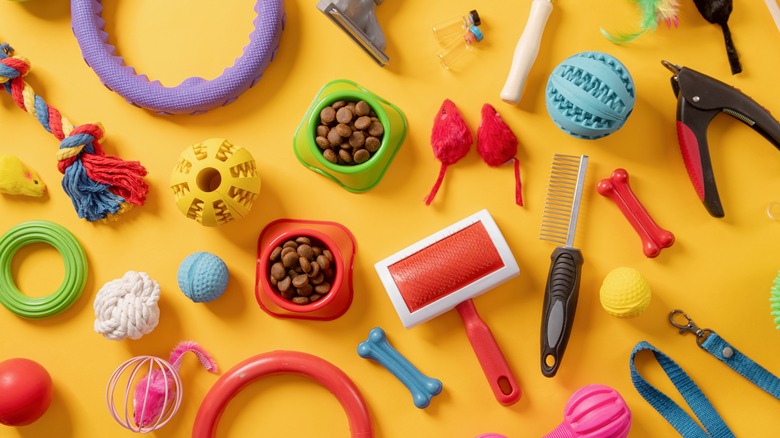 ilona.shorokhova/Shutterstock
An occupied dog is a happy one, which means plenty of toys and supplies. With all of this potential clutter, Kimberlee Tolentino makes organization a priority. "As a professional dog trainer, I have an entire room of my house dedicated just to the dogs, but you don't have to have an entire dog room to be on top of organization. A spare dresser or cubby-style organizer is a great way to keep all of your dog's toys, gear, treats, and more in one secure spot." The dog expert adds that "a spare closet can be a great space to stow leashes, dog clothes, extra crates, grooming supplies, and a rotation of toys."
Conveniently corralling your pet supplies helps to establish a dog-friendly home that is also clutter-free. Culling what you no longer use or your pet does not need is a good way to start. You can store food and the dog's treats securely in the designated cabinet or closet. Find a safe spot for important pet information, including medical and vaccine paperwork, microchip numbers, and vet contact data. And don't forget the doggie waste bags.
Get the right supplies for cleaning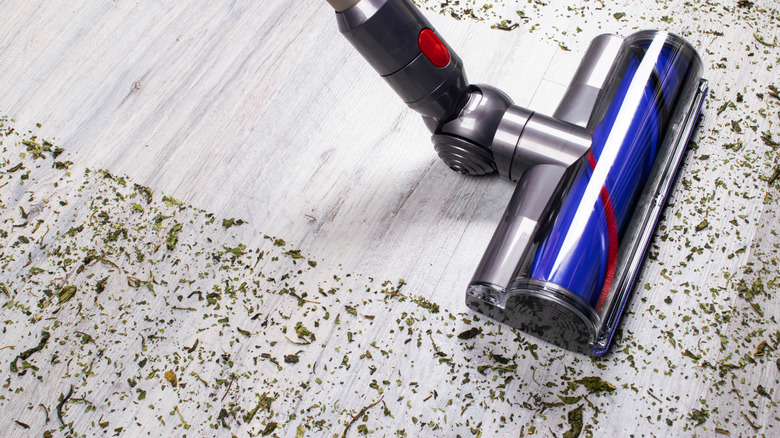 BigTunaOnline/Shutterstock
"Dogs inevitably make all types of messes," Kimberlee Tolentino asserts, "so it's key to come prepared." She comes fully prepared indeed — her cleaning arsenal includes "enzymatic solution and a small wet vac for accidents, a large squeegee brush to pre-clean the carpets of excess hair, a stationary EyeVac vacuum for sweeping up floors quickly, a bagless vacuum cleaner, and a flat mop for cleanups."
She also recommends a pet-friendly DIY mixture of vinegar and water "to reduce the amount of chemicals used around the animals" and notes that it "does a great job of cleaning up most messes safely."
A well-stocked, dog-friendly home's cleaning cabinet might also include various shedding and dog hair removal tools, shampoos, and deodorizers. Rubber cleaning gloves are an essential maintenance item, and there are now compostable dog waste bags available. Keeping your home clean is good for you and your pet, and having the right supplies on hand will make it easy.
Set up cameras in your home
Gorodenkoff/Shutterstock
The dog trainer keeps a watchful eye on her animals, literally. "I have basic cameras in my dog room so I am always able to keep an eye on any dogs that are on their nap breaks and overnight. These cameras come with a helpful app, so I can check them at any time and make sure each dog is doing well."
Akin to baby monitors, dog cams are available in a variety of styles, with a range of visual resolution and audio quality. Tolentino notes that some electronic devices even permit the owner to speak to their pet or distribute treats, which she says "can definitely have some very helpful training applications."
Beyond safety, having a camera installed can provide some key information on your dog's schedule. Tolentino says, "If your dog has made a mess, needs to go out sooner than expected, or otherwise needs some sort of care, you can adjust based on that information because you're able to see what's going on."