Mortgage Rates Are Falling, But Mortgage Demand Is Plummeting Too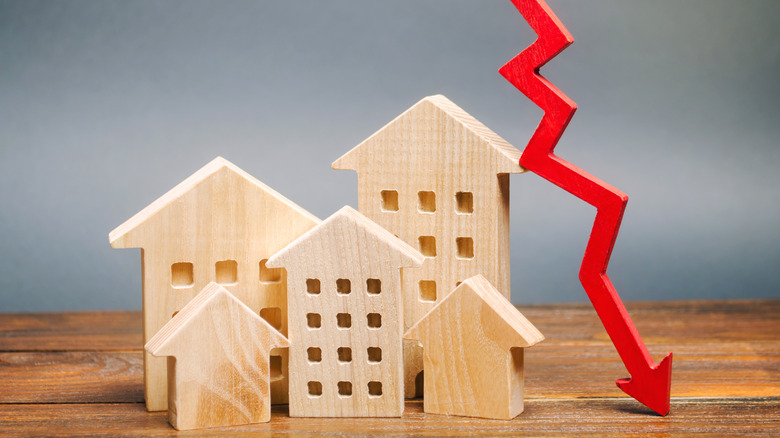 Andrii Yalanskyi/Shutterstock
If you've considered buying, selling, or refinancing a home, or even just slightly paid attention to the headlines, then undoubtedly the volatile market and correlating unprecedented numbers this year haven't escaped you. As of mid-November, mortgage rates had peaked at their highest levels in two decades, according to The Washington Post. With the Federal Reserve recently raising short-term interest rates to stem escalating inflation, mortgage rates followed suit (via Rocket Mortgage). Higher interest rates directly correspond to increased monthly payments, pricing people out of the market, making it more challenging for others to get a mortgage approval, and curtailing the volume of homeowners looking to refinance. In general, the demand for mortgages has plunged in tandem with rising rates.
However, since the posted high in November, interest rates for a 30-year fixed mortgage have fallen for the third consecutive week, per Trading Economics. "Though the Fed has not reached its targeted rate hike, mortgage rates continue to fall due to an expected recession and economic deterioration worldwide," said Les Parker of Transformational Mortgage Solutions via Bank Rate. Indeed, one could assume tumbling interest rates would equate to an influx of buyers who have been waiting for a more amenable purchasing environment, especially given the fact that home prices have finally started to come down. But so far, that hasn't been the case.
Lower rates are still too high for many aspiring homebuyers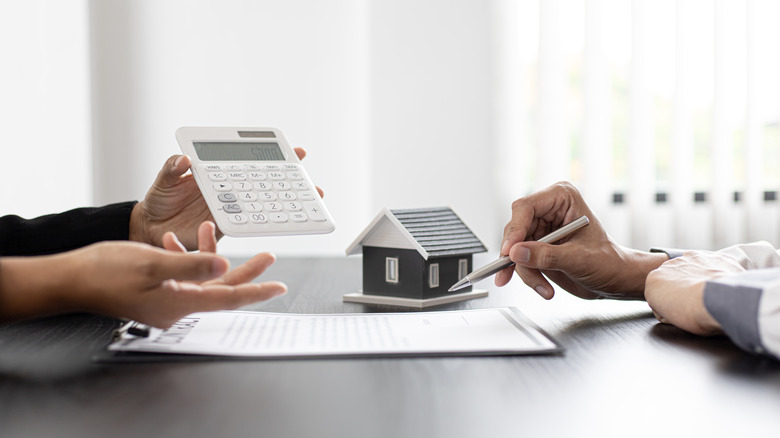 89stocker/Shutterstock
The effects of a cooling housing market are being experienced throughout the industry. For example, per The Washington Post, mortgage lenders across the country have released workers, while real estate marketplace Zillow reported laying off 300 employees in late October, although the company declined to cite the flagging housing market as the reason (via The Seattle Times). Additionally, the volume of single-family new home builds was down over last year for the first time since 2011.
Compared to last year, interest rates remain close to double. As Bank Rate explains, even with a lower price tag, a higher interest rate can make for a hefty monthly mortgage payment and impact an individual or family's income. According to CNBC, home mortgage applications decreased by 3% last week and came in at 40% below last year's data for the same period. "Purchase activity slowed last week, with a drop in conventional purchase applications partially offset by an increase in FHA and USDA loan applications," said Joel Kan, a Mortgage Banker's Association economist.

Forbes notes there are contradictory opinions among experts on which way rates are headed in 2023. This leaves aspiring buyers in uncertain territory, wondering if they should take advantage of lower mortgage rates now before they inevitably increase again or if they should keep waiting for something better.