Fixer To Fabulous Proves That Islands Aren't Just For The Kitchen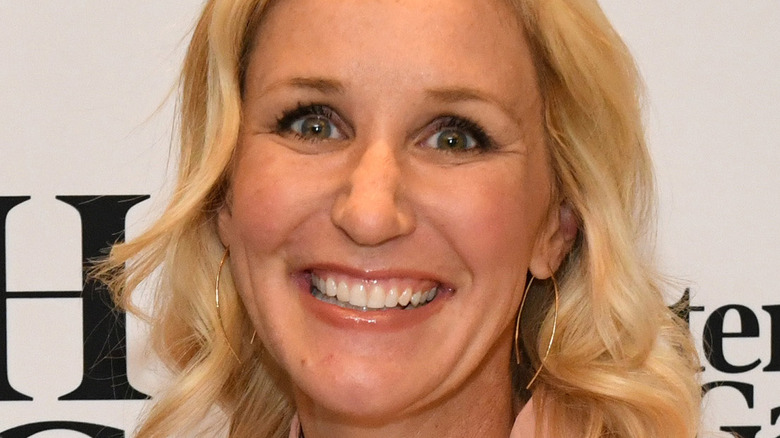 Craig Barritt/Getty Images
Islands have always been a traditional statement piece in the kitchen, regardless of their size. Most homeowners want an island installed when they want to renovate their kitchen for a fresh look. According to MR Direct, these structures are more than functional features; they create an inviting environment. While the dining table is known to be used for formal dinners, the island is where families and guests can hang out leisurely for breakfast or lunch. They're able to feel more relaxed and keep the same eye level whether someone is sitting or standing (via MR Direct). In addition, kitchen islands provide more storage for kitchenware and more counter space to prep meals throughout the week.
Since they are highly functional in the kitchen, they might be just as practical in other rooms. The idea of using an island outside the kitchen seems to be a secret between interior designers and DIYers. However, it came to light during the premiere episode of Fixer to Fabulous, where stars Dave and Jenny Marrs helped renovate Mike and Jennifer's 1980 home, per Realtor.com. Dave and Jenny made a simple adjustment that involved an island in the kid's playroom that transformed their space completely. Check out how a kitchen island made its way into a room.
Kitchen island as a crafts table
During the season premiere of Fixer to Fabulous, Dave and Jenny make a few significant changes in different parts of Mike and Jennifer's house that make it go from old and moody to fresh and light. For example, you see dark chestnut wood flooring ripped out and replaced with light oak wood that brightens up the space via Realtor.com. In the kitchen, Jenny creates a tea station for Mike to enjoy his cuppa every morning as he did in his childhood home. As for the kids, Dave and Jenny upgraded their playroom with a gorgeous marble-top kitchen island used as a crafts table. It has wheels on each side so they can move it around, and there are multiple drawers to store their supplies.
Most playrooms are dressed up with various bookshelves or storage cubbies to keep toys, books, and supplies organized, but using a kitchen island in a playroom isn't heard of often, so Dave and Jenny were quick to use it as a multi-purpose feature. It turns out that a few craft DIYers have also stumbled upon the hack. For instance, blogger Lilly Childers bought a small kitchen island from Ikea that she uses as a workstation. One side has an opening to put a few stools, and the other side has a couple of shelves that can hold baskets for supplies. There are different sizes and styles for islands that can fit any room if you're thinking about trying this idea.