Subway Tile Or Geometric Tile? House Digest Survey Reveals The Best Backsplash Trend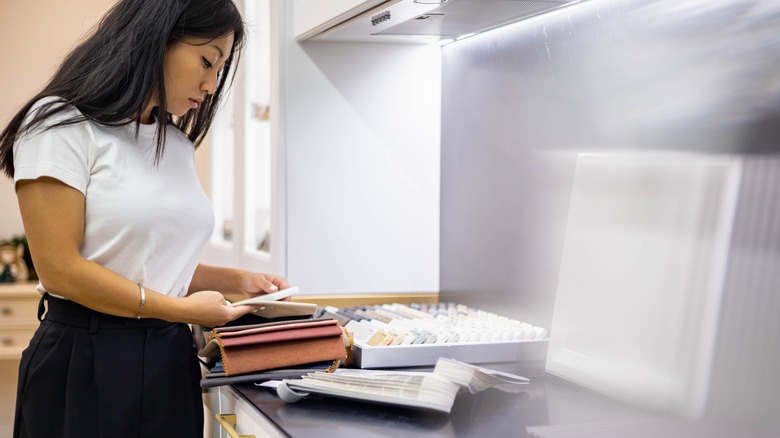 Kostikova Natalia/Shutterstock
A good kitchen backsplash can be just the thing to pull together the look of the room while providing some extra protection for your walls. Typically, a backsplash uses tiles made of porcelain, marble, or ceramic to fill in the empty wall space between the top of your kitchen counter and just below where the wall meets your cabinetry, according to Flooring America. Although adding a decorative and creative backsplash can help increase the aesthetic of your kitchen area, it also saves your walls from everyday messes. Water splashes from your sink, smudged fingerprints, and greasy cooking mishaps can stain a normal paint job. But with durable tiles coating this space, you may find that daily cleanup is a breeze.
The tiles you choose to use for your backsplash can run the gamut of colors and patterns so that you can match them with pretty much any style of décor. Have a moody gothic vibe going in your meal preparation area? No problem. Pop in some black and white subway tiles to complete the look. When it comes to tile design, let your imagination soar. However, we here at House Digest wanted to know what your go-to style is when it comes to kitchen backsplash design. In an exclusive House Digest survey, we asked 612 people, "Which backsplash trend would you use in your kitchen?" Here are the styles that people loved the most.
Coordination in the kitchen was key to those we surveyed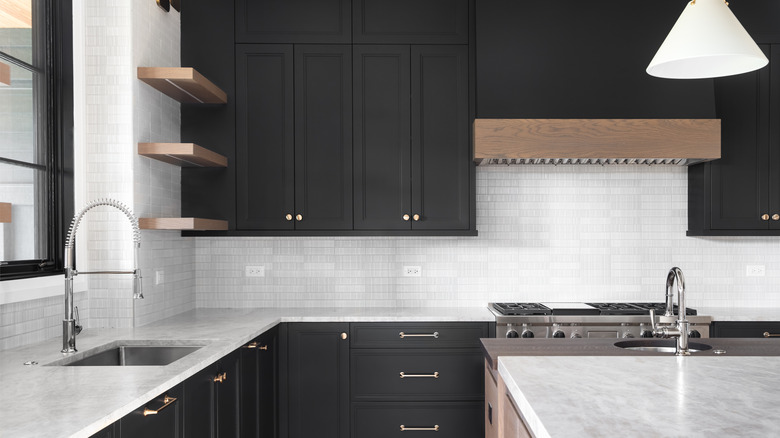 Hendrickson Photography/Shutterstock
While following a particular kitchen backsplash trend, it seems that most people felt it was ideal to play it safe and stick with their chosen aesthetic. In a House Digest exclusive survey, of the 612 people who participated, 173 — or 28.27% of the total vote — said that coordinating the backsplash with their existing kitchen countertops is the way to go. You can create a sleek, monochrome look, but coordinating doesn't necessarily mean it has to be the same color. Instead, what you can do is choose tones that complement in order to achieve the same effect. To find the perfect color palette, you can use a color wheel to see which shades match best.
The second and third most popular choice in our survey was a toss-up between two incredibly trendy design ideas. With 133 votes — or 21.73% of the total survey — people decided that geometric tiles had the unique look they would like to incorporate into their kitchen backsplash layout. Shapes like hexagons, octagons, triangles, or even a variety of rectangular patterns make for a fresh look that is sure to be pleasing to the eye. Close behind, 132 folks — or 21.57% of those who voted — said that subway tiles would be their choice. A no-nonsense approach, white subway tiles can help to balance an already colorful kitchen and still be quite appealing.
Here are the trendy backsplash styles that rounded out our survey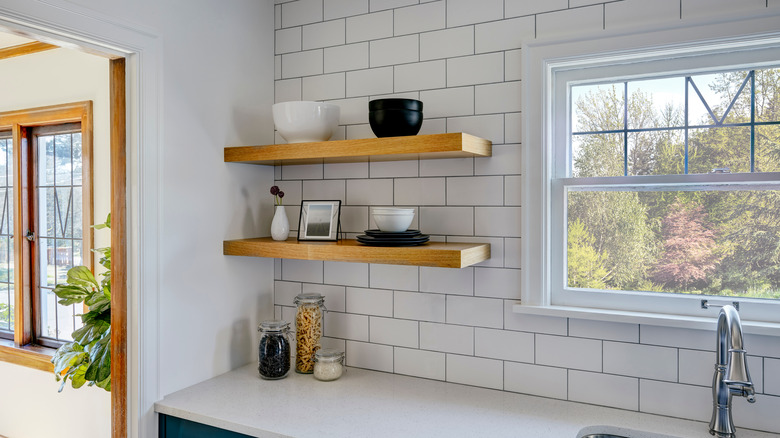 David Papazian/Shutterstock
Among the other survey options were counter-to-ceiling tiles, bold colors, and verticle tiles. Sixty-seven people — about 10.95% of the total vote — wanted to see their kitchen backsplash reach ceiling height. In most cases, a tiled backsplash only reaches from the kitchen counter to the cabinets, which may only be about a foot or so. However, you can take the design up the whole wall. This aesthetic can help make your kitchen look more spacious, your ceiling look higher, and create an eye-catching focal point to the heart of your home.
Next, 56 people — roughly 9.15% of those surveyed — wanted to make a statement in their kitchen with a bold-colored backsplash. This can be a particularly effective choice if you have more subtle toned countertops. A splash of brightly shaded tiles on the wall can be playful and make your kitchen area light and joyful. However, it can be easy to overwhelm if you have too many contrasting colors in one area, so be sure to balance the look carefully. Finally, 51 folks — or 8.33% of the total vote — chose vertical tiles as their option for a kitchen backsplash. Vertical tiles can be useful in making a smaller area look a little bigger, especially if you use lighter shades.