Here's How To Use A Fork To Hang Pictures With Ease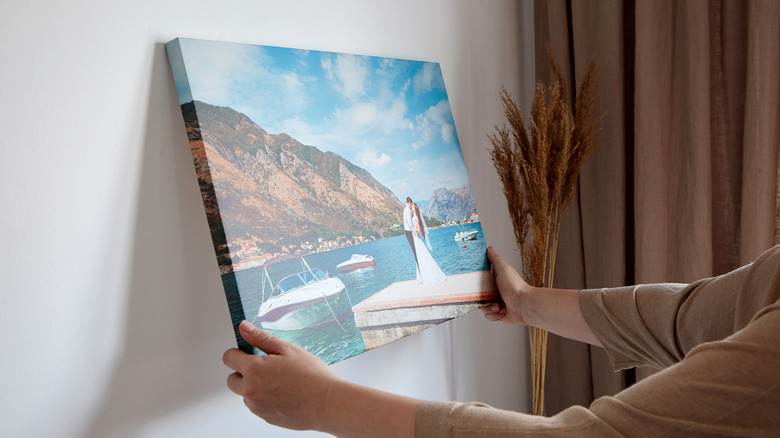 Mike_O/Shutterstock
According to a survey by YouGov, 79% of people have some kind of artwork on their walls. It's no surprise why. Whether it's a family photo, a classy painting, or an abstract piece used to add a pop of color to your room, incorporating art is a great way to showcase your personality and customize your space without a ton of effort. Many homeowners have even turned to gallery walls full of an eclectic mix of frames and artwork to fill blank spaces in their home's interiors.
If you've ever tried to hang art, however, you know that it can be a struggle. Making sure the nail is the perfect height, walking back and forth a hundred times to make sure everything is even, and blindly fishing for the string on the back of a frame can leave you more frustrated than awe-inspired by your new décor. Luckily, one clever Twitter user found a hack that can save you a ton of time and unnecessary scratches, and all it takes is a fork.
The fork hack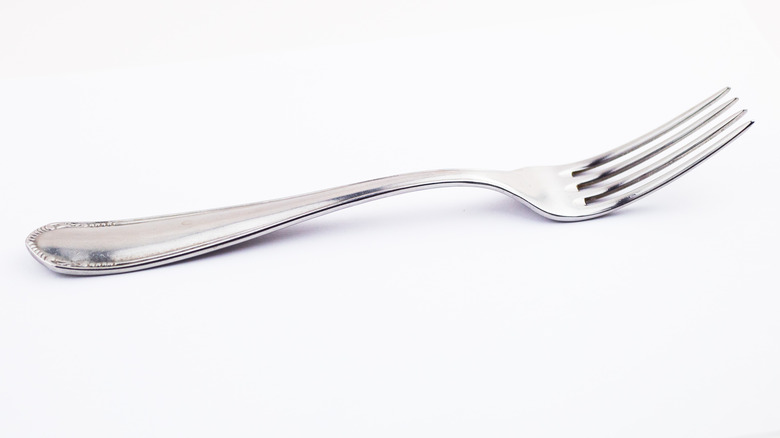 Petro Artem/Shutterstock
Reaching for the cutlery drawer is probably not your first thought when you're redecorating, but after hearing about this hack, it might become a common practice. This viral video by Social Media Insurance on Twitter has amassed 9 million views and counting since it was first posted back in October, and commenters are shocked by the simplicity and ease of this new way to hang pictures.
This makes hanging pictures on a wall so much easier pic.twitter.com/59B8SfCVez

— Social Media Insurance (@Pagerecoveryco) October 5, 2022
In the video, @Pagerecoveryco wedges a fork with the tines facing down and the handle facing out onto the nail on the wall. From there, he used the exposed handle as a guide for the wire on the back of the picture. After the wire reaches the nail, he removes the fork, and viola! A perfectly hung painting in a matter of seconds, no awkward fishing for the wire while scratching your paint required.
What to keep in mind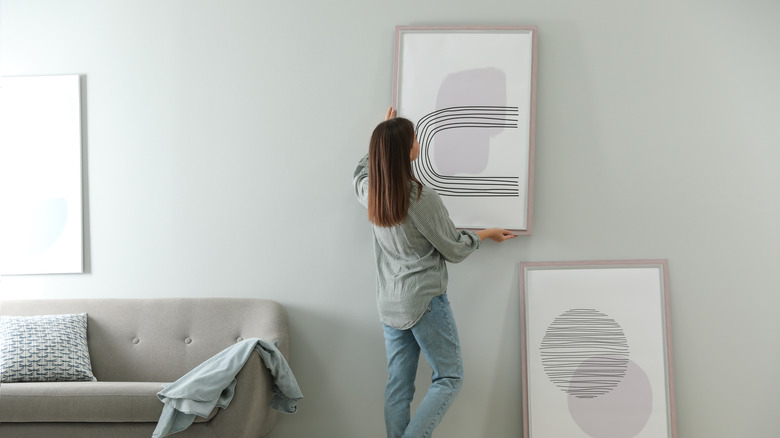 New Africa/Shutterstock
The best part about this hack is how simple it is, but there are a few things to keep in mind. If you plan to do this, make sure you're not placing the entire weight of the picture on the fork. It should be used as a guide, not a slide, unless you want to risk the fork coming loose and shattering the glass on the frame. In the video, @Pagerecoveryco gently reaches over the picture to feel where the fork is, while holding the bottom of the picture until he's certain it's secured on the nail in the wall.
Additionally, this is only designed for pictures with a wire running horizontally across the back of the frame. If you're attempting to hang something with one of those annoying little holes in the back, all you can really do is guess and hope for the best — at least until another clever Twitter user comes up with a better idea.