How Much Does It Cost To Replace An HVAC System?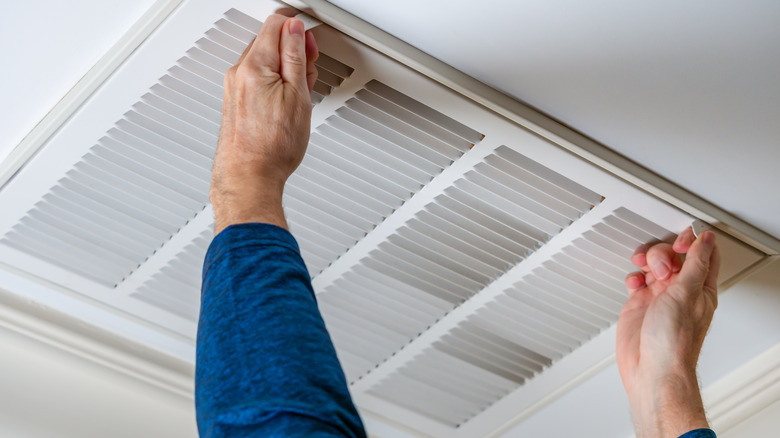 The Toidi/Shutterstock
Your HVAC system is one of the, if not the most, important appliances in your entire home. Even if you're one of the 13% of households that don't have or run their air conditioning, your heater is incredibly important (via Payless Power). Maintaining your HVAC system not only ensures a properly temperature regulated home, but it's also a matter of safety. An old or broken unit could cause fires, leak gas, or release carbon monoxide into your home, warns Alvarez Plumbing & A/C.
Having someone come out to check your HVAC system regularly is ideal for making it last as long as possible, but even still, AC & Heating Connect recommends getting your HVAC system replaced every 10 to 15 years. That's not including unexpected breaks or a faulty system. While the thought of spending all that money may seem upsetting, it's absolutely necessary. The actual cost of replacing your HVAC system may surprise you.
HVAC and ductwork replacement fees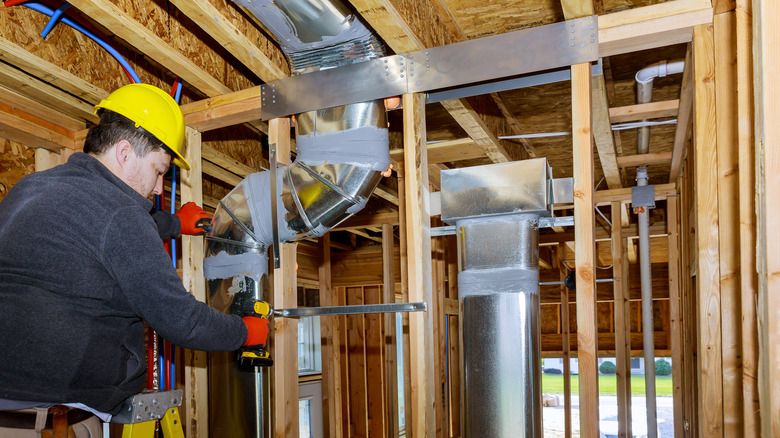 ungvar/Shutterstock
The cost of replacing your HVAC unit is going to depend on what all needs to be replaced. Ideally, you'd only need to replace individual parts of the entire unit — pipes, valves, motors, compressors, etc., which The Home Depot prices anywhere from $100 for smaller issues to $1,000 or more for larger parts.
Even if you do need to replace the entire unit, the price will vary depending on if you also need to replace your ductwork. Switching out the unit itself costs an average of $7,000, according to Fixr, ranging in total from $2,000 to $9,000. Labor costs roughly $85 to $150 per hour, reports PickHVAC. If your air ducts are new and intact, this should be relatively painless, except for the cost of replacement. If your ductwork is old or damaged to the point it needs to be replaced, though, that'll add on a substantial amount more. Fixr estimates ductwork replacement to cost $3,000 to $6,000, including the cost of labor and materials.
HVAC maintenance tips
Eakrin Rasadonyindee/Shutterstock
While the hefty costs associated with total HVAC replacement are somewhat unavoidable in the long run, there are lots of ways to prolong the appliance's life to push that cost back. One of the simplest and most routine maintenance chores is to replace your air filter. Not only does this keep your home from getting dusty, it'll prevent dust buildup inside your vents, which can wear your HVAC unit down over time.
Regularly cleaning the inside and outside of your unit is also very important. Not just your furnace, but outside, too. There are lots of other things to check for, but the list is quite extensive. Instead of overwhelming yourself, Comfort Inc. recommends having the unit serviced at least once a year. For a much smaller fee than total replacement, someone will come out and check over each part of your system, making sure everything is in working order, and addressing any issues before they become a full-blown, costly repair or replacement.