Are Decorative Edison Light Bulbs Going Out Of Style?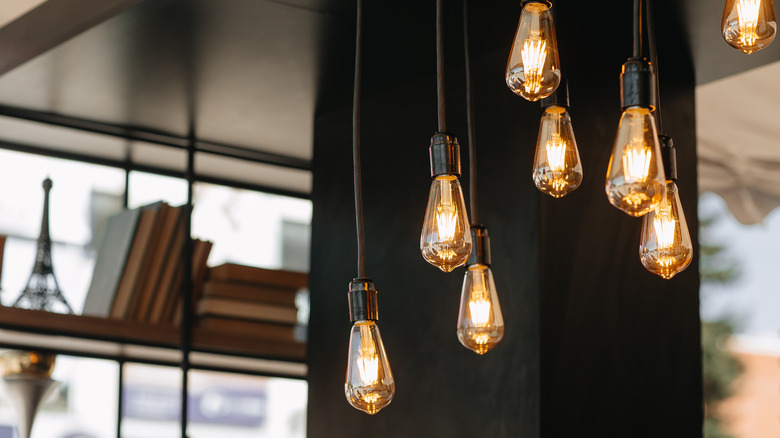 Dobrunov Nichita Alex/Shutterstock
When Edison light bulbs became popular years ago, they introduced a new style, a blend of vintage and modern. Designed to mimic the look of the original light bulb that Thomas Edison invented, this clear tuber features a view of the brightly-lit filament inside. It is both retro and contemporary, as most of the bulbs are available in LED form, which comes with a longer lifespan and is more efficient when it comes to electricity. Excited about this trend, people hung the bulbs as pendants over their kitchen islands or created a dramatic effect over their dining room tables, per Color Cord Company. Even Hollywood embraced the trend, which was apparent during the 2022 Oscars, according to In The Event. Thousands of Edison bulbs were used as part of the set design for the stage, and their warm glow and vintage appeal added to the timeless quality of the awards presentation.
Lately, however, the use of the Edison bulb has started to come under question. Many people wonder if the novelty of a bright light from an exposed filament is worth the hype. In addition, some people admit that it emits a light that isn't ideal for reading, and it can be too stark when placed in the wrong location in a room. So, is the decorative Edison light bulb going out of style? Here is what some design experts have to say.
Nostalgic appeal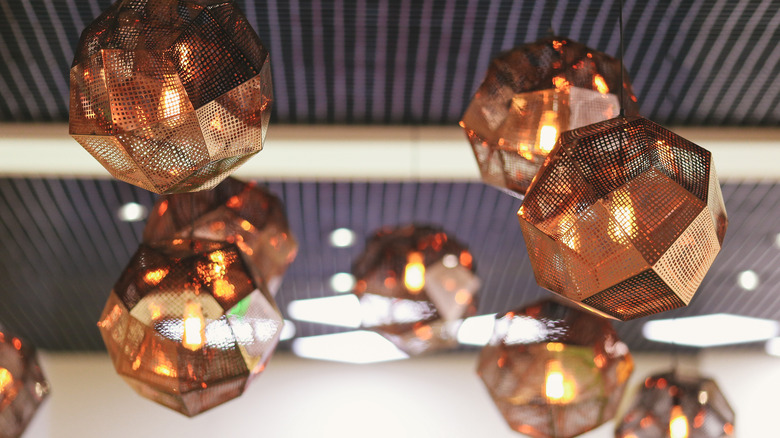 Kozak_studio/Shutterstock
According to The Washington Post, Tori Mellott, style director at the interior design firm Schumacher in New York, believes that people long for a sense of the past. She claims that "we are all looking for things that feel unwavering," which is why the grandmillenial style, for example, has become popular. This sense of nostalgia for the past has also influenced trends in lighting, per La casa de Freja. They point out that while the desire for vintage décor is strong, some thought should be given as to where Edison bulbs will work in your home's design.
This kind of antique bulb will not serve its purpose if it is intended to illuminate a space or a particular location. Instead, it is more of an aesthetic component. The extreme brightness can generate an inconvenient glare in the eyes, depending on where it is positioned, and this harsh glare is one reason many people choose not to use Edison bulbs in their décor. However, La casa de Freja offers a solution for those who still prefer the vintage look of these bulbs but need help incorporating them into their home's style: Put them in dark transparent glass luminaries if you wish to use them for illumination but prevent glare.
Modern design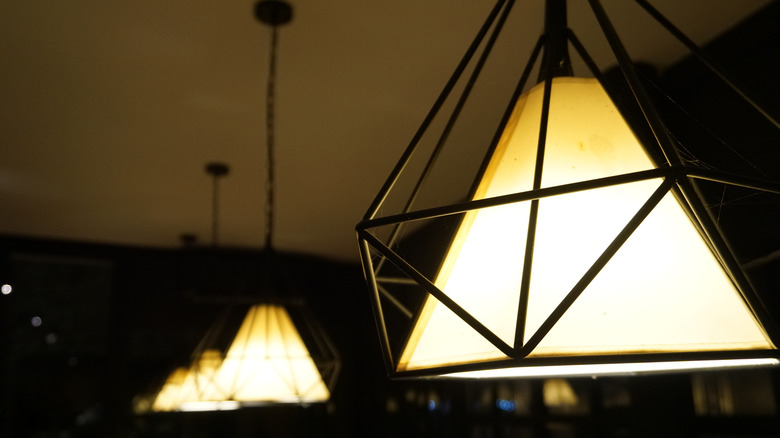 Snow639/Shutterstock
Margaret Handley, the senior vice president of interior design at Dianne Davant and Associates, agrees that the success of using an Edison bulb depends on how it's designed in the home (via The Washington Post). The trend is in question because it's been used primarily as an exposed bulb. "It's a cool idea, but it's just not great lighting," Handley states. "I wouldn't use those bulbs in your kitchen because it's in your face, and while it looks really cool, you're going to get tired of that glare." Instead, Handley suggests "using them in chandeliers, rather than fixtures that are more eye level, like kitchen pendants, sconces or vanity lighting."
Handley also recommends putting a bulb into a shaded fixture rather than leaving it exposed. This suggestion will help individuals who may have become weary of the harsh light from a single bulb. "If you really want an Edison bulb, you can find a fixture that has a shade on it that will protect you from the glare," Handley states. Designers seem to agree that the key to keeping this nostalgic trend timeless is by modifying it to change with the times.