The Top 5 Neighborhoods For Families In Houston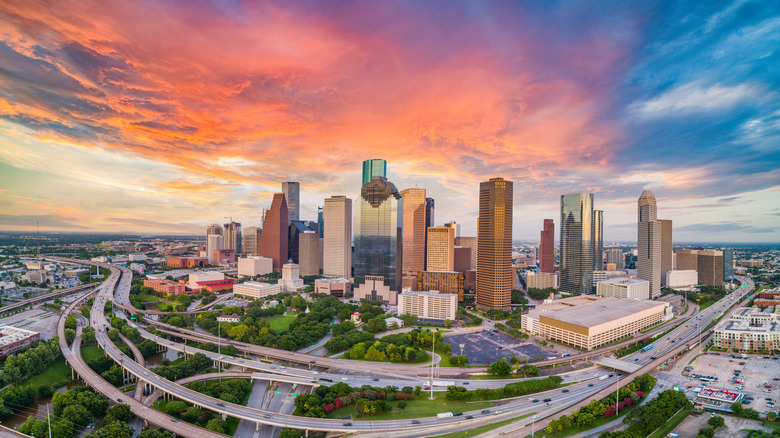 Kruck20/Getty Images
Over the past several years, the state of Texas has been trending as a place for young families to relocate. With its affordable housing and plenty of attractions to enjoy, the quality of life can be bigger and better in Texas. Houston is one major city that has really seen a population boom. According to Extra Space, it is filled with family-friendly activities, top-notch school districts, and ample housing for those hoping to start a family or move their current crew to start a new life. 
Before you pack your bags and head to Houston, it's important to evaluate what you want for your family. If you have younger children, focus on quality education and weekend outing options. If your kids are in their teens, you might be more concerned with crime rates and whether the area is affordable for them to move out and have reasonable housing options. Overall, Houston is a wonderful spot to raise a family, and many newly crowned Texans will agree. 
Richmond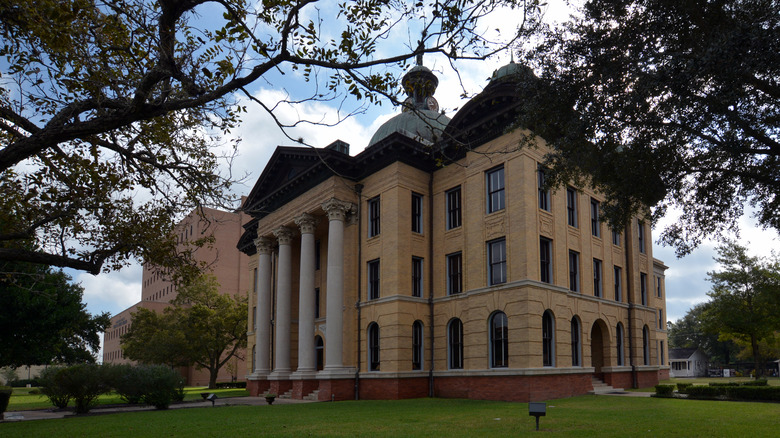 Bob Weston/Getty Images
Richmond is one suburban area of Houston ideal for raising a family. According to Movoto, there are a wide variety of home styles to choose from — farmhouses, craftsman, and ranch style. If you love to be active and busy, this is an ideal town for you as there are plentiful recreation areas, including soccer fields and volleyball courts in the main park. 
According to Great Schools, Richmond is home to some wonderful high schools, including George Ranch and Foster High Schools. With high ratings online, they have both won College Success Awards in recent years. If you have school-aged children, you can rest assured that public schools in this neighborhood are safe and quality. 
If you are a history and culture buff, Richmond is also home to museums, historic home tours, and fun saloons (via Texas Capital Forum & Coalition). There's plenty of life to live in Richmond, both during the day and evening. 
Friendswood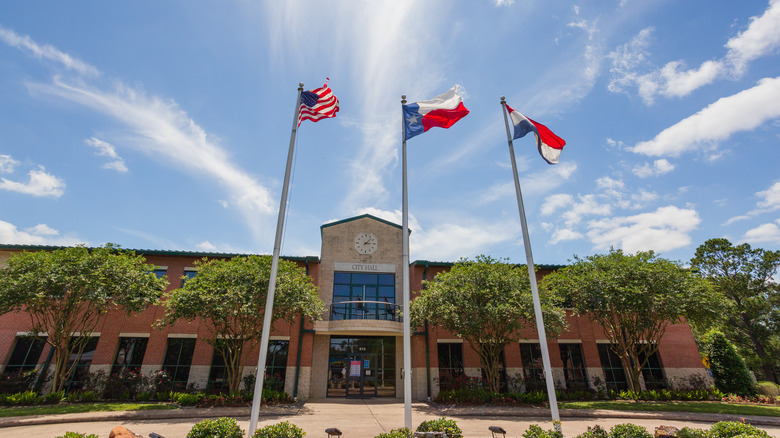 Patrish Jackson/Shutterstock
With a population of just under 40,000, Friendswood is a sweet suburb of Houston that is, according to Houston Newcomer Guide, a region known for traditional values and high-quality education. It is also home to several parks, expansive nature trails, and an award-winning golf course. Friendswood tends to be one of the more affluent regions, and due to this fact, it naturally has a superior school system compared to other areas of Houston. If you are a business professional looking for one of the safest neighborhoods to raise your family, then Friendswood is a total win.
Friendswood is also continuously in development. This town values its economic health, so you'll find upscale shopping retail outlets combined with evolving creative mixed-use buildings. There's also a housing boom — master planned communities are found throughout Friendswood — meaning it is relatively easy (albeit not always affordable) to find housing in Friendswood at the time of this publication.
The Heights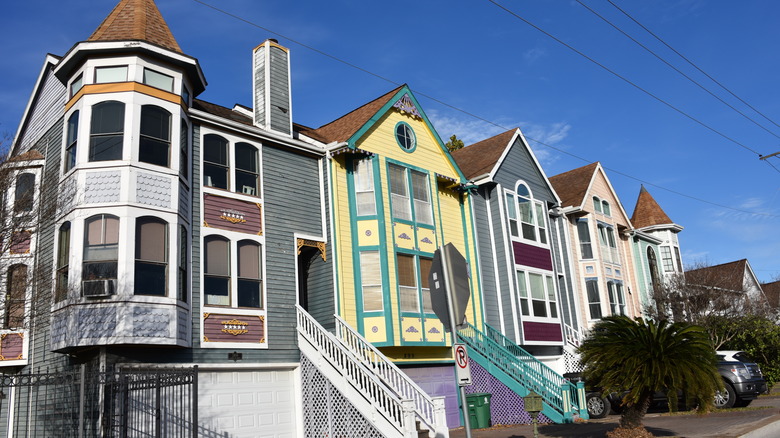 Brenda F/Shutterstock
As one of Houston's most historic neighborhoods, The Heights — as locals affectionately call it — is a destination for lovers of food, architecture, and history. The Heights is only a 20-minute commute to downtown Houston, which makes it an ideal option for professionals raising a family. You can head into town for work and keep the kids in suburban schools and housing.
According to Compass, there is a strong mix of homes in The Heights and many heralds from the past. From Victorians to craftsman homes, you have a wide variety of options. Like most areas of Houston, farmhouse-style housing developments are also in progress. The Heights is also known for being a close-knit community, and despite its relatively close proximity to the bustling city center, neighbors become friends. This is partly thanks to its lively food and arts scene — residents love culture and socializing. So if you're not necessarily looking for the latest and greatest new home and appreciate a community that looks out for each other, chances are you'll land easily in The Heights.
Braeswood
The outlying neighborhood of Braeswood has maintained a quiet suburban feel for generations, despite its close proximity to Houston proper. It is home to many business professionals who wish to be close to the office but also want to escape it when it's time for rest and family. The end result is a sprawling suburban development that is, according to Very Apt, great for those who desire a suburban lifestyle while enjoying city life. 
There are several parks in this part of town, including the newly renovated Linkwood Park. In this beautiful park you will find a toddler play area, a newly refurbished main playground area for older kids, and plenty of spots to hold parties and other gatherings. 
The majority of residents in Braeswood are young professionals that either rent apartments or townhomes or have purchased their first home in the area. It's family-friendly while also carrying an active nightlife. 
Memorial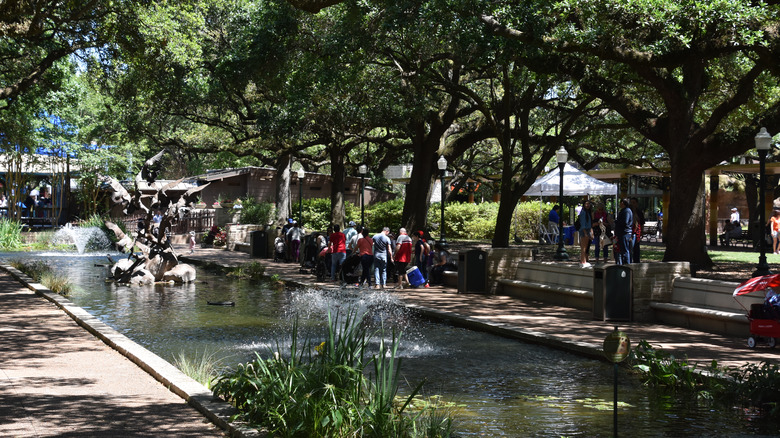 Ritu Manoj Jethani/Shutterstock
Those who lay down roots in Memorial will find quality schools and charming suburban neighborhoods ideal for young families. According to Uphomes, it is one of the most consistently rated top neighborhoods in Houston and is a quick 20-minute drive away from downtown Houston. The Memorial neighborhood is extremely green compared to other portions of the city — you'll find lush forests, large property lots, and well-kept parks.
Memorial is also home to the Houston Zoo, Space Center Houston, and the Museum of Natural Science. This means there's plenty to do with the kids on the weekends, and if they are school-aged, they will undoubtedly have some epic class field trip options. 
Memorial is at the forefront of healthy living for Houston families, with so many opportunities for culture, education, environmental awareness, and regular outdoor exercise. Living in Memorial is convenient if you work downtown, and your kids will love the various events the community puts on throughout the year.