The Best City To Live In If You Want To Celebrate Christmas Year Round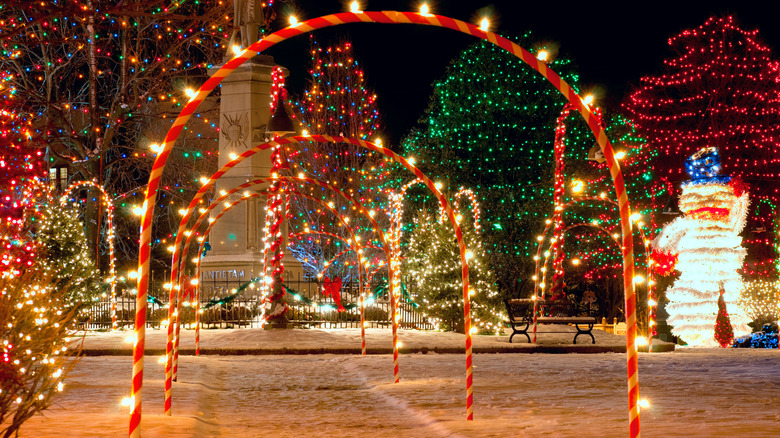 Papabear/Getty Images
During the Christmas holidays, it's easy to see why there's joy around every corner. The best parts about this season have to be decorating your house, seeing festive displays and wrapped presents proudly displayed in the windows of iconic department stores, and hearing joyous and sentimental Christmas songs playing on the airways. Twinkling lights embellishing the homes and the trees on quaint main streets are a delight, as are the hoards of people out buying gifts to surprise their loved ones. It's true; the holiday season is definitely a wonderful time of year!
You're certainly not alone if you've ever wondered which cities are the best to live in for sipping hot cocoa and celebrating Christmas every day. According to Oprah Daily, several towns worldwide will have you living out your Christmas dreams, from Santa Claus, Indiana, to Frankenmuth, Michigan. The outlet says these unique magical villages will have you thinking you're in one of your favorite Christmas stories — whether it's that iconic Dickens novel or a warmhearted movie like "The Holiday" — and who wouldn't love that?
If you want to feel the joyous energy that the holiday season brings, there's one place on Earth that stands out when it comes to celebrating Christmas year round. According to Vogue, you'll want to set down roots in a charming town of around 2,200 people.
This Christmas town is in Alaska
Victoria Ditkovsky/Shutterstock
While there are a slew of Christmas-themed towns across the world, North Pole, Alaska (yes, that's actually its name) is the best place to live if you want to experience the magic of the holidays 365 days a year! Per Explore Fairbanks, this town is just 1,700 miles from the actual North Pole, which sounds exciting to say the least, and it's easy to see why this town holds that title. Don't be surprised if you come upon some whimsical road names while venturing around town; the magical streets are actually called things like Santa Claus Lane, St. Nicholas Drive, Snowman Lane, and Kris Kringle Drive.
Alaska.org notes that the streets are dotted with candy canes, so if you've ever dreamed of stepping foot in a real Candyland, now's your chance! Other highlights are the 9,000-square-foot general store called Santa Claus House that sells trinkets and keepsakes for the happiest time of the year, including gift items such as locally-inspired ornaments, toys, jewelry, and clothes. Travelers can also check out live reindeer, visit the biggest Santa statue in the world, and enjoy a festive cup of coffee. One of the best highlights is that anyone worldwide who believes in St. Nick can send their Christmas wish lists to the local store, known as Letters From Santa. This local tradition has been delighting families for decades, and every letter, including 16,000 in 2021 alone, gets answered per Guideposts. 
What's it like to actually live in North Pole, Alaska?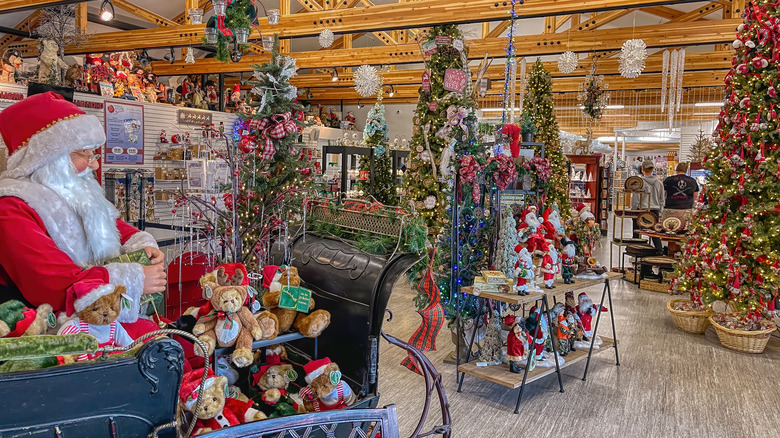 Jacob Boomsma/Shutterstock
With all of this excitement surrounding Christmas, you may be wondering what it's actually like to live there year round? If you adore the holidays and everything that come with them, from the gift wrapping to the endless parties, then this town might be for you. For starters, as NY Daily News notes, a bearded man legally named Santa Claus lives there! How cool is that? Also, Paul Brown, operations manager of Santa Claus House, told Smithsonian Magazine, "We are very protective of the magic of Christmas and allowing kids to have that for as long as they can have it. Just like Santa is the embodiment of joy and goodwill, we think of ourselves as one of the embodiments of the spirit of Santa." 
Brown acknowledged another upside to living in the town, telling the San Bernardino Sun, "The great thing about living in the North Pole is people can leave their Christmas decorations up all year long." So if you're looking for a place to move to that feels like Christmas, make a plan to visit North Pole, Alaska and see if this charming town is a place to settle permanently. The only downfall is that the North Pole gets under four hours of daylight each day, according to Vogue, but really that just gives you more time to enjoy all the sparkly lights!