How To Steal Magnolia Star Joanna Gaines' Hanging Plant Decor Tip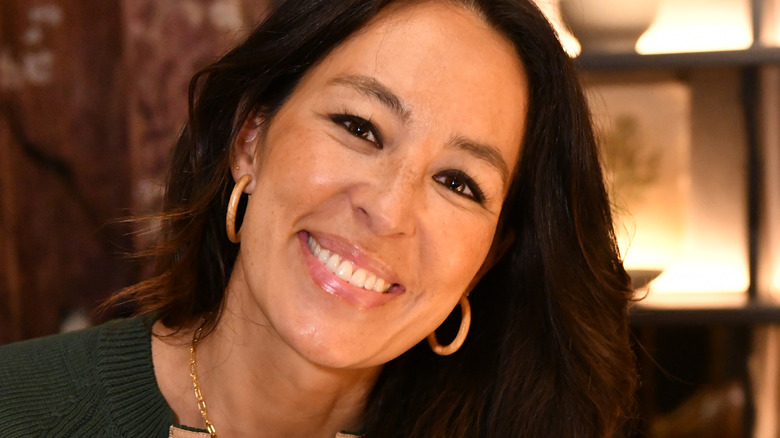 Craig Barritt/Getty Images
Magnolia star Joanna Gaines spends her time decorating, renovating, and offering insightful interior design tips alongside her husband, Chip; she knows how to create a fresh look for any room in a house. According to Magnolia Magazine, Joanna and Chip began their interior design journey by wanting to inspire folks to create a home and life they enjoy. A home should be somewhere you feel comfortable — and you can always change things up around your home to show who you are and make it a sanctuary.
Creating a peaceful environment can look different for everyone, but one thing we know to boost the ambiance of a room is having a plant or two. The Sill claims that having plants in the house can improve moods, eliminate air pollutants, and reduce stress, allowing us to feel instantly relaxed when we're around them. Since folks spend most of their time indoors, having houseplants in places like the kitchen, living room, or bedroom can be beneficial and ensure you're getting more of the fresh air you need.
The Fixer Upper renovator added greenery to an unexpected place by incorporating ivy and multiple evergreen plants around her laundry room. Here's how she did it and how you can steal her plant décor tip.
Plants in the laundry room
The Magnolia designer went to Instagram to showcase how she turned her ordinary laundry room into one of her favorite places in her home. She added a small round table, a leather chair, and plenty of plants. Gaines says, "It seems like no matter what's gone on out there, how loud the world gets, I can always come back to the familiar quiet in here." Being in her laundry room made her feel safe with the "swoosh of the washer, the rumble of the dryer," allowing her to deep dive into her thoughts and journal away, letting her be her "truest self." While the washer and dryer noises help relax Gaines, the ivy plant hung along her metal light fixture also creates a tranquil space.
Ivy plants have multiple benefits besides improving mood and reducing stress or anxiety. According to Balcony Garden Web, ivy plants reduce carbon monoxide, making the air you breathe cleaner. In addition, they help remove molds and absorb other airborne toxins, which some laundry rooms can be prone to due to the heat from the dryer. The corners of the walls can lock moisture and create unwanted mold, so hanging ivy in a pot can help prevent mildew. Ivy plants are extraordinary and can transform any room into your favorite place, like Gaines and her laundry room.