Why You Should Think Twice About Putting Your Christmas Tree Directly In Front Of A Window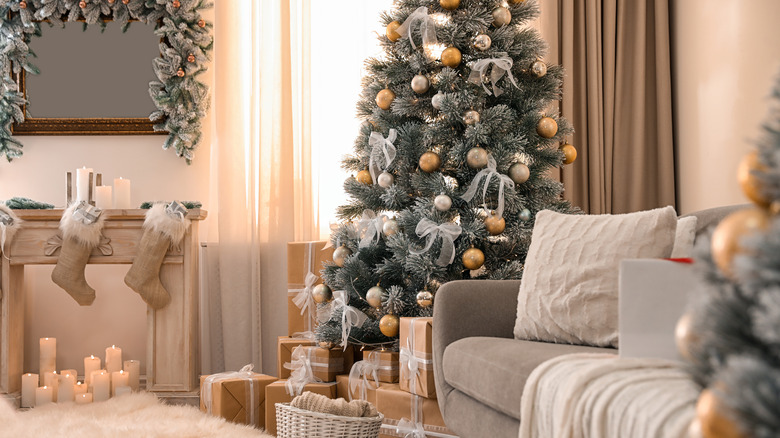 New Africa/Shutterstock
One of the best parts about the Christmas holiday is decorating, and for many people, getting their tree up is a major highlight. The modern Christmas tree tradition, which was started by the Germans and became widely popular by the 1800s, according to Britannica, is something people around the world can enjoy.
Newsweek offers a few tips for those who want to trim their tree as expertly as a professional decorator. John Derian, an interior designer at Blitzer & Company, tells the outlet, "I love the 19th century, so my holiday décor is very classic. I love to have fun when decorating the tree, there are no rules. Add things you love, and that make you happy. Pickle and mushroom ornaments are my favorite." Another designer, Vanessa Arbuthnott, likes simplicity, noting to Newsweek that she prefers ornaments created out of wood, fabric, metal, and paper instead of cheaper options made from plastic or tinsel. Decorations aside, tree placement matters too, and there's good reason to think again if you've been considering displaying your tree in front of your living room window for all to marvel at in your neighborhood!
Natural light and more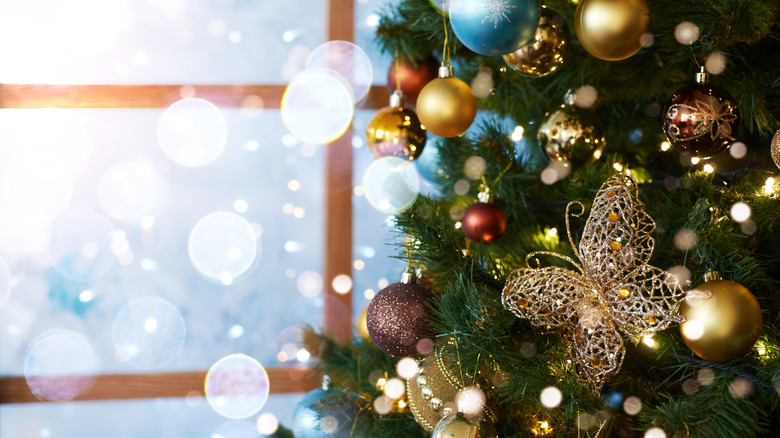 elenavolf/Shutterstock
While you may want to situate your Christmas tree front and center of your main window so you can radiate a festive feel to all of your neighbors, you should reconsider. One of the primary reasons you want to avoid this placement is that the natural light streaming in actually helps heat your home. Therefore, blocking the window with a large tree is not your best plan, advises Room Sketcher.
Another reason? The holidays are a big time for thieves to enter your home and steal gifts, according to the Mirror UK, so if you put your tree out for all to see, you may attract the wrong people. Allstate has tips for keeping you and your valuables safe during the holiday season. The trusted insurance company suggests keeping your lights on to make it appear as if you are home, hiding expensive gifts, and, of course, locking all doors anytime you leave the house. At the very least, if your Christmas tree is displayed away from the window, there will be less temptation from potential thieves around the holidays!
The best spot for a Christmas tree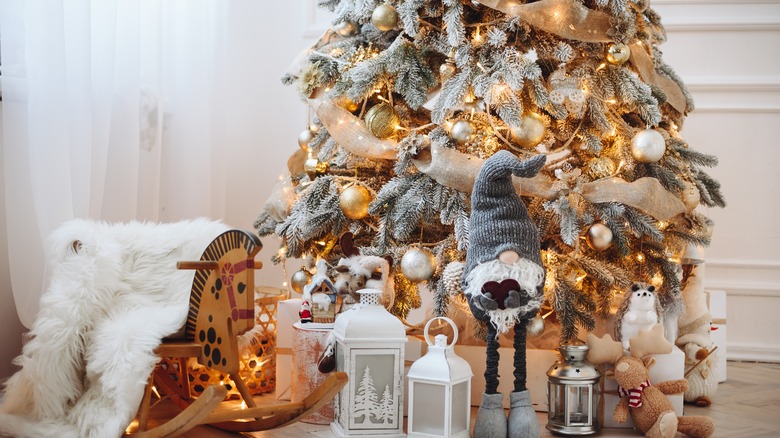 maxfoto.shutter/Shutterstock
Before trimming your beautiful tree, you'll want to get it into the proper location, one that highlights its beauty and keeps your family and home safe. Balsam Hill suggests that some of the best spots to put your Christmas tree are also the smartest. For example, the company suggests placing this holiday centerpiece where your family hangs out the most, such as a living room with a roaring fire. You could also get festive with outdoor tree displays on a porch, or focus on making sure your tree is set conveniently next to an outlet to easily access the twinkly lights.
Besides avoiding the front window, some other areas to avoid include those close to heaters or radiators because of potential house fires. Keep your Christmas trees away from ventilation systems as well, says Prestige Air Heating & Cooling, because they will make the tree dry out faster. Now that you know the best places to keep your tree this year — and those areas you should absolutely avoid — we hope you spend plenty of time marveling at its beauty this winter.