The Best Type Of Wood To Use For Wood Paneling, According To An Expert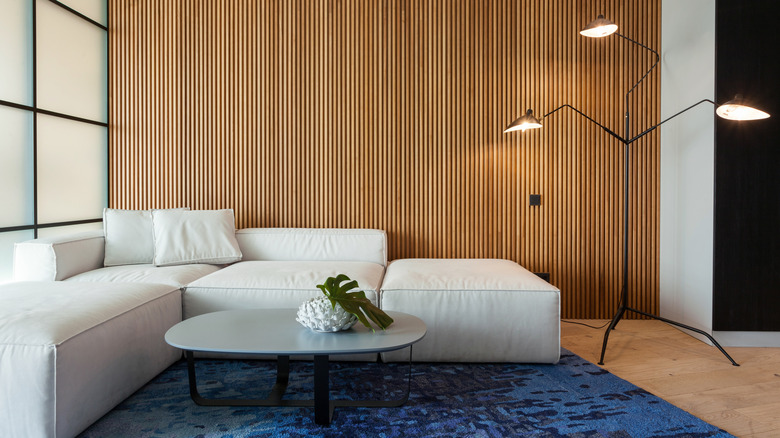 brizmaker/Shutterstock
Whether in your home or your workspace, there are few better ways to add color, depth, and dimension to your walls than to use wood for paneling. While the material fell out of favor after the '70s, per The Morning Call, it's now making a comeback for several reasons: It packs a visual punch, provides an extra level of insulation, is durable, and is easy to install.
In an exclusive interview with House Digest, DIY wood expert Jeremy Carragher of The Crafty Craftsman is also happy to recommend using wood paneling because of the material's versatility. "Wood paneling can stand bold and set the tone for a room, or it can blend in the background to serve as a backdrop for other focal points," Carragher says. "Natural wood can bring warmth while painted wood can add a modern touch. Installing wood paneling is a relatively simple project that many DIYers take on themselves."
Hand Hewn, rough cut, aged lumber is best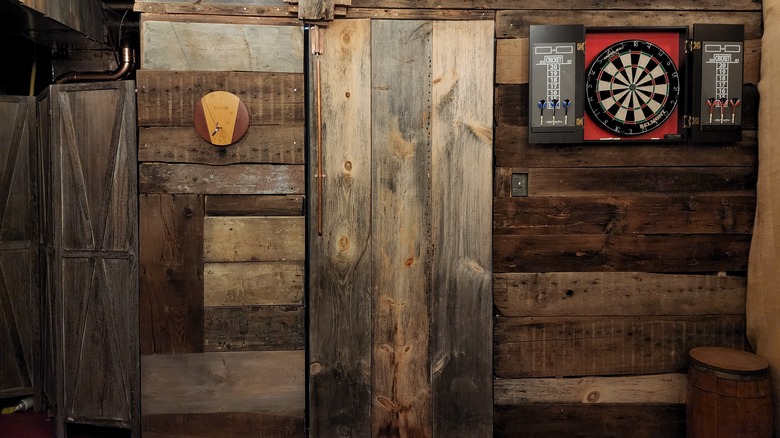 The Crafty Craftsman/House Digest
If you've decided that wood paneling is suitable for you and your home, DIY expert Carragher advises you to keep your eye out for a specific type of lumber because it is sure to add a distinctive look and character to your living space. "Hardy, hand cut boards exude character. Naturally aged lumber's unique grooves and colors provide a stage for light to dance off of. These boards command attention and their bold features can liven up any space," Carragher tells House Digest. Using hand-hewn lumber as paneling can be especially appealing because this type of timber possesses natural yet unique grain patterns that only need a clear, protective treatment before it is used.
If you choose to go the salvage route, Carrager has some knowhow on the topic. "Some of the wood I have worked with is over 100 years old and was inevitably heading for the dumpster before I salvaged it," he continues. "This wood is sturdy with varying dimensions, providing a naturally textured look, but don't expect to paint it. Salvaged wood is best left natural and can be finished with a clear protectant like tung oil or polyurethane."
Shiplap is a more modern option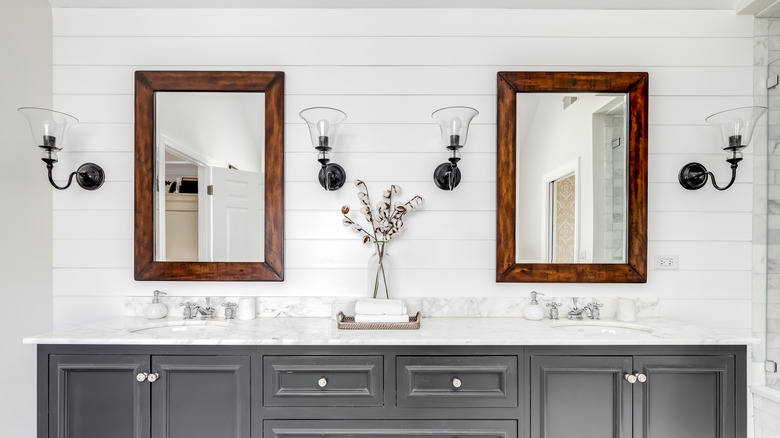 Hendrickson Photography/Shutterstock
Because wood paneling was such a popular choice from the '50s to the '70s, we get it if you worry about using this type of material; you don't want to risk turning your personal space into a time capsule honoring the era of miniskirts, bell bottoms, and go-go boots. But Carragher says being aware of how the wood you want to use will be laid out and presented will keep that from happening, particularly since this type of wood paneling is making a comeback.
Carragher recommends a specific wood, too, that has a more contemporary look. "Shiplap is sleek, smooth, and elegant. It can easily blend into a background, allowing for other focal points to shine," he explains. "Shiplap is also lightweight and interlocks together, making it a great choice for ceiling renovations." 
There's more to shiplap than what you see on "Fixer Upper," too. "It can be painted or can come pre-finished in virtually any color, Carragher adds. "I took an old popcorn ceiling and transformed it within a matter of hours with shiplap. This material comes in standard dimensions and this modern look pairs great with plants and warm tones."