Is Wood Paneling Coming Back In Style?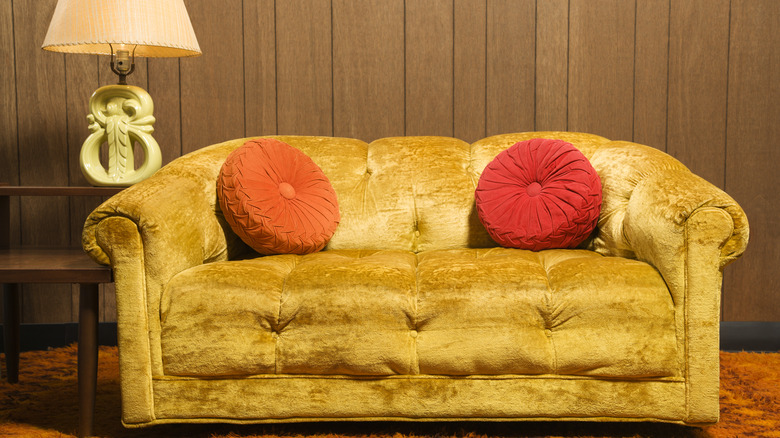 iofoto/Shutterstock
Wood-paneled walls were an era-defining trend throughout the 1960s and 1970s (via Insider). Homeowners loved wood paneling at the time because it was affordable, easy to install, and matched seamlessly with the bold and bright autumn tones of the mid-20th century. In recent years, interior design has shifted away from neutral, sterile environments in favor of more funky, eclectic, and vintage-inspired homes. In a Vogue article published earlier this year, interior designers eagerly predicted a return of warm, chocolate browns, and woodsy textures.
Perhaps it's no surprise that like many other mid-century home décor trends, wood paneling is coming back. According to Grand View Research, the wood-based panel market is expected to grow 6.9% annually, reaching a value of $247.23 billion by 2027. If you've been wincing at your home's wood-paneled walls, now is the perfect time to take a new perspective! The future of wood-paneled walls will be much more versatile than past trends have shown, so think outside the orange and avocado box. 
The chic return of wood paneling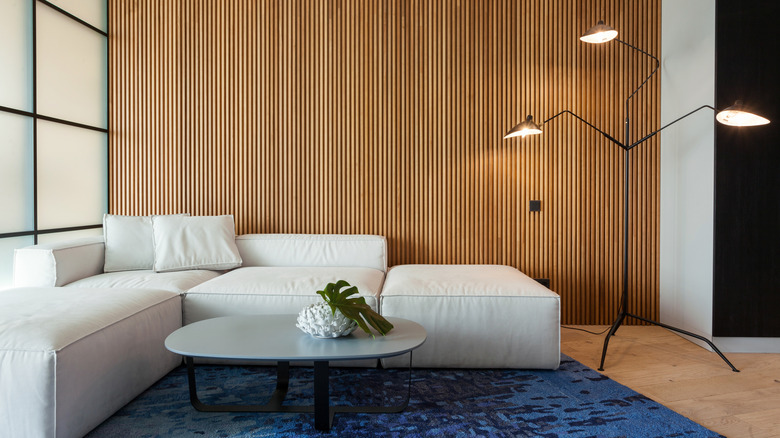 brizmaker/Shutterstock
Do wood-paneled walls harken back to high-school memories of your parent's basement? Not sure how to feel about this trend's resurgence? Upcoming, modern wood-panel styles just might change your mind. Although wood paneling is making a comeback, the resurgence of this trend will look less like your grandma's living room and more like a stylish, retro city flat. Smooth and boring '70s wood panels are going to see a modern update with more warmth and personality in mind.
According to professional home stager Megan Morris, modern wood panel design trends will feature more unique shades, textures, and layouts. The return of wood paneling is all about embracing a cozy, curated environment that reflects the homeowner's personal tastes.  Instead of uniform and yellowing panels, interior designers predict an abundance of dark, moody, and reclaimed wood walls. Modern wood paneling will also stand out from the past with various widths — from lines as thin as a pencil to broad, bold planks. In addition to natural woodgrains, painted wood panels are becoming trendy, especially in earthy and jewel tones that highlight the panel's distinct texture. 
Give your wood panels new life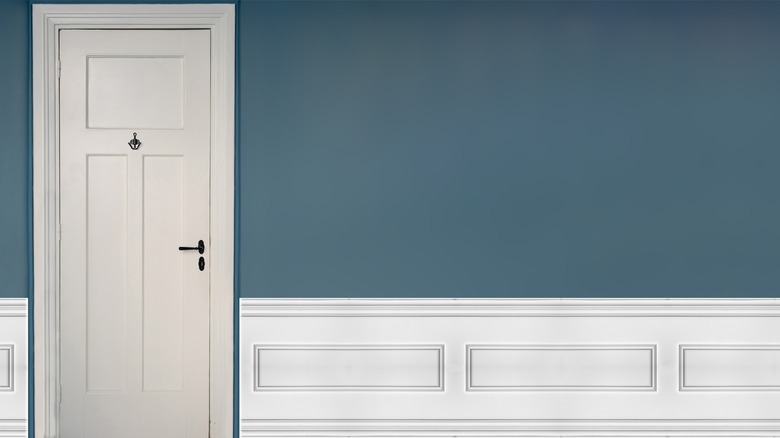 rawf8/Shutterstock
If you already have wood paneling in your home, congratulations, you're a trendsetter! However, as previously mentioned, your walls may need a little makeover. If you want to hop onto this funky, cozy trend, consider painting your old wood panels. Soft, neutral paint colors will blend seamlessly into any home space, and follow through all four seasons. On the other hand, intense, bold colors can create a fun edge and add instant moodiness to your home. Current design trends highly encourage homeowners to play with colors and patterns, so don't be afraid to pair your wood panels with an elaborate wallpaper. 
If you are currently remodeling your home, don't overlook the distinguished beauty of wood-paneled walls. Experiment with a dreamy, light, and coastal woodgrain to brighten up your kitchen or living space. For a more moody, maximalist feel, add a dark, thin-paneled accent wall or consider a classic wood layout design, such as herringbone. If you're feeling especially funky and creative, Havwoods even suggests adding a geometric wood panel wall sculpture. When it comes to embracing modern wood paneling trends, the ceiling's the limit!