Battle Of The Bling Star Kim Myles Shares Some Of Her Best Design Tips And Tricks
When thinking about how to decorate your space, the many options can be overwhelming. You often don't know where to start or what the room's design might need. For some, this is where an interior designer can help. But their services can cost between $100 and $275 an hour, according to Blakely Interiors. And that can be out of budget, especially when you still have to buy the products. However, designer Kim Myles from "Battle of the Bling" knows how difficult tackling a design can be.
"It's a huge challenge — how to create change without investing money," Kim Myles tells She Knows. "My message is really to empower. You don't need to hire a designer to live beautifully." Having some designer-approved tips can make the process of designing your space much easier. Kim Myles shares how you can give your home an upgrade with a few simple swaps that instantly transform your interior.
Layer color and texture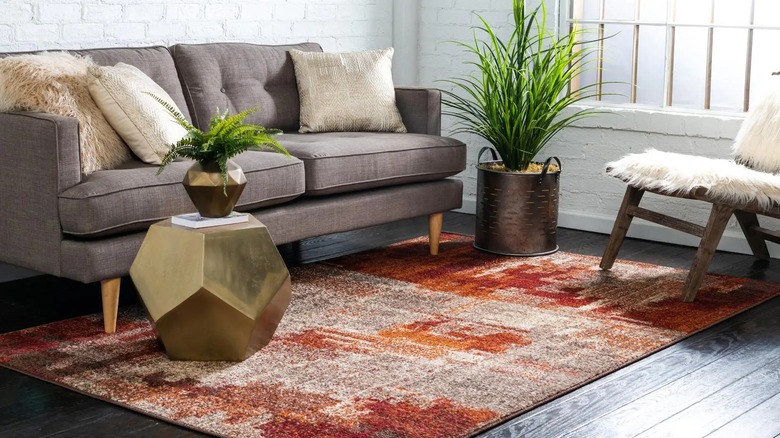 DesignStock09/Shutterstock
One secret that always makes professionally-designed rooms look great: layering. This is the secret to having a design that doesn't look flat or boring. There is visual interest in colors, textures, and shapes. But learning how to layer is a trick that many have yet to master. However, it isn't hard; you just need to know what items to pick out. Area rugs are an "easy way to get a huge injection of color and texture," Kim Myles says, per She Knows. When choosing an area rug, you want to consider color, pattern, material, and size, according to Sarah Joy. For lots of texture, high-pile for that cushy feel and appearance. And when it comes to size, it's always better to be a little bigger than a little smaller.
The color of the rug can correspond to your overall palette. And it's an excellent opportunity to layer color in your space. Myles suggests using three shades of the same color for a cohesive look. "The trick is to make sure you have three levels — dark, medium and light." You can even mix in patterns to help break up a sea of solids. A common color throughout the designs will keep it looking intentional.
Update your window accessories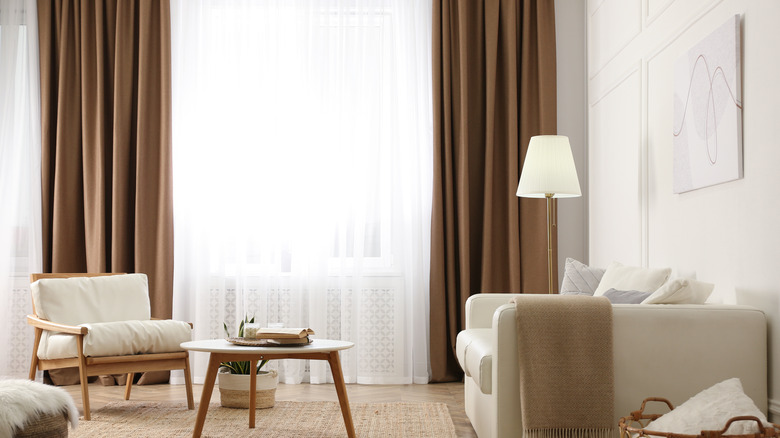 New Africa/Shutterstock
One space you might be neglecting when updating your interior is your windows. Your window provides an opportunity to add unique details to your space. And what's more, is that you can change your curtains by season. Opting for lightweight curtains in the summer and velvet in the winter can give your home a brand new look for less, according to Kim Myles, per She Knows. The weight of the fabric corresponds with the season and is an easy way to make your home feel updated. You can also play around with the colors and patterns of your curtains. You'd be surprised how much little details make a difference.
You may even opt to change out your curtain rod to something a little more decorative for a unique accent in the space. But changing how you hang your curtains can also transform the room. Posh Pennies suggests mounting the rod halfway or two-thirds between the window frame and ceiling to give the appearance of taller ceilings and windows. Hanging the curtains higher also allows the fabric to flow, which can look really elegant.