A Design Expert Explains How To Perfectly Mix Patterns In Your Home Decor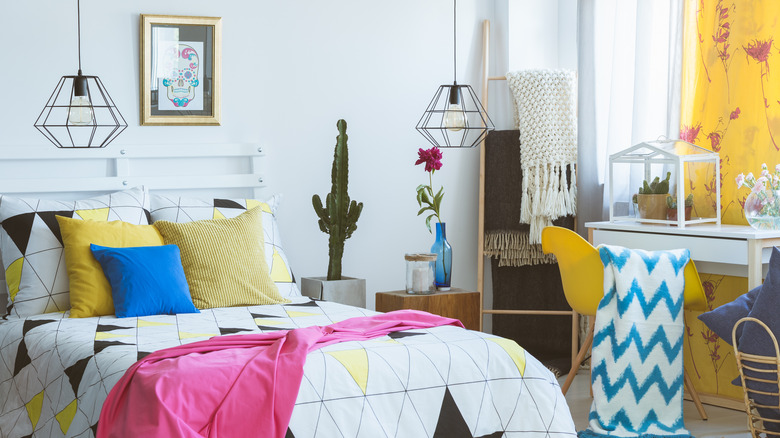 Ground Picture/Shutterstock
No matter how stunning each element is, if your home contains all neutral tones with similar textures, shapes, and sizes, you'll end up with an interior that falls flat. Although you likely want your home to feel cohesive, contrast is necessary to introduce visual interest (via My Move).
Some design enthusiasts love to incorporate pops of bold color in their spaces, while others enjoy playing with all kinds of contrasting textures. However, you shouldn't be overlooking patterns — this, too, can add a lot to a space, allowing you to make a strong statement with elements like carpeting, wallpaper, textiles, artwork, and more. There's just one particular issue with patterns: Since they're often quite visually bold, if you don't strike the right balance, they can overwhelm a space and cause it to feel chaotic or cluttered rather than chic. This possibility causes some individuals to avoid patterns entirely. Still, you certainly don't need to do that — all you need is a few tips for mixing patterns properly in your home to achieve the desired results.
In an exclusive interview with House Digest, interior designer Jennifer Burt, founder of Mississippi Maximalism, shares her expert take on mixing patterns in your home decor to help you create an eye-catching space you truly love.
Find your inspiration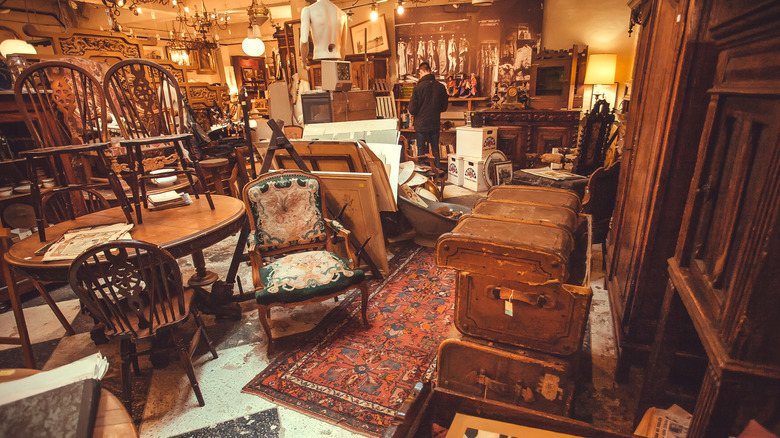 Radiokafka/Shutterstock
It can be tempting to play it safe and stick with subtle patterns because you're worried about how something much bolder will look in a space. However, your home should be a place that inspires you and brings you joy — so don't be afraid to take a risk. In fact, going in a bolder direction is trendy right now.
"Post-pandemic, we all want to be more inspired and invigorated in our homes," says Jennifer Burt. "Everyone is moving on from the simple farmhouse trend and is going towards bold colors and patterns. Ask yourself 'how do I want to feel in this room?' Based on your answer, you'll know how many patterns to use and how bold you can go."
If you're having trouble envisioning what you'd want a room to look like, turn to other sources in search of inspiration. Sure, you could search Pinterest and design blogs to capture the type of feeling you want a room to give you. However, you may also want to think outside the box and look at some vintage inspiration, as Burt herself likes to do.
"I love to gain decorating inspiration from local estate sales here in Mississippi," Burt says. "Often these homes have had the same floral drapes in the living room and bold wallpaper in the bathroom for decades. It's really a clue that if you pick a pattern with intentionality, you will love it for years to come."
Consider the room's purpose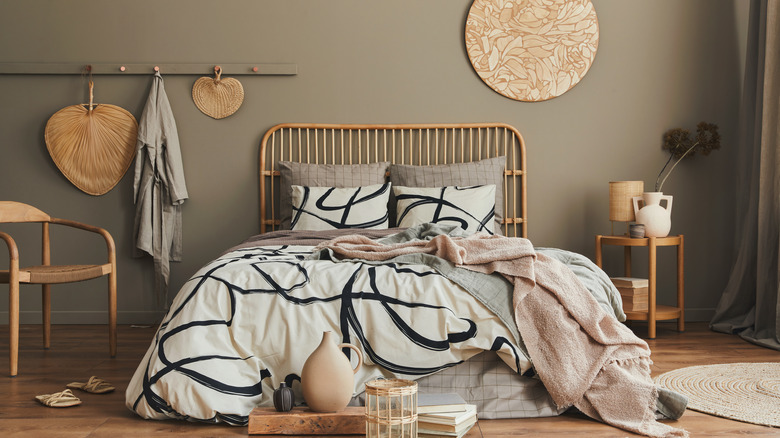 Followtheflow/Shutterstock
You want every room in your house to fit the overall aesthetic, but you also need to consider the purpose and function of a room when selecting design elements like patterns. There are certain spaces where you may want to tone it down a bit, even if your home is overflowing with all kinds of vibrant patterns and colors.
"Bedrooms are meant to be relaxing, so limit the number of patterns there. In a living space, though, you can liven it up with a mix of several patterns," Jennifer Burt explains.
In certain spaces that are dominated by elements like appliances or furniture, you can absolutely still go bold, but you may want to limit yourself to particular areas or a certain number of patterns, according to Burt. 
"A simple kitchen or powder room can handle one large bold pattern (such as in the shades or the wallpaper). The tile can also make a pattern," Burt advises. "The dining room is taken up by the furniture, so you have the walls that you can add pattern to. Landscape scenes are popular here."
And, don't be afraid to think outside the box and turn your attention upward for a splash of visual interest. 
"Don't forget the fifth wall, the ceiling. You can add a bold print or simply a textured grasscloth to add another pattern," suggests Burt.
Start with a base pattern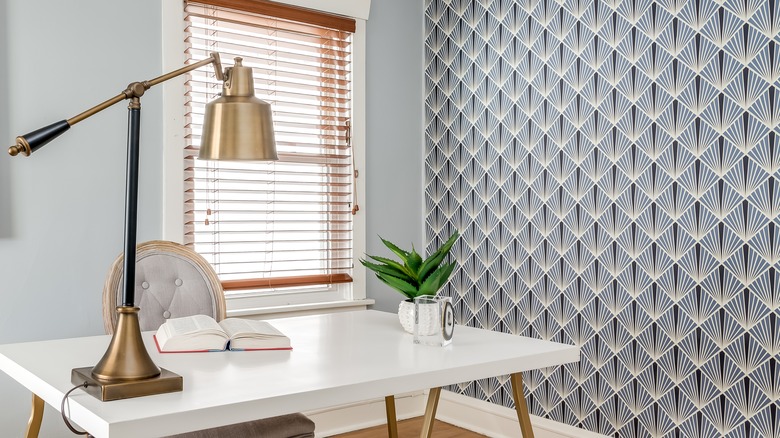 Fio Creative/Shutterstock
When you're mixing patterns, even if they're quite different from one another, you want to attain some degree of balance and cohesion. An easy way to achieve this is to use one pattern as a type of building block.
"As far as a formula for mixing patterns, pick your base first. From there, in a similar colorway, you can add in other patterns like stripes, florals, plaid, gingham checks, block prints, trellis print, or an animal print," says Jennifer Burt.
Your base pattern can be whatever you want it to be — don't assume you have to select the most toned-down pattern to serve as your base. After all, the base pattern is the one you most want to highlight and accentuate, so it should be the one you love most. In terms of patterns, neutrals aren't always what you think either, as Burt explains.
"Animal prints are neutral in nature and I treat them that way in the home. Leopard looks great if the other colors in the room are warm or if there are touches of gold, and zebra pattern can be stunning in a room with icy blues and mirrored finishes," explains Burt. "Have confidence in your choices and go with your gut as far as balancing it all."
Work in layers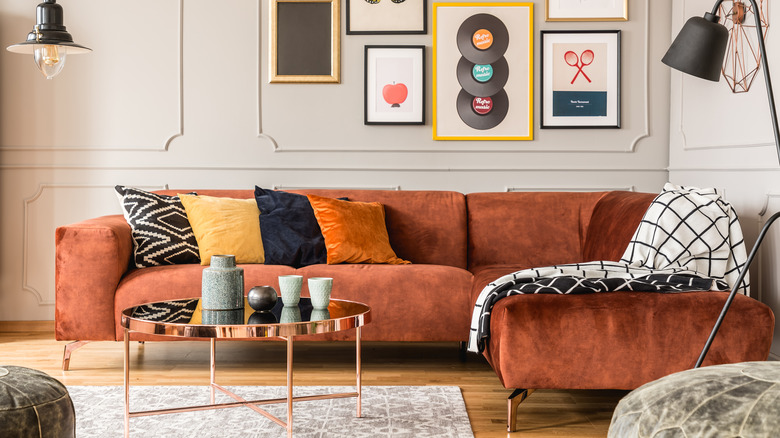 Ground Picture/Shutterstock
When you're considering adding a pattern to a space, don't restrict yourself to only thinking of large surface areas like the walls, or even larger textiles like carpets. Instead, according to Burt, it's all about layering.
"Layering is the secret to using patterns," says Jennifer Burt. "Your rug can be a solid like a jute or a Persian rug with a bold pattern. Pull in the same colors in the drapes and then maybe repeat that pattern across the room on pillows. Add in another pattern in the lampshades and a throw blanket."
If you're still struggling to figure out exactly where to best incorporate the patterns you want in your space, or you're worried about being too bold with a large patterned piece, sprinkle in a few small pops of pattern in particular accessories or elements of the room.
"The easiest ways to dip your toes into mixing patterns is with throw pillows, wallpapering a small nook, and grouping artwork to create a pattern," Burt says.
Work with what you have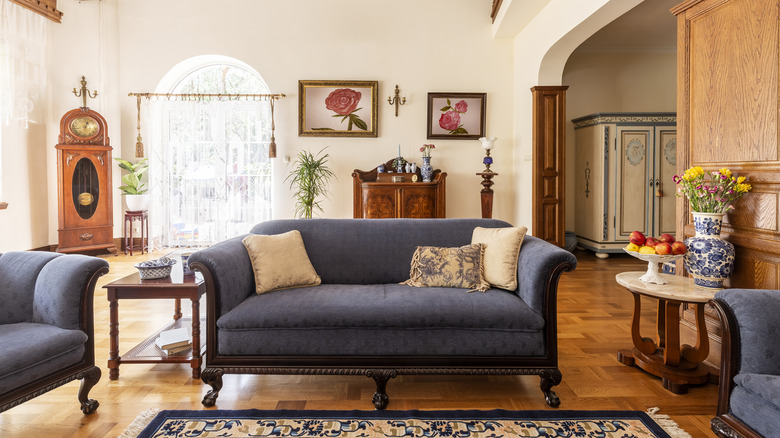 Katarzynabialasiewicz/Getty Images
As with any element of home decor, from flooring to materials to furniture, you want to consider the aesthetic your home naturally has in addition to the aesthetic you want it to have. Sure, you can still go with vintage patterns if you live in a sleek, ultra-modern space, but you want to do so in a mindful way. The same goes for using very modern, crisp patterns in a historic home. While you should still select what you love, you may want to consider allowing your home's style to steer your choices.
"The architectural style of the home can guide you. For example, a mid-century home would look stunning with nods to graphic patterns and cottages always look lovely incorporating florals," says Jennifer Burt.
Don't overlook the possibility of incorporating patterns in things like furniture or textiles to refresh a piece and make it more fitting with your home's vibe. Simply switching out one fabric for another in one of these elements can have a huge impact on the overall look and feel of a room.
"Many times, we inherit antiques and cast-offs from friends and family. Reupholstering these vintage pieces in a fun, bold-patterned fabric will be a breath of fresh air," recommends Burt. "Continue this boldness onto the window treatments with patterned fabric."