How Much Does It Cost To Install Crown Molding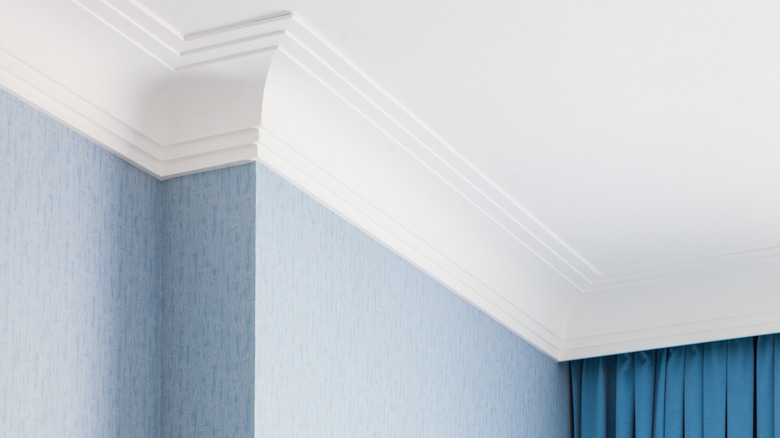 Artem Bruk/Shutterstock
Crown molding gets its name from its placement in a room – or, more specifically, the crown – the area where the wall and ceiling touch (via Upnest). You might also be familiar with its other nickname, trim. This decorative add-on can transform the look of a room when you find the right style that pairs well with your space's overall motif.
At the same time, crown molding can also serve a more functional purpose by hiding imperfections at the top of a wall, though you'll want to mount it onto a stable surface. Whatever your intentions are for installing crown molding, you should look at the cost of all materials, from trim to paint, before taking the next step. You might also consider the cost of a professional installation if you decide that DIYing this project exceeds your abilities. So, keep reading to find more information about crown molding and how it may affect your budget.
Average cost of crown molding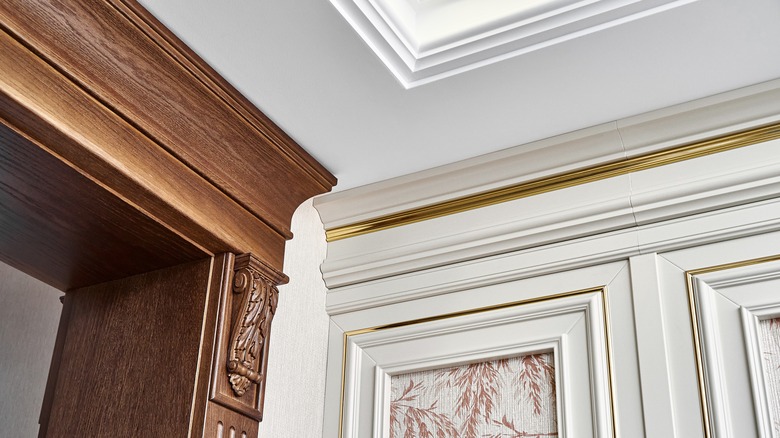 timltv/Shutterstock
Starting with purchasing crown molding, you can expect a price tag anywhere from $3.50 to $7.50 per linear foot, according to Costimates. However, the most crucial factor that affects the cost is the material from which the trim is crafted. For instance, you can choose PVC on the least expensive end of the spectrum at $0.70 to $6.00 per linear foot. Higher-end synthetic materials, like plaster and metal, cost $6.00 to $12.00 per linear foot and $10.00 to $25.00 per linear foot, respectively. Keep in mind, though, you may see fit to steer clear from these materials as plaster and PVC can crack or get dented, and metal can rust or become discolored.
On the more expensive side, exotic woods, like mahogany, cost between $20 and $40 per linear foot. The exotic woods, though rather pricey, require minimal finishing to preserve their natural beauty.
However, you can opt for a less expensive wood like cherry, oak, or pine for $4.00 to $14.00 per linear foot. Some options come unpainted and ready to stain or paint, while others are already primed.
Average cost of additional materials and labor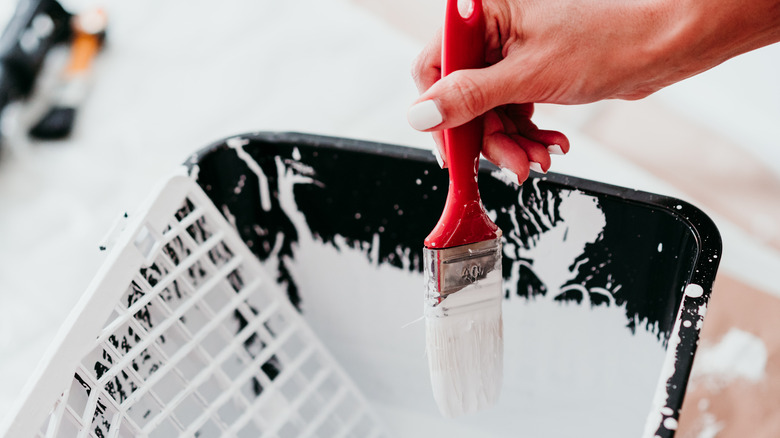 eva_blanco/Shutterstock
As mentioned in Costimates, you'll have to pay between $55 and $95 per hour for labor if you call in a licensed carpenter to do the job. Thus, you would add that amount to the cost of supplies. Your average price for a professional to install crown molding in a 20-foot by 20-foot room will be roughly $1,040. Of course, prices vary by location, as areas with a higher cost of living will demand higher wages for labor.
On the other hand, you can try installing the crown molding yourself to keep costs down. This choice would be ideal if you already have the tools and the skills. Otherwise, the most expensive tool on your shopping list, the compound miter saw, runs anywhere from $200 to $700. However, you can save some cash by renting this from most big-box hardware stores.
Other supplies you'll need include brad nails (approximately $8.00 to $10.00 for a 1000-count pack), a caulking gun, and tubes of caulk which may cost up to $25. For the finish, you can expect to pay up to $60 for brushes, primer (if you opt for unfinished wood), paint, sealant, or stain.