How To Best Organize And Store Your Holiday Wreaths And Garlands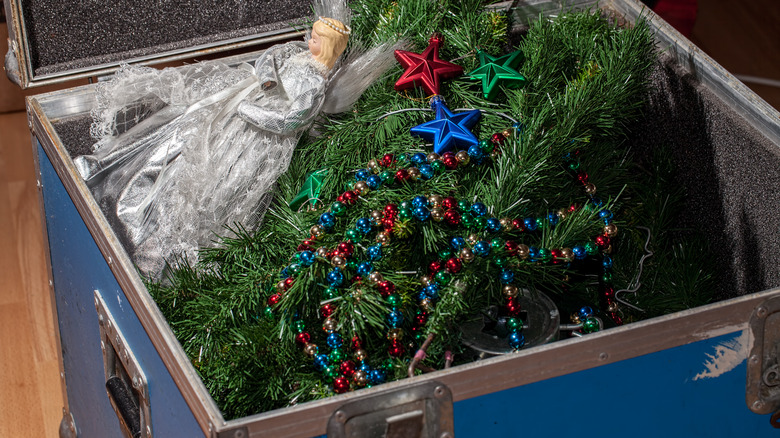 Ian Dyball/Getty Images
We may receive a commission on purchases made from links.
While it may not be the most exciting task, staying organized while taking down your Christmas decorations is crucial. Storing your decorations correctly could mean the difference between opening up perfectly preserved or badly broken items next year. Further, staying orderly while packing up your pieces could also help you save time and energy during the next holiday season. However, before you start taking down any of your pieces, Worthing Court recommends documenting your setup through photographs so you can recreate the look for years to come.
However, storing wreaths and garlands could prove challenging if you don't have a game plan. When packing away these pieces, the key is to make sure they're not smushed, so if you're pushing them down to fit them inside a bin, you're doing something wrong, as this could damage fragile items. Below, you'll discover how to prepare your wreaths and garlands for storage, as well as some of the best containers to keep them in.
Preparing pieces for storage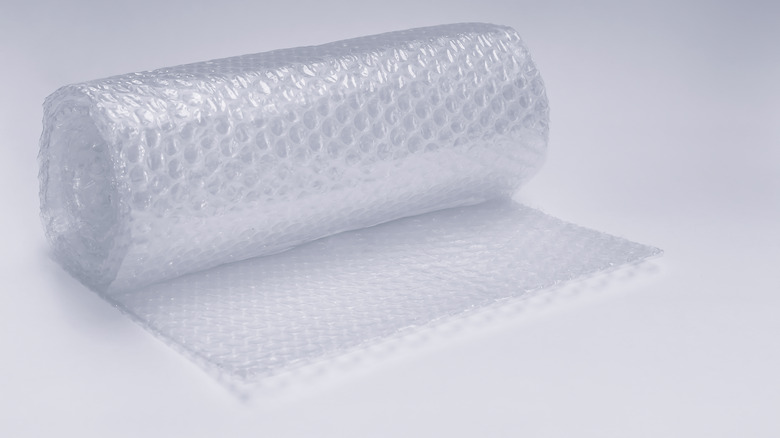 agencies/Shutterstock
The first step is to remove anything that can be taken off, such as string lights on an artificial garland. Furthermore, make sure you remove any batteries, as these could leak during storage and ruin your favorite decorations. And, if attached lights are no longer working, get rid of these pieces to free up extra storage space.
To protect artificial needles, light bulbs, and decorative pieces like faux berries or pinecones, wrap your garland and wreaths before storing them. According to Balsam Hill, utilize tissue paper or bubble wrap, but never use newspaper since the ink can transfer and damage your decorations. When wrapping, focus most of your attention on the areas with fragile pieces. Also, before placing them in storage containers, ensure that you keep all your wreaths and garlands together. While they don't need to be stored in the same bins, they should all be kept in the same general area so that none of them are misplaced.
Storage container options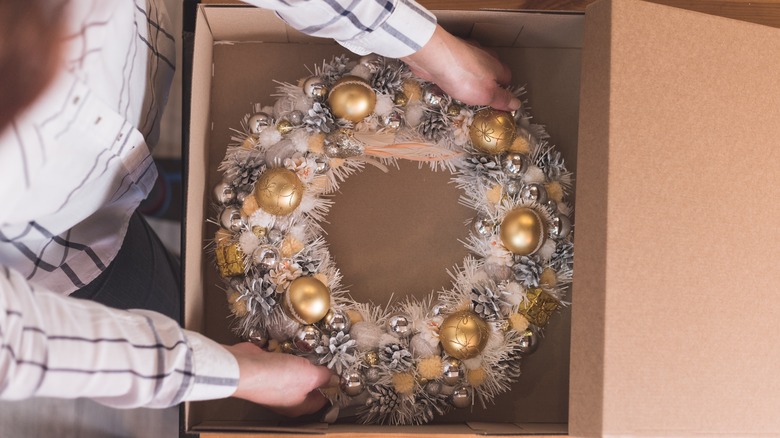 Vladeep/Shutterstock
The best containers for storing your wreaths and garlands are the boxes they were purchased in. However, there are plenty of other options available to meet your needs. For example, if you don't want to spend money, you can place your wreaths or garlands in trash bags and hang them up from coat hangers or on a dowel rod, per Worthing Court. 
There are also some nifty bags to choose from, which are typically easy to move around as they come with handles. For instance, Amazon sells both this wreath bag and a large garland bag. You could also use an artificial tree bag, which tends to be very spacious. Or, if you'd prefer to use a plastic bin, choose one made specifically for wreaths, like this one from Target, after making sure it's large enough. You can also store spiraled garlands in these containers, though space may be limited.
To keep everything organized, make sure you label each container. It may also prove helpful to place the items you put out first on top of less vital storage bins, per Move, Inc. Finally, keep everything in a temperature-regulated and dry place away from sunlight or excessive heat (via Balsam Hill).