15 Budget-Friendly Ideas To Organize Your Kitchen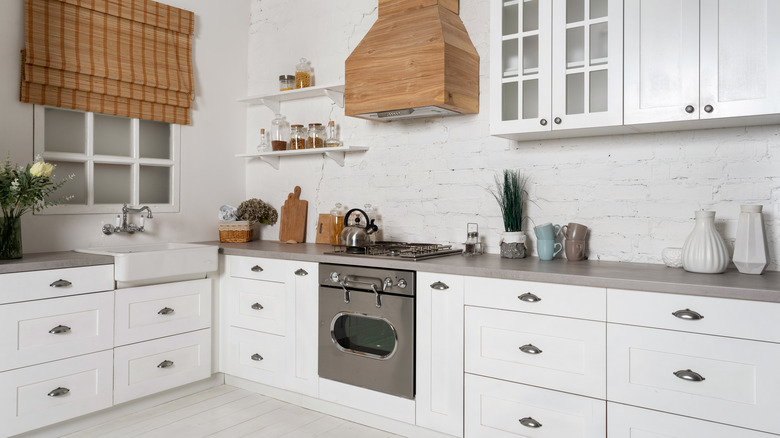 brizmaker/Shutterstock
We may receive a commission on purchases made from links.
If you're on a strict budget, you may not place organizing your kitchen at the top of your to-do list. Perhaps this is because organizational tools like bins and holders cost money, so it may seem counterintuitive to purchase them when trying to save. Or, maybe you just don't see the usefulness of investing time and funds into this task. However, while organizing your kitchen may require a small investment upfront, it could save you money. This is because, in an orderly kitchen, less food goes to waste, which means you'll spend less on groceries each week, per Andrea Dekker. Further, it could save you precious time, as cooking and cleaning could be completed much faster.
To help you get your kitchen in order without breaking the bank, we've listed 15 cheap organizational tips below. While the first 5 could be completed for free, the last 10 may require a purchase. However, when bought from Amazon, none of these ideas will cost you over $35. 
1. Separate lids from their containers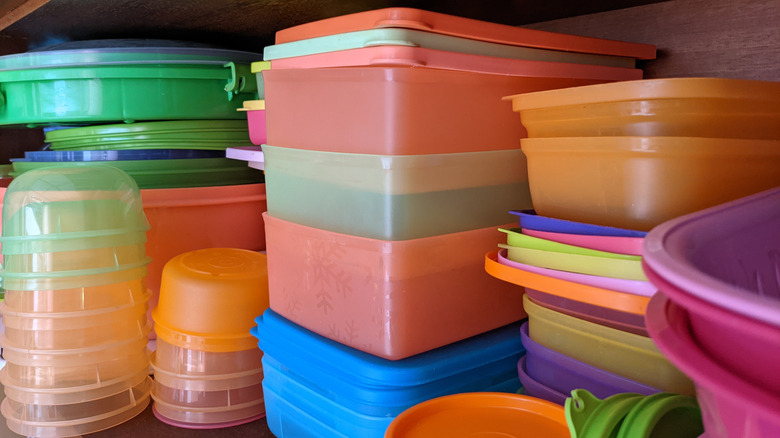 Ahmad Nazrol Bin Mohammed/Shutterstock
Unless you have loads of free space for your food storage containers, it's best to stack the containers and keep the lids separate.
2. Organize by use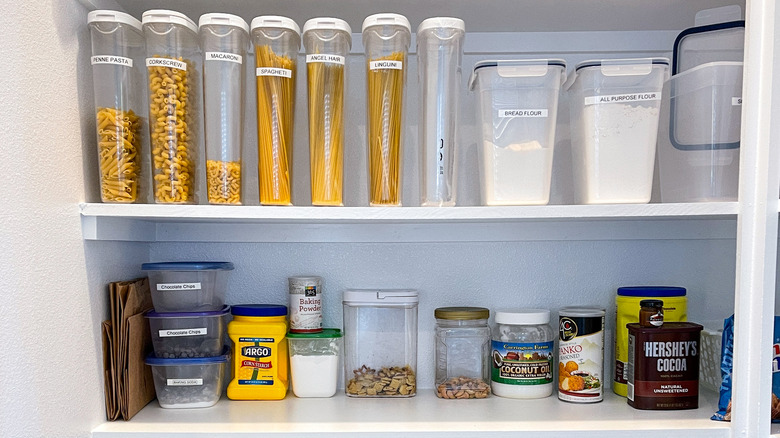 Joni Hanebutt/Shutterstock
Organizing items by use can make it easy to accomplish tasks in the kitchen. For instance, in the pantry, keep your baking goods in a separate area from other foods.
3. Declutter and move the junk drawer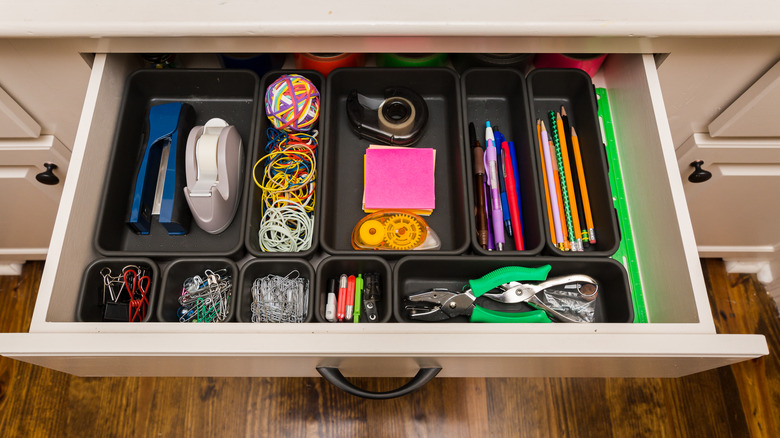 Charise Wilson Photography/Getty Images
While most keep their junk drawer in the kitchen, this could be a waste of space. Instead, move these items to another area, like the home office, and declutter anything you'll never use again. 
4. DIY a grocery bag holder
While many save their plastic grocery bags, not everyone has a smart storage solution. If you don't want to spend money on an actual dispenser, use an empty tissue box instead. 
5. Repurpose magazine holders for bottles
Further, perhaps you have empty magazine holders in your home office. If so, use them to store your water bottles. 
6. Keep cleaning supplies on a tension rod
For $6.99, purchase a basic tension rod from Amazon and install it underneath your kitchen sink. This is the perfect place to hang bottles and other cleaning supplies. 
7. Hang the paper towel roll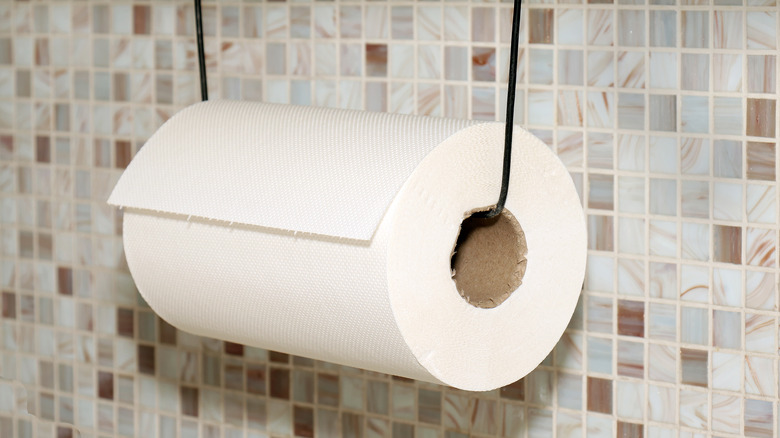 Ttatty/Shutterstock
If you're limited on counter space, hang your paper towel roll from the bottom of a cabinet, which can be purchased on Amazon for $7.99. 
8. Corral soaps and sponges on a tray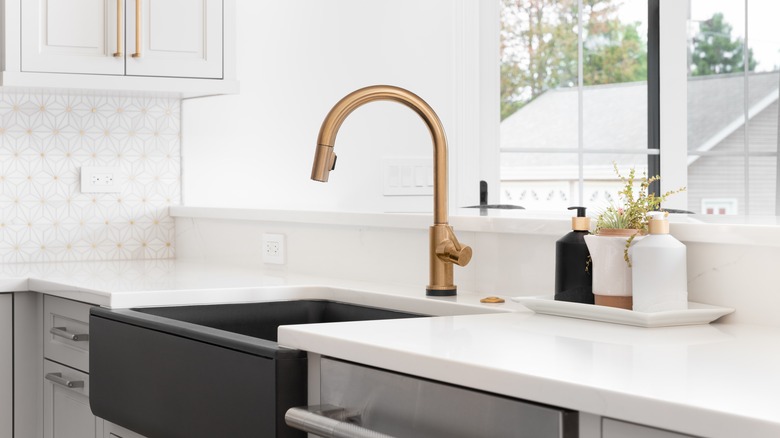 Hendrickson Photography/Shutterstock
To keep your soaps and sponges next to the kitchen sink in order, purchase a small tray. A white ceramic version costs just $9.99 on Amazon. 
9. Use the inside of cabinet doors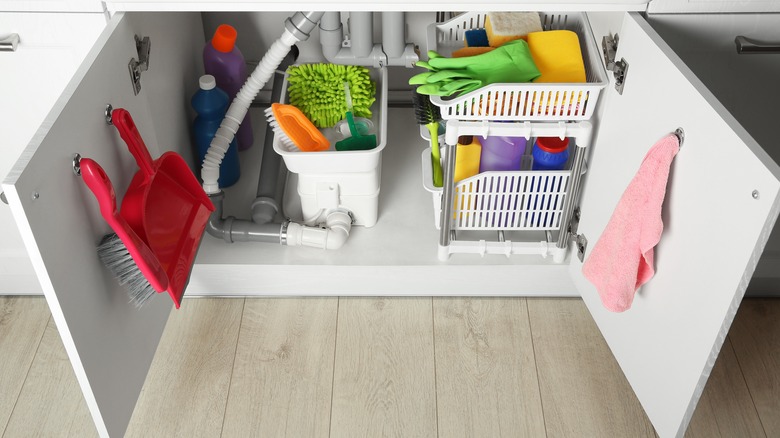 New Africa/Shutterstock
Adding hooks or other hanging containers to the inside of your cabinet doors will maximize your storage space and can hold a number of things, from cleaning supplies to pot lids.
10. Invest in a pan organizer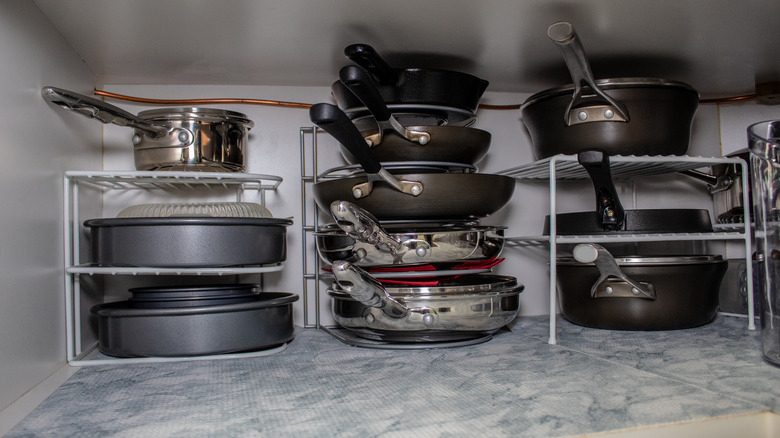 Rosamar/Shutterstock
Pan organizers will help you use more vertical space and easily have access to all of your pots and pans. There are plenty of options, such as Amazon's five-tier model that retails for $15.99. 
11. Utilize more vertical space with cabinet racks
A set of two cabinet racks, sold on Amazon for $16.62, is simple to install and allows you to store triple the amount of dishes you could before. 
12. Place food cans on a rack
Those with lots of canned goods in the pantry could create a more orderly look with a can rack. The above metal version costs $19.97 on Amazon. 
13. Choose a unique knife storage solution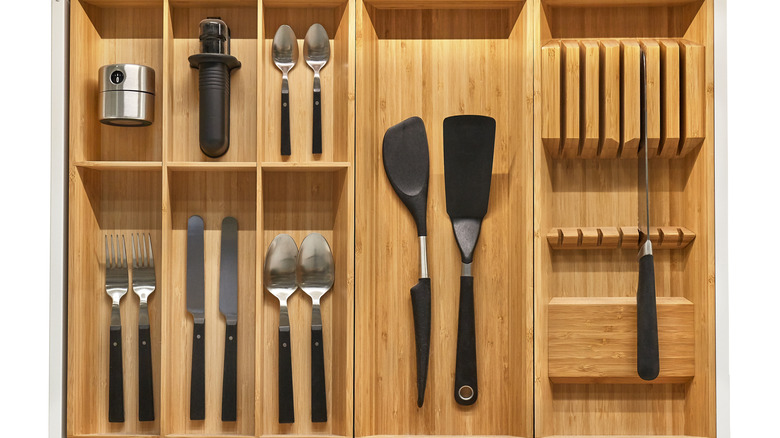 Peter Gudella/Shutterstock
Try storing your knives inside Amazon's $19.99 11-knife drawer holder to save counter space. Another solution is to keep your knives hung on a magnetic strip on the wall. 
14. Add clear bins to the fridge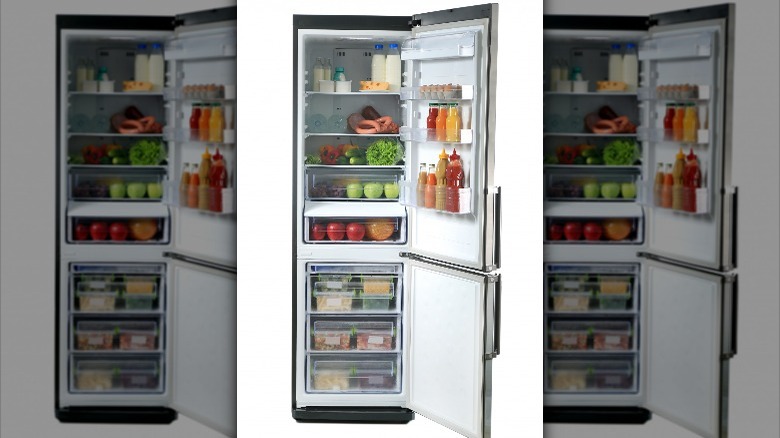 Africa Studio/Shutterstock
It's easy to let your fridge get messy and disorganized. However, this could lead to wasted food and, therefore, wasted money. To avoid this, organize your fridge with the help of clear stackable containers, which are sold in a pack of six for $24.99 on Amazon. 
15. Suspend your spices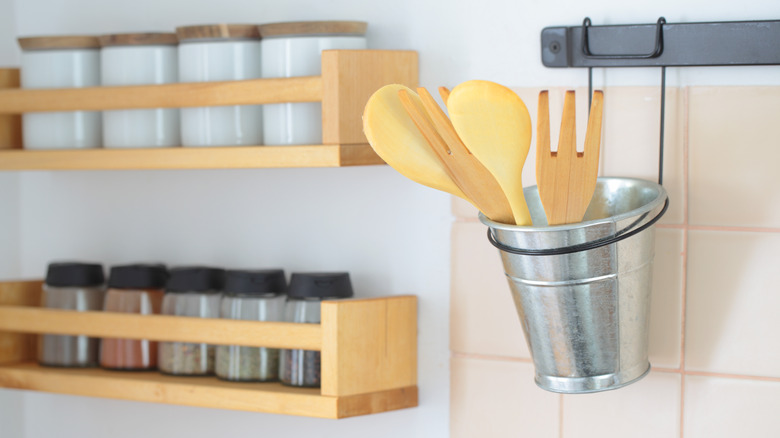 StockphotoVideo/Shutterstock
There are plenty of hanging spice racks on the market. While some are magnetic and attach to the fridge, such as Amazon's four-pack, which retails for $32.99, others can be hung on the inside of a cabinet door or the wall.