Must-Have Features For Every Kitchen, According To A Design Expert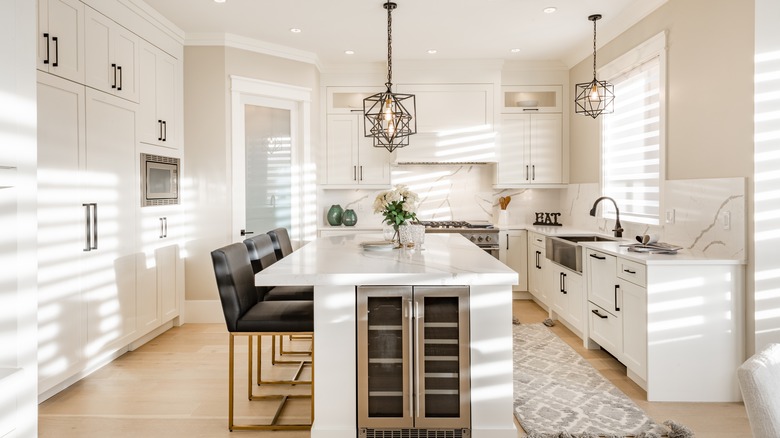 Sheila Say/Shutterstock
With meal times, cleaning dishes, and food preparation being a large part of most people's day, it's no wonder that the kitchen is the heart of one's home. According to Study Finds, the average American spends at least 400 hours a year in their kitchen. 
With so much emphasis on this integral part of your household, it's crucial to have an area that performs to the standards that you require. This space is also responsible for maintaining a good flow throughout your residence. To that end, many homeowners adopt a more open-concept design around the main floor of their property so that living areas can blend in naturally with the heartwarming coziness of a good kitchen.
In an exclusive House Digest interview, we asked interior designer and founder and editor of The Home Guidance, Mohammad Ahmed, what he thought were some of the must-have features that every kitchen needs. "A well-equipped kitchen is the heart of your home and should be as functional, comfortable, and stylish as possible," he shared.
Good lighting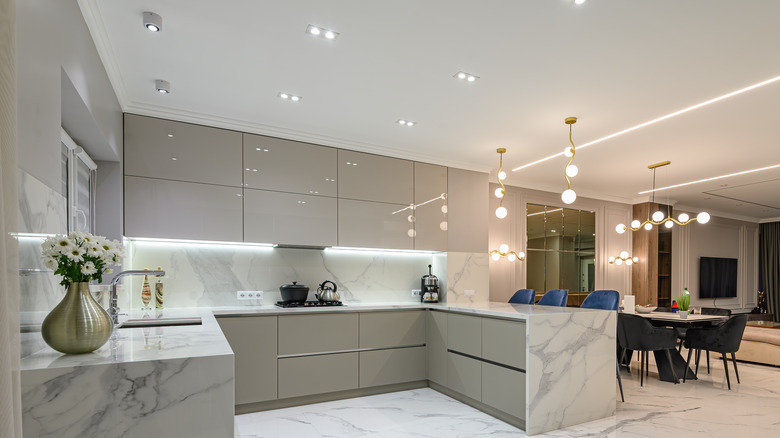 Serghei Starus/Shutterstock
For the lighting in your kitchen, there are many elements that should be considered. Unlike other rooms of the house, the heart of your home will benefit more if you have multiple layers of illumination. "Lighting is so important in a kitchen, and it's an easy place to get creative," Mohammad Ahmed says. "You can use overhead lights that illuminate your entire space or you can use recessed lighting to create a more focused area where you can work on food prep or cooking."
In the kitchen, the four layers that you may want to consider adding are task, accent, decorative, and ambient. Task lighting brightens where you are prepping your food, such as the kitchen counters or large pantries. Accent fixtures include recessed lighting and overhead track bulbs, which can bring out the features and proportions of the space more prominently. Decorative lighting allows you to mix and match your style by adding a funky lamp or intricate focal point fixture. Finally, ambient bulbs are used to fill in all of the space in between. Then a soft glow from an overhead unit could be all you need to cozy up the cooking space.
Roll-out shelves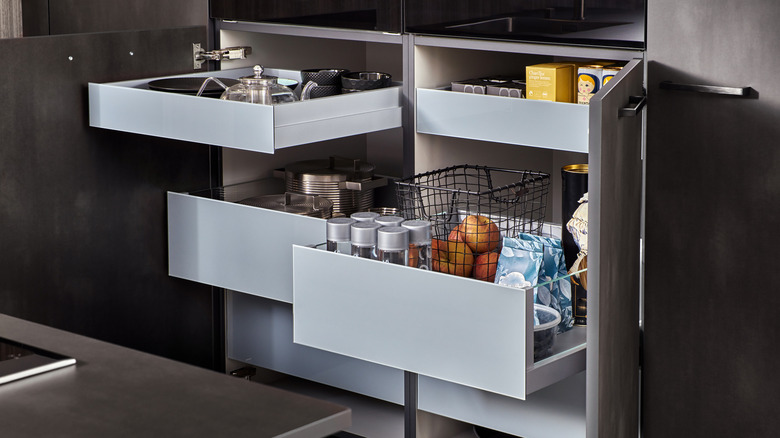 PK-Donovan/Shutterstock
We can all agree that to avoid overcrowding in the kitchen, you have to have proper organization. With so many cupboards and drawers available, you may find it all too easy to stuff items away without a second thought. Then before you know it, you have a full shelf dedicated to mismatched storage containers and an ample supply of lids without a cup or jar in sight. 
There is one feature that can be incredibly helpful when it comes to keeping your kitchen tidy, as noted by Mohammad Ahmed. "If you have limited space, roll-out shelves can be a lifesaver," he explains. "They're perfect for keeping things organized and accessible, whether it's ingredients or spices, utensils, cups or plates — whatever you need to get the job done."
Roll-out drawers can be added to most kitchen cabinets and work just like shelves that you can simply slide out and remove items when required. This ensures that you can effortlessly get to your kitchen items without having to waste time searching far into the back of deeply-set cupboards. Roll-out drawers also tuck neatly behind closed cabinet doors so as to keep them hidden. Once installed you can accurately assign your cooking or food objects to particular areas in order to make your kitchen more efficient, clean, and methodical.
A kitchen island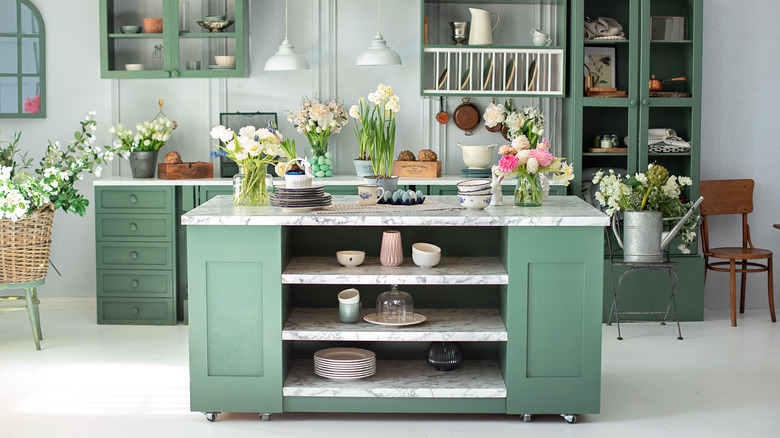 stock_studio/Shutterstock
Kitchen islands can have a dual purpose of giving you additional counter space and in some circumstances, can allow for countertop seating so that family and friends can socialize with you in the same environment. "A kitchen island is another great way to maximize your available real estate in the kitchen," Mohammad Ahmed points out. "If possible, try to find an island that features drawers underneath for storing plates and other useful utensils in one place."
Luckily, islands can be constructed in a variety of different sizes so that they can work in just about any type of home as long as you have enough clearance to walk around it. For example, in a typical L-shaped kitchen where counters stay close to the wall, you may find it a little shut off from the rest of the interior. However, if you have an island in the middle of the room, it gives you another preparation area to work on. 
There is also the freedom to have yours made from whatever material you would like; choose from slick marble, colorful granite, or even a butcher block island top to fit in with the rest of your décor.
Built-in appliances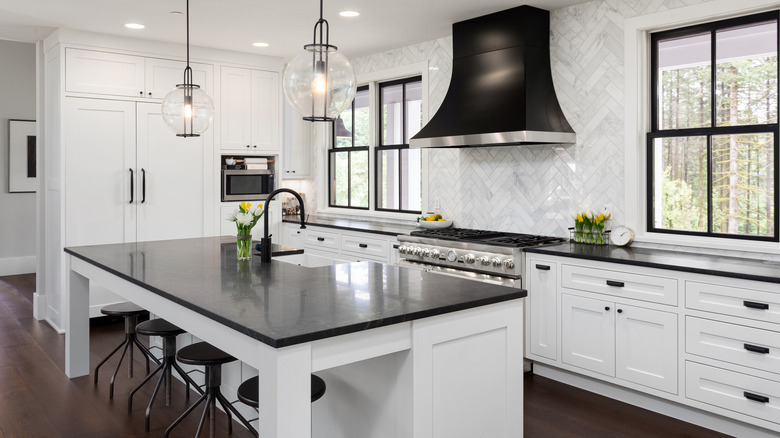 Justin_Krug/Shutterstock
There's nothing more satisfying and pleasing to the eye than having a kitchen that flows perfectly. Cabinets that have smooth edges that ease effortlessly alongside a unique backsplash and a complementary countertop can make for a truly delightful aesthetic. However, dated appliances that are bulky and mismatched could draw attention away from the positive aspects of your cooking area. Luckily, there are ways that you can hide your appliances. "Built-in appliances like a built-in refrigerator are also a must-have feature any kitchen should have," expert Mohammad Ahmed reveals. "They give your space a seamless, integrated look and make cooking more enjoyable by providing you with easy access to everything you need."
Built-in refrigerators can match the look of your surrounding cabinetry, and a dishwasher can be set back under your countertops so that they run flush with the neighboring cupboards. If you like the look and lines of a nice flat surface, then there is a wide variety of ranges for you. Also, microwave hoods take those bulky units off of your counter and instead place them above your oven so that they can get out of the way — and also act to increase ventilation while you're making your meals.