2022 Holiday Shopping At Pier1: Hours, Deals, And What To Expect
For many, Pier1 is an excellent place to find one-of-a-kind, high-quality decorations. Their Christmas and holiday section is quite alluring this year, as it's filled with lots of gorgeous dishware, collectible nutcracker figurines, and hand-painted ornaments. Whether you enjoy a more modern or traditional look, this retailer has some amazing pieces for your home.
However, many customers complain about one thing: this store's prices. One reviewer on BestCompany says that "Pier1 has some of the cutest and quality décor that I can find! I love that everything is unique and ornate. The sales clerks have always been helpful and nice. But, I have a hard time justifying buying much from there because I feel like so much of it is way overpriced." If you're in agreement, perhaps you're looking for ways to save money while shopping at Pier1 this holiday season. If so, you'll find more details on their 2022 holiday sales below.
Ways to save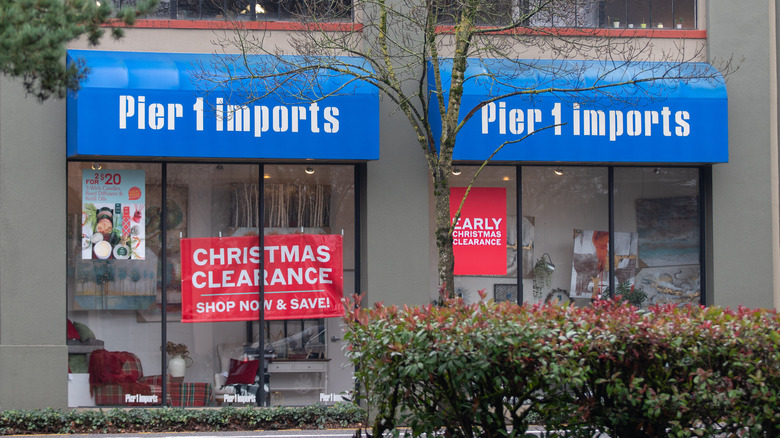 Alexander Oganezov/Shutterstock
When you first log onto Pier1's website, you'll be given the opportunity to spin a wheel to win up to $15 off your purchase. Right now, they're also having their end-of-the-year clearance sale, which means their discounted items are up to 65% off if you use code BLW8T when checking out (which will also give you free shipping). And, if you're looking for an item that's part of the Li Bien 2022 collection, these pieces are 40% off with code L33B9. Those looking to purchase candles or a reed diffuser, perhaps to use as decorations or to give away as Christmas gifts, could save by buying three and getting three free.
Further, if you purchase your items through the app, you'll receive $20 off your next purchase of over $100 per Koopy. You'd also be wise to check out their favorites page, which lists all their best items.
Saving on shipping can make a big difference if you're a frequent shopper since the retailer shifted to online-only in late 2020. Typically, Pier1's shipping is only free if you buy more than $99 worth of merchandise, per Koopy. However, as stated, you'll get free shipping and 65% off when you use code BLW8T at checkout. If you join the rewards program, you'll get free shipping on select pieces (those with a rewards logo on the website) and 10% off of everything, but keep in mind that this program costs either $9.99 a month or $69 a year.