12 Built-In Cabinet Ideas To Clear The Clutter In Your Family Room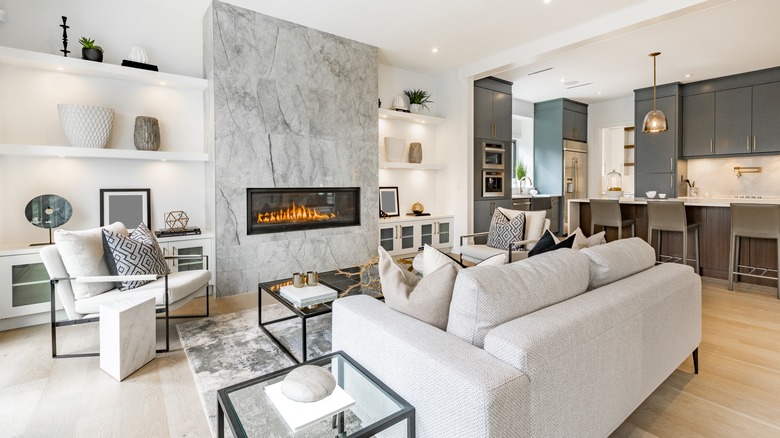 Sheila Say/Shutterstock
Without proper organization, the living spaces in your family home can quickly turn into an unsightly cluttered dump that you are not proud of. One of the most versatile storage systems in a home is built-in cabinets. They not only provide you with the necessary storage space for all your household items but are also customizable depending on your house design and personal needs, as per Realtor.com. Whether you want to install open or closed cabinetry or even fit the cabinet in a specific location, there are countless ways of finding the perfect solution for the storage needs in your home. 
What's more, inbuilt cabinetry can also fit right into any family room; for instance, the living room, bedroom, dining area, and also kitchen. Although relatively expensive, built-in cabinets will allow you to achieve the elusive balance between style and function in your home. While having built-in cabinetry in your living space is nice, picking the right design is easier said than done. With endless options on the internet, you can quickly be overwhelmed by choice. In this regard, here are some examples that you can take inspiration from.
1. Customize to your needs
There is no one-design-fits-all mentality when it comes to built-in cabinets — the idea is to curate a space according to your needs. Don't be afraid to get creative and experiment. In this example, the craftsmanship is not only beautiful but the combination of the open shelving and narrow closed cabinets is modern and classy.
2. Open and closed storage combo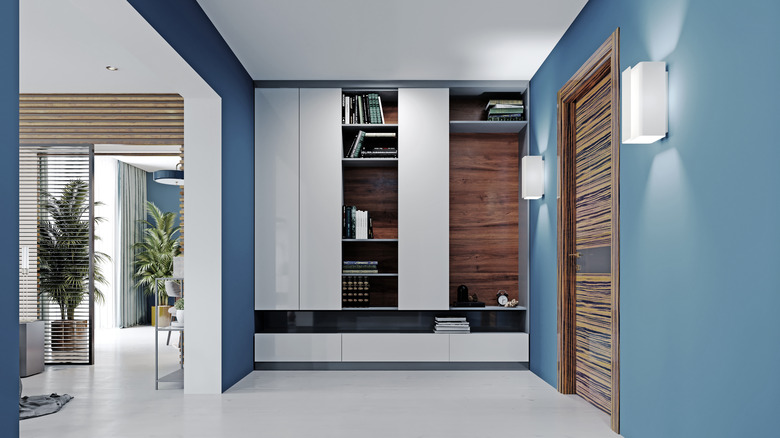 KUPRYNENKO ANDRII/Shutterstock
What better way to demonstrate the versatility of built-in cabinetry than in the example above? This beautiful display shows a brilliant design featuring alternating series of closed and open-style storage for all the conveniences you need. Installed along the hallway, it is the perfect place to store your quick-to-grab essentials.
3. Achieve symmetry with shelves and cabinets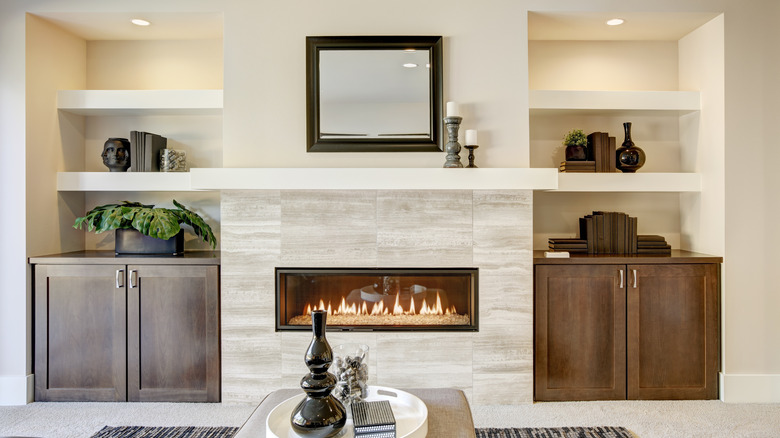 Artazum/Shutterstock
Built-in cabinets can take any form, including a series of symmetrical shelves and low-level closed cabinets, as demonstrated in this example. The shelves camouflage right into the brilliant white background, creating the illusion of floating shelves. The wooden tone closed cabinets introduce much-needed warmth to the space.
4. Wall to wall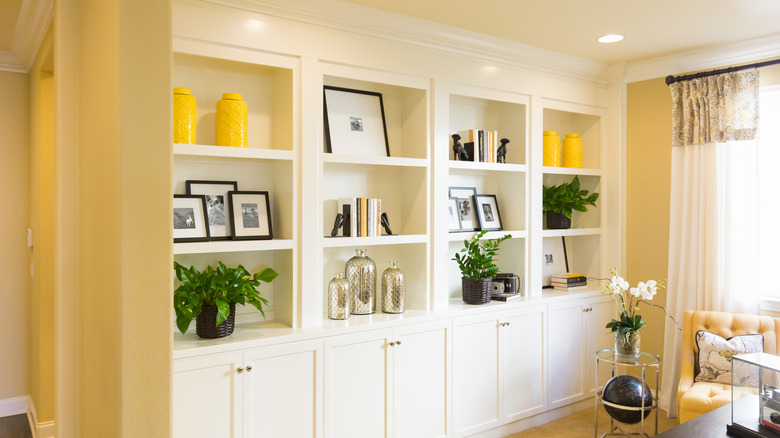 Andy Dean Photography/Shutterstock
Wondering what to do with the blank wall in your living room? Install built-in cabinetry that stretches from one wall to the other. This particular cabinet style featuring simple open shelving and closed low-level cabinets will provide you with the additional storage space that you need. Also, the classic white color is not only elegant but also timeless.
5. Build a space for everything
It goes without saying that storage is never enough in any household. This particular built-in cabinetry will allow you to declutter your family room thanks to all the space available. The vast open storage gives you the perfect stage to display your prized decor pieces.
6. Built-in under-the-stair storage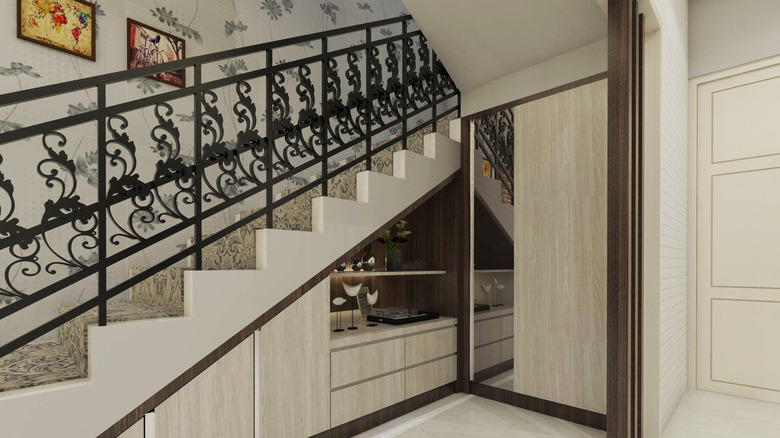 7Days Design/Shutterstock
Take advantage of the space under the staircase in your house to create more storage space for your home essentials. To get the most out of this space, consider building both open and closed storage, as demonstrated in the example above.
7. Use architectural details for more style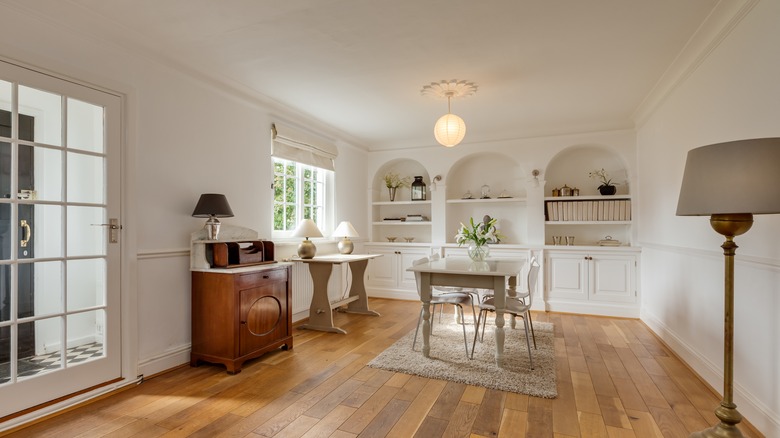 Mike Higginson/Shutterstock
Your built-in storage needs not be boring. Take advantage of the architectural details in your home to curate an appealing space not only for storage but also for aesthetic purposes. Don't be afraid to curve up and experiment with different shapes on the wall like in the example above.
8. Built-in bookshelf
Your home office deserves a bespoke bookshelf that will fit all your storage needs. You can include open shelving for easy retrieval and a few low-level closed cabinets to lock away all the important documents. 
9. Color coordinate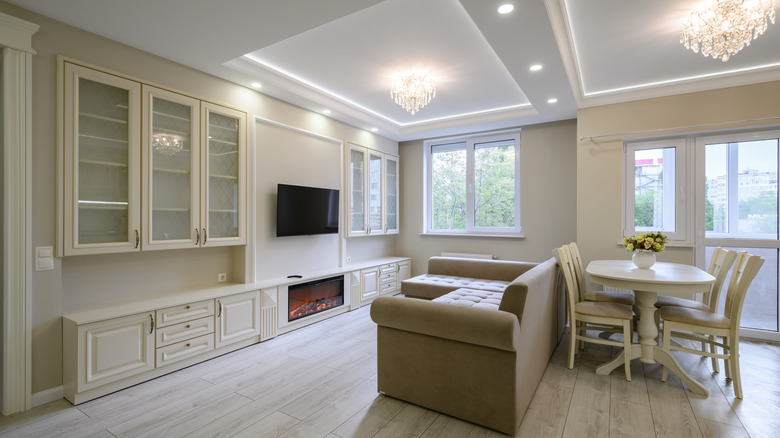 Serghei Starus/Shutterstock
Although built-in cabinets are essentially for storage, they should also serve as aesthetic decor pieces that will transform your interior space. One way of achieving this through your cabinets is by color coordination. Be sure to match the cabinet colors with other significant items in your home.
10. Don't forget low-level storage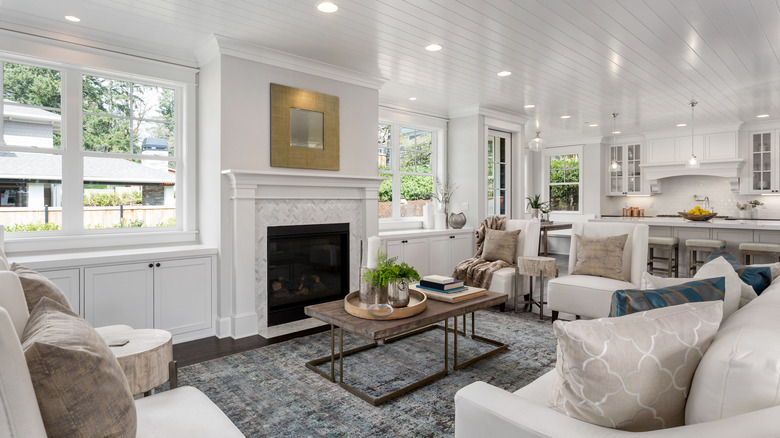 Justin_Krug/Shutterstock
Leverage the idle spaces at the bottom of your wall for more storage in any room in your home. This storage idea will not take up any additional space and will give you a subtle storage area for all the things you want to remove from plain sight.
11. Don't worry about proportions
Justin_Krug/Shutterstock
The beauty of installing built-in cabinets is that you can easily customize the size according to the space available. This particular example is the perfect demonstration of how you can have cabinets of different sizes and proportions without compromising the appeal of your room.
12. Ultimate entertainment center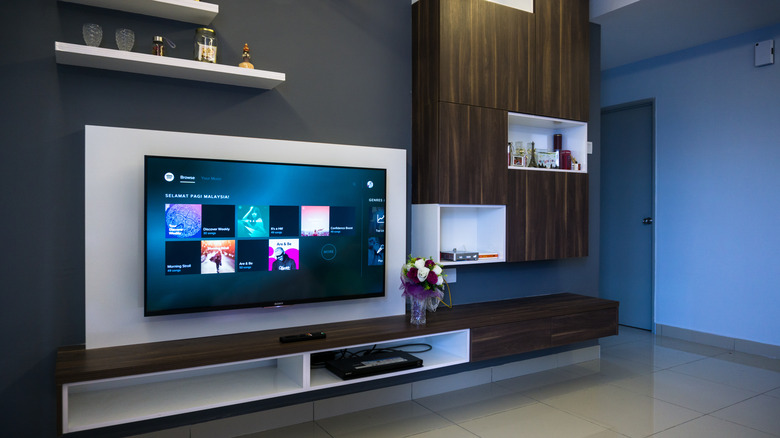 Syafiq Adnan/Shutterstock
Introduce some much-needed drama to your space by installing built-in cabinetry around your entertainment area. A functional and creative storage space in your living room will also double as a focal point that ties everything together nicely.